For avid travelers, the pandemic has been tough. Maybe you had to cancel a trip that you've been planning for ages, or maybe you've had to repeatedly silence that inner voice begging you to pack your bags and explore a new place. During these times, many travelers and backpackers are looking for other ways to soothe their wanderlust. Some are using the time to document their past travels, some are making extensive plans for life after the pandemic, and some are turning to travel movies, podcasts, and books to keep their hope alive!
If you're looking to experience travel without leaving your couch, here is our round-up of the best movies about travel and backpacking. Sometimes a travel movie is just the ticket, whether you want to relive a past adventure or live vicariously through the characters as they journey through beautiful places.
The Before Series
Set in Vienna, Paris, and Greece
For single travelers, isn't it secretly the dream to meet your soulmate on the road? Just us? Regardless, this trilogy of movies is set in a different European country each time and tells the story of two people from different places who are drawn to each other over the span of decades. These award-winning movies are not only set in stunning locations, they are a profound study on the highs and lows of human connection.
Before Sunrise: Watch it on Amazon
Before Sunset: Watch it on Amazon
Before Midnight: Watch it on Amazon
Motorcycle Diaries
Set in South America
Responsible for launching thousands of backpacking journeys through South America, Motorcycle Diaries is one of our all-time favorite travel movies. This one is a classic, whether you want to relive your personal travel experiences or want to experience the gorgeous countryside of Argentina vicariously through the antics of the two main characters.
The Darjeeling Limited
Set in India
Wes Anderson always delivers on the visuals, and this movie about three brothers on a train adventure in India is no different. It's a travel-themed, smart comedy. Don't blink, or you might miss a visual joke or a brilliant moment of dialog. A classic we could watch again and again.
The Way
Set in Northern Spain
The story of a father who walks the Camino del Santiago in honor of his son. Anyone thinking of walking the famous pilgrimage route should catch this movie about backpacking from France to the western coast of Spain. The film will give you a glimpse into the countryside and the different types of travelers that you are likely to meet on the trail. 
Into the Wild
Set in Alaska
Despite its tragic ending (is it a spoiler if it was based on a true story?), this gorgeous movie pays tribute to a man with an extreme need to get off the beaten path. One of the best travel-themed soundtracks of all time, this ultimate wanderlust movie is a must-see for any true explorer.
Roman Holiday
Set in Rome, Italy
The glamour and timeless charm of old Hollywood set in the dynamic city of Rome. A dream combination of acting talent featuring Audrey Hepburn and Gregory Peck with an endearing storyline.
The Beach
Set in Thailand
No matter how many times we rewatch this classic backpacking movie, there's just something about Leo wandering along Khao San Road that brings us back to our adventures in Thailand. Maybe it's the fact that most Thai hostels have travel movie nights featuring The Beach? Either way, there is just something about the raw scenes and commentary about backpacking culture that keeps us coming back for more.
Tracks
Set in Australia
This ultimate backpacking movie is based on a true story: In the mid-1970s, young Robyn Davidson walked across the Australian continent, accompanied only by her dog and four camels. The journey was 2,700 kilometers long and lasted eight months. Set in the stunning yet rugged Australian Outback, this ultimate solo female travel movie allows you to follow along on the journey that few will ever take. 
Lost in Translation
Set in Japan
This movie is able to perfectly capture the disorienting yet addicting feeling of being a fish out of water during your travels. Its accolades should be reason enough to catch this quirky travel movie: 95% on Rotten Tomatoes, Academy Award for Best Original Screenplay (Sofia Coppola), and Academy Award Nominations for Best Picture, Best Actor (Bill Murray), & Best Director (Sofia Coppola).
Watch for free with Amazon Prime
Out of Africa
Set in Kenya
This classic romantic drama is based on a true story, and features young Meryl Streep and Robert Redford in the leading roles. With its gorgeous scenery and thrilling events, it's a way to travel to Kenya from the comfort of your sofa.
The Best Exotic Marigold Hotel
Set in India
Filmed in beautiful Udaipur, this British travel movie follows a group of retirees who are looking for adventure. The film is packed with stunning scenes that capture the beautiful chaos of India and has a charming cast of characters (Judi Dench, Bill Nighy, Dev Patel, and Maggie Smith).
Wild
Set on the Pacific Crest Trail
The backpacking movie that inspired solo female travelers everywhere. This is the true story of hard-core Sheryl Strayed who hiked the Pacific Crest Trail after experiencing deep heartbreak. We love it for the beautiful scenery of the U.S. West Coast and the depictions of familiar struggles that every long-haul backpacker will know all too well.
Under the Tuscan Sun
Set in Italy
Nowadays, the premise is a bit of a cliché (a woman in crisis travels to a foreign country for adventure and learns a lot about herself in the process), but Under the Tuscan Sun is a classic! The movie still holds up today because of the gorgeous Tuscan countryside and the warmth of Italian culture that can be felt in every scene. A must-watch for anyone who yearns for Italy.
Amelie
Set in Paris, France
Anyone who loves Paris has to dive into the wonderful world of Amelie. It is fantasy surrealism set in an idealistic version of Paris. Watching this movie is like curling up with a nostalgic childhood book, and the city of Paris and its people drive the story forward.
The Secret Life of Walter Mitty
Set in Iceland, Himalayas, and more
This inspiring film is about a man who overcomes his resistance to love and adventure. The story takes place in many gorgeous places on earth, but it's the attitude and perspective embodied by the main character that has motivated many to get out of their comfort zone and see the world.
A Walk in the Woods
Set on the Appalachian Trail
This classic backpacking movie is set on the famous Appalachian Trail. It also has a star-studded cast with lovably grumpy Nick Nolte, forever-old-soul Robert Redford, and effortlessly charming Emma Thompson. Need we say more?
C
openhagen
Set in Copenhagen, Denmark
An indie film and the recipient of multiple international film festival awards, Copenhagen is a coming-of-age story set in, you guessed it, Copenhagen. With a compelling story about the main character backpacking throughout Europe, and the gorgeous city of Copenhagen as the backdrop, you'll get a serious dose of Scandinavian vibes.
Roma
Set in Mexico City, Mexico
This Oscar winner (Best Cinematography) depicts the raw experiences of the director's life in Mexico City. It's a true story about overcoming adversity and finding beauty in imperfect situations.
Midnight in Paris
Set in Paris, France
A surreal fantasy story about Paris and all of its famous residents. This quirky Woody Allen movie lead by Owen Wilson is highly recommended for anyone who has been to Paris or is dreaming of the day when they can visit for themselves. And with an Academy Award, a Grammy, a Golden Globe, and 93% on Rotten Tomatoes, you can be sure it's worth your while!
Eat, Pray, Love
We know, we know, you've already seen it. But what travel movie list would be complete without this mainstream classic? Although Julia Roberts wasn't our favorite leading lady in a travel movie, we can't ignore the fact that the places depicted in this movie (Italy, India, and Bali) gave us serious inspiration for future travels.
More movies set in amazing locations
While the plot doesn't necessarily focus on backpacking or travel, these movies are set in gorgeous places around the globe. 'Travel' vicariously by immersing yourself in the characters and settings:
French Kiss – set in Paris, France
Letters to Juliet – set in Verona & Tuscany, Italy
The Sound of Music – set in Austria
A Good Year – set in Provence, France
7 Years in Tibet – set in China & Tibet
Endless Summer – set in surfing locations around the world
Hunt for the Wilderpeople – set in New Zealand
Y tu Mama Tambien – set in Mexico
The Lives of Others – set in Berlin, Germany
The Bourne Trilogy – set across Europe
My Life in Ruins – set in Greece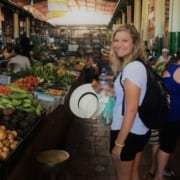 Monica is an avid traveler and backpacker who seeks to inspire others to embark on great adventures off the beaten path. Originally from California, she has travelled to over 60 countries, most of which she explored while backpacking or camping.
https://www.the-backpacking-site.com/wp-content/uploads/2021/01/pexels-roberto-nickson-3131971-cropped.jpg
1349
1260
Monica Woerner
https://www.the-backpacking-site.com/wp-content/uploads/2018/08/the-backpacking-site-1.png
Monica Woerner
2021-01-20 20:07:15
2023-05-11 17:05:14
Travel Movies to Feed your Wanderlust