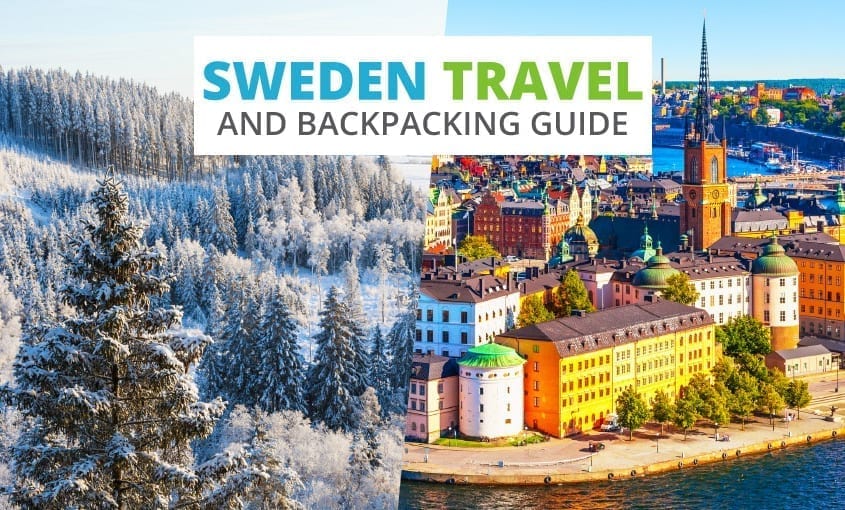 Backpacking Sweden
Looking for important travel information while backpacking in Sweden? Here you will find information on working in Sweden, entry visas, Sweden hostels, and much more.
Table of Contents
Facts About Sweden
Although Sweden still suffers from being generally expensive like the rest of Scandinavia, recent devaluation of the Swedish Kroner has made Sweden a lot more affordable. Sweden is a large country although it is quite sparsely populated; this means that there is plenty of unspoilt scenery and the northern part of the country is well in the Arctic circle where you will be able to find year long skiing and stunning glacial vistas.
Sweden has a reputation for being cosmopolitan and cities such as Gothenburg and the capital Stockholm offer a host of facilities, services and cultural attractions. It is, of course, impossible to go to Sweden without sampling a Smorgasbord or indulging in a little of Sweden's world famous Absolut vodka.
Currency: Swedish Krone (Skr)
Time Zone: GMT + 1
Language: Swedish
Telephone Services: Country code +46, International Access code 009
Emergency Numbers: 112 for all services
Climate in Sweden and the best time to go
When determining the best time to visit Sweden, the weather certainly plays a role. The summers in Sweden can be relatively warm especially further south but there are frequent light showers of rain particularly in the area around Gothenburg.
The winters are cold, ports are often iced in and the northern area receives a lot of snowfall. The temperature during winter is typically about freezing point, even colder in the arctic north and Lappland.
Things to do in Sweden
Stockholm
Sweden's medieval capital, Stockholm is situated on an archipelago making it best seen from the water on one of the myriad guided tours available. The old town, Gamla Stan is situated on the island of Stadshomen and is the site of the Royal Palace which is well worth taking time out to see its impressive collection of weapons and armour from the middle ages. Just east of the main city of Stockholm is the Island Djurgarden which boasts the worlds first open-air museum whose exhibits include a zoo.
Gothenburg
Gothenburg is Sweden's second largest city and is slightly warmer than Stockholm attracts a lot of visitors many can't resist spending some time in Lisberg which is Gothenburg's amusement park. Once you drag yourself away from the various rides you will find plenty to see and do, the Konstmuseet will satisfy your thirst for culture with its collection of artwork including exhibits by Rubens, Van Gogh and Rembrandt. To see something a little more modern the Sjofartshistoriska is a museum of Maritime history and contains exhibits reaching right up to the present day.
Malmo
The city of Malmo in the province of Skane is a good alternative attraction, the city has ample parklands and architecture as well as a beautifully preserved Renaissance castle. Malmo really comes alive however in the second week of August where it is host to the Malmo festival. This yearly festival combines live music, theatre, sports, film, dance and even comedy in a hectic week of culture. The festival generally has zones put in place to cater for different age groups so you can be sure to find something which is to your taste.
Uppsala
History lovers might like to take a trip to Gamla Uppsala which is the site of three huge 6th-century burial mounds. Uppsala also boasts cathedral ruins and an informative outdoor museum. For those interested in history there is enough to see to spend at least half a day here and would make an interesting diversion on route to another location.
Unique activities in Sweden
Another good way to get an idea of things to do in Sweden is to scan the activities offered by Get Your Guide or Viator. They work directly with local tour operators, so you won't have to scour the internet or roam around town trying to find the best deal.
If you know your schedule ahead of time, a great insider tip is to buy tickets for major tourist attractions ahead of time. Tiqets has entrance tickets and skip the line passes for major tourist spots in Sweden like Gothenburg and Stockholm so that you can avoid the lines and save that precious time for more exploring.
Backpacking in Lapland, Sweden
If you are looking for an adventure experience then Lapland is the place for you. It has been credited as a top tourist destination due to its scenic beauty and many National Parks. Lapland covers the northern parts of Sweden, Norway, Finland and the Kola Peninsula in Russia.
Sami Culture in Sweden
The inhabitants of Lapland are known as Sami and their total is around sixty thousand. Their culture is very traditional and their isolated way of life is a distinctive characteristic to their nomadic and subsistence lifestyle.
Tourism is a source of income for the Sami people but their culture is very important to them so you won't find them trying to sell you mountains of tacky merchandise. Almost everything you buy will be handmade so a visit to their community is an authentic source of fascinating and original souvenirs. There are cases where materials may be substituted for others in accordance with the law, an example is fur. However, there is protection for genuine Sami handicraft which is a special unique seal that only licensed Sami craftsmen are allowed to use to mark their products. The land and nature are their main sources of income.
Hiking in Lapland
There is a good transport network so don't worry about being stranded in the wilderness. Hiking trails cover the backcountry and National Parks. On these trails, there are tourist stations, cabins and shelters offering cheap accommodation. It is not necessary to be an experienced hiker thanks to this efficient and affordable tourist network. However, during winter it is advised that only experienced hikers venture along the trails due to dangerous weather conditions.
The Swedish Touring Club has all the information and help you can need for a visit to Lappland. Sftturist.se gives several touring suggestions and heaps of accommodation options. For any backpacker who wants to explore Lappland, this site is the perfect guide, giving a list of loads of youth hostels, mountain huts and mountain stations. The tour suggestions are very detailed and cover places all over Lappland in Sweden.
Hiking from Vaisaluokta to Staloluokta
One recommended route which appears outstanding is the summer route from Vaisaluokta to Staloluokta which covers the Sarek and Paadjelanta National Parks. You can reach the starting point of Vaisaluokta by flying to Ritsem, and then hiking along the marked ice trail. On this trail, you begin by walking across moorland and later come face to face with Sweden's largest glaciers in the Sulitelma massif and magnificent slopes of Stuor Titer and Unna Titer. You don't have to worry about lack of accommodation because there are hostels at regular intervals along the trail. By doing a trail such as this you have the opportunity to walk across masses of unspoilt land.
Arvidsjaur and Arjeplog
For those who would like to remain settled in one place, the Arvidsjaur district in Sweden, and in particular a town called Arjeplog, is one of the most common tourist destinations for those who want to live alongside Sami and experience Sami culture. Arjeplog is situated in the far north of Sweden, in the middle of Lappland, and is surrounded by striking mountain ranges, beautiful forests and wonderful lakes. There are daily flights between Arvidsjaur Airport and Arlanda Airport Stockholm. To find out more detailed information you can email the Arjeplog Tourist Office.
There is a wide variety of accommodation options open to backpackers in Arjeplog ranging from Hotel Lyktan which has standard rooms and a youth hostel and Kraja Vardshus which offers chalets and a caravan site. Arjeplog embodies the true spirit of Lappland and is an exceptionally lively town.
There are many tourist attractions available but one of the most well-known is The Silvermuseum which has the collective works of a doctor, Einar Wallquist, who settled in Arjeplog in the early 1900s and was so moved by the Sami culture that he documented his findings. For information and bookings consult their website or call 0961-612 90.
There is also Arjeplog Church which is very original and artistic with its wooden architecture and attractive colours. For information and bookings, you can call 0961-612 50.
You can also go and see Rapatjarn Lake which is famous for its six-kilometre long boulder ridge which formed during the Ice Age. Here you can walk along a scenic nature trail which has artefacts from the Stone Age such as cooking pits and game traps.
Activities and Sports in Lapland, Sweden
There are many activities and sports to do in Arjeplog, the favourite is often a husky ride and Peter Virding is reputedly one of the best. He runs an experienced dog team and you can contact him for information and bookings at [email protected]. There is also the chance to go skiing, snowboarding, hunting, fishing, canoeing, kayaking, rafting, and climbing- the list is endless! Taking a couple of these activities, Galtis Ski Slope is ten kilometres from Arjeplog and here you can have lessons in skiing or snowboarding.
In Miekak, which is near Arjeplog, there is Miekak Hunting and Fishing Camp, where you have the opportunity to indulge in these traditional activities which are used by the Sami people as a method of subsistence to this very day. They offer accommodation, with, for example, the option to stay in a self-catering cabin with an on-site shop, or you can also go into the mountains and camp in a tent. The same follows for fishing in Miekak, which has the reputation of being one of the best in Sweden. For more information and for booking enquiries you can visit the Miekak Webpage. Arjeplog Turistbyra provides information for travellers to Arjeplog
How to Travel Around Sweden
When travelling to Sweden you will find Stockholm and Gothenburg are the most accessible destinations. In Stockholm, there is Arlanda airport, situated forty kilometres north of the city centre. This is the main airport and then there are also the three smaller airports of Bromma, Skavsta and Vasteras. In Gothenburg, there are two reasonably sized airports which are Landvetter and Gothenburg City.
If you're flying to Sweden or plan to take short flights within the country, we recommend using a few different flight comparison search engines. Kiwi is a new favourite among travellers. On average, we have found the cheapest flights to Sweden with them compared to the other websites out there.
Of course, it is always worth checking Skyscanner to guarantee you're getting the best deal. Both websites offer great flexible search options, allowing you to search the whole country of Sweden to find the cheapest airport to fly into, and also see prices for a full month if you're flexible on travel dates. 
If coming from the UK you can also travel from Newcastle to Gothenburg by ferry which although a long journey is a cheap and direct option.
Train vs. Bus in Sweden
Train and long-distance bus are the standard modes of transport for getting around the country. Buses are the more economical option, nevertheless, they are well-equipped with the usual modern conveniences that expect when travelling in Europe. Train travel, on the other hand, is the fastest way between two cities and the train stations are conveniently located right in the center of town.
It depends on your preference, and certain routes are better suited to one mode of transport than the other. To compare your options for journeys from A to B, you can try Omio. They compare trains, buses (and even flights) so you can decide for yourself the tradeoff between cost and travel time.
Train travel in Sweden
Sweden's rail network is one of the most efficient and most advanced in Europe. The network is run by SJ and major routes are serviced by the X2000 high-speed trains. These trains travel at up to 125mph and allow a traveller to get between Stockholm and Gothenburg in under 3 hours.
Other routes are serviced by more conventional Intercity trains. A seat reservation is required on X2000 and overnight trains so you will have to book these in advance. Tickets are available from train stations.
SJ offer flexi-pass to allow cheaper travel in Sweden, these are available in first and second class flavours and allow between three and five days of travel during a one month period. These passes start at just over Skr 100 for a 2nd class 3 day pass and can make travelling much more affordable.
Scanrail also offers a flexipass which allows up to 10 days of travel in a 2 month period. This pass is also valid throughout Scandinavia and entitles the bearer to discounts on many ferry journeys within Scandinavia.
Sweden is also a part of the Eurail network, which is a good choice if you plan to take multiple train journeys in a short period of time. Eurail offers both multi-country passes and One Country Passes. To decide whether you should buy individual tickets from A to B, or whether you should purchase a Eurail pass, read our Travelling Europe by Train guide.
Bus travel in Sweden
The bus routes reach the few places that the rail network doesn't and are generally of good value and quality. Each country operates its own local bus network each with its own set of discounts. However, most travellers will find the long distance express services operated by FlixBus are much more useful. Eurolines operates a range of international coach trips stopping in Sweden and going to other major European cities.
Renting a car in Sweden
If you want the flexibility to stop in smaller towns between the major cities, check AutoEurope or Europcar to compare offers from the major car rental agencies in the region. Before deciding, read more about what to expect of driving in Europe.
Backpacker Tours in Sweden
Though part of the fun of backpacking Sweden is exploring on your own, there are situations, especially when venturing off the tourist trail, when it does make sense to go with a guide or a small group. This is especially a good option for those travelling Sweden alone who would like to meet up with like-minded travellers. For these times, a popular option among backpackers is G Adventures. They hand-select local guides to ensure authenticity and quality. You can choose from different styles of small group tours like active, wellness, local living, 18-30somethings, and more.
Entry Visa Requirements for Sweden
A valid passport is required for everyone except EU Nationals with a valid ID card. A visa is not required for a stay of up to 3 months. If you intend to stay for longer than 3 months or wish to work in Sweden you should contact your local Swedish Embassy for further details.
Health and Safety in Sweden
The standard of health in Sweden is high and the UK has a reciprocal agreement with the Swedish health service entitling British nationals to free emergency medical treatment. Further treatment cover can be obtained by bearing a completed E111 from. You should still take out travel insurance however as these two levels of cover will not extend to some medical treatments. The drinking water in Sweden is considered safe and there are no vaccinations required or recommended before visiting.
Work Permits and Backpacker Jobs in Sweden
For a stay of longer than three months, EU nationals must get a residence permit (uppehållstillstånd). To obtain a permit you will first need to show proof of employment, a passport and photos, and an SIV 1040.U form. Non-EU nationals may experience endless problems with obtaining a permit because of the reluctance with which they are given out.
Seasonal work in Sweden
In large tourist areas such as Stockholm check hotels, bars, and restaurants for vacancies in kitchen staff, cleaning, waitressing etc. Most jobs are found by enquiring in person. If working in a city doesn't appeal to you, try seaside resorts, particularly along the coast between Malmö and Goteborg. Wages for casual seasonal work are often low; many Swedish nationals are reluctant to take these jobs and so employers find many foreign travellers wanting to earn money, whatever the rate.
Au Pair Programs in Sweden
Avalon Au-Pairs and Childcare International Ltd are two agencies that have links with au pair vacancies in Sweden. With both companies, you can expect to earn about Skr40 per week and to work 6 days each week. Most au pair positions require you to look after the children as well as performing general domestic duties.
Childcare International Ltd can provide placements for up to three months in the summer, and six months or more throughout the rest of the year. As with most agencies, you will be expected to fund your own travel expenses and often a registration fee is charged, but given the nature of the job, you will be provided with accommodation and food by your host family.
Agricultural and Farm Work in Sweden
For casual seasonal work, Skåne in the south of Sweden is a good place to start looking for fruit and crop picking jobs. As with most work of this kind you should not expect to earn a lot even though it is often difficult and intensive in its nature. The Young Farmers' Clubs International Farm Experience Programme offers positions on farms in Sweden.
Projects last between three and twelve months and you are paid for the work that you do, which will usually compensate you for funding your own travel. To join a programme you must be aged between 18 and 28 and have at least two years' experience in the agricultural industry.
Volunteering in Sweden
For work of up to one year, Camphill Communities offers placements to volunteers on their workcamps around the world. Work involves assisting in the running of community centres for adults with special needs, and further education centres. For a 6-day working week, you can expect to receive pocket money of about Skr29, as well as free accommodation and food. Staffansgarden, near Stockholm, is one of Sweden's Camphill communities working with handicapped children.
Placements here last between six and twelve months and work includes cooking, farmwork, and woodwork activities. As well as working you will be expected to participate in language classes.
The International Voluntary Service (IVS) offers a range of opportunities for volunteering abroad. Short-term 'workcamps' are set up to focus on a community issue, which may include work with those with special needs, the elderly, or environmental conservation projects.
Most workcamps are organised for summer months and last only a few weeks, during which time you will be provided with food and accommodation. You must pay a membership fee of Skr15 to IVS.
Sweden Hostels & Budget Accommodation

Hotels although expensive tend to be very high quality in Sweden, many organise excursions for their guests during the holiday seasons and during the summer the higher end hotels will almost certainly have swimming provision for their guests.
For those watching their budget, there are nearly 300 youth hostels in Sweden and you should have no trouble finding one close to your destination.
We have had good experiences finding hostels in Sweden on HostelWorld. They have the largest inventory of hostels worldwide, and with over 10 million reviews and ratings from other travellers you know exactly what to expect.
Another good way to find budget accommodation in Sweden is by checking hotels.com and  booking.com. With both sites, you'll not only find hotels, but also homestays, hostels, and other unique accommodation. We have discovered some great finds and have appreciated the ability to book ahead. You can use their advanced filtering to narrow your results by budget, location score, overall review score, and amenities. Many of the places on booking.com also offer free cancellation, which takes the pressure off the planning phase of your trip.
Useful links for Backpacking in Sweden
The Swedish Travel and Tourism board dispenses advice for visitors travelling to Sweden.

Eurail

– Rail Passes for travellers who plan on doing lots of train travel in a short period of time. Single-Country and Multi-Country passes available

Omio

– Train, bus, and flight search for Sweden and all of Europe. Offers online booking and mobile tickets

Flixbus operates an intercity express coach service

Auto Europe

– Europe's leading rental car search engine to rent a car in Sweden

Kiwi

 and

Skyscanner

 

– Flight comparison search engines to find the cheapest flights to Sweden and within the country

GetYourGuide

and

Viator –

a collection of local tours and things to do in Sweden. Also offers Skip the Line tickets for crowded attractions

Tiqets

– Website selling entrance tickets and skip the line tickets for major tourist attractions in Sweden

G Adventures

– guided group backpacking tours in Sweden, great for solo travellers or for those interested in a more adventurous trip which would require a guide

HostelWorld

– #1 hostel search website to find budget accommodation in Sweden. Thousands of hostels and millions of reviews from fellow travellers

Booking.com

– commonly used accommodation booking site in Sweden. Hostels, hotels, and other unique accommodation with advanced filtering and millions of reviews

Travel Insurance

– read our comprehensive overview of Travel Insurance and some recommended providers for your backpacking trip to Sweden

SJ operates the rail and X2000 high-speed rail networks
The Swedish Institute runs language courses for foreign students throughout Sweden
SVEFI runs a course on the Swedish language as well as a whole host of other subjects from classic to contemporary
Sweden.se has general tourist advice
---
There you have it, the ultimate Sweden backpacking guide. We hope you have found all the information you need for backpacking around Sweden.
Next up:
Liked this article? Share it with others who might be after the same information!