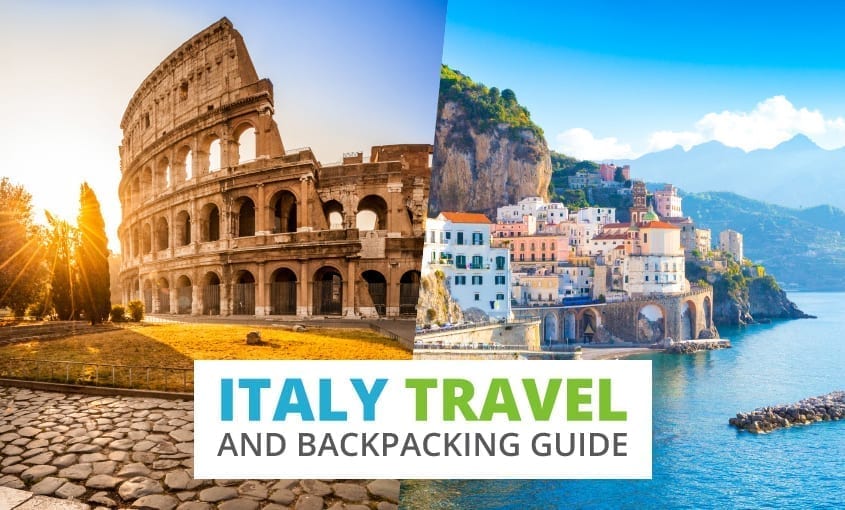 Backpacking Italy
Looking for important travel information while backpacking in Italy? Here you will find information on working in Italy, entry visas, Italy hostels, and much more.
Table of Contents
Facts About Italy
Birthplace of the Roman Empire, home of the Catholic church, and spiritual home of pizza, Italy is understandably one of the most popular places to visit in the world. With the industrialized and cultured north considered a center of high fashion, high living, and high prices, and the rustic south packed with its share of heritage and charm, Italy has something to offer everyone.
However, such qualities don't come cheap. Depending on when you go and where you stay, Italy can be an expensive proposition, so make sure you budget well before traveling and expect to spend no less than €45 a day. You can save a lot of money by staying in mixed-dorm accommodations. If you want to stay in a high-class hotel and take advantage of Italy you probably want to budget at least €100 a day for accommodations, especially if you're staying in a central location in a big city such as Rome, Venice or Florence.
Currency: Euro (€) 1 euro = 100 cents
Time Zone: GMT + 1
Language: Italian
Telephone Services: Country code +39 (N.B. Don't drop the zero for city codes but do drop the zero for Italian mobiles), International access code 00
Emergency Numbers: 112 for all services
The climate in Italy and the best time to go
When deciding the best time to visit Italy, the weather certainly plays a large role. Italy has a hot, Mediterranean climate. The weather becomes hotter further south, and winter can be relatively dry and warm in these southern regions.
Mountain regions are colder and endure heavy snowfall during the winter months. The best time to visit Italy is either in Spring or in Fall, while the weather is still beautiful but the crowds of summer tourists are much less.
Things to do in Italy
When deciding the best things to do in Italy, there is an abundance of options. But here are the top bucket-list items when backpacking Italy.
Rome
A major city in its own right and the capital of Italy, Rome is unsurprisingly also one of the country's major attractions. Split in two by the River Tiber, with the world's smallest country – the Vatican City – overlooking the historic center of the city, Rome's incredible history and culture are attested to by the many phenomenal edifices.
The most famous of these structures is, of course, the Colosseum, but be sure to look beyond the old arena and check out other amazing sights like the Forum, the Castel Sant'Angelo, the Trevi Fountain, and the Pantheon. You should also make the trip across the river to the Vatican City at least once, as the tiny state boasts the immense Vatican Museums (home to the Raphael Rooms and incorporating the monumental Sistine Chapel), and the world-renowned Basilica di San Pietro (containing Michelangelo's fabulous Pieta).
If that's not enough, Rome also boasts an impressive number of bars, restaurants, and clubs, particularly around the area of Trastevere on the west bank of the Tiber, and the student district of San Lorenzo, near Termini station.
Since Rome is one of the most visited cities in the world, it is wise to book tickets to popular attractions (landmarks, museums) ahead of time to avoid the lines. GetYourGuide sells entrance tickets at face value and you can avoid waiting in line. You might also see 'Skip the Line' tickets on their site. This refers to a separate entrance for a higher ticket price. It can be a worthwhile cost for mega attractions like the Colosseum, which can have a wait time of several hours for the General Entrance during peak tourist season. You can also book a Colosseum tour through Viator which could fast-track your entrance into the Colosseum. 
Pompeii
Perhaps the most unique attraction in Italy is the ancient Roman town of Pompeii. Situated just 10 minutes from Naples, this town used to be a wealthy Roman country retreat. In 79AD, however, Mount Vesuvius erupted and buried the village in volcanic ash.
Fortunately for tourists today, Pompeii has since been excavated and restored, with a range of ancient villas as well as a temple and the old forum on display. From nearby Ercolano or Naples it is possible to take the bus to Mount Vesuvius itself and visit both of these spectacular sights in one day.
Pisa
Another famous Italian attraction is the Leaning Tower of Pisa. Constructed in 1174, the reason for the tower's unique prefix is the swampy ground on which the tower was built, which gradually caused subsidence and meant one side of the tower was 5 meters lower than the other. As well as its aesthetic appeal, the tower is also historically significant, having been used by Galileo to demonstrate his theory of motion whilst he held the Chair of Mathematics at Pisa University.
Of course, these sights represent but a snapshot of what you can expect to see should you visit Italy. Whether you confine yourselves to the beautiful sights and museums of major cities like Florence, Rome, and Milan, or venture out into the fine countryside of Tuscany and Umbria, you will always find plenty to keep yourself occupied.
Unique Activities in Italy
Since popular places in Italy can get crowded during tourist season, it is wise to reserve tickets and activities ahead of time. GetYourGuide sells entrance tickets to museums and landmarks at face value so you can avoid the lines and save that precious time for more exploring.
Viator is another popular travel website that helps you book things to do in Italy. They work directly with local tour operators in Italy, so you won't have to scour the internet or roam around town trying to find the best deal.
If you know your schedule ahead of time, a great insider tip is to buy tickets for major tourist attractions ahead of time. Tiqets has entrance tickets and skip-the-line passes for major attractions in Italy which can be a worthwhile cost for mega attractions in Rome, Milan, Venice, and other hotspots during peak tourist season. If you're interested in attending a cultural event like the Opera in Italy, be sure to plan for this once-in-a-lifetime opportunity.
How to Get Cheap Flights to Italy
If you're flying to Italy or plan to take short flights within the country, we recommend using a few different flight comparison search engines. Kiwi is a new favorite among travellers. On average, we have found the cheapest flights to Italy with them compared to the other websites out there.
Of course, it is always worth checking Skyscanner to guarantee you're getting the best deal. Both websites offer great flexible search options, allowing you to search the whole country of Italy to find the cheapest airport to fly into, and also see prices for a full month if you're flexible on travel dates.
How to Travel Around Italy on a Budget
Train and long-distance buses are the standard modes of transport for how to get around Italy. Buses are the more economical option, nevertheless, they are well-equipped with the usual modern conveniences that expect when traveling in Europe. Train travel, on the other hand, is the fastest way between two cities in Italy, and the train stations are conveniently located right in the center of town.
Certain routes are better suited to one mode of transport than the other. To compare your options for journeys from A to B, you can try Omio. They compare trains, buses (and even flights) so you can decide for yourself the tradeoff between cost and travel time.
For finding a carpool option between cities in Italy, you can use BlaBlaCar, which is a favorite mode of transport among budget-savvy locals. Just search for your destination, pick the date you want to travel and you'll see different carpool options. Some rides allow you to book instantly, while others require the driver to approve manually. The BlaBlaCar site defaults to German but you can change the language at the bottom of the page.
Train travel in Italy
Italy has an extensive train travel system. There are high-speed trains, long-distance trains, regional trains, and intercity trains. The two main train operators in Italy are Trenitalia and Italo. Italo manages high-speed trains only, whereas Trenitalia runs all kinds of trains – high-speed, regional, and intercity. Trenitalia and Italo are similar in terms of pricing and quality; your choice will depend on where you're going, and the availability of tickets that suit your schedule.
High-speed trains in Italy are generally comfortable, of decent quality and they have different ticket options such as entry-level fares, premium, and executive. It's highly recommended to book your high-speed train ticket in advance, to avoid disappointment. 
The easiest way to book train tickets in Italy is to visit the website Trainline to search for the journey you want to take (whether the distance is long – Rome to Venice, or short – Rome Termini to Rome Tiburtina) and all of the options offered by all providers will come up, allowing you to choose the option that suits you best.
The other option is to simply purchase your train ticket at the train station. There are self-served machines with English language options that you can enter your information on, and they sell you a ticket.
Where you have the option, you should always pay the surcharge to make a reservation on Italian trains. Some services are extremely busy and those without a reservation may need to stand for the duration of the journey. Reservations can be made up to three hours before departure, with some particularly modern services allowing reservations up to 30 minutes before departure.
Italy is a part of the Eurail network, which is a good choice if you plan to take multiple train journeys in a short period of time. If you plan on doing lots of train travel in a short amount of time, a Rail Pass from Eurail might be the right choice for you. 
Bus travel in Italy
There are several bus companies in Italy, the largest one being Marino Autolinee which has routes between most major cities. The train is typically faster, and cheaper, but the buses are also a good budget-friendly option. Check routes using Flixbus, which serves Italy along with the rest of Europe.
Driving in Italy
You may also want the flexibility to stop in smaller towns between the major cities. If you decide you want to rent a car, you can use DiscoverCars to compare offers from the major car rental agencies in the region.
If you want the flexibility to have a car available on-demand, you can sign up for ShareNow, which is the car-sharing app in Europe. Using their app, you can unlock cars within Milan, Rome, and Turin whether you need to rent a car for 2 minutes or 2 weeks. To sign up you'll need to download the app, and have a valid driver's license, so it's best to sign up before your trip.
Ferries in Italy
Ferries are commonly used to travel around Italy since it's made up of hundreds of miles of coastline and a multitude of islands. The islands Sicily and Sardinia, for instance, are Italy's largest islands, and the largest island in the Mediterranian Sea. You can fly to them, or take a ferry from several different locations, such as Rome. Aside from these two, there are nearly 400 other islands.
Ferries link several offshore islands with major coastal towns and ports. They run from four to eight times a day depending on the season. Ferry Scanner provides further information and the schedules for the local ferries.
Backpacking Tours in Italy
Though part of the fun of backpacking Italy is exploring on your own, there are situations, especially when venturing off the tourist trail, when it does make sense to go with a guide or a small group. 
The most popular option for a social travel experience is Contiki tours. Contiki trips offer more than just transportation, they are organized social group travel for travelers aged 18-35. Whether you're traveling by yourself or going with a group of friends, Contiki tours are perfect for people looking to have a blast, meet new friends, and form lifelong memories. They offer tours that travel primarily in Italy or longer tours that cover other nearby places.
G Adventures is another great option for organized travel but with a smaller group. It's a great choice for anyone backpacking Italy alone who would like to meet up with like-minded travelers. It's also a practical option for exploring places where you need an experienced guide, like a long hiking adventure or visiting a place well off the beaten path. You can choose from different styles of small group tours like active, wellness, hiking trips, 18-30somethings, and more.
Italy Hostels & Budget Accommodation

There are tens of thousands of hotels spread throughout Italy to suit whatever budget you have in mind. Hostels are a good way for backpackers to meet other people, and most hostels in Italy have common areas for hangouts, socializing, and relaxation. Naturally, what you can expect from your money will differ from place to place but, in general, the most economical options will offer board only. Conversely, the most luxurious hotels will require advance booking and offer premium locations and the option to eat in should you wish.
We have had good experiences finding hostels in Italy on HostelWorld. They have the largest inventory of hostels worldwide, and with over 10 million reviews and ratings from other travelers, you know exactly what to expect.
Another good way to find accommodation in Italy is by checking booking.com. You'll find hotels, homestays, hostels, and other unique accommodations. They have the most reviews and advanced filtering of any accommodation-booking site, so you'll be sure to find a great place in your budget. Many of the places on booking.com also offer free cancellation, which takes the pressure off the planning phase of your trip to Italy.
If you are backpacking with another travel companion, you might consider booking a vacation rental via VRBO. With a vacation rental in Italy, you'll have more space, and your kitchen, and you'll get a better feel for how the locals live. Plus, the cost of a vacation rental can be split among your group, oftentimes making it cheaper than doing individual accommodation. 
If you're looking to save even more money while backpacking in Italy, there are plenty of creative ways to get free accommodation in exchange for work. For example, one of our favorite ways to stay in amazing locations for free is by signing up as a petsitter with Trusted Housesitters. The site connects responsible animal lovers with petsitting opportunities in Italy and all over the world. It's a win-win for both sides – travelers can stay in amazing locations for free, and homeowners can rest easy knowing that someone is watching over their place.
And lastly, CouchSurfing is a great community that connects travelers with local hosts in Italy. You can stay for free with verified hosts, who will usually take some time to show you around the local spots.
Entry Visa Requirements for Italy
A valid passport is required by all except for EU nationals bearing a valid national ID card. A tourist visa is not required for EU or USA nationals for stays of up to 90 days. For stays longer than this, or if you intend to work in Italy, you should contact your local Italian Embassy or Consulate.
The Italian Embassy should be contacted if you have any visa or immigration-related inquiries.
Visa requirements for Italy can vary widely depending on your country of origin and can change over time. To avoid any unpleasant surprises, be sure to check the latest visa requirements while you're still planning your trip.
Health and Safety in Italy
As with travel to all other countries abroad, you must get travel insurance before you leave. Even for short trips, our go-to travel insurance provider is World Nomads, which is also recommended by Lonely Planet, HostelWorld, and other major travel companies.
The standard of healthcare in Italy is good, the drinking water is considered safe and there are no recommended vaccinations required for visiting Italy.
Work Permits and Backpacker Jobs in Italy
EU nationals do not have to obtain a visa before they enter Italy. However, if intending to stay for longer than three months, you will need to apply for a residence permit (permesso di soggiorno) from the police and sometimes an employment book (libretto di lavoro) from the local town hall (municipio). Before this time, you must apply to the police for a ricevuta de segnalazione di soggiorno, which authorizes your three-month stay whilst looking for work.
Teaching English in Italy
There are many language schools around Italy, mostly in city areas such as Milan, Rome, and Naples. The best way to find jobs is to go in person to the schools. Without a qualification such as the CELTA or CertTESOL, however, you are likely not to be noticed.
If you are serious about wanting to pursue a job abroad then check the TEFL website listed below for details of qualifying before travelling. If you would like to qualify in Italy, there are institutions around which can accommodate you as well, so look around.
Au Pair Programs in Italy
Childcare International Ltd and Home from Home are just two organizations that organise placements for those wanting to work as au pairs in Italy. Host families in Italy will provide accommodation, meals, and personal expenses such as travel. As an au pair, you will be expected to work five days a week, taking care of the children, as well as general domestic duties.
The requirements to be an au pair in Italy vary based on which country you are from, generally, you need to be free of any criminal convictions, and be between the ages of 18 and 30 to be an au pair in Italy. Au Pairs to Italy from the UK only need a passport if the stay is 3 months or less; for longer periods, you will apply for a student visa.
While being an au pair doesn't bring in a lot of income, its a great way to get your expenses paid, gain a valuable cultural experience, and bring in some pocket money. You can expect to be paid between €208 and €312 (approx. €146 to €219) per month in Italy from working as an au pair.
Working at campsites in Italy
Eurocamp and Canvas Holidays operate on campsites throughout Europe, including Italy. Most jobs with these companies and other similar organizations do not differ greatly. Eurocamp employs couriers, administrators, and children's helpers during the peak tourist summer months.
Workers can expect to receive about €95 per week. It is advantageous, both for your job application and job satisfaction, to know a European language, at least on a conversational level, as jobs will usually involve interaction with customers from far and wide.
Working at holiday resorts in Italy
Summer or winter, holiday resorts in Italy offer a good chance of finding some casual work for the willing traveler. Coastal resorts and well-known tourist areas and cities are good places to start looking for casual work during the summer months. Imagine spending your summer visit in Italy while working near some of the most beautiful beaches in the world.
Types of jobs include waitressing, bar work, and DJing, and wages depend on the type of job and the employer. However, bear in mind that working in the tourist trade can be demanding because you will be expected to deal with customers of all nationalities at the peak time of the tourist season.
Check the Club Mediterranee website for details of jobs in their holiday village in Milan which range from dancers to lighting technicians. As with work for campsite operators, specific jobs in holiday villages may require you to have knowledge of a foreign language and good interpersonal skills will also work to your advantage.
As well as having a busy summer tourist industry, winter in Italy means peak season for the many ski resorts around the Alps, Dolomites, and Apennines. PGL Ski Holidays and Crystal Holidays are good places to consult for opportunities to work a season at a ski resort.
As with summer holiday resorts, the type of jobs in ski resorts are numerous and it is best to get there early in the tourist season to secure yourself work. Mark Warner is a recruitment agency that can locate you with seasonal jobs, both summer and winter, similar to those already mentioned, including work in the Alps, their contact details are listed below.
Volunteering in Italy
Volunteer travel is a great way to explore Italy on a budget while also giving back. Typically, you'll work on the project a set number of hours per week in exchange for free accommodation, and sometimes other perks such as free food, free bike rentals, and more. 
If volunteer work in Italy sounds like something you want to do, it's best to do it via a reputable agency. An agency will help screen volunteer programs and hosts in Italy to make sure you have support every step of the way.
Volunteer work in Italy can be organized through the WorldPackers agency, and you can use promo code BACKPACKING10 to save $10 on your membership. WorldPackers can connect you with volunteering opportunities in Italy with NGOs, hostels and homestays, agricultural or wildlife experiences, and more.
Agriculture and Farm Jobs in Italy
Occupied far and wide by vineyards, Italy is a good place if you are looking for outdoor casual work. Fruit pickers are needed throughout the year, not only picking grapes in vineyards, but picking lemons, oranges, olives, and other local produce.
However, although the harvest may be fruitful, the same cannot always be said of the wages. Farmers may pay depending on how much you can collect, the quality and worth of produce, or the time it takes, but don't expect to be earning a great amount from this kind of work.
A great way to combine volunteer experience with agriculture is to look for homestays through WWOOF (Worldwide Opportunities on Organic Farms.)  WWOOF is a voluntary organization that provides work on organic farms and includes free room and board. It's a great way to learn about Italian agriculture and support sustainable and organic farming practices. You have to pay a membership fee of €10 per year on the WWOOF website to find placements, but this gives you access to find organic farms all over the world to volunteer at for the duration of that time.
Useful Links for Backpacking in Italy
Trainline

view schedules and prices for all train routes and providers in Italy

Trenitalia runs Italy's rail network
Eurail

– Rail Passes for travelers who plan on doing lots of train travel in a short period. Single-Country passes for

Italy

as well as Multi-Country passes available

Omio

– Train, bus, and flight search for

Italy

and all of Europe. Offers online booking and mobile tickets

DiscoverCars –

The world's leading rental car search engine to rent a car in

Italy 

Kiwi

and

Skyscanner

– Flight comparison search engines to find the cheapest flights to

Italy

and within the country

GetYourGuide

and

Viator

–

a collection of local tours and activities in

Italy

. Also offers Skip the Line tickets for crowded attractions

Tiqets

– Website selling entrance tickets and skip-the-line tickets for major tourist attractions in

Italy

GAdventures

– guided small group tours in

Italy

, great for solo travelers or for those interested in a more adventurous trip that would require a guide

HostelWorld – #1 hostel search website to find accommodation while backpacking Italy. Thousands of hostels and millions of reviews from fellow travelers
Booking.com

– a commonly used booking site for accommodation in

Italy

. Find hostels, hotels, and other unique accommodations in

Italy

with advanced filtering and millions of reviews

World Nomads Travel Insurance

– Comprehensive travel insurance for long and short trips when backpacking

Italy
---
There you have it, the ultimate Italy backpacking guide. We hope you have found all the information you need for backpacking around Italy.
Liked this article? Share it with others who might be after the same information!

---
This guide was written with the help of Kristin Matthews, a lifelong travel enthusiast who loves to work abroad and spend long periods of time in different countries. You can follow her adventures in traveling with her husband and kids at Tiny Footsteps Travel.