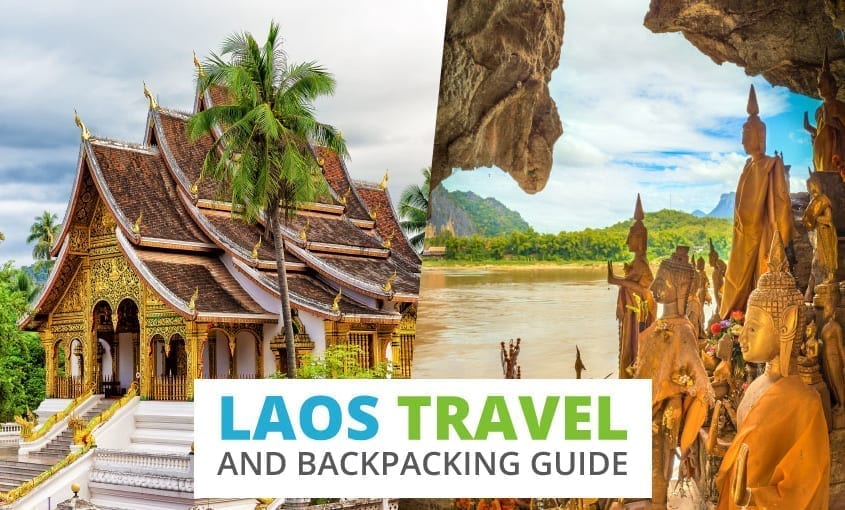 Backpacking Laos
Looking for important travel information while backpacking in Laos? Here you will find information on working in Laos, entry visas, Laos hostels, and much more.
Table of Contents
Facts About Laos
Formerly one of three French Indo-Chinese states, Laos is slowly becoming a tourist hotspot. With the new and well-equipped Luang Prabang airport now catering to direct flight from Chiang Mai in Thailand, this recent trend can only continue.
While still not as developed as some of its Asian neighbours there has been a slow but steady build-up of tourist related facilities and infrastructure. There are now enough amenities to make travelling to Laos accessible for non-adventure types but equally huge swathes of the country are untouched and visited by relatively few travellers. When traveling in Laos, be sure to take advantage of this fact as the country will not remain immune to the hordes of tacky tourist traps forever. It is no exaggeration to say that there has never been a better time to visit Laos.
Currency: Laotian New Kip (Kp) = 100 cents
Time Zone: GMT + 7
Language: Laotion although French, English and Vietnamese are also spoken
Telephone Services: Country code +856, Direct dialling is not available
Emergency Numbers: Not present
Climate in Laos and the best time to go
When deciding the best time to visit Laos, the weather certainly plays a role. Laos benefits from a relatively predictable and tropical climate, complete with the associated temperatures. There is a monsoon season between May and October and a dry season from November to April.
Throughout the year expect hot weather with slightly chillier climates in areas of high altitude. Lightweight cotton clothes are advised with at least one sweater for travel to upland areas.
Things to do in Laos
Vientiane
The capital of Laos is the city of Vientiane, situated on the banks of the River Mekong the city is home to plenty of temples, shrines, monuments and markets. The biggest tourist attraction is probably the Wat Pha Kaew or Temple of the Emerald Buddha.
This 16th-century former royal temple is now a museum and houses a collection of Buddha statues from throughout Asia. The other must-see temple is the Wat Sisaket which is the oldest temple in Vientiane. It also houses a museum of its own with a very modest entry fee of 1000 Kip, this is under 10p in British money.
There is also a magnificent triumphal arch called the Anousavari Monument which was built in 1962 to commemorate the lives of people who died defending Laos. Also of interest is the Lao National Museum, the cultural hall and the forested enclave containing the Wat Sokpaluang temple.
Luang Prabang
The city of Luang Prabang is often quoted as the jewel of Laos. This tiny city houses just 16,000 inhabitants and has been virtually unaffected by the gradual creep of Western culture across Asia. The main tourist attractions are its literal dozens of historic temples.
The Wat Xieng Thong and Wat Wisunlat temples are in particular worth visiting. Within half an hours drive are the Pak Ou caves which contain hundreds of Buddha images and the impressive Kuang Si waterfalls south of the city.
Plain of Jars
If you are looking for something a little different then you will no doubt be fascinated by the Laos "Plain of Jars". This area is situated in the Xieng Khuang province and is littered with enormous stone jars in five major groupings. These jars are of unknown origin but comparison with local rock indicates that they did not originate in the area. The most accessible site is Thong Hai Hin which is set up to deal with tourists and is also the site of the largest 6 and a half tonne jar.
Unique Activities in Laos
Another good way to get an idea of things to do in Laos is to scan the activities offered by Get Your Guide or Viator. They work directly with local tour operators, so you won't have to scour the internet or roam around town trying to find the best deal.
How to Travel Around Laos
If you're flying to Laos or plan to take short flights within the country, we recommend using a few different flight comparison search engines. Kiwi is a new favourite among travellers. On average, we have found the cheapest flights to Laos with them compared to the other websites out there.
Of course, it is always worth checking Skyscanner to guarantee you're getting the best deal. Both websites offer great flexible search options, allowing you to search the whole country of Laos to find the cheapest airport to fly into, and also see prices for a full month if you're flexible on travel dates. 
How to Travel within Laos
There are only two methods of travel in Laos, along the river in a variety of boat tours ranging from standard ferries to speedboats or by road. River travel is somewhat expensive and the ferries are notoriously slow so most travellers opt for overland travel.
Buses now link all of the provinces and major cities but the standards can vary dramatically from converted pick-ups right through to modern coaches. Services are run by private individuals and as a result, there is no real central resource for information on bus routes.
The best bet is to ask for advice from your hotel or hostel staff. Many people opt to hire a car in order to get around Laos, it is not recommended to drive yourself since the driving style is somewhat hazardous for those not used to it. However, agencies such as Asia Vehicle Rental Co Ltd are able to supply hire vehicles with a local driver.
Backpacking Tours in Laos
Though part of the fun of backpacking Laos is exploring on your own, there are situations, especially when venturing off the tourist trail, when it does make sense to go with a guide or a small group. For these times, a popular option among backpackers is G Adventures. They hand-select local guides to ensure authenticity and quality. This is especially a good option for those travelling in Laos alone who would like to meet up with like-minded travellers. Their most popular trips in Laos are their 14-day Indochina discovery tour including Thailand, Vietnam, and Laos, or their 9-day Laos on a shoestring tour which travels throughout Cambodia and Thailand.
Laos Hostels & Budget Accommodation
Tourist accommodation is somewhat sparse in Laos, in the major cities such as Vientiane, Luang Prabang and Vang Vieng there is a modest number of good hotels available. Elsewhere it can be difficult to find accommodation, there is generally a selection of village hostels and guesthouses but it is advisable to contact a tour operator with experience in Laos to help you arrange accommodation or simply for advice.
Recently the Laos government has built "ecolodges" in Laopako, Nam Mgum and Luang Namtha in a bid to encourage eco-tourism to the country. These lodges are specially constructed to have as little impact on the environment as possible and are open to visitors all year.
We have had good experiences finding hostels in Laos on HostelWorld. They have the largest inventory of hostels worldwide, and with over 10 million reviews and ratings from other travellers, you know exactly what to expect.
Another good way to find accommodation while backpacking Laos is by checking hotels.com and  booking.com. With both sites, you'll not only find hotels, but also homestays, hostels, and other unique accommodation. We have discovered some great finds and have appreciated the ability to book ahead.
You can use their advanced filtering to narrow your results by budget, location score, overall review score, and amenities. Many of the places on booking.com also offer free cancellation, which takes the pressure off the planning phase of your trip.
Entry Visa Requirements for Laos
All visitors require a passport valid for at least 6 months after arrival in Laos. In addition, all visitors require a visa for the duration of their stay. Tourist visas are available from your local Laos Embassy, Vientiane Airport, Luang Prubang Airport, Friendship Bridge or Savannakhet.
Tourist visas are valid for 15 days and cost approximately Kp20, multiple entry visas are available from the Ministry of Foreign Affairs. All further visa or immigration related enquiries should be directed towards your local Laos Embassy or consulate.
Health and Safety in Laos
Outside of Vientiane healthcare is practically non-existent. Even in the capital, the standard of treatments is basic at best and you will normally have to pay in cash before being treated. Costs of repatriation or air evacuation are extremely high and may be necessary should you require emergency medical treatment. For this reason, it is essential that you have adequate travel insurance for the duration of your stay in Laos.
Vaccinations are recommended for typhoid and polio, these can be obtained from your local GP for around Kp40. Cholera is also present in the country and you should seek advice from your GP regarding relevant vaccinations. Malaria is also present in the country including strains resistant to chloroquine, you should seek your GP's advice on what anti-malaria treatment to carry with you.
The water is unsafe to drink and all water used for consumption or washing should have been boiled or otherwise sterilised before use. Dairy products are un-pasteurised and should be avoided. Fruits and vegetables should be washed, peeled and where possible cooked before consumption. Meat should be thoroughly cooked and where possible eaten hot.
There are some security risks to be aware of when travelling in Laos particularly concerning the Xaysombourne Special Zone, travel to and around this area is advised against. There is also a risk of banditry which is most pronounced in the north of the country. It is recommended that you only travel in rural areas during daylight and you exercise caution.
Volunteering and Backpacker Jobs in Laos
Labelled the poorest country in South East Asia, Laos is a developing country whose people are very much integrated into traditional values of living and hospitality. Most who travel to this country in a gap year or otherwise generally do not do so with the intention of finding work.
Employment is hard to come by and is unlikely to pay very well. Instead, people take part in the development process as volunteers teaching English or go to Laos simply for the environment. Laos is a mountainous country and neighboured by Vietnam and China, many expedition organisations lead treks through these countries.
Paid Work in Laos
If you do find any paid employment in Laos it will be as an English teacher. Hourly rates can be as much as $ 7, remember that there is a low cost of living in Laos. Teachers are often required to have a degree and TEFL qualification, so this type of work is not always suitable for those on a gap year before university. The main area to find such work as this is Vientiane where many colleges and schools employ English teachers.
Volunteering in Laos
Most teaching opportunities in Laos are more likely to be voluntary than paid as is the case in many developing countries. A lot of volunteer organisations operate throughout Asia offering teaching positions, but given Laos' low population, it is often missed out by such schemes.
Nevertheless, asking around schools in Vientiane will very likely find you teaching work and although it is unpaid it is often very rewarding. Try Nita Kindergarten and Primary School, Lao International College, and JM International College, all in Vientiane. Most schools will provide you with food and very often accommodation. Gaining a TEFL qualification before you leave the UK will also be very much to your advantage.
VentureCo
VentureCo's 16-week programme combines aid projects with expeditions from Cambodia, through Vietnam, to Laos, and finally China. The first three weeks are spent in what is known as 'cultural orientation' consisting of visiting various places guided by a team who introduce you to the culture and traditions of the countries and learning the Khmer language.
The following four weeks consist of community aid work in Koh Kong, involving teaching and food distribution to underprivileged children. A 9-week expedition then follows taking you through Vietnam: Saigon, HoiAn, China Beach, and Hue City; Laos: Vientiane, Luang Prabang, and the Mekong River, and finally China: Kunming, Lijiang, the Yangtze, Xi'an, Beijing, and finishing with a trek on the Great Wall of China.
Programmes with VentureCo are self-funded and can cost you up to Kp5000, which includes travel, food, accommodation, transport, and fees for the activities themselves.
Useful Links for backpacking in Laos
---
There you have it, the ultimate Laos backpacking guide. We hope you have found all the information you need for backpacking around Laos.
Next up:
Liked this article? Share it with others who might be after the same information!