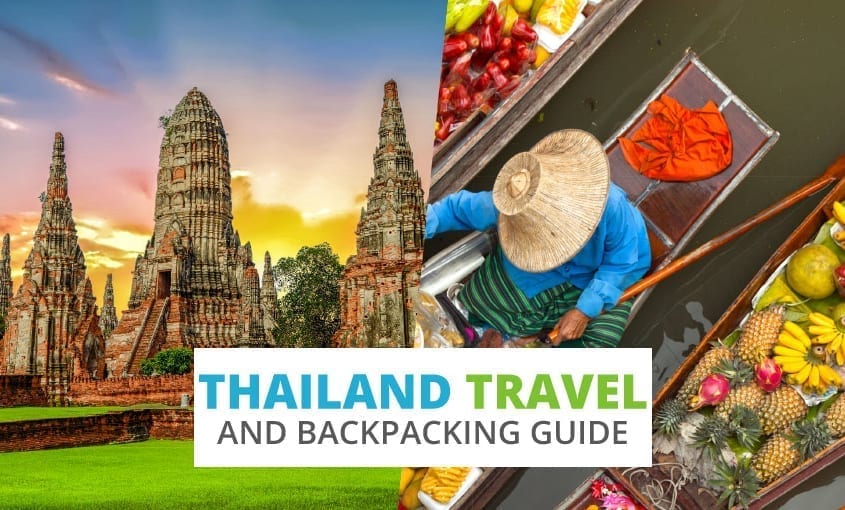 Backpacking Thailand
Looking for important travel information while backpacking around Thailand? Here you will find information on working in Thailand, entry visas, Thailand hostels, and much more.
Table of Contents

Facts About Thailand
Over recent years Thailand has positioned itself as the tourist gem of south-east asia. With plenty of mysterious Buddhist culture sitting side by side with a well developed tourist industry and a more than adequate infrastructure more tourists come here than anywhere else on the south-eastern part of the continent. This is for a good reason! Thailand offers everything from crowded markets and bazaars to ancient temples, to busy nightlife all set against some of the best scenery in the region. The population themselves are very welcoming towards tourists making most people travels in Thailand an absolute pleasure.
Currency: Baht (Bt) = 100 satang
Time Zone: GMT + 7
Language: Thai, although some regions speak Malay and Chinese. English is widely spoken.
Telephone Services: Country Code +66, International access code 001
Emergency Numbers: Not present
Climate
Thailand is generally hot, especially during the summer months between March and May. Thailand experiences a monsoon climate with the rainy season running from June through to October. September in particular experiences large amounts of precipitation. The most comfortable time to travel is between November and February.
.
Things to see and do
Bangkok, the country's capital is one of the most essential destinations in Thailand. It is easily the largest city in the country and is Thailand's hectic centre of commerce, politics and culture. Although traffic is ridiculously heavy, making London's gridlocks look quiet, the city still has plenty to offer the traveller. One of the most memorable experiences is taking a boat ride along the city's canals where you will be able to experience some of the floating markets. The most famous market is the Wat Sai Market but it has become somewhat commercial in recent years so you may want to seek out floating markets in other areas of the country. In particular the Damnoen Saduak floating market is considered the best of these uniquely Thai experiences. Other essential sites include the magnificent Grand Palace which was built for the coronation of Rama I in the late 1700s. Also worth a look is the Temple of the Golden Buddha which houses an enormous 5 tonne statue of Buddha rendered in solid gold. The nightlife in Bangkok is lively and there are plenty of bars and clubs. Many travellers are drawn to the lewd displays of the Patpong bars but in other areas of the city there is enough variety to cater for most tastes.
Chiang Mai is Thailand's second city was founded in 1296 and sits against the backdrop of the impressive Doi Suthep mountain. The city is a lot less crowded and manic than Bangkok and many travellers prefer its slightly more relaxed atmosphere. One of the key attractions is the Night Bazaar which is located in the centre of the city and a great place to do a spot of souvenir shopping or just to practice your haggling. The city is also a base for a variety of mountain treks, most give you the opportunity to visit the hill tribes to the north of the city and some are even conducted on elephant back. No traveller should leave without visiting the 'chedi' at the top of Doi Suthep, the Wat Phra Borommathat temple situated there is reknowned as one of the holiest in Thailand.
Ayuthaya was the capital of Thailand up until 1350 and it is now the site of impressive world heritage recognised ruins. The ruins are almost exclusively temples which were destroyed by the Burmese when they conquered the city in 1767. One of the highlights is the temple of Wat Phra Chao Phana Choeng, this 14th century temple boasts an enormous 19m high image of Bhudda. Also of note is the Wat Phra Meru which escaped the ravages of the Burmese and is home to a 1300 year old green rock carving of a throned Bhudda.
Travel
Thailand covers a very substantial are so much like other Asian countries internal flights become a viable alternative to overland travel. The main services are run by Thai Airways International which runs services to 22 internal airports. Bangkok Airways runs 7 additional routes. In general discounts are available during off-peak seasons and if you want to travel a large distance fast, this is a reasonably cheap way to do it.
Rail is the best way to get around most areas of Thailand, the extensive rail network is run by The State Railway of Thailand and extends for nearly 5000km. This covers all major towns with the noticeable exception of Phuket which is reachable by bus. Fares are generally quite cheap and the carriages are comfortable with most major lines boasting air-conditioned, restaurant and sleeper carriages. Supplements are required on some routes and for some carriages. If you can navigate the somewhat cryptic website which the State Railways of Thailand uses you will be able to find a Thai Rail pass which offers unlimited travel for 20 days for 3000 Baht including supplements or 1500 Baht without , as you can see this is quite a deal and using this pass makes travel in Thailand both cheap and easy. It is worth noting however that the rail pass only covers travel in 2nd and 3rd class.
There are plenty of inter-city bus services on offer, generally these are run by local private companies and range from uncomfortable crowded buses to luxury air conditioned coaches. Prices are quite cheap but the appalling traffic in some areas of Thailand makes travelling by bus quite slow.
Accommodation
With Thailand becoming increasingly popular with tourists you will have no problem finding good, cheap accommodation. Hotels are plentiful in all major cities with Bangkok boasting over 12,000 international standard rooms alone. The Thai Hotels Association offers online booking for a range of member hotels, some even in the more remote areas of the country.
The YMCA and YWCA have hostels in Thailand and you will find these as well as numerous small cheap backpacker style hostels scattered across the country. The Thai Youth Hostels Association should be contacted for further details regarding finding and booking hostels.
Health
The standard of healthcare in large populated areas such as Bangkok and other major cities is quite good. Rural areas and smaller towns may not have adecuate facilities however. Most major hotels will have a doctor on call since there is no official emergency service contact numbers throughout Thailand. Costs of treatment and repatriation can get quite steep so ensure that you have adequate travel insurance before departing for Thailand.
The tap water is not safe to drink, and should be boiled before use. The use of bottled water is recommended. Dairy products should be avoided as most are un-pasteurised. Pasteurised milk can be bought in larger cities but always check the label before consumption. Raw fruits and vegetables should be washed and peeled before consumption. Caution should be observed when purchasing food from street vendors.
Vaccinations against Typhoid and Polio are recommended before travel to Thailand and are available from your local GP for approximately 40 baht. It is also advised to seek medical advice concerning cholera from you GP before travel. Malaria is present throughout the country so you should avoid getting bitten by insects by using good repellents and bug nets where appropriate. Consult your GP for the most appropriate anti-malaria treatments to take with you as resistant strains are present in some areas of the country.
Useful Links
The Thai Youth Hostels Association maintains information on youth hostels throughout the country.
The State Railway of Thailand maintains and runs the railway services throughout Thailand
Bangkok Airways operates 7 Thai domestic routes.
Thai Airways International provide most of the Thai domestic flights.
Entry Visas for Thailand
All visitors require a passport valid for the duration of their stay, visas are not required by EU or USA nationals for stays of up to 30 days. A return tickets is required to be shown before you will be granted entry. Any further visa or immigration related enquiries should contact the local Thai Embassy or Consulate. It is also worth noting that Thai officials reserve the right to refuse entry to those with long, untidy hair who look too "hippyish" or to people wearing clothes which are considered offensive to the state. Again further enquiries should be directed towards your local Thai Embassy or Conulate.
Addresses
The Tourism Authority of Thailand provides general tourist and travel advice for visitors to the country:
Tourism Authority of Thailand 
49 Albermarle Street 
London 
W1X 3FE 
Tel: (0171) 499 7679 
fax: (0171) 629 5519. 

All visa and immigration related enquiries should be directed towards the Royal Thai Embassy:
Royal Thai Embassy 
29/30 Queens Gate 
London 
SW7 5JB 
Tel: (020) 7 589 2944
Fax: (020) 7 823 9695.

If you require UK representation whilst in Thailand you should contact the British Embassy:
British Embassy 
Wireless Road 
Bangkok 
Thailand 
10330 
Tel: + (66) (2) 253 0191-9 
Fax: +(66) (2) 255 6051 
consular@bangkok.fco.gov.uk  

There is also an Honorary British Consulate in Chiang Mai.
Foreigner Work Permits in Thailand
As is the case with a lot of Asian countries, work opportunities are difficult to come by in Thailand due to the weakness of the economy. Most chances of work will be found in teaching English, or volunteering. A work permit is needed to legally find employment, and will require renewal out of the country every three months. If you find work as a teacher in a school, a letter from the institution can often gain you a non-immigrant Visa, allowing you to work.
Teaching English
Most opportunities for teaching English as a foreign language will be found in the main cities, Bangkok, and Chiang Mai, for example. Check the Bangkok Post for vacancies, or contact schools and institutions listed in the Yellow Pages. Training to receive the TEFL qualification before you leave the UK can often put you at an advantage but is not essential for work in Thailand. Alternatively, some people try freelance work and advertise as private tutors in the local media. Tutors can expect to receive upwards from 150 baht per hour.
Volunteering
Most volunteer projects remain in the field of teaching but some organisations offer opportunities in social work and practical community programmes.
Project Trust
The main focus of the Project Trust's programmes in Thailand is teaching English in schools. There are currently chances to work in Nabokhumwittayakom School, Sriyapai School, and Mae Sai Prasitthisak School, amongst others. Volunteers must be aged between 17 and 19 and a half years old and are expected to raise 3850 baht themselves to fund their project, this includes all expenses for living costs, travel, donations etc.
Concordia
Volunteers work in groups with children and communities in a number of countries throughout the world. Projects last for up to three weeks, in the summer months. All volunteers are supplied with food and accommodation and are required to pay a fee of 75 baht to register with Concordia.
Crusoe
Crusoe is a Christian organisation arranging overseas four week placements for teams to visit and work in developing countries. Volunteers are expected to pay for their own travel etc. which can amount to more than 1000 baht.
World Exchange, Scottish Churches
Volunteers with the organisation are sent on twelve month projects abroad, including Thailand, to work on projects set up by associate churches. You will receive free accommodation and be given pocket money, but are required to fund your own travel and insurance etc.
GAP Activity Projects Ltd
GAP arranges volunteer programmes specifically aimed at gap year students. In Thailand volunteers are usually sent to primary schools to assist in teaching English. Projects last about five months, and begin in either May or November. Currently there are opportunities to help teach English in schools in Chiang Mai, Nan, and Samut Songkhram. GAP provides accommodation and pocket money but volunteers are expected to pay an initial registration fee.
Useful Links
Crusaders.org.uk for more information about volunteering with Crusoe
How to Say Common Thai Phrases
Meeting People
English

Thai

yes

chai

no

mai-chai

thank you

kob-khun

you are welcome

mai-pen-rai

please

ka-ru-na

excuse me

kor-tose

hello

sa-wat-dee

goodbye

lar-korn

Good morning

sa-was-dee-torn-chao

Good night

ra-tree-sa-was

I do not understand

chan-mai-kao-jai (f) pom-mai-kao-jai (m)

Do you speak…?

khun-pood…?

English

pa-sa-ang-krit

What is your name?

khun-cheu-ar-rai?

Nice to meet you

dee-jai-tee-dai-pob-khun

How are you?

khun-sa-bai-dee-mai?

good

dee

bad

mai-dee
Directions
English

Thai

map

phaen-tie

left

saaj

right

khwaa

straight on

trong

far

klaj

near

klaj
Methods of Transport
English

Thai

Where is…?

…-you-tee-nai?

How much is the fare?

ka-douy-sarn-tao-rai?

ticket

tua

A ticket to…, please

pai…neung-tee

Where are you going?

khun-kum-rung-pai-nai?

Where do you live?

khun-you-tee-nai?

train

rod-fai

bus

rod-may

underground

rod-fai-tai-din

airport

sa-narm-bin

train station

sa-tarn-nee-rod-fai

bus station

pai-rod-may

underground station

sa-tarn-nee-rod-fai-tai-din

departure

ork-pai

arrival

ma-teung

parking

tee-jord-rod
Time
English

Thai

What time is it?

nee-va-la-ar-rai? Kie-mong?

today

wan-nee

yesterday

mua-waan-nie

tomorrow

phroeng-nie
Accommodation
English

Thai

hotel

rong-ram

room

hong

reservation

jong

Are there any vacancies?

imee-hong-wang-sum-rub-keun-nee-mai?

No vacancies

mai-mee-hong-wang

passport

passport, nangsue-deun-thaang
Places
English

Thai

post office

tee-tum-karn-plai-sa-nee

bank

ta-na-karn

police station

sa-thaan-nie-tam-roewat

hospital

rong-pa-ya-barn

chemist

ran-kai-ya

shop

ran-kai-kong

restaurant

raan-ahaan

museum

pi-pit-ta-pan

church

bost

square

ja-tu-rus

street

ta-nonn
Shopping
English

Thai

How much does this cost?

nee-la-ka-tao-lai?

I will buy it

shun-ja-seu-mun

I would like to buy…

…shun-tong-karn-ja-seu

Do you have…?

khun-mee-…-reu-plao?

open

peut

closed

pid

postcard

praj-sa-nie-brat

stamps

sataem

little

nit-noi

lot

maak

all

thung-mode
Meals
English

Thai

breakfast

ar-harn-chao

lunch

a-haan-tiang

dinner

ar-harn-yen

vegetarian

mung-sa-vi-rat, kin-ahaan-tjee

cheers!

chok-dee

The bill please

khep-tang, check-bill
Drinks
English

Thai

drink

kreung-deum

coffee

ca-fae

tea

naam-chaa

juice

naam-pom-la-mai

water

naam

beer

bia

wine

waj
Food
English

Thai

meat

neur-sat

fish

neur-plaa

vegetable

phak

fruit

pom-la-mai

potato

man-fa-rang

salad

salad

dessert

kong-wang
Buy phrasebooks online at Amazon.co.uk
Thailand Hostels
Hostels are a cheap form of accomodation, and so they are essential to backpackers and other budget travellers. We have compiled a list of hostels in Thailand to help you plan your journey. If you are looking for a hostel in Thailand, you've come to the right place.

Bangkok Hostels
Chaing Rai Hostels
Krabi Hostels
Suratthani Hostels
There you have it, the ultimate Thailand backpacking guide. We hope you have found all the information you need for backpacking around Thailand.