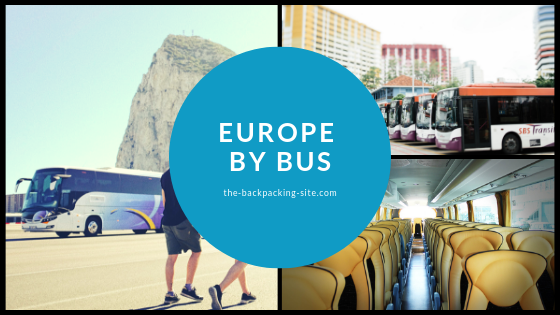 Did you know that in Europe, buses are often the cheapest way to travel from place to place? The long-distance luxury buses are frequently used by locals and visitors alike because bus travel allows you to cover large distances on a budget.
The standards for bus travel in Europe is much higher compared to other bus networks like Greyhound in the USA, and most operators are very modern, offering online booking and ticketing.
Buying Bus Tickets in Europe
Since bus prices don't fluctuate like airline tickets, planning as you go is a budget-friendly plan. While there is not an equivalent to Greyhound bus in Europe, you will find even better options.
Traveling by bus in Europe is a favorite mode of transport for students, backpackers, and locals. While bus travel in Europe is not as fast as train or flight, it is by far the cheapest way to get from A to B if you are traveling Europe on a budget.
Buses in Europe are well-equipped with modern conveniences and have big comfortable seats. The majority of buses in Europe have climate control, restrooms, reclining seats, and tinted windows. You will find that on popular routes, buses are even equipped with TV/video equipment.
The largest long-distance bus provider in Europe is Flixbus.When traveling Europe, you're bound to see plenty of these oversized green buses transporting fellow budget travelers between the major cities. Although they are usually the cheapest way to get from A to B, they have a great reputation, are very clean and comfortable.
Because of Europe's fragmented past, there are also a lot of regional bus travel companies serving popular bus routes throughout Europe. In order to make sure you're getting the best deal, the easiest way to find a bus option is to use the travel search website, Omio. They have the most extensive inventory of European bus companies.
Using Omio, you can compare train, bus, and even flight options for thousands of routes to see the best options. They offer direct booking and mobile tickets in their app.
Hop on Hop off Bus Tours in Europe
You have probably seen the hop on hop off bus tours within cities in Europe, but did you know that this concept applies to the entire European continent?
Busabout is a hop-on, hop-off bus travel company in Europe that also provides deals on accommodation. Busabout is a good option if you want to stay completely flexible. Many solo travelers like this style of travel because of the community atmosphere of the buses. You will inevitably meet fellow backpackers to spend time in cities with, and Busabout also provides guided tours and activities.
Note: Unfortunately, Busabout has suspended their operations in Europe since Covid hit. But once they're ready to come back, it's a great option to travel Europe by bus!
Organized Group Trips
If you're in Europe for a backpacking trip, there are situations when it might make sense to go with a guide or a small group. For these times, one popular option among backpackers is Contiki tours. These trips are geared toward travelers 18-35, and offers more than just transportation, it's an organized social group travel, which is perfect for young solo travelers. Contiki tours are perfect for people looking to have a blast, meet new friends, and form lifelong memories. There are Contiki tours that cover the entire European continent or specific regions.
Another option for group travel is G Adventures. They hand-select local guides to ensure authenticity and quality, and their affordable tours include accommodation for a range of budgets. Going with G Adventures is especially a good option for those traveling Europe alone who would like to meet up with like-minded travelers.
Safety Issues When Traveling by Bus in Europe
Bus travel in Europe is exceptionally safe. In fact, according to the Statistical Federal Office, bus travel is the safest mode of transport on the roads in Europe. Many bus travel companies in Europe offer you an increased level of security by picking up and dropping off passengers directly from hostels.
This can allow you to avoid bus stations, which can be unsafe at night. The convenient drop off points also means that if the bus stops in a city that you want to see, you can disembark right in the city center. As with any travel, be sure to keep an eye on your belongings.
Useful Links for Bus Travel in Europe
Omio – search buses and trains for all countries in Europe. Offers online booking and mobile tickets for bus tickets.
FlixBus – the leading bus company in all of Europe
Eurolines – another major bus company in Europe with point-to-point express service.
Busabout – a hop-on, hop-off tour bus company in Europe that also provides deals on accommodation
Next up:
Liked this article? Share it with others who might be after the same information!