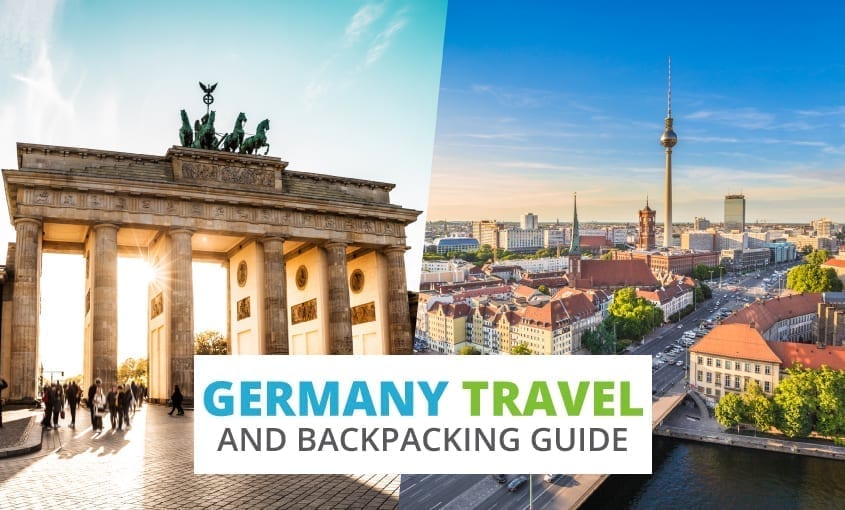 Backpacking Germany
Looking for important travel information while backpacking in Germany? Here you will find information on working in Germany, entry visas, Germany hostels, and much more.
Table of Contents
Facts About Germany
Germany is one of the most influential countries in the EU– since the 1990 reunification of East and West Germany the country has become a leading power in Europe. Germans enjoy a high standard of living and you can expect a cosmopolitan and comfortable time in Germany as a traveller.
A substantial part of recent German history is the two World Wars, and you have the opportunity to visit many historically-significant locations while in Germany. Far from glorifying war, many of the sights and memorials are among the most moving in the world.
Germany also boasts picturesque countryside, well-preserved medieval towns full of timbered houses, Oktoberfest and the Biergarten culture, and more. Larger cities like Berlin and Hamburg have a world-famous nightlife scene.
Currency: Euro (€) 1 euro = 100 cents
Time Zone: GMT + 1
Language: German
Telephone Services: Country code +49, International access code 00
Emergency Numbers: 112 for all services
Climate in Germany and the best time to go
When deciding the best time to visit Germany, weather plays a significant role. Germany is a generally temperate place with weather that follows typical seasons– Summer is hot, Fall is crisp, Spring is mild, and Winter is cold with occasional snow.
Unlike neighbouring countries to the north and south, the temperature rarely hits extreme highs or lows. This means if you take sensible clothes, Germany's climate is quite hospitable. In the winter, high altitude areas such as the Alps can actually experience short spells of warm weather due to the fohn which is a warm southern wind.
Things to do in Germany
Berlin
The capital of Germany, Berlin is a worthwhile visit on any tour. The city is best explored on foot or by bike, where you will have time to appreciate the architecture of former East Berlin and the modern rejuvenation projects which have brought Berlin back from a crippled, divided city to the strong unified capital it is today.
In Berlin, you will see stately architecture such as the Reichstag Parliament building, Berlin Cathedral on Museum Island, and Brandenburg Gate. Berlin has the best nightlife and restaurants in the country. Be sure to schedule at least two days in Berlin as you might need the second one to recover from the night before!
Our suggested itinerary guarantees you'll hit all the historical highlights while getting a feel for the modern Berlin energy: Berlin in 3 days: local vibes and must-sees.
Munich
Munich is the next must-see destination in Germany, the capital of the former Kingdom of Bavaria and the unofficial capital of Beer. Munich is the headquarters of Germany's 'Big 6' Breweries, exporting world-famous beer around the globe.
You will find Bavarian culture alive and well at the many traditional beer halls in abundance here, or head to the Englischer Garten for the perfect place to relax. One of Europes largest city parks, the "Garten" covers an area of nearly four square kilometres. Munich also has more theatres than you will find anywhere else in the country.
Lubeck
Often overlooked, you will find this to your taste if you like to get a little off the beaten track. Earning a place on UNESCO's world heritage list, the medieval old town of Lubeck has been restored after suffering extensive damage during World War II. Of particular interest is the Marionettentheatre, a captivating puppet theatre which really shouldn't be missed.
Unique Activities in Germany
Another good way to get an idea of things to do in Germany is to scan the activities offered by Get Your Guide or Viator. They work directly with local tour operators, so you won't have to scour the internet or roam around town trying to find the best deal.
If you know your schedule ahead of time, a great insider tip is to buy tickets for major tourist attractions ahead of time. Tiqets has entrance tickets and skip the line passes for major tourist spots in Germany so that you can avoid the lines and save that precious time for more exploring.
How to Travel Around Germany
If you're flying to Germany or plan to take short flights within Europe, we recommend using a few different flight comparison search engines. Kiwi is a new favourite among travellers. On average, we have found the cheapest flights to Germany with them compared to the other websites out there.
Of course, it is always worth checking Skyscanner to guarantee you're getting the best deal. Both websites offer great flexible search options, allowing you to search the whole country of Germany to find the cheapest airport to fly into, and also see prices for a full month if you're flexible on travel dates. 
Train vs. Bus in Germany
Train and long-distance bus are the standard modes of transport for getting around the country. Buses are the more economical option, nevertheless, they are well-equipped with the usual modern conveniences that expect when travelling in Europe. Train travel, on the other hand, is the fastest way between two cities and the train stations are conveniently located right in the center of town.
It depends on your preference, and certain routes are better suited to one mode of transport than the other. To compare your options for journeys from A to B, you can try Omio. They compare trains, buses (and even flights) so you can decide for yourself the tradeoff between cost and travel time.
Train travel in Germany
Germany is a part of the Eurail network, which is a good choice if you plan to take multiple train journeys in a short period of time. Eurail offers both multi-country passes and One Country Passes. To decide whether you should buy individual tickets from A to B, or whether you should purchase a Eurail pass, read our Travelling Europe by Train guide.
German train travel is efficient and comfortable but unfortunately at an expense. The network is run by Deutsche Bahn and covers most of Germany. You can bring travel costs down by looking for good budget deals which are frequently on offer.
The happy weekend ticket (Schoenes Wochenende Ticket) is a particularly good buy. This ticket allows travel for up to five people on local trains, all weekend for just over €20. You really can't get much better than this.
Bus travel in Germany
Germany has an extensive bus network which is cheaper than trains for long distance journeys. FlixBus is the major provider, and they serve both domestic routes and routes to major European destinations. Central bus stations are usually located next to train stations and are normally clearly signposted with the word Busbahnhoff.
Driving in Germany
Maybe it's your dream to drive without limits on the Autobahn. You may also want the flexibility to stop in smaller towns between the major cities. If you decide you want to rent a car, you can use AutoEurope or Europcar to compare offers from the major car rental agencies in the region. Before deciding, read more about what to expect of driving in Europe.
Backpacking Tours in Germany
Though part of the fun of backpacking Germany is exploring on your own, there are situations when it does make sense to go with a guide or a small group. This is a good option for those travelling Germany alone who would like to meet up with like-minded travellers. For these times, a popular option among backpackers is G Adventures.
They hand-select local guides to ensure authenticity and quality. Their most popular trips in Germany are their 7-day Budapest to Berlin on a Shoestring tour covering Berlin, Prague, Krakow, and Budapest, or their 12-day Europe by Rail with the Glacier Express tour covering Switzerland, Hungary, Austria, Germany, and France.
Germany Hostels & Budget Accommodation
Hotels in Germany are abundant but normally quite pricey. A more affordable solution is a Pension which is a broad equivalent to a bed and breakfast and this is also a good way to meet some local people and get to integrate with the German culture a little more.
We have had good experiences finding hostels in Germany on HostelWorld. They have the largest inventory of hostels worldwide, and with over 10 million reviews and ratings from other travellers you know exactly what to expect.
Another good way to find budget accommodation in Germany is by checking hotels.com and booking.com. With both sites, you'll not only find hotels, but also homestays, hostels, and other unique accommodation. We have discovered some great finds and have appreciated the ability to book ahead. You can use their advanced filtering to narrow your results by budget, location score, overall review score, and amenities. Many of the places on booking.com also offer free cancellation, which takes the pressure off the planning phase of your trip.
Entry Visa Requirements for Germany
EU or USA nationals will require a valid passport or national ID card for the duration of their stay. A visa is not required for visits of up to 3 months in duration. If you wish to stay in Germany for longer than this time, or if you intend to work in Germany you should contact the German Embassy.
Health and Safety in Germany
Germany has an extremely good health service and anyone carrying a completed E111 and with a comprehensive travel insurance policy should have no problem getting state of the art treatment should it be required.
There are no known health risks present in Germany, there are no vaccinations recommended before visiting the country and the tap water can be considered safe to drink.
Work Permits and Backpacker Jobs in Germany
EU nationals may enter and stay in Germany for up to 90 days without needing a Visa. If you intend to stay for longer than three months you will need to apply for a residence permit (Aufenthaltsgenehmigung) for which you will require proof of having found somewhere to live. Within seven days of arriving in Germany, you should obtain a certificate of registration (Anmeldebestätigung). Furthermore, if you aim to work in a restaurant, bar, cafe etc. it is advisable to obtain a health certificate (Gesundheitszeugnis).
Au Pair Programs in Germany
Au pairs in Germany work for about 25 hours a week and can expect to earn at least €210 (approx. €148) per month. Usual au pair duties include looking after children, taking them to and from school, as well as general household work such as cleaning.
Au pairs are also usually expected to take part in a course, at a university for example, for a few hours a week. Au Pair International and Au Pair Network International are two agencies that can place EU nationals in au pair positions in Germany, but for a more extensive range of companies, see the Europa Pages website.
Teaching English in Germany
In most foreign-speaking countries you will find openings for teaching English. The best places to look are language institutions, but there is no guarantee of work as jobs are highly sought after. If you are serious about becoming an English teacher in another country it is worth training with TEFL to receive a qualification that will put you in better standing than those without.
Working at hotels and restaurants in Germany
Asking around and writing to various hotel companies listed in guidebooks may help you to find some temporary work in Germany, particularly during the summer months when tourism is high and demanding. Types of jobs in hotels include porters, kitchen staff, waiters and waitresses, and cleaning staff. A lot of hotels also provide employees with food and accommodation, but charges may be deducted from your monthly wage, which could average about €568 (approx. €400) a month.
As with hotel jobs, restaurant and pub jobs in Germany can most easily be found by enquiring in person and it is best to turn up early in the tourist season as vacancies may be quickly filled. Given that there are hotels, pubs etc. all throughout Germany there are no specific places that you should look first, but the busiest tourist areas are obviously cities such as Frankfurt, Munich, Berlin, and Hamburg.
Agriculture and Farm jobs in Germany
German harvests offer fewer employment opportunities than in a lot of other European countries, but nevertheless, if you are interested in this type of work it is worth checking farms and asking landowners in Altland, or along the French border, where apples, cherries, and grapes are grown.
WWOOF is a voluntary organisation placing volunteers on organic farms throughout the world. Workers are provided with board and accommodation and must pay an annual membership of €10 to WWOOF, see their website for more details.
Working Holidays in Germany recruit volunteers for three to six months, usually attracting gap year students. Volunteers work in family hotels or family farms, and duties can include looking after animals and children, and tasks such as cooking. Since you will be working alongside other people, knowledge of German is useful and no doubt this type of work could improve such linguistic skills. Application details can be found on the Working Holidays website, see below.
Volunteering in Germany
As well as volunteer opportunities available on agricultural projects, a number of organisations arrange social work projects, such as Concordia whose volunteers work in groups with children and communities in a number of countries throughout the world. Projects last for up to three weeks, in the summer months. All volunteers are supplied with food and accommodation and are required to pay a fee of €75 to register with Concordia.
The International Voluntary Service sets up workcamps for volunteers who participate in community schemes, including working with children, adults with special needs, and conservational issues. Again, food and accommodation are part of the package, but you will need to pay €15 membership and fund your own travel.
Useful links to find backpacker jobs and volunteer projects in Germany
TEFL offers jobs teaching English in Germany and abroad.
Wwoof.net gives information about voluntary work available on organic farms in Germany.
Useful Links for Backpacking in Germany
Deutsche Bahn runs the Germany's train network.
Eurail

– Rail Passes for travellers who plan on doing lots of train travel in a short period of time. Single-Country and Multi-Country passes available

Omio

– Train, bus, and flight search for Germany and all of Europe. Offers online booking and mobile tickets

Auto Europe

– Europe's leading rental car search engine to rent a car in Germany

Kiwi and Skyscanner

– Flight comparison search engines to find the cheapest flights to Germany and within the country.

GetYourGuide

and

Viator –

a collection of things to do in Germany. Also offers Skip the Line tickets for crowded attractions

Tiqets

– Website selling entrance tickets and skip the line tickets for major attractions in Germany

G Adventures

– guided group backpacking tours in Germany, great for solo travellers or for those interested in a more adventurous trip which would require a guide

HostelWorld

– #1 hostel search website to find hostels in Germany. Thousands of hostels and millions of reviews from fellow travellers.

Booking.com

– commonly used accommodation booking site in Germany. Hostels, hotels, and other unique accommodation with advanced filtering and millions of reviews

Travel Insurance

– read our comprehensive overview of Travel Insurance and some recommended providers for your backpacking trip to Germany
---
There you have it, the ultimate Germany backpacking guide. We hope you have found all the information you need for backpacking around Germany.
Liked this article? Share it with others who might be after the same information!