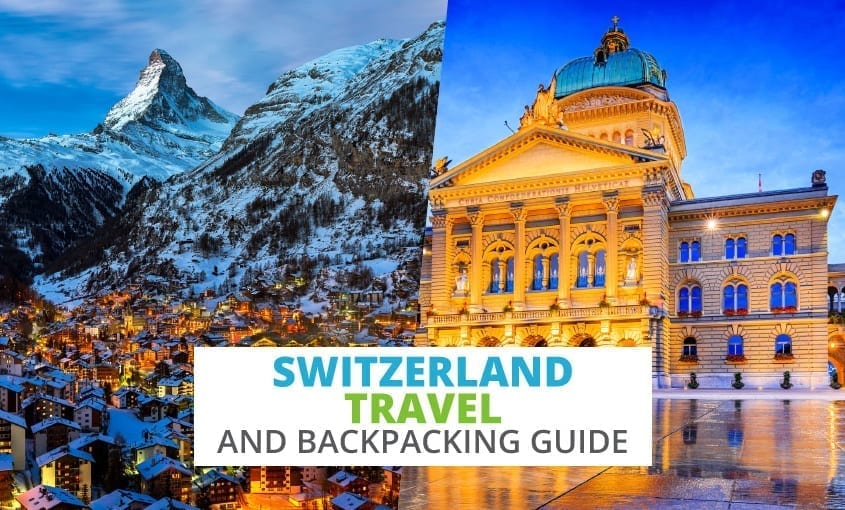 Backpacking Switzerland
Find important travel information that you may need while backpacking around Switzerland. Get information on travelers working in Switzerland, Switzerland entry visas, and Switzerland hostels.
Table of Contents

Facts About Switzerland
Legendary for its political neutrality Switzerland is a small country tucked away in the Alps bordered by France, Italy, Austria and Germany. Switzerland is famed for amongst other things its delectable chocolate, its characteristic cheese, its cuckoo clocks and of course the Swiss army knife. Boasting some of the worlds most exclusive ski resorts such as Zermatt and St Moritz and hosting the UN in Geneva Switzerland is a country which certainly belies its size in terms of variety, charms and class.
Although Switzerland is relatively expensive and some see it as quite an elite holiday resort it can provide a very unique and satisfying trip if your funds will stretch to it. Most popular in the winter for its skiing, Switzerland is still a viable destination all year round.
Currency: Swiss Franc (Sfr) = 100 rappen or centimes
Time Zone: GMT +1
Language: German, French, Italian, English
Telephone Services: Country code +41, International access code 00
Emergency Numbers: Police 117, Fire 118, Ambulance 144
Climate
The substantial altitude variations in the Alps cause the climate to vary quite dramatically in Switzerland. The higher Alpine regions are quite cold whilst the lower lying area to the North has higher temperatures and can have reasonably warm summers.
Things to see and do
Bern, Switzerland's capital city is a small but beautifully preserved medieval city earning it the honour of being a UNESCO World Heritage site. Travelers can find here such attractions as Einstein's house where he developed his theory of relativity, the Kunstmuseam which is a museum of fine art and the Swiss Alpine museum. Bern is also an excellent place to shop with over 6km of covered arcades literally full of shops.
Zurich is one of the world's financial centers and is Switzerland's biggest city. Although not hugely popular with backpackers there are a few things that are worth seeing here. Probably one of the most enjoyable is the Lindt & Sprüngli chocolate factory which features an interesting museum and of course some free samples of the world famous Lindt chocolate. Another fairly unique site is the Museum Rietberg which is home to an extensive collection of African and Asian artefacts.
Geneva is Switzerland's most cosmopolitan city and is the home to many international organisations such as the UN, the World Health Organisation and the Red Cross. By far the biggest draw here is the Red Cross museum which carries exhibits ranging from its founding right up to the modern day. Another unique site is the CERN particle accelerator. This 27km long accelerator is home to the largest particle physics lab in the world. There is a science exhibition open to visitors although this may only appeal to the more technologically minded.
Basle is a major commercial centre and is situated right on the border with France and Germany. This is Switzerland's second largest town and has one of the most picturesque cobbled old town in Switzerland. The Baslermonster is a sizeable medieval cathedral with a tower which offers the best views of Basel and the surrounding Black Forest.
Travel
The Swiss rail service is extraordinarily efficient; most of the network is operated by SBB who accept Eurail and Interail on all of their trains. SBB also offer a travel pass of their own which is valid not only on the rail network but also on the bus network. Available online from railkey.com this pass will allow unlimited travel for between 4 days and 1 month. There is also a flexi-pass on offer which is substantially cheaper and allows between 3 and 8 days of travel within one month. Both passes offer discounts for those under 25.
Although the railways provide the backbone of the travel system this is supplemented by postbuses. These yellow buses run connecting routes between stations and towns with no rail access. There are over 650 routes and a Swiss rail pass will let you use these buses for free.
Accommodation
Hotels are generally of high quality and in high demand. You will normally have to book in advance and most hotels can be quite pricey even at the low end of the market. A youth hostel is far more advisable method of accommodation for the budget traveller. Again accommodation is quite frequently in demand so it is best to try and arrange accommodation at least 5 days in advance. Most hostels offer discounts to anyone holding cards of national organisations associated to the International Youth Hostels Federation. A list of all officially recognised youth hostels can be found at Switzerland tourism.
Health
The health service is generally good in Switzerland but make sure you have comprehensive travel insurance especially as transport costs could mount up if you are struck ill or are involved in an accident in some of the more remote parts of Switzerland.
There are no vaccinations required before visiting Switzerland and the tap water is considered safe to drink. Normal precautions should be taken with food but restaurants and hotels are normally of very high quality.
Useful Links
The Switzerland Tourist Office provides official tourist information for visitors.
SBB operate the main rail network.
Postbuses are an easy way to get around outside of the rail network.
TheSwissTour offers a unique, non-profit tour through Switzerland in April 2009.
Entry Visas for Switzerland
A passport is required which is valid for at least 6 months after your intended period of stay although a visa for EU or USA nationals is not required unless you intend staying for a period of over 3 months.
Addresses
The Swiss Embassy should be contacted for matters regarding visas, work permits and immigration. It can be found at:
Embassy of the Swiss Confederation
16 - 18 Montagu Place
London
W1H 2BQ
Tel: (020) 7616 6000
(020) 7 331 313 
(recorded visa information charged at 50p/min).
Fax: (020) 7 724 7001.

While in Britain you can find UK representation at the Embassy located at:
British Embassy
Thunstrasse 50
3005 Berne
Switzerland
Tel: + (41) (31) 359 7700
Fax: + (41) (31) 359 7701
email: Information@british-embassy-berne.ch

There are also British Consulates in Geneva, Montreux, Vevey , Valais, Zurich and Lugano
Foreigner Work Permits in Switzerland
To work and reside in Switzerland you will need a residence permit (aufenthaltsbewilligung / autorisation de sejour). The Permis A is a permit available to EU nationals that allows them to stay in Switzerland for nine months of one year and it is very advisable to obtain one because police are strict in their enforcement of the law, especially in holiday resorts where many travellers are attracted to for work. It is important to bear in mind that a lot of employers in Switzerland expect high standards and often long hours of work from their employees. Nevertheless, you can expect higher wages than in a lot of European countries, but with this goes the high cost of living.
Stagiaires
Stagiaires are temporary work placements lasting up to 18 months, organised through the Department of Employment's Overseas Labour Service.
Hotels
EU students of over 18 years old and with a good working knowledge of German can join the Swiss Hotel Association's Hoteljob scheme. Work runs from June to September and accommodation and meals are provided. The salary is about SFr2350 . Contact the Swiss Hotel Association for more details.
Resorts
One of Switzerland's main areas of tourism is in the Alps. The Jobs in the Alps agency can place people in ski resorts as waitresses, kitchen staff, porters etc. Workers can expect to earn up to SFr500 and will be required to work for approximately 45 hours a week. Instead of going through an agency it is also possible to find on-the-spot jobs. Visit resorts and owners at the beginning of the season, usually April time is recommended. Furthermore, it is worth checking newspapers, tourist offices and notice boards to look for vacancies. Know where the resorts are before leaving to look for work; Leysin, Thyon and Verbier are all popular places with resorts where you may be able to find this type of work.
Campsites
Several British and European camping agencies operate throughout Switzerland, and again most jobs can be found during the peak tourist times in the summer. Eurocamp arranges work for couriers on Swiss campsites. It is preferred that you can speak another European language well because the job involves welcoming and interacting with a range of visiting nationalities. Employees must be over 18, and can anticipate earning approximately SFr95 per week.
Agricultural Work
The Upper Rhone Valley, Valais, and Bern are places where fruit-pickers may be needed during harvest-time. You could find work by going in person to farms and enquiring for vacancies from the landowners. Wages vary depending on how much you pick, its worth at market, or how long it takes. If this type of work particularly appeals to you, a voluntary organisation, WWWOOF, places volunteers on organic farms, including those in Switzerland. Membership to WWOOF is SFr10 per year, and working for them secures you accommodation and meals during your placement.
Au Pairing
For between 12 and 18 months female Western Europeans and North Americans can become au pairs for a Swiss family. Regulations for au pairs vary between cantons in Switzerland, but generally you must be aged between 17 and 29 and your host family will need to apply for a Permis B for you and you will not be allowed to enter Switzerland until the application process is complete. Swiss au pairs work thirty or more hours a week and will be required to spend some evenings babysitting as well as spending up to 4 hours a week in language tuition. Au pairs in Switzerland can expect to earn between SFr600 and SFr700 per month which is considerably more than in a lot of European countries, but remember that although wages are high, so are the costs of living. Geneva and Zurich are the most popular places to find au pair work. Pro Filia is an agency that can find one-year placements for those with a good knowledge of French (the application form must be completed in French) in Geneva. Monthly wages are around SFr710 but a registration fee is required to join Pro Filia. Other than working in the city, au pair placements can be found in ski resorts, and also in the country, although here you may be required to do agricultural work as well as typical au pairing duties.
Volunteering
Camphill Communities run volunteer placements throughout the world, including Switzerland. Volunteers work in communities with adults with special needs. You will be expected to work for 6 days a week and it is usually preferred that you stay for at least one year. Accommodation is provided for the duration of your stay, but you will have to fund your own meals. WWOOF, already mentioned, is an organization placing volunteers on work projects on organic farms.
Useful Links
Swisshotels.ch provides information (in Swiss German) about placements with the Swiss Hotel Association.
Jobs-in-the-alps is the best site for obtaining work in the Swiss ski resorts.
Eurocamp are a major seasonal employer.
Wwoof.org gives information of voluntary work available on organic farms.
Pro Filia is a leading Swiss au pair agency.
Callan Projects provides a database of links to various Camphill communities around the world.
How to Say Common Phrases in German
Meeting People
English

German

yes

ja

no

nein

thank you

danke

you are welcome

bitte schön

please

bitte

excuse me

entschuldigen sie

hello

guten tag

goodbye

auf wiedersehen

good morning

guten morgen

good night

gute nacht

I do not understand

Ich verstehe nicht

Do you speak …

Sprechen sie…

English

Englisch

German

Deutsch

What is your name?

Wie heifen sie?

Nice to meet you?

Sehr erfreut

How are you?

Wie geht's?

good

gut

bad

schlecht
Directions
English

German

map

die karte

left

links

right

rechts

straight on

geradeaus

far

weit

near

nahe
Methods of Transport
English

German

Where is…?

Wo ist…?

How much is the fare?

Wieviel kostet die fahrkarte

ticket

die fahrkarte

A ticket to…, please

Eine fahrkarte nach…

Where are you going?

Wohin gehen sie?

Where do you live?

Wo wohnen sie?

Train

die bahn

bus

der bus

Underground

die U-Bahn

airport

der flughafen

train station

der bahnhof

bus station

der busbahnhof

Underground station

der U-Bahnhof

departure

die abfahrt

arrival

die ankunft

parking

parken
Time
English

German

What time is it?

Wie spät ist es?

Today

heute

yesterday

gestern

tomorrow

morgen
Accomodation
English

German

hotel

das hotel

room

das zimmer

reservation

die reservierung

Are there any vacancies?

Haben sie ein zimmer frei?

No vacancies

Ausgebucht

Passport

Reisepal
Places
English

German

post office

die post

bank

die bank

police station

polizeiwache

hospital

das krankenhaus

chemist

die apotheke

shop

das geschäft

restaurant

das restaurant

museum

das museum

church

die kirche

street

die strafe

square

der platz
Shopping
English

German

How much does this cost?

Wieviel kostet das?

I will buy it

Ich nehme es

I would like to buy…

ich würde gerne kaufen…

Do you have…?

Haben sie…?

open

auf

closed

geschlossen

postcard

die postkarte

stamps

die briefmarke

little

wenig

lot

sehr viel

all

alles
Meals
English

German

breakfast

das frühstück

lunch

das mittagessen

dinner

das abendessen

vegetarian

vegetarisch

cheers!

prost!

The bill please

Die rechnung, bitte
Drinks
English

German

drink

das getränk

coffee

der kaffee

tea

der tee

juice

der saft

water

das wasser

beer

das bier

wine

der wein
Food
English

German

meat

das fleisch

fish

der fisch

vegetable

das gemüse

fruit

die frucht

potato

die kartoffel

dessert

das dessert
Switzerland Hostels
Hostels are a cheap form of accomodation, and so they are essential to backpackers and other budget travellers. We have compiled a list of hostels in Switzerland to help you plan your journey. If you are looking for a hostel in Switzerland, you've come to the right place.
Basel
Bern Canton
Geneva
Graubunden
Lucerne
Neuchatel
Obwalden
Schwyz
Solothurn
Ticino
Valais
Vaud
Zug
Zurich
There you have it, all the critical information you will need for backpacking around Switzerland. We hope you have found all the Switzerland travel information you needed.
Top Products for Backpackers