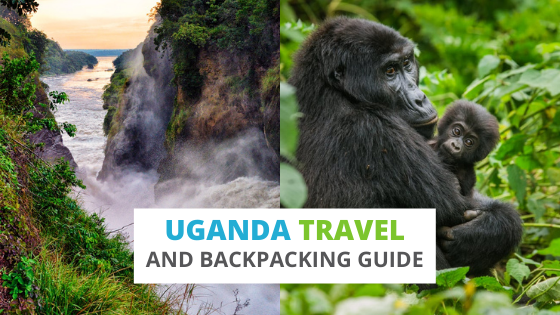 Backpacking Uganda
Looking for important travel information while backpacking in Uganda? Here you will find information on working in Uganda, entry visas, Uganda hostels, and much more.
Table of Contents
Facts About Uganda
Things to do in Uganda
Entry Visa Requirements for Uganda
Uganda Hostels
Facts About Uganda
Uganda is a small country in East Africa, also known as the Pearl of Africa or rather Gifted by Nature, and is best known for its hospitability, diverse cultures, nature reserves, the world's most powerful waterfall, some of Africa's best animal species, diverse landscapes, and snow at the Equator.
Some of the not-to-be-missed animal species in Uganda are the gorillas, chimpanzees. golden monkeys, tree-climbing lions, "Africa's Big Five Animals" that include the African elephant, lions, leopard, African buffalo, and rhinoceros. And the not-be-missed sights are a taste of the True African Wilderness in the Kidepo, the world's largest caldera, Ssese Islands on Lake Victoria, birds, and primates.
Uganda's scenery is breathtakingly beautiful, from the high mountains down to the lowlands, grasslands, forests, and savannah plains. A taste of our traditional delicacies, fruits, (the country produces the best pineapples and sweet bananas) and coffee will make your visit to the country worth it.
The country also offers a wide range of extreme adventures done on the Nile River, the world's longest river such as rafting, bungee, tubing, kayaking, horseback riding, and quad biking along the banks among others.
Ugandans could be considered the friendliest people in the world, they are very welcoming to tourists, visitors, and strangers. If the above cannot convince you, then a taste of home away from home could do.
Currency: 1 Ugandan Shilling (UGShs) = 0.0003 USD cents
Time Zone: GMT + 3
Language: English and Luganda
Telephone Services: Country Code +256
Emergency Numbers: 999
Interesting Facts About Uganda
According to Sir Winston Churchill, "Uganda is a fairy tale," "You climb up… and at the end, there is a wonderful, new world. The scenery is different, the vegetation is different, the climate is different and most of all, the people are different from anything elsewhere to be seen in the whole range of Africa. For magnificence, for variety of form and colour, for profusion of brilliant life… Uganda is truly the Pearl of Africa."
The Crested Crane is Uganda's national bird. The country is home to about 11% of the world's bird species.
Uganda is home to over half of the world's Mountain Gorillas.
Uganda is home to the world's longest river, the Nile which flows from Lake Victoria, the second-largest freshwater lake in the world.
The Rwenzori Mountains aka Mountains of the Moon is one of the highest ranges in Africa and sits on the equator but has snow at the top
Uganda is home to the Uganda Martyrs, 45 men who died for their faith.
Most of the food eaten here is organic. Usually, fruits and vegetables are fresh from the farm and delivered daily to the markets.
Uganda grows more bananas than any other country in Africa and is only second to Brazil in the world with over 30 banana species grown.
Ugandans are some of the world's most hospitable people.
Climate in Uganda
When deciding the best time to visit Uganda, the weather certainly plays a role. The country has a warm tropical climate, rainfall is unpredictable sometimes since there is no true dry season. The months from December to February are the hottest, with chilly evenings. The rainy seasons are from March to May and from September to November. During these months, heavy rains can make roads and terrains hard to traverse. The periods from January to February and again from June to August are usually dry and best for safaris.
Things to do in Uganda
Safari in Uganda
Uganda's main attraction isn't its cities, but its great outdoors. No one coming to this country should pass up the opportunity to go on safari in one of Uganda's game parks.
The most popular is the Queen Elizabeth National Park, which is famous for its tree-climbing lions, buffalo herds and explosive craters. The park also boasts such exotic animals as African elephants, chimpanzees antelopes, and even hippos. Recently companies have started offering aerial tours of the area in hot air balloons, but you can still find plenty of companies offering more traditional safaris here. Ssamba Safaris is one of those; they arrange safaris ranging from mid-range to luxury.
Murchison falls National Park is famous for being home to the World's most powerful falls and has a great concentration of giraffes, antelopes, hippos baboons and other animals like lions, leopards, Nile crocodiles among others. The major highlight of a safari here is a hike to the top of the falls. Hot air balloon safaris can be done in this park as well.
Kidepo Valley National Park is another not to miss out on. It is one of East Africa's most magnificent wildernesses; has a distinctive bird list including over 100 'dry country' residents, tremendous landscape and is located in an area of rich cultural interest where the plains are surrounded by Manyatta (homesteads) of Karamojongs (traditional pastoralists).
Bwindi Impenetrable Forest and Mgahinga Gorilla National Parks are famous for one of the world's most remarkable wildlife encounters, Gorilla tracking. These apes are rare and endangered but over half of the world's population is protected in these two parks.
Other popular locations to see the wildlife are Lake Mburo National Park (the nearest park from Kampala), Mount Elgon National Park (World's largest Caldera at the top of the instinct volcano), Semuliki National park for birding, Kibale National Park for Primates and Rwenzori Mountains National Park as well as a couple of reserves around the country.
Hiking Mountain Rwenzori
To have an ice/ snow experience at the Equator, one has to climb Uganda's highest peak. Margherita peak is the highest point and the roof of the Rwenzori where you get to see snow in this tropical country. Summiting other peaks like Stanley, Speke and Baker is a physically demanding activity too, that's why hiking the Rwenzori is called, "The Mystical Challenge."
Hiking the Rwenzori is done with the help of local guides, requires some training and only people in top physical condition should attempt the climb. Low peaks can be climbed by anyone. Climbing Rwenzori can be combined with a safari trip to either Lake Mburo, Queen Elizabeth or Semuliki National Parks. If you're interested in more outdoors adventures, check out our summary of the best places to go hiking in Uganda.
West Nile
The West Nile is the region that is located west of the river Nile in Northern Uganda. The Nile acts as a major border of this region from the rest of the country. The region has its own gems and attractions that make it unique from the rest of Northern Uganda such as Bidi Bidi Refugee Settlement, Alikua Pyramid, Bethel Church/ Biku Prayer Mountain (smallest church in the world), Miria Adua Falls, Mount Wati, Angara Fish among others. Ssamba Safaris is one of the few tour companies that feature this region.
Jinja, East Africa's Adventure Capital
From being the home to the source of the world's longest river to being the former industrial city of Uganda, Jinja is also a place where most of the extreme water activities like bungee jumping, Kayaking, tubing, rafting, among others are done from. If you looking forward to trying out some of those adrenaline high activities while in Uganda, Jinja is the perfect place for you.
Cultural immersion
Uganda hosts a couple of tribes, each with different cultures, ways of life, language, food and dressing. There is no better way to learn about a certain tribe than by mimicking their ways of life.
Kampala
Kampala gives you an experience of hustle and bustle with the African vibe, its unique with its attractions, such as the Bahai Temple of Africa, Kabaka's Lake, Idi Amin's Torture Chambers, the old Kampala Mosque, the Museum, among other key attractions.
Historical Sites
Uganda is steeped deep in history, legends and myths. Some of these historical sites have existed for ages and others are a few decades old such as rock painting, rocks, caves, forts, monuments among others.
Food
This is one of the things that define this small landlocked country. Most of the food here is fresh and organic. It's the kind that keeps you wanting to have more and the fruits are something not to be missed out on too.
Unique Activities in Uganda
An excellent way to get an idea of things to do while backpacking Uganda is to scan the activities offered by the guides and recommendations from other travellers.
How to Travel Around Uganda
Uganda Airlines runs the primary domestic air service in the country, small private companies are operating domestic services such as Aerolink and Eagle Air. In general, the flights are pretty cheap so they can be an excellent way to cover vast distances quickly.
If you're flying to Uganda or plan to take short flights within the country, we recommend using a few different flight comparison search engines. Kiwi is a new favourite among travellers. On average, we have found the cheapest flights to Uganda with them compared to the other websites out there.
Of course, it is always worth checking Skyscanner to guarantee you're getting the best deal. Both websites offer great flexible search options and also see prices for a full month if you're flexible on travel dates. All international flights to Uganda go through Entebbe International Airport.
Bus travel in Uganda
Intercity buses generally come in two flavours, coaches or minibuses/ public taxis. The minibuses are more common and usually used for short travels of about 300kms though they have a poor reputation for safety so always be on the lookout. There are a couple of coaches running on all major routes, these require booking in most cases before departure.
All bus companies are privately run, and on popular routes, you will find majorly the public taxis since they are relatively spread across the country while coaches have major stopover points in towns for offloading and loading. Companies running coaches have added the bonus of making travelling across Uganda both economical and comfortable.
For Safaris and Tours, usually, transport is arranged and included in the price of the package. In most cases, private cars are used unless the traveller wants to experience public transport. Always check in advance what your package includes and what it does not specify.
Boda bodas/ Motocycle taxis
While travelling through Uganda, you will be fascinated by these amazing Boda Boda riders because they are essential lifelines of public transport in all major towns and villages, they can transport anything and can go to even the hard-to-reach areas, where the tracks are majorly footpaths. They can be used for short travels but are risky especially during rush hour in major cities.
Flights within Uganda
There are many small airline companies in operation in Uganda, and flying is often the best way to get around the country especially when you have limited time but are interested in a safari. It is very common for visitors to fly to all major national parks especially Kidepo which involves over 9 hours of driving from Kampala. Also, many people choose short flights to the airport or other national parks in either Tanzania, Rwanda or Kenya.
Prices for flights in Uganda will always be cheaper if you book them well in advance. Unfortunately, cancellations and changes are frequent occurrences with many of the airlines, so be sure to check in with the airline a couple of days before your scheduled flight.
Backpacking Tours in Uganda
Though part of the fun of backpacking Uganda is exploring the country on your own, there are situations, especially when venturing off the beaten track trails when it does make sense to go with a guide or small group. For these times, a popular option among backpackers is Ssamba Safaris. They hand-select local guides to ensure authenticity and quality. Going on a group tour with Ssamba Safaris is an especially good option for those travelling Uganda alone and who would like to meet up with like-minded travellers. Their most popular trips in Uganda are their 3 Days Queen Elizabeth, 5 days Lake Mburo and Queen, 3 Days Murchison Falls, Secrets of West Nile tour, among others.
Health and Safety in Uganda
The standard of healthcare in Uganda is good, but health insurance is essential. Elsewhere in the country medical facilities are limited. If you intend to be on safari for any length of time you should consider paying for the East African Flying Doctors tourist membership which will allow you to call for free air evacuation should you fall ill while on safari
Immunisation against yellow fever, hepatitis, cholera, polio and typhoid is recommended when visiting Uganda, especially when planning to travel outside of urban areas. Malaria is present throughout Uganda, and the local strains have been reported as highly resistant to chloroquine, so mefloquine is the recommended treatment to use.
We recommend you to carry anti-malarial tablets, as well as insect, replant for use while outdoors. You should consult your local GP about all of these factors before travelling to Uganda.
Tap water in Uganda is generally safe, for use but not drinking. It is recommended that you boil or otherwise sterilize any water before use. Food, including dairy products, are also considered safe to drink; we recommend bottled drinking water. Reasonable precautions should be used when purchasing food from street vendors.
Crime is quite prevalent in Uganda, especially in Kampala especially muggings which can occur even in broad daylight. It is up to an individual traveller to ensure that they are safe and not at risk, having a guide can also be helpful sometimes.
Always conceal valuables, do not carry large sums of cash, have a backup card at either your hotel or hostel in case one is stolen and generally remain vigilant to ensure that you are at minimal risk.
Entry visa requirements for Uganda
EU and US nationals require a passport valid for at least 6 months from the date of arrival as well as a return ticket. In addition, EU and US nationals require a visa for the duration of their stay. You can apply for a visa online, before your trip to avoid unnecessary work at the airport. For those using Brussels Airline, a visa is a must before boarding.
Uganda Hostels and Budget Accommodation
In Kampala and some other major cities, you will find hotels that meet international standards. Some of these are located in former colonial buildings and offer a broad range of amenities. You can book a hotel in advance though some do not require advance bookings.
A good way to find accommodation in Uganda is by checking hotels.com, booking.com, hostelworld.com, Tulavo.com and Tubayo.com for budget options. With these sites, you'll find not only hotels, but also homestays, hostels, and other unique accommodations.
We have discovered some great finds and have appreciated the ability to book ahead. You can use their advanced filtering to narrow your results by budget, location score, overall review score, and amenities. Many of the places on booking.com also offer free cancellation, which takes the pressure off the planning phase of your trip.
Useful links for Backpacking in Uganda
---
There you have it, the ultimate Uganda backpacking guide. We hope you have found all the information you need for backpacking around Uganda. If not, you can always contact Ssamba Safaris for a more detailed guide.
Liked this article? Share it with others who might be after the same information!