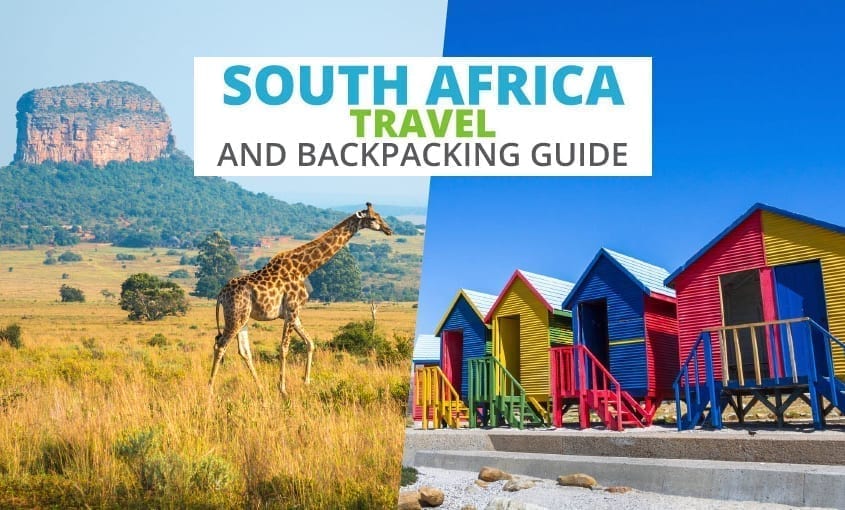 Backpacking South Africa
Looking for important travel information while backpacking in South Africa? Here you will find information on working in South Africa, entry visas, South Africa hostels, and much more.
Table of Contents
Facts About South Africa
South Africa is an excellent introduction to the African continent. There is enough development to make cities like Johannesburg, Durban and Cape Town as comfortable as many European cities. At the same time, there are spectacular deserts and ample opportunity to view Africa's unique wildlife.
Post-apartheid South Africa is a poster child for the continent an excellent reflection of the multicultural history of the reason. The crime rate is still a little high in the country but by taking sensible precautions like keeping valuables out of site and not walking alone after dark you can ensure you have a trouble-free visit.
Currency: South African Rand (r) = 100 cents
Time Zone: GMT + 2
Language: English and Afrikaans
Telephone Services: Country code +27, International access code 09
Emergency Numbers: 1011 Police, 10222 Ambulance, 1022 Fire
Climate in South Africa
When deciding the best time to visit South Africa, weather certainly plays a role. South Africa has a very favourable climate; in general, the country is sunny and pleasant with a slight cold spell during the winter which occurs between May and August. The mountain areas are the only places that receive snow making the winters very mild.
Things to do in South Africa
Cape Town
Cape Town is South Africa's oldest settlement and is definitely the most essential destination in the country. The most obvious attraction is the unique 1000m high Table Mountain. The cable car ride to the top gives the most fantastic views in the city and there are also numerous walking trails on the summit.
In the city itself, the prime attraction is the Castle of Good Hope which was built in 1666 by Dutch pioneers after Jan van Riebeeck's landing at Table Bay in 1652. Also worth a look are the South African and District Six Museums, the latter being a chronicle of the community forcibly displaced in 1901.
Just outside the city on the eastern side of table mountain, you will find the Kirstenbosch Botanic Gardens which are perfect for a relaxing day away from the city bustle.
Durban
The port of Durban is well known for its string of fantastic surf beaches which are warm all year round and its busy nightlife. As well as these hedonistic pleasures you can also discover some hidden gems when exploring the city itself. The Victoria Street market is a good place to start but an even better place to soak up the busy day to day life is in the Indian District to the west of the city.
Also worth a look is the natural science museum which offers a range of educational exhibits. Other attractions include the African Art Centre which displays contemporary work by rural African artists and the city hall gallery which also houses some interesting artworks.
Unique activities in South Africa
Since popular places in South Africa can get crowded during tourist season, it is wise to reserve tickets and activities ahead of time. GetYourGuide sells entrance tickets to museums and landmarks at face value so you can avoid the lines and save that precious time for more exploring.
Viator is another popular travel website that helps you book things to do in South Africa. They work directly with local tour operators in South Africa, so you won't have to scour the internet or roam around town trying to find the best deal.
If you know your schedule ahead of time, a great insider tip is to buy tickets for major tourist attractions ahead of time. Tiqets has entrance tickets and skip-the-line passes for major attractions in South Africa, which can be a worthwhile cost during peak tourist season.
How to Find Cheap Flights to South Africa
In order to find the best flights to South Africa we recommend using a few well-known flight comparison search engines. These websites offer powerful search options, like entering flexible dates and airports in order to find the cheapest flight to South Africa.
Our go-to flight search engine is Skyscanner, which we love for its extremely flexible search options. Our favourite way to get travel inspiration is their "Everywhere" feature. Simply enter "Everywhere" as a destination, and it will then list all available flights from your departure city in order of price. This also works when entering the entire country of South Africa as your destination. Skyscanner will search all possible airports in the country in order to find the cheapest option.
Kiwi is another new favourite flight search engine among savvy travelers. Kiwi works by combining flights from different carriers in order to get the best deal. Also, if there is a better ground or ferry option for the route you're searching, Kiwi will include that in the search results. On average, we have found the cheapest flights to South Africa with them compared to the other websites out there.
How to Travel Around South Africa on a Budget
South African Airways runs a domestic service linking Cape Town, Durban, Johannesburg and several other towns as well as cities in other African countries. An Africa Explorer pass is available to those arriving in the country on an IATA airline, this pass offers unlimited travel on South Africa Airways flights for between three days and two months.
Train travel in South Africa
There are a number of rail services operating in South Africa, the most well known is the luxury Blue Train which offers express services between Pretoria, Victoria Falls, Port Elizabeth and Cape Town. The weekly Trans-Oranje is an express service between Cape Town and Durban, the daily Trans-Natal Express runs between Johannesburg and Durban and finally Trans-Karoo express runs a service between Cape Town, Johannesburg and Pretoria four times a week.
All services offer first and second class accommodation and all of the long distance trains have air conditioning. Children under two years of age travel for free and those between two and eleven pay half fare.
Bus Travel in South Africa
The road network in South Africa is remarkably good for an African country, with around a third of all roads being paved. The best way to get around by road is by greyhound bus or Baz Bus which offer very comfortable air-conditioned coaches. Greyhound also offers flexi-passes which allow unlimited travel for between 7 and 30 days. Translux and InterCape also run very good intercity coach services again using comfortable air-conditioned buses.
Renting a Car in South Africa
You may also want the flexibility to stop in smaller towns between the major cities. If you decide you want to rent a car in South Africa, you can use DiscoverCars to compare offers from the major car rental agencies in the region.
Backpacking Tours in South Africa
Though part of the fun of backpacking South Africa is exploring on your own, there are situations, especially when venturing off the tourist trail, when it does make sense to go with a guide or a small group. 
The most popular option for social travel in South Africa is Contiki tours. Contiki trips offer more than just transportation, they are organized social group travel for travelers aged 18-35. Whether you're traveling by yourself or going with a group of friends, Contiki tours are perfect for people looking to have a blast, meet new friends, and form lifelong memories. They offer tours that travel primarily in South Africa or longer tours that cover other nearby places.
G Adventures is another great option for organized travel, but with a smaller group. It's a great choice for anyone backpacking South Africa alone who would like to meet up with like-minded travellers. It's also a practical option for exploring places where you need an experienced guide, like a long hiking adventure or visiting a place well off the beaten path. You can choose from different styles of small group tours like active, wellness, hiking trips, 18-30somethings, and more. Their most popular trips in South Africa are their National Geographic Safari Experience, 18-to-30 Somethings Adventure Tours.
Health and Safety in South Africa
The medical facilities are very good throughout South Africa with Western Medications being plentiful. You may be required to pay for some treatments so health insurance is highly recommended.
As with travel to all other countries abroad, it is vital that you get travel insurance before you leave for South Africa. Even for short trips, our go-to travel insurance provider is World Nomads, which is also recommended by Lonely Planet, HostelWorld, and other major travel companies.
Vaccination against typhoid is recommended before traveling to South Africa, this should be available from your local GP for around £40. There is a malaria risk in the low altitude areas throughout the year, there have been reported cases of resistance to chloroquine so the recommended treatments are now chloroquine plus proguanil, chloroquine plus pyrimethamine or mefloquine. You should contact your local GP for the most appropriate treatment for you to take with you.
Tap water in urban areas is considered safe, although in other areas it is recommended that you boil or otherwise sterilise any water before use. Food including dairy products and drink are also considered safe to drink. Normal everyday precautions should be used when purchasing food from street vendors.
Entry Visa Requirements for South Africa
All foreign visitors to South Africa require a passport valid for at least 30 days after the period of intended stay and evidence of a return ticket. EU and US nationals do not require a visa for a stay of up to 90 days.
Those seeking work must apply for a work seekers permit which costs $118, those studying in the country must obtain a study permit which costs between $89 and $118 depending on the level of education being studies. All other visa and immigration enquiries, or applications for work seeker's/study permits should be addressed to your local South African Embassy.
Visa requirements for South Africa can vary widely depending on your country of origin and can change over time. To avoid any unpleasant surprises, be sure to check the latest visa requirements while you're still planning your trip.
Foreigner Work Permits and Backpacker Jobs in South Africa
African Impact is one of the few African based volunteering organizations. They offer a wide range of volunteer projects in South Africa such as wildlife preservation, education, and healthcare with a duration of 4 to 12 weeks.
South Africa Hostels & Budget Accommodation
Hotels are plentiful in South Africa with major cities usually boasting several international standard hotels. Almost all towns will offer hotel accommodation of some standard and although the lower ungraded hotels are somewhat basic, the South African Tourist Board enforces a basic standard of quality. In addition, there are nearly a thousand hotels which are members of FEDHASA which further guarantee certain levels of quality.
There are plenty of bed and breakfast of guesthouse style places throughout South Africa and you will be able to find them in virtually every town regardless of size. It is recommended to book in advance for the peak season as they can get quite busy. The standards are again enforced by the South African Tourist Board so you can feel confident that you won't be staying in a complete dump!
We have had good experiences finding hostels in South Africa on HostelWorld. They have the largest inventory of hostels worldwide, and with over 10 million reviews and ratings from other travellers, you know exactly what to expect.
Another good way to find accommodation in South Africa is by checking booking.com. You'll find hotels, homestays, hostels, and other unique accommodations. They have the most reviews and advanced filtering of any accommodation-booking site, so you'll be sure to find a great place in your budget. Many of the places on booking.com also offer free cancellation, which takes the pressure off the planning phase of your trip to South Africa.
If you are backpacking with another travel companion, we highly recommend booking a rental via VRBO. With a vacation rental in South Africa, you'll have more space, your own kitchen, and you'll get a better feel for how the locals live. Plus, the cost of a vacation rental can be split among your group, oftentimes making it cheaper than doing individual hotel rooms. 
If you're looking to save even more money while backpacking in South Africa, there are plenty of creative ways to get free accommodation in exchange for work. For example, one of our favorite ways to stay in amazing locations for free is by signing up as a petsitter with Trusted Housesitters. The site connects responsible animal lovers with petsitting opportunities in South Africa and all over the world. It's a win-win for both sides – travellers can stay in amazing locations for free, and homeowners can rest easy knowing that someone is watching over their place.
And lastly, CouchSurfing is a great community that connects travellers with local hosts in South Africa. You can stay for free with verified hosts, who will usually take some time to show you around the local spots.
Camping is only permitted in the 800 or so official campsites around the country, the facilities are generally quite good and most are situated near good tourist locations. In addition, there are thatched huts available in the National Game Reserves and even sometimes small air-conditioned cottages. The CCA has more information on accommodation within South Africa's protected game reserves.
Useful Links for Backpacking in South Africa
GAdventures

– guided small group tours in

South Africa

, great for solo travellers or for those interested in a more adventurous trip which would require a guide

DiscoverCars –

The world's leading rental car search engine to rent a car in

South Africa 

Kiwi

and

Skyscanner

– Flight comparison search engines to find the cheapest flights to

South Africa

and within the country

GetYourGuide

and

Viator

–

a collection of local tours and activities in

South Africa

. Also offers Skip the Line tickets for crowded attractions

Tiqets

– Website selling entrance tickets and skip the line tickets for major tourist attractions in

South Africa

HostelWorld – #1 hostel search website to find accommodation while backpacking South Africa. Thousands of hostels and millions of reviews from fellow travellers
Booking.com

– commonly used booking site for accommodation in

South Africa

. Find hostels, hotels, and other unique accommodations in

South Africa

with advanced filtering and millions of reviews

World Nomads Travel Insurance

– Comprehensive travel insurance for long and short trips when backpacking

South Africa

The CCA has more information on accommodation within South Africa's protected game reserves
FEDHASA has nearly 1000 member hotels throughout South Africa
Greyhound offers an excellent intercity bus service in South Africa with flexi-passes available
The Blue Train is an express service operating between Pretoria, Victoria Falls, Port Elizabeth and Cape Town
South African Airways runs a domestic service linking Cape Town, Durban, Johannesburg and several other towns as well as cities in other African countries
Drakensberg Tourism Association – Site promoting tourism in the Central and Northern Drakensberg region.
BazBus – South Africa's only convenient hop-on hop-off door-to-door backpackers bus service to over 180 hostels.
---
There you have it, the ultimate South Africa backpacking guide. We hope you have found all the information you need for backpacking around South Africa.
Next up:
Liked this article? Share it with others who might be after the same information!