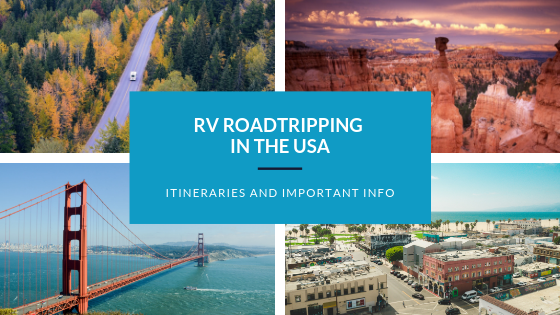 The USA covers a huge area that is often underestimated. Perhaps because of the vast distance, the country lacks the train and bus infrastructure that is found in many other parts of the world, so the intrepid traveller is usually left with the option of renting a car to get around. Why not go a step beyond and rent portable accommodation as well? By taking an RV across America, you have flexibility, everything you need in a self-contained vehicle, and you will have experiences that wouldn't be possible by just renting a car. Imagine enjoying the national parks once the daytime tourists have gone home.
What's more, the benefits of travelling with an RV across America are not only great for camping and visiting National Parks. Road tripping and city hopping with an RV in the USA is sometimes the most practical way of exploring certain regions.
This article walks you through everything you need to know about RV travel in the USA, as well as some of the greatest road trips in the country.
Driver's License Requirements for Renting an RV
You do not need a special class of license to rent an RV to travel across America. However, you must be at least 25 years old and your license must be valid for 12 months beyond the date that your rental contract starts.
Renting a Camper for your RV Trip
To rent an RV in the USA, you have a few choices. Cruise America is the most well-known company– if you've travelled in the USA you've surely seen these vehicles on the road. You can't miss their branding. There is also a site called RVshare which functions as a sort of Airbnb for RVs. RV owners list their own vehicles for rent, which means you'll have a large variety, often with cheaper options than renting directly from a large company.
How to Make Reservations for Campsites in the USA
Especially during the summer high season, it's best to plan your overnight stops as far ahead as possible. In popular national parks, campsites are sometimes reserved a year in advance. If you dream of sleeping overnight in Joshua Tree or Yosemite, plan as far ahead as possible. Nowadays, you can easily book campsites using booking.com. You can filter by amenities, check out reviews from other campers, and reserve most places with free-cancellation policies. Or, you can visit the homepage of the National Park where you'd like to stay.
In the off-season and in the lesser-known national parks you should generally be ok with just showing up.
For city trips, it's not impossible with an RV but once you get closer to the compact downtown you may have problems finding parking. It's best to park in the outskirts of the city and then rely on public transportation. You can usually find RV-friendly parking lots like shopping malls or a subway station.
How to Plan your Budget for an RV Across America
Costs during your RV road trip adventure will come down to the RV rental costs, campsite fees, fuel, National Park fees, and food/drink. However, there are some tricks of the trade to keep your expenses low.
Use your RV kitchen! Even when on the road, try to limit your restaurant pit stops.
If you plan to visit at least 3 national parks (entrance fees cost about $30 per car), it's worth investing in a national park pass. With it, you get a year of access to national parks for $80.
Learn to love 'dry camping' aka parking for free wherever it's legal. You won't have hookups for water or electricity, but your water tank and generator should be enough for a night. Park on a friend's property, on National Forest land, or in any Walmart parking lot– they allow parking overnight for free, as long as you ask the store manager's permission.
4 Itineraries for RVing Across America
USA RV Itinerary #1: California Highlights (plus Las Vegas)
With this RV itinerary, you'll hit the best national parks and major cities in California, plus take a small detour to Las Vegas. The camping sites along this RV itinerary range from forest sites to beach-side camping. This is a circular route, so you could start from any point.
Highlights: San Francisco – Monterey – Santa Barbara – Los Angeles – San Diego – Joshua Tree – Las Vegas – Yosemite Valley – Lake Tahoe – Napa

USA RV Itinerary #2: Iconic American Southwest
The American Southwest is full of National Parks where red sandstone has been carved by wind, water, and tectonic activity. These are some of the most awe-inspiring landscapes in the entire world. Even with all the major highlights, this RV route is surprisingly compact — most people choose to combine it with RV Itinerary #1 so that they can do California plus these desert landscapes in one trip.
Highlights: Grand Canyon, Antelope Canyon, The Wave, Monument Valley, Bryce Canyon, Zion National Park
USA RV Itinerary #3 New England (plus some Canada)
The states are smaller in the Northeast, which means you can visit some world-famous cities and National Parks all in one trip. Plus, it's not too far to drive to the French-Canadian cities of Montreal and Quebec City.
During half of this itinerary, you'll be surrounded by pristine nature, but you can also visit major metropolitan areas like Boston, Manhattan, and Washington D.C.
Rather than navigate the busy cities in your RV, it's best to park at a Subway station in the outskirts, and take public transportation into the center.
Highlights: Manhattan, Philadelphia, Washington D.C. Niagara Falls, Finger Lakes, Montreal, Quebec, Acadia National Park, Boston

USA RV Itinerary #4: The South
Camping in the South is a different type of trip. The focus of this RV itinerary is not national parks, but we think this region is best seen with a road trip. This region of the USA has a uniqueness that some of the larger cities in the rest of the USA have lost long ago. It feels like a completely different country from what you would experience on the West Coast or in New England.
Highlights: New Orleans – Memphis – Nashville – Charlotte – Miami – Key West

So there you have it, the essential information you need to plan your RV across America camping experience, as well as some great itineraries to explore. Last but not least, here are some websites you can use to plan your trip and make reservations online as you go:
Liked this post? Share it with others who might be after the same information!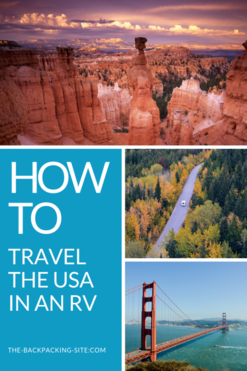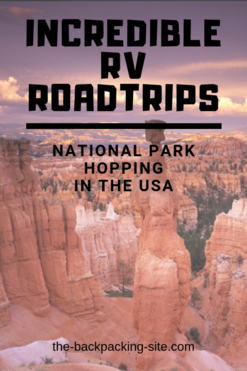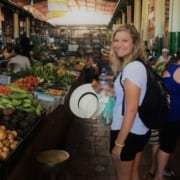 Monica is an avid traveler and backpacker who seeks to inspire others to embark on great adventures off the beaten path. Originally from California, she has travelled to over 60 countries, most of which she explored while backpacking or camping.
https://www.the-backpacking-site.com/wp-content/uploads/2019/03/USA-RV-1.png
315
560
Monica Woerner
https://www.the-backpacking-site.com/wp-content/uploads/2018/08/the-backpacking-site-1.png
Monica Woerner
2019-03-13 16:09:46
2021-07-04 13:27:11
How to Travel the USA by RV - Expert Tips & Itineraries