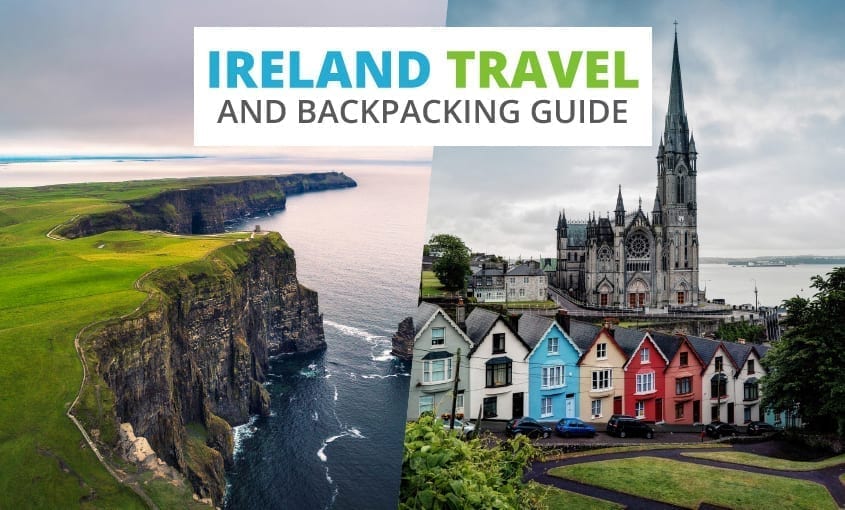 Backpacking Ireland
Looking for important travel information while backpacking in Ireland? Here you will find information on working in Ireland, entry visas, Ireland hostels, and much more.
Table of Contents
Facts About Ireland
Ireland is a popular tourist destination due to its relaxed culture, historic traditions, and of course, its love of Guinness. American travellers particularly fall in love with the people of Ireland and their charming and unique accent.
In light of the divergent modern histories of the Republic of Ireland and Northern Ireland, making generalisations about Irish culture is tricky. However, although there are still occasional outbreaks of violence in Northern Ireland most of these are between organised criminal groups and centred in very specific areas of Belfast. Indeed, visitors to Northern Ireland will be surprised at the reality of the country, with Belfast still a perfectly safe city for people to explore.
Currency: Euro
Time Zone: GMT
Language: English
Telephone Services: Country code +353, International Access number 16
Emergency Numbers: 112 for all services
Climate in Ireland
The climate in Ireland is very similar to that of mainland Britain, you can expect a reasonable amount of rain all seasons round and none of the seasons are particularly extreme.
Things to do in Ireland
Dublin
Dublin is the capital city and thriving hub of the Republic of Ireland, famed for its welcoming nature and extremely popular with tourists historically. As well as the obligatory Guinness dispensing pubs filled with traditional live music, Dublin has a thoroughly refined cultural side, with attractions such as the Dublin Writers Museum, the James Joyce Museum and the Shaw Birthplace.
The Republic of Ireland is also packed with architectural wonders. Located just outside Dublin is Malahide Castle, a beautifully restored castle dating from 1185. With over 250 acres of adjoining parklands and the nearby Fry Model Railway, there is plenty to keep you occupied for a day.
Aran Islands
Other highlights include a ferry hop over to the Aran Islands which gives you a taste of what Ireland must have been like before the general population migration to big cities. Finally, no trip could be complete without an expedition to Blarney Castle, home of the famous Blarney Stone which is said to give the 'gift of the gab' to all who kiss it. The Castle itself is a fabulous stop-off for those visitors taking in Cork or Killarney.
Unique Activities in Ireland
Since Ireland is a popular destination for tourists, it is wise to book tickets to popular attractions (historical sites, museums) ahead of time to avoid the lines. GetYourGuide sells entrance tickets at face value and you can avoid waiting in line. You might also see 'Skip the Line' tickets on their site, which are separate entrance for a higher ticket price Get your Guide offers these ticket varieties as well and it can be a worthwhile cost for popular attractions like the Guinness Storehouse in Dublin, which can have up to a 2-hour wait time for General Entrance.
It's also a good way to get an idea of things to do in Ireland is to scan the activities offered by Get Your Guide or Viator. They work directly with local tour operators, so you won't have to scour the internet or roam around town trying to find the best deal. 
If you know your schedule ahead of time, a great insider tip is to buy tickets for major tourist attractions ahead of time. Tiqets has entrance tickets and skip the line passes for major tourist spots in Ireland so that you can avoid the lines and save that precious time for more exploring.
How to Travel Around Ireland
If you're flying to Ireland or plan to take short flights within the country, we recommend using a few different flight comparison search engines. Kiwi is a new favourite among travellers. On average, we have found the cheapest flights to Ireland with them compared to the other websites out there.
Of course, it is always worth checking Skyscanner to guarantee you're getting the best deal. Both websites offer great flexible search options, allowing you to search the whole country of Ireland to find the cheapest airport to fly into, and also see prices for a full month if you're flexible on travel dates.
Travel by Train or Bus in Ireland
Train and long-distance bus are the standard modes of transport for getting around the country. Buses are the more economical option, nevertheless, they are well-equipped with the usual modern conveniences that expect when travelling in Europe. Train travel, on the other hand, is the fastest way between two cities and the train stations are conveniently located right in the centre of town.
It depends on your preference, and certain routes are better suited to one mode of transport than the other. To compare your options for journeys from A to B, you can try Omio. They compare trains, buses (and even flights) so you can decide for yourself the tradeoff between cost and travel time.
Train travel in Ireland
Rail services operate between Ireland's major towns, with Dublin acting as a hub for most routes. A Britrail pass covers the UK as well so it is quite economical. However, if you want to get off the beaten track a little, buses cover a larger area and, although quite expensive, the standard of service is generally good.
Ireland is a part of the Eurail network, which is a good choice if you plan to take multiple train journeys in a short period of time. Eurail offers both multi-country passes and One Country Passes. To decide whether you should buy individual tickets from A to B, or whether you should purchase a Eurail pass, read our Travelling Europe by Train guide.
Driving in Ireland
By far the best way to travel, however, is by rented car. It gives you flexibility and the ability to enjoy going off the typical highways to experience undiscovered Ireland. If you want the flexibility to stop in smaller towns between the major cities, check AutoEurope or Europcar to compare offers from the major car rental agencies in the region. Before deciding, read more about what to expect of driving in Europe.
Backpacking Tours in Ireland
Though part of the fun of backpacking Ireland is exploring on your own, there are situations, especially when venturing off the tourist trail, when it does make sense to go with a guide or a small group. For these times, a popular option among backpackers is G Adventures. They hand-select local guides to ensure authenticity and quality. This is especially a good option for those travelling Ireland alone who would like to meet up with like-minded travellers. Their most popular trips in Ireland are their 13-day Ireland Explorer tour, or their 5-day Discover Northern Ireland tour.
Health and Safety in Ireland
The health service in Ireland is very good, with modern equipment and highly skilled staff. Provided you have travel insurance, you will be sure to get a very high standard of care. All food and drinking water should be considered safe and there are no special health precautions that you should take beyond that which you take at home.
Entry Visa Requirements for Ireland
EU nationals do not require a passport as long as they carry an ID card (a driver's licence will suffice for Brits). EU nationals also do not require a visa for stays up to 90 days. Visas for longer stays are normally granted to EU or US citizens without too much bother; you can contact the Irish Embassy for details.
Foreigner Work Permits and Backpacker Jobs in Ireland
Working in Ireland during your gap year or time abroad has many advantages: cheap travel from the UK, familiarity with the language, and no need for a work permit if you are an EU national. Since language should be no barrier for those from the UK, going from place to place enquiring about casual work, in bars, restaurants and the like, as well as consulting local job papers, notice boards, and writing to hotels and bars could land you some temporary employment.
Au pair in Ireland
Most au pairs in Ireland, as well as the UK, are Europeans who usually want to improve their English. Popular areas to find au pair work are in places such as Dublin and Cork. Au pairs receive around €50 (approx. €35) a week for working up to 35 hours. Inter-S jours is an au pair recruitment agency and places men and women in six to 18-month au pair positions.
Seasonal work in Ireland
Try Dublin, Cork, and Kerry as well as other large tourist-populated areas for work in pubs, bars, restaurants, and hotels. Some hotel jobs can pay up to €230 (approx. €160) per week and accommodation is sometimes provided. Jobs at activity centres are also worth investigating, for example, the Blessington Adventure Centre, which specialises in water sports activities, the Atlantic Adventure Centre in Lecanvey, and Neptune Adventure in Baltray, to name but a few. There is no guarantee of finding a job at any of these places but it is always worth contacting them to find out. See the Irish Tourist Board website for more details of tourist areas with possible job opportunities.
Internships in Ireland
Dublin Internships is a company that organises ten to fifteen-week internships for students. Internships give you a chance to experience a job that might set you up for a future career, and will always look good on a CV.
Visit the Dublin Internships website to find out more information and to apply for an internship position. Applications should be made three months before you want to start an internship. 15-week programmes begin either at the beginning of the autumn or spring semester, and 10-week internships take place during the summer.
Volunteering in Ireland
If you are intending to stay in Ireland for a whole year, want something to last for the entire duration, and earning money is not your first priority, there are many opportunities for volunteer programmes. Camphill Communities runs projects across the world in communities for adults with special needs. Work includes assisting a few residents on a day-to-day basis, and accommodation is provided for volunteers who are asked to work for at least one year.
Careforce also runs one year projects for volunteers who work as Christian volunteers and again provide accommodation, food, and pocket money. If you are more interested in environmental projects, Conservation Volunteers Northern Ireland (CVNI) require volunteers for at least six months at a time, to help with conservation work such as tree-planting, and general management of the environment. Accommodation is sometimes, but not always, provided by CVNI.
Agriculture and Farming jobs in Ireland
If outdoor type of work appeals to you, WWOOF is a voluntary organisation that provides work on organic farms and includes board and accommodation for a membership of €10 per year, check their website for more information.
Ireland Hostels & Budget Accommodation

All types of accommodation are on offer, from youth hostels and B&B's right up to high-class hotels. The best value for money are the small family run B&B's which offer a much better standard of accommodation than youth hostels for a negligible extra charge. You will be able to find literally hundreds of B&B's and hostels online which will accept reservations.
We have had good experiences finding hostels in Ireland on HostelWorld. They have the largest inventory of hostels worldwide, and with over 10 million reviews and ratings from other travellers you know exactly what to expect.
Another good way to find accommodation in Ireland is by checking hotels.com and  booking.com. With both sites, you'll not only find hotels, but also homestays, hostels, and other unique accommodation. We have discovered some great finds and have appreciated the ability to book ahead. You can use their advanced filtering to narrow your results by budget, location score, overall review score, and amenities. Many of the places on booking.com also offer free cancellation, which takes the pressure off the planning phase of your trip.
Useful Links for Backpacking in Ireland
Discover Ireland and Discover Northern Ireland – The two official websites for tourism in the Republic of Ireland and Northern Ireland respectively. A perfect starting points for visitors planning their trip.
Dublin Tourist Information – Once you've sorted out accommodation, plan your itinerary to Ireland using the Tourist Information website
Dublin Airport Terminal 2 – A very comprehensive guide to Terminal 2 at Dublin Airport, including live information on flight times, airline companies, airport amenities and transport.

Eurail

– Rail Passes for travellers who plan on doing lots of train travel in a short period of time. Single-Country and Multi-Country passes available

Omio

– Train, bus, and flight search for all of Europe. Offers online booking and mobile tickets

Auto Europe

and

Europcar

– Europe's leading rental car search engines to find a rental car in Ireland

Kiwi

,

Skyscanner

, and

Opodo

– Flight comparison search engines to find the cheapest flights to Ireland and within the country

GetYourGuide

and

Viator –

a collection of local tours and things to do in Ireland. Also offers Skip the Line tickets for crowded attractions

Tiqets

– Website selling entrance tickets and skip the line tickets for major tourist spots in Ireland

G Adventures

– small backpacking tours in Ireland, great for solo travellers or for those interested in a more adventurous trip which would require a guide

HostelWorld

– #1 hostel search website to find accommodation while backpacking Ireland. Thousands of hostels and millions of reviews from fellow travellers

Booking.com

– commonly used booking site in Ireland. Hostels, hotels, and other unique accommodation with advanced filtering and millions of reviews

Travel Insurance

– read our comprehensive overview of Travel Insurance and some recommended providers for your backpacking trip to Ireland
---
There you have it, the ultimate Ireland backpacking guide. We hope you have found all the information you need for backpacking around Ireland.
Next up:
Liked this article? Share it with others who might be after the same information!