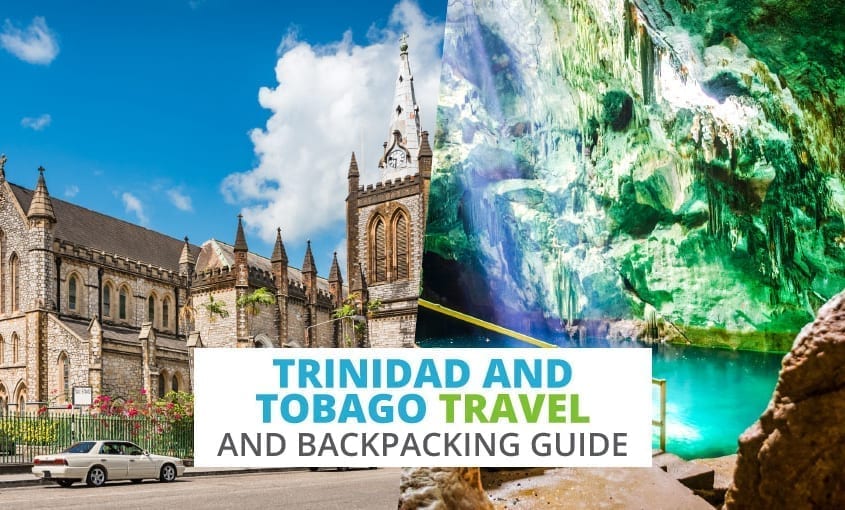 Backpacking Trinidad and Tobago
Looking for important travel information while backpacking in Trinidad and Tobago? Here you will find information on working in Trinidad and Tobago, entry visas, Trinidad and Tobago hostels, and much more.
Table of Contents
Facts About Trinidad and Tobago
Trinidad and Tobago is a republic in the south Caribbean, made up of the two islands from which it takes its name, and 21 smaller islands. The clusters of smaller islands which are part of the republic include the Bocas Islands, the Five Islands and the San Diego Islands. The capital is Port of Spain, a city in Trinidad. In total, the country covers an area of 5128 square kilometres.
Trinidad is the larger of the two main islands, and is situated to the northeast of Venezuela. An expanding manufacturing industry makes this island the more modern and bustling of the two, and it has a much larger population than Tobago, where only four per cent of the total population lives. The country's industry thrives on the manufacture of petroleum.
Tobago is a stone's throw away from its larger neighbour. If time is tight, you can fly across in just fifteen minutes. A ferry can take you between the islands in about two hours.
The official language of Trinidad and Tobago is English, although the country gained independence from the United Kingdom in 1962. The republic has a rich cultural heritage, and this is reflected in the languages you will hear. While English is dominant, the country's days as a French colony have left behind a patois version of French. Spanish has also crept across from the Spanish speaking South American country Venezuela, which is less than ten miles away. Similar diversity can be found in the religion of the country – it is primarily Christian, but with Middle Eastern, European and African influences (see the timeline below), Islam and Hinduism also thrive.
The currency is called the Trinidad and Tobago dollar or TT, but US dollars are widely accepted. There are between 12 and 13 TT dollars to the British pound. For an accurate and up to date instant currency conversion, see www.xe.com.
Trinidad and Tobago's history
Pre-1498 – Trinidad and Tobago inhabited by the Carib and Arawak peoples
1498 – Trinidad and Tobago discovered by Columbus
1400s-1797 – Trinidad is primarily Spanish
1400s-1814 – Tobago ruled by a host of European countries including Spain, France and Britain
1797 – The British arrive in Trinidad
1802 – Trinidad is named as a British colony
1814 – Tobago is named as a British colony
1889 – Britain officially unites Trinidad and Tobago into a single administrative entity
1962 – Trinidad and Tobago gain independence from Britain
1976 – The country becomes the Republic of Trinidad and Tobago
Climate in Trinidad and Tobago
There are two distinct climatic stages during the Trinidad and Tobago year. For the first five months of the year, from January to May, the country has its dry season. During these months, the sun shines and the islands live up to their reputation as a paradise, with an average temperature of 28 degrees celsius. Occasional showers punctuate the sunny weather during the dry season, and with the evenings comes a more comfortable cooler temperature.
The rainy season starts in June, bringing with it wet afternoons which follow sunny mornings. Usually, when the wet season is well underway, a new phase of weather begins which provides a break from the afternoon rain – in September and October, islanders enjoy days on end of uninterrupted sunshine, before the wet season resumes.
Things to see and do in Trinidad and Tobago
Port of Spain
The capital city of Trinidad and Tobago, Port of Spain is like many other capital cities – home to high rise office blocks and shops. In fact, if shopping is your passion, Port of Spain (and particularly Independence Square) will impress you with its wide range of shops and low prices. Track down the market at the Normandie Hotel which specialises in local produce, including Caribbean clothes and books. But the city stands out from other capitals because of its distinctly Caribbean culture – it is bustling, lively and friendly rather than crowded, stressful and unwelcoming. The city lies beneath the North Range mountains. Since it is a port, Port of Spain offers sea views, and there is plenty of lush greenery in the form of pretty parks. Queen's Park Savannah is worth a visit, with buildings dating from the island's days as a colony of Spain.
Maracas Falls
Leave the city and travel 12 miles, and you will find a stunning 300ft waterfall, called Maracas Falls near to Maracas Bay, where there is a beautiful sandy beach. Even closer to the capital, about nine miles away, is the Blue Basin waterfall which is on the Diego Martin River.
Charlotteville
If it is picture postcard paradise you seek on your trip to Trinidad and Tobago, you will find it in northeastern Tobago, in the little village of Charlotteville. Built around its fishing industry, it is yet to be discovered by the majority of tourists, and remains a peaceful and sleepy haven. Its position is a gift to scuba divers, who can explore the warm sea and its tropical inhabitants.
Scarborough
Scarborough is the capital of Tobago, and is definitely worth a visit, if only to lose yourself while flitting between the traditional arty boutiques and quaint watering holes. As another port, Scarborough's position made it a valuable city to capture. A visit to Fort King George will give you a taste of its history. Be sure to spend some time in the art gallery and museum, housed in the old hospital building.
Asa Wright Nature Centre
A true taste of the natural beauty of the Caribbean can be found at the Asa Wright Nature Centre. Here you can be taken on guided walks and delve into the heart of the tropical rainforest which covers a huge area 50 miles long and 37 miles wide. Enjoy your time here among the 100 different mammals, 400 bird species, 55 varieties of reptile and over 600 hundred types of butterfly.
Carnival
If you are lucky enough to be in the country the week before Ash Wednesday (a variable date in February or March), you will not be able to miss the highlight of the year – the annual carnival. The islands come alive with calypso and soca music, singing and dancing and bright and beautiful costumes of every colour imaginable. Steel bands play as people wearing feathers and sequins dance through the streets.
Tours and activities in Trinidad and Tobago
Another good way to get an idea of what to do is to scan the activities offered by Get Your Guide or Viator. They work directly with local tour operators, so you won't have to scour the internet or roam around town trying to find the best deal.
Travel to and within Trinidad and Tobago
With Piarco International Airport on Trinidad and Crown Point International Airport on Tobago, flying to the country is relatively easy.
If you're flying to Trinidad and Tobago, we recommend using a few different flight comparison search engines. Kiwi is a new favourite among travellers. On average, we have found the cheapest flights with them compared to the other websites out there. Of course, it is always worth checking Skyscanner to guarantee you're getting the best deal. Both websites offer great flexible search options, allowing you to see prices for a full month if you're flexible on travel dates. 
To drive in the country you need to apply for an international driver's permit which can be issued in England and lasts for 90 days.
There is a bus station in South Quay in Port of Spain for travelling around Trinidad, and Tobago also has a bus service, although it is not as extensive. Taxis are a convenient and not-too-expensive way of getting around – they are marked by the letter 'H' on their number plates.
To travel between the two main islands, the cheapest way is the ferry service which runs between Port of Spain and Scarborough and takes around two and a half hours.
Health care in Trinidad and Tobago
You should have the following vaccinations before visiting Trinidad and Tobago: hepatitis A, yellow fever, tetanus. Protection against hepatitis B, rabies, TB and diphtheria may be required depending on what you plan to do during your visit – ask your doctor for advice.
In the large cities of Trinidad and Tobago, the tap water is safe to drink, although, in the smaller more remote areas, it is advisable to drink bottled water which is widely available.
Healthcare is free in Trinidad and Tobago, but it is basic. Travel insurance is strongly recommended.
In the case of a medical emergency, call an ambulance on 990. See below for other emergency numbers.
Entry visa requirements for Trinidad and Tobago
For a very clear and thorough explanation of entry requirements for Trinidad and Tobago, visit the Trinidad Embassy website. If you are British, you need a valid passport and a return ticket to go to the country. If you are not staying for more than three months, you do not need a visa. If you are planning on staying for more than three months, contact the embassy at the address below. If you are planning to work during your stay, you will need details of your employment to apply for your visa.
Foreigner work permits and backpacker jobs in Trinidad and Tobago
Historically, the islands of Trinidad and Tobago have high levels of unemployment. The main industries are oil, gas and sugar cane. It is difficult to find work here as a tourist, and you are most likely to succeed by focussing your job hunt on the leisure and tourism industry. Work in bars, restaurants and hotels changes according to the seasons, so you may be lucky. Agricultural work, particularly harvesting sugar cane may be available.
See above for details of working visas. Contact the Embassy for more information.
Trinidad and Tobago Hostels and Budget Accommodation
There are plenty of guesthouses on Trinidad and Tobago, and many are cosy private homes. Word of mouth recommendations can't be beaten, but if you are struggling, have a look on the internet.
We have had good experiences finding hostels on HostelWorld. They have the largest inventory of hostels worldwide, and with over 10 million reviews and ratings from other travellers, you know exactly what to expect.
Another good way to find accommodation in Trinidad and Tobago is by checking hotels.com and booking.com. With both sites, you'll not only find hotels, but also homestays, hostels, and other unique accommodation. We have discovered some great finds and have appreciated the ability to book ahead. You can use their advanced filtering to narrow your results by budget, location score, overall review score, and amenities. Many of the places on booking.com also offer free cancellation, which takes the pressure off the planning phase of your trip.
Useful links for travel in Trinidad and Tobago
There you have it, the ultimate Trinidad and Tobago backpacking guide. We hope you have found all the information you need for backpacking around Trinidad and Tobago.
Liked this article? Share it for others who might be after the same information!