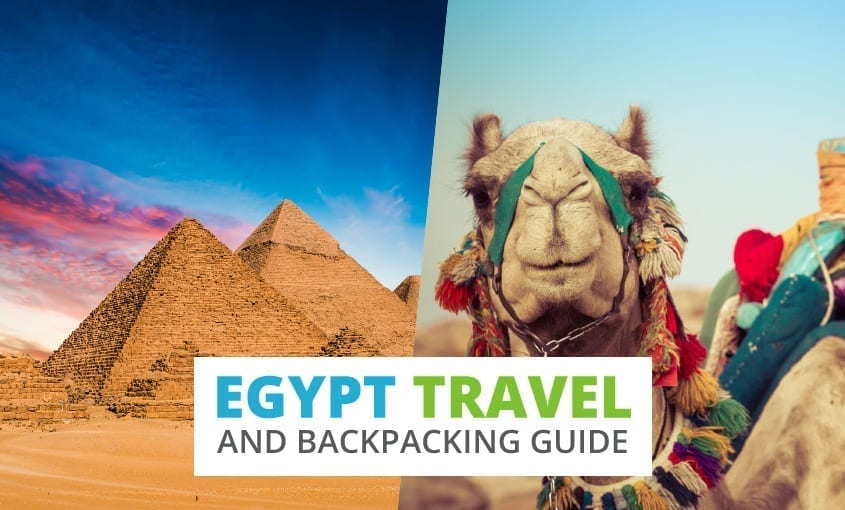 Backpacking Egypt
Looking for important travel information while backpacking in Egypt? Here you will find information on working in Egypt, entry visas, Egypt hostels, and much more.
Table of Contents
Facts About Egypt
Egypt is a magnificent country with countless legacies behind it which form its present. Most of the country is covered by desert, so the small part which isn't, the valley of the Nile River, is where a striking 95% of the population has settled.
The capital, Cairo, is a city which is overwhelming due to its enormity and chaotic feel. The outstanding pyramids and temples of Cairo will take your breath away. It was not until the late 18th century, when Napoleon invaded Egypt, that the fascinating artefacts of the Egyptians were discovered and the world began to be aware of the treasures of this far away land.
Currency: Egyptian Pound = 100 piastres
Time Zone: GMT + 2
Language: Arabic. English and French are widely spoken
Telephone Services: Country Code + 20
Emergency Numbers: Not Present
Climate in Egypt
When deciding the best time to visit Egypt, weather should play an important role. You can expect hot and arid weather during the summer months and dry, cold winters. Strong dusty winds blow from the Sahara in April.
Things to do in Egypt
Cairo
The capital city, Cairo is one of the most distinctive cities in the world and is the most convenient base for seeing the Great Pyramids. Within Cairo, you will find plenty of hawkers eager to sell you transport to Giza, only 20 minutes from the city which where you will find these spectacular testaments to a formerly great civilization.
While in Cairo, and after visiting the pyramids, it is worth spending a day or two exploring the rest of the city. Coptic Cairo is the oldest part of the city and is where you will find what remains of the Fortress of Babylon. The last two remaining towers are the highlight of this site although the museum just at the base of them is worth a look for its collection of religious artefacts and art. Other sites in Cairo include the Al-Azhar Mosque, the Mosque of Qaitbey and the Citadel.
Luxor
In the past Luxor, which situated on the River Nile, was the Egyptian stronghold, a centre of immense power. Luxor is where Tutankhamun's burial chamber lies, in the Valley of the Kings. A walk in Luxor is a walk through history as you are met with unique and wonderful statues, temples and carvings everywhere you go.
The main attraction is the Temples of Karnack which were built during Theban times as centres of worship. Also worth looking at are the Luxor temple which was built by Amenhotep III and the Colossi of Memnon.
Alexandria
Alexandria, the second largest Egyptian city, is the main port of Egypt and is situated in the north-west of the Nile delta. There are beautiful white sandy beaches and captivating scenery stretching for 140 km along the Mediterranean Sea. Abu-Qir Suburb is one of the most peaceful beaches and is well-known for fishing and delicious seafood restaurants. This area also offers the opportunity to see many Greek and Roman monuments.
Unique activities in Egypt
Another good way to get an idea of things to do in Egypt is to scan the activities offered by Get Your Guide or Viator. They work directly with local tour operators, so you won't have to scour the internet or roam around town trying to find the best deal.
How to Travel Around Egypt
There are daily flights connecting Cairo, Alexandria, Luxor, Aswan, Abu Simbel and Hurghada run by Egypt Air. Air Sinai also offers flights connecting Cairo to places all over Egypt.
If you're flying to Egypt or plan to take short flights within the country, we recommend using a few different flight comparison search engines. Kiwi is a new favourite among travellers. On average, we have found the cheapest flights to Egypt with them compared to the other websites out there.
Of course, it is always worth checking Skyscanner to guarantee you're getting the best deal. Both websites offer great flexible search options, allowing you to search the whole country of Egypt to find the cheapest airport to fly into, and also see prices for a full month if you're flexible on travel dates. 
Nile cruises in Egypt
When you are travelling in Egypt a Nile cruise is recommended and the traditional Nile sailing boats, known as feluccas, can be hired by the hour. There are also numerous Nile cruises running between Luxor and Aswan, and between Cairo and Aswan which last for anything up to two weeks. It is recommended to contact a tour operator and book a complete package.
Train travel in Egypt
There is an extensive railway network in Egypt controlled by Egyptian State Railways who can be contacted on (02) 574 9474 or 575 3555. The network covers the whole country and connects all main cities with a high standard of service. If you want to take advantage of the overnight train services then it is necessary to book one week in advance through a travel agent or through Abela Egypt.
Bus travel in Egypt
The national bus network covers the Nile Valley and coastal routes.
Backpacking Tours in Egypt
Though part of the fun of backpacking Egypt is exploring on your own, there are situations, especially when venturing off the tourist trail, when it does make sense to go with a guide or a small group. For these times, a popular option among backpackers is G Adventures. They hand-select local guides to ensure authenticity and quality. This is especially a good option for those travelling Egypt alone who would like to meet up with like-minded travellers. Their most popular trips in Egypt are their 15-day Egypt and Jordan Adventure, 8-day classic Egypt on a Shoestring tour.
Health and Safety in Egypt
It is very important that you have full medical insurance for your trip to Egypt as there are quite a few health risks. You should be aware that you may be at risk from Malaria and Yellow Fever. If you travel through an area infected with Yellow Fever you are required to have a Vaccination certificate, so you should check with the Embassy which areas are considered infected. You should get Polio and Typhoid Vaccinations before your departure. Other health risks include Rabies and Bilharzia.
Entry visa requirements for Egypt
A passport is required by all visitors and must be valid for at least 6 months after the date of arrival. Everyone is required to have a Tourist visa, except nationals of Malta and Jordan, and you can contact the British Embassy for more information. You are also required to have proof of a return ticket.
Egypt Hostels and Budget Accommodation

Due to the importance of tourism in Egypt, there is ample accommodation services and variety in the vicinity of all well-known attractions and large cities. As a budget traveller, you will be interested to know that there are 15 Youth hostels in Egypt and they are located in popular tourist destinations.
We have had good experiences finding hostels in Egypt on HostelWorld. They have the largest inventory of hostels worldwide, and with over 10 million reviews and ratings from other travellers, you know exactly what to expect.
Another option which will not break the bank is to stay in campsites, although there are only a few official campsites across the country. If you would like to make your way through the desert wilderness then you can book these trips through local tour operators but it is very advisable to contact the local tourist offices for exact details as it can be dangerous to go on one of these camping excursions with an inexperienced guide. The tourist office in Cairo can be reached on ((2) 391 3454) or you can also get advice from the tourist office at Cairo International Airport.
Another good way to find accommodation in Egypt is by checking hotels.com and  booking.com. With both sites, you'll not only find hotels, but also homestays, hostels, and other unique accommodation. We have discovered some great finds and have appreciated the ability to book ahead. You can use their advanced filtering to narrow your results by budget, location score, overall review score, and amenities. Many of the places on booking.com also offer free cancellation, which takes the pressure off the planning phase of your trip.
Useful links for Backpacking in Egypt
Abela Egypt – train services in Egypt

Kiwi

 and 

Skyscanner

 

– Flight comparison search engines to find the cheapest flights to Egypt and within the country

GetYourGuide

and

Viator –

a collection of local tours and things to do in Egypt as a backpacker. Also offers Skip the Line tickets for crowded attractions

Tiqets

– Website selling entrance tickets and skip the line tickets for major tourist spots in Egypt

G Adventures

– guided backpacking tours in Egypt, great for solo travellers or for those interested in a more adventurous trip which would require a guide

HostelWorld

– #1 hostel search website to find budget accommodation while backpacking in Egypt. Thousands of hostels and millions of reviews from fellow travellers

Booking.com

– commonly used accommodation booking site in Egypt. Hostels, hotels, and other unique accommodation with advanced filtering and millions of reviews

Travel Insurance

– read our comprehensive overview of Travel Insurance and some recommended providers for your backpacking trip to Egypt
---
There you have it, the ultimate Egypt backpacking guide. We hope you have found all the information you need for backpacking around Egypt.
Next up:
Liked this article? Share it with others who might be after the same information!