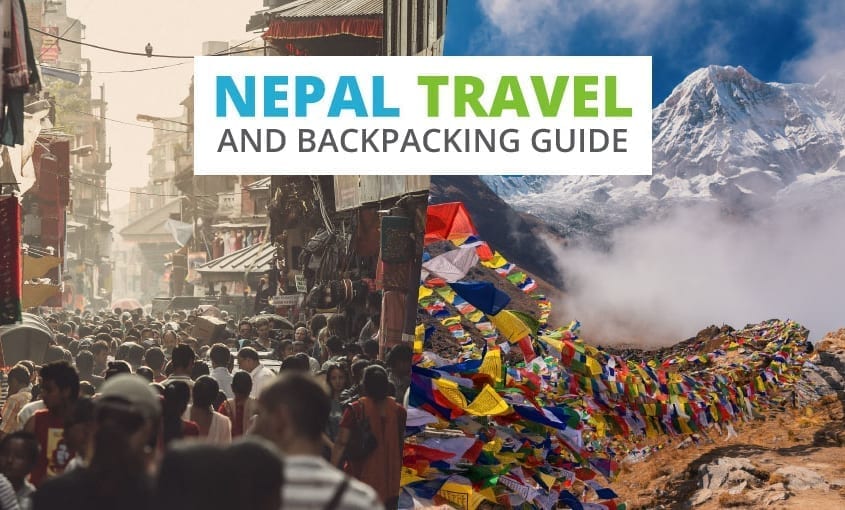 Backpacking Nepal
Looking for important travel information while backpacking in Nepal? Here you will find information on working in Nepal, entry visas, Nepal hostels, and much more.
Table of Contents
Facts About Nepal
Nepal never ceases to conjure up the mysteries of the orient in the imagination of travellers. From mountain top monasteries filled with saffron-robed monks to the chaos of rural marketplaces, every traveller has a distinct picture of Nepal.
Those that travel there come back with some of the speculations validated and still more new impressions imposed upon them by this small but wondrous country. Nepal due to its poverty is also a very popular destination for GAP placements and most major GAP year organisers run placements in the country.
It should be noted that due to a Maoist people's war declared in 1996 the political situation in Nepal does bear some consideration. A current ceasefire has put an end to hostilities but it is still advisable to register your travel itinerary with your home embassy in Nepal upon arrival. It is also recommended to exercise caution when travelling in the more remote areas of the country.
Currency: Nepalese Rupee (Rs) = 100 paisa
Time Zone: GMT +5.45
Language: Nepali
Telephone Services: Country Code +977, International access code 00
Emergency Numbers: Not present
Climate in Nepal
Nepal benefits from quite a stable and predictable climate, there is a monsoon period between July and September but the rest of the year is pleasantly dry. During the winter temperatures drop to below freezing and most of the mountainous areas lie under a thick blanket of snow. Spring and Autumn are the best times for backpacking Nepal although don't expect the mountains to be warm at any time of the year.
Things to do in Nepal
Kathmandu
The country's capital, Kathmandu, has often been described as a living museum due to the immense amount of history and culture that this city exudes. There are areas of modern hi-rise buildings but you will be refreshed to see that much of the old way of life is preserved throughout the city.
The city is literally littered with temples and religious sites but one of the most popular is Durbar Square which houses several museums as well as both Buddhist and Hindu temples complete with excellent examples Nepalese stone-craft. Four of the temples in this area have been designated UNESCO World Heritage sites so they are well worth a look.
Although some temples are open to visitors there are many in the city which are not open to non-worshippers, for this reason, it is important to respect the local customs and always ensure you have permission to enter a sacred site.
Bhaktapur
The city of Bhaktapur is a slightly off the beaten track and as a result, is in many ways a richer experience than visiting Kathmandu. The city itself is largely unchanged since the 17th century with only a few modern developments.
The city is small enough to get around all the major attractions by foot and is also a great city to explore in. Not letting itself by outshone by the nation's capital Bhaktapur has a bigger and better Durbar Square complete with the ubiquitous temples, museums and statues. Of particular interest are the Ugrachandi Statues which were reputedly so good that the sculptor has his hands amputated to prevent him from duplicating his work.
Nagarjun Forest Reserve
For those tired of temple trekking, the Nagarjun Forest Reserve is one of the finest examples of untouched forest in Nepal. The wildlife here is abundant and if you are lucky you might be able to spot pheasants or even deer herds. There are plenty of walking and hiking trails through the forest and there is also a lookout post which gives excellent views of the surrounding countryside.
Unique activities in Nepal
Another good way to get an idea of things to do while backpacking Nepal is to scan the activities offered by Get Your Guide or Viator. They work directly with local tour operators, so you won't have to scour the internet or roam around town trying to find the best deal.
How to Travel Around Nepal
If you're flying to Nepal or plan to take short flights within the country, we recommend using a few different flight comparison search engines. Kiwi is a new favourite among travellers. On average, we have found the cheapest flights to Nepal with them compared to the other websites out there.
Of course, it is always worth checking Skyscanner to guarantee you're getting the best deal. Both websites offer great flexible search options, allowing you to search the whole country of Nepal to find the cheapest airport to fly into, and also see prices for a full month if you're flexible on travel dates. 
Train travel in Nepal
Nepal has only one railway, the Nepal Janakpur-Jayanager Railway operated by Nepal Transport Corporation. It was originally established in 1933 by British rules in India for the transportation of timber. Unfortunately, not a lot has changed since. Whilst travel is cheap it is incredibly substandard and several bodies have questioned if the railway is safe enough to carry passengers. This leaves buses as the only real form of transport in the country.
Bus travel in Nepal
Buses are cheap and plentiful run chiefly by enterprising locals, if you wait on any road for long enough there will almost certainly be a bus travelling down it. Unfortunately, the conditions are pretty hair raising, expect your ride to be slow, uncomfortable and shared with various livestock.
Nepal by Motorbike
With all public transportation, somewhat substandard many people opt to use a bike for short journeys. These can be hired in most major towns but there is no getting away from the fact that the most reliable method of backpacking in Nepal is by foot. For this reason, ensure that you have a good pair of hiking boots and that you stock up on bottled water whenever you are in town.
Adventure Travel and Trekking in Nepal
Though part of the fun of backpacking Nepal is exploring on your own, there are situations, especially when venturing off the tourist trail, when it does make sense to go with a guide or a small group. For these times, a popular option among backpackers is G Adventures. They hand-select local guides to ensure authenticity and quality. This is especially a good option for those travelling Nepal alone who would like to meet up with like-minded travellers. Their most popular trips in Nepal are their trekking trips as well as a few tours that include time in India.
Health and Safety in Nepal
Medical Facilities in most of the country are poor, there are hospitals in major population centres but standards are not as high as in Western Europe or the US. Most large hotels have on-call doctors and Pharmacies in cities like Kathmandu carry a decent range of Western drugs at cheap prices.
It is essential that you have a comprehensive travel insurance policy which will cover the cost of medical treatment and repatriation before departing for Nepal.
Cholera is a problem in Nepal and you should seek advice from your GP about whether you require vaccination before you visit. Vaccinations for typhoid and polio are recommended and can be dispensed by your local GP for approximately £40. Malaria is also present in the country, particularly the Vivax strain. Medical advice should be sought about what anti-malaria treatments to carry with you.
Water is not safe to drink and water used for washing or consumption should have been boiled or sterilised first. Where possible it is best to stick to bottled water. Dairy products are un-pasteurised and should be avoided in all parts of Nepal. Vegetables should be peeled and washed before consumption and meat should be thoroughly cooked and eaten hot.
The Nepalese Ministry of culture, tourism and aviation provide advice for travellers to Nepal.
Entry Visa Requirements for Nepal
A valid passport is required by all visitors to Nepal for the duration of their stay, in addition, visas are required for all non-Indian or Nepalese nationals. Visas are available from either your local Nepalese Embassy or Consulate or can be obtained on arrival. Tourist visas cost £20 for a single entry 30-day visa or £55 for a multiple-entry one. Those wishing to stay longer, work in Nepal or with other visa or immigration related enquiries should contact their local Nepalese Embassy.
Foreigner Work Permits and Backpacker Jobs in Nepal
As a developing country, Nepal will be difficult to find work to fund your travels. There may be some opportunities for teaching English in schools, but most people who go with this purpose do so as volunteers and a vast number of volunteer organisations exist to place people on such projects.
Below are listed just a few of these organisations, most placements are very similar in content, but different organisations arrange projects in different areas and for varying lengths of time. Tourist Visas for Nepal last for 30 days but some gap agencies can arrange longer staying Visas for their applicants.
Volunteering in Nepal
i-to-i
Projects with i-to-i are based in Kathmandu helping in state schools and monasteries teaching English, and in children's homes looking after underprivileged children. Four to eight-week projects will cost volunteers £1295, nine to twelve-week projects amount to £1395. Costs include travel, accommodation, and food etc. Accommodation is in family hostels or hotels. TEFL training is given before programmes begin for those working as teachers. For most projects, you will be required to work five days a week.
Changing Worlds
Volunteer programmes with Changing Worlds focus on teaching English. Programmes last for either three or five months and begin in January or September. Volunteers usually live on school grounds with other teachers and food is provided, usually school meals, but you are expected to pay for travel, insurance, accommodation (amounting to about £15 per week), and food costs.
AV
The Africa and Asia Venture organisation send volunteers on development projects in various countries. In Nepal, placements are in Besisahar and Gorkha. Volunteers live together in small houses in the village in which their work is based, which consists mainly of teaching.
They are expected to fund their flights, travel insurance and spending money but accommodation and a food allowance are provided, along with 24 in-country back up from AV's local representative and an induction course on arrival. The Nepal project costs from £3285, which includes all pre-departure information, a face to face meeting if in the UK or a telephone briefing for those overseas, an online health check, and a briefing on departure. Volunteers have a designated 4 weeks for independent travel at the end of the project.
VentureCo
VentureCo organises a 16-week itinerary for its programme of travel and work around India and into Nepal. The first couple of weeks are spent in what is known as 'cultural orientation' consisting of visiting various places guided by a team who introduce you to the culture and traditions of India.
The next five weeks take place on an aid project in the Rajasthan desert involving practical work to help develop the community. Sandwiching this and the second project is a four-week expedition through the Thae Desert, Shekhawati village, part of the Himalayas, and rafting on the Ganges.
The expedition requires teamwork and organisation in its challenges where you will be expected to lead and plan your journey. After this work begins again on an aid project, similar to the first, in Bandhavgarh which lasts two weeks, before a final expedition through Nepal to the Everest base. Programmes with VentureCo are self-funded and can cost you up to £5000, which includes travel, food, accommodation, transport, and fees for the activities themselves.
Teaching and Projects Abroad
Teaching and Projects Abroad run one month or more long programmes where volunteers spend eighteen hours each week teaching English to schoolchildren, taking part in animal care, or even work in the local media. Accommodation is provided either with host families or living with other teachers in local hostels.
Nepal Hostels & Budget Accommodation
Kathmandu boasts a decent number of international class hotels but these get extremely busy during the peak travelling season so it is advisable to book well in advance. Other larger towns have a fair selection of comfortable hotels although the standards might not be as high as that in Western Europe or even in the more commercial areas of Asia.
There are numerous hostels and lodges scattered around the country, these are particularly suited to trekkers and backpackers. The best way to find out more information is to contact the Nepal Tourism Board, the relevant addresses can be found in our "Useful Addresses" section.
We have had good experiences finding hostels in Nepal on HostelWorld. They have the largest inventory of hostels worldwide, and with over 10 million reviews and ratings from other travellers, you know exactly what to expect.
Another good way to find accommodation while backpacking Nepal is by checking hotels.com and  booking.com. With both sites, you'll not only find hotels, but also homestays, hostels, and other unique accommodation. We have discovered some great finds and have appreciated the ability to book ahead. You can use their advanced filtering to narrow your results by budget, location score, overall review score, and amenities. Many of the places on booking.com also offer free cancellation, which takes the pressure off the planning phase of your trip.
Useful links for Backpacking in Nepal
---
There you have it, the ultimate Nepal backpacking guide. We hope you have found all the information you need for backpacking around Nepal.
Next up:
Liked this article? Share it with others who might be after the same information!