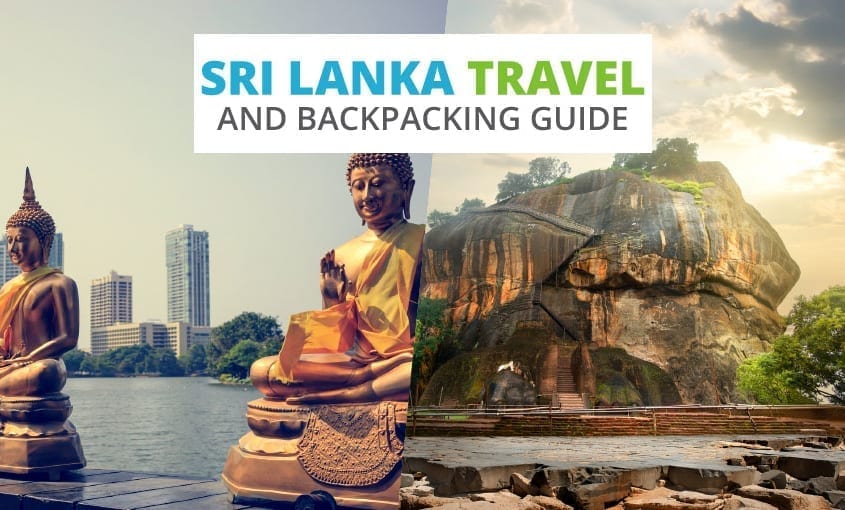 Backpacking Sri Lanka
Looking for important travel information while backpacking in Sri Lanka? Here you will find information on working in Sri Lanka, entry visas, Sri Lanka hostels, and much more.
Table of Contents
Facts About Sri Lanka
The majority of Sri Lanka is an incredibly friendly and relaxed country that welcomes tourists eager to explore Sri Lanka's wonders. There are miles of beautiful sandy beaches stretched along the coast which draw its fair share of package holidaymakers to Sri Lanka. There are also plenty of ancient ruins, wildlife, the rolling vistas of the foothills, and cheap, delicious food. Sri Lanka is rightly considered a tourist paradise in many corners of the world.
Currency: Sri Lankan Rupee (SL Re; Rs (plural) ) = 100 cents
Time Zone: GMT + 5.3
Language: Sinahala, Tamil and English
Telephone Services: Country code +94, International access code 00
Emergency Numbers: All services 1 691096 / 699935
Climate in Sri Lanka and the best time to go
When deciding the best time to visit Sri Lanka, weather plays a big role. Sri Lanka benefits from a tropical climate making it an ideal beach destination. High lying areas are cooler and more temperate although the coastal areas can be cooled by incoming sea breezes. Sri Lanka has two monsoon season, one around May and the other around January. At other times of the year, you can expect hot, dry weather for the most part.
Things to do in Sri Lanka
There are a variety of exciting things to do in Sri Lanka. Most backpackers visit this country to get up-close and personal with nature. Sri Lanka features some of the best beaches in the world where snorkeling and surfing are popular.
Sri Lanka also has many hiking places for those wanting to journey through nature. The country is also home to some vibrant cities which you're sure to pass through when backpacking Sri Lanka.
Colombo
Colombo is Sri Lanka's largest and most popular city and is both busy and lively. Cheap accommodation and restaurants are abundant here and this makes a good base for exploring some of the surrounding regions. Sites of interest include the clock tower, the president's residence and plenty of colonial remnants. The eastern part of Colombo is home to the Pettah bazaar district which is an experience in itself and a good place to do a spot of souvenir shopping as well as brush up on your haggling skills.
The cities other main attraction is the Dehiwala Zoo. Those looking to brush up on some culture should check out the Art Gallery and the National Museum which both contain some very worthwhile exhibits. The nearest beach is about 20 minutes away at Mt Lavinia although it is not as good as some of the more southern Sri Lankan beaches.
Sigiriya Fortress
One of the islands most unique sites is the spectacular Sigiriya fortress. Situated about 3 hours from Colombo this mighty rock fortress has in the past also been a monastic retreat and now houses a rock art gallery. It is perched on the top of an enormous 200m tall rock outcrop and is known for its spectacular 5th-century water gardens. There are hourly buses to the fortress running from Dambulla which can easily be reached by bus from Colombo.
Adam's Peak
Another less known and more colourful attraction unique to Sri Lanka is the enigmatic Adam's Peak. The 2224m tall mountain is situated near Dalhousie and can be reached by bus from any major city during the period from December to April. This peak is a major site of pilgrimage for many of the major religions due to the huge "footprint" at the top of the peak.
Christians and Muslims believe that this is the footprint of Adam after he was cast out of the Garden of Eden, Buddhists believe it is the print of Buddha and Hindus tell that it is the mark of the god Shiva. As a result, it has drawn pilgrims for over a thousand years from all kinds of different religious backgrounds. Hiking the peak takes about 5 hours but is well worth the effort.
Unique Activities in Sri Lanka
Another good way to get an idea of things to do in Sri Lanka is to scan the activities offered by Get Your Guide or Viator. They work directly with local tour operators, so you won't have to scour the internet or roam around town trying to find the best deal.
How to Travel Around Sri Lanka
If you're flying to Sri Lanka, or plan to take short flights within the country, we recommend using a few different flight comparison search engines. Kiwi is a new favourite among travellers. On average, we have found the cheapest flights to Sri Lanka with them compared to the other websites out there.
Of course, it is always worth checking Skyscanner to guarantee you're getting the best deal. Their site allows you to enter the whole country of Sri Lanka as your destination and will show you the cheapest airport to fly into. If your travel dates are flexible, you can see a full month's calendar of prices to choose the cheapest date to fly to Sri Lanka.
Train Travel in Sri Lanka
The rail network in Sri Lanka is relatively sparse but connects Colombo with most of the tourist areas of the Island. The network is operated by Sri Lanka Railways although they do not at the moment seem to have a web presence. Rail travel is quite cheap and is much more comfortable than travelling Sri Lanka by bus and is to be recommended where possible as the best mode of transport.
Bus Travel in Sri Lanka
Buses are run by a plethora of local companies and range from ancient and rickety old buses right through to state of the art modern coaches. Buses in Sri Lanka are always crowded and generally uncomfortable although they are incredibly cheap and sometimes the only way of getting to some destinations. The Sri Lanka Central Transport Board is one of the larger and more reputable operators.
Backpacking Tours in Sri Lanka
Though part of the fun of backpacking Sri Lanka is exploring on your own, there are situations, especially when venturing off the tourist trail, when it does make sense to go with a guide or a small group. For these times, a popular option among backpackers is G Adventures. They hand-select local guides to ensure authenticity and quality. This is especially a good option for those travelling Sri Lanka alone who would like to meet up with like-minded travellers. Their most popular trips in Sri Lanka are their 8-day Sri Lanka Express, their 12-day Sri Lanka on a Shoestring, or their 7-day Sailing Sri Lanka's South Coast tours.
Sri Lanka Hostels and Budget Accommodation

Sri Lanka has a wide variety of accommodation available ranging from beachside tourist hotels to guest houses and B&B's. Quality ranges from luxury 5-star facilities right down to unrated facilities.
We have had good experiences finding hostels in Sri Lanka on HostelWorld. They have the largest inventory of hostels worldwide, and with over 10 million reviews and ratings from other travellers, you know exactly what to expect.
Another good way to find accommodation while backpacking Sri Lanka is by checking hotels.com and  booking.com. With both sites, you'll not only find hotels, but also homestays, hostels, and other unique accommodation. We have discovered some great finds and have appreciated the ability to book ahead.
You can use their advanced filtering to narrow your results by budget, location score, overall review score, and amenities. Many of the places on booking.com also offer free cancellation, which takes the pressure off the planning phase of your trip to Sri Lanka.
Sri Lanka Visa Requirements
A passport valid for at least 3 months is required by all for entry to Sri Lanka. British Nationals do not require a Sri Lanka visa for a tourist visit of fewer than 30 days. Visits for all other purposes and visitors from the rest of the EU or the USA require a tourist Sri Lanka visa which can be obtained on landing and is valid for 30 days. This should be issued free of charge.
Health and Safety in Sri Lanka
A vaccination for polio and typhoid is recommended to all visitors to Sri Lanka. These vaccinations can be obtained from your local GP and shouldn't cost more than Rs40. The standard of healthcare in Colombo is quite good although emergency medical care is not available on all parts of the island.
The standard is generally not as high as can be expected in western Europe and the cost of treatment can be expensive. Further to this option for repatriation are limited. For these reasons, it is essential you have ample travel insurance cover from a reputable supplier.
The water in Sri Lanka is untreated and is not safe to drink, dairy products should be avoided since they are not pasteurized. Fruit and vegetables should be washed and peeled before consumption and caution should be observed when buying street food in Sri Lanka.
Due to a long-standing dispute between the Sri Lanka government and the LTTE (Tamil Tigers), the FCO advises against travel to the North and Eastern parts of Sri Lanka, despite a ceasefire which has reduced risks dramatically. The Southern area, particularly the South-Western tourist area is safe although visitors should remain vigilant against both terrorist threats and criminal activity (pickpocketing and the like).
Travellers who insist on travelling to the Northern area of the Island should be aware that some areas, particularly the A9 road to Jaffna are still heavily mined from the political conflict.
Work Permits and Backpacker Jobs in Sri Lanka
As a developing country, Sri Lanka will be difficult to find work to fund your travels. There may be some opportunities for teaching English in schools, but most people who go with this purpose do so as volunteers and a vast number of volunteer organisations exist in Sri Lanka to place people on such projects.
Below are listed just a few of these organisations, most placements are very similar in content, but different organisations arrange projects in different areas and for varying lengths of time.
Project Trust
The Project Trust sends volunteers to Sri Lanka to work not only on teaching projects but also in Islamic centres and on a temple project in Hangaramketha. Programmes usually last for twelve months. Volunteers must be aged between 17 and 19 and a half years old and are expected to raise Rs3850 themselves to fund their project, this includes all expenses for living costs, travel, donations etc.
i-to-i
Also offering something a bit different to teaching, i-to-i has placements in the local media in Sri Lanka. There are opportunities to work on one of two of Colombo's daily newspapers as researchers, writers, and in editing. Accommodation in flats is provided and you will usually be given a budget for food.
Nevertheless, i-to-i does also arrange teaching projects for those more interested in this type of work. Volunteers are expected to fund their own travel and insurance etc. Costs are usually around Rs1295 for projects lasting up to eight weeks, and Rs1395 for nine to twelve-week placements.
Teaching and Projects Abroad
Teaching and Projects Abroad run one month or more long programmes where volunteers spend eighteen hours each week teaching English to schoolchildren, taking part in animal care, or even work in the local media. Accommodation is provided either with host families or living with other teachers in local hostels.
Useful Links for Backpacking in Sri Lanka
Sri Lanka Travel offers general travel advice for visitors to Sri Lanka
Kiwi.com 

 and 

Skyscanner 

– Flight comparison search engines to find the cheapest flights to Sri Lanka and within the country

GetYourGuide

and

Viator –

a collection of things to do in Sri Lanka. Also offers Skip the Line tickets for crowded attractions

G Adventures

– guided small group tours in Sri Lanka, great for solo travellers or for those interested in a more adventurous trip which would require a guide

HostelWorld – #1 hostel search website to find accommodation while backpacking Sri Lanka. Thousands of hostels and millions of reviews from fellow travellers.
Booking.com

– commonly used booking site to find accommodation in Sri Lanka. Hostels, hotels, and other unique accommodation with advanced filtering and millions of reviews

Travel Insurance – read our comprehensive overview of Travel Insurance and some recommended providers for backpacking Sri Lanka
---
There you have it, the ultimate Sri Lanka backpacking guide. We hope you have found all the information you need for backpacking around Sri Lanka.
Next up:
Liked this article? Share it with others who might be after the same information!