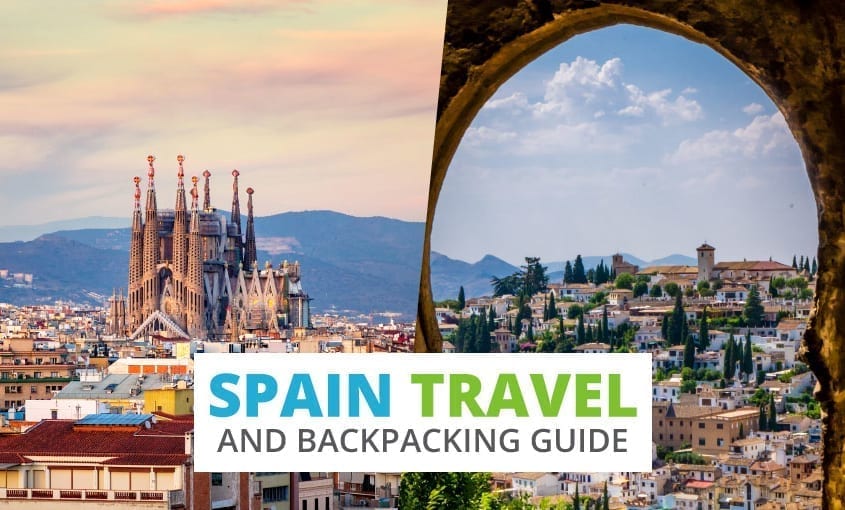 Backpacking Spain
Looking for important travel information while backpacking in Spain? Here you will find information on working in Spain, entry visas, Spain hostels, and much more.
Table of Contents
Facts About Spain
Spain is divided neatly into four regions, each with its own distinct personality and language. The Pamplona region is home to the San Fermins Festival and is the birthplace of the legendary Spanish Bullfights. The Northeast includes the sunny Balearic Islands and Catalunya, home to Picasso and Salvador Dali. The Northeastern region also includes Barcelona, one of Spain's most celebrated cities. Galicia is the northwest corner of the country; from here Portugal is just a short drive away. Finally, Andalucia is the most historic part of the country and contains cities such as Granada and Sevilla.
Currency: Euro 1 euro = 100 cents
Time Zone: GMT + 1
Language: Spanish (Castillan) although other regional dialects are also spoken
Telephone Services: Country code +34, International access number 00
Emergency Numbers: 112 for all service
Climate in Spain and the best time to visit
When deciding the best time to visit Spain, the weather plays a huge role. The weather in Spain is generally good, ranging from temperate in the northern reaches of the country to hot and dry in the south. Some find the middle of the summer excessively hot, and if visiting at this time you may have to start taking a mid-day siesta like the locals!
Things to do in Spain
Granada
If you are into your history you couldn't go wrong with a visit to Granada's Alhambra. This ancient Moorish palace is perched on the hillside overlooking Granada, and is surrounded by beautiful scenic mountains. It was built in 1238 by Ibn Ahmar, the founder of the Nasrid Dynasty. The Alcazaba (citadel) and palace sections are open to visitors, the highlight is the "Patio de los Le" (Court of the Lions) which is a magnificent alabaster basin supported by 12 ornate white marble lions.
Basque Country
Another great place to visit is the Basque Country with its stunning scenery, top quality museums and world-class gastronomy. The three major Basque cities are Vitoria, Bilbao and San Sebastian, each has its own unique charm where you can find a true sense of Spanish life.
Beaches in Spain
Finally, there are the beaches. The magnificent Spanish weather attracts millions to the sun-kissed beaches along the Costa del Sol, and to the alcohol-fuelled party mayhem of the Spanish Islands. Whatever your taste, Spain is a classic beach destination. You will find beaches generally quite busy but well serviced by the inevitable hordes of tacky gift shops, English-style pubs, and other traditional tourist traps.
Tapas in Spain
Spain has a whole range of things to see and do. For those who enjoy sampling new foods, wherever you are in Spain you should visit the local tapas bars. Tapas bars serve assorted dishes of local specialities which are normally eaten as a snack, perhaps whilst relaxing with a glass of chilled sangria, another Spanish speciality.
Unique Activities in Spain
Another good way to get an idea of things to do in Spain is to scan the activities offered by Get Your Guide or Viator. They work directly with local tour operators, so you won't have to scour the internet or roam around town trying to find the best deal.
If you know your schedule ahead of time, a great insider tip is to buy tickets for major tourist attractions ahead of time. Tiqets has entrance tickets and skip the line passes for major tourist spots in Spain so that you can avoid the lines and save that precious time for more exploring.
How to Travel Around Spain
If you're flying to Spain or plan to take short flights within the country, we recommend using a few different flight comparison search engines. Kiwi is a new favourite among travellers. On average, we have found the cheapest flights to Spain with them compared to the other websites out there.
Of course, it is always worth checking Skyscanner to guarantee you're getting the best deal. You can enter the whole country of Spain as your destination to see the cheapest city to fly into. You can also see prices for an entire month, which will allow you to find the cheapest travel dates if you're flexible on time.
Train vs. bus travel in Spain
Train and long-distance bus are the standard modes of transport for getting around the country. Buses are the more economical option, nevertheless, they are well-equipped with the usual modern conveniences that expect when travelling in Europe. Train travel, on the other hand, is the fastest way between two cities and the train stations are conveniently located right in the centre of town.
It depends on your preference, and certain routes are better suited to one mode of transport than the other. To compare your options for journeys from A to B, you can try Omio. They compare trains, buses (and even flights) so you can decide for yourself the tradeoff between cost and travel time.
Train travel in Spain
Spain is quite easy to travel around in, the rail network is for the most part well maintained and easy to use. RENFE operates a large network including connections between Madrid and most major cities. The network is fairly radial in topography so you might find buses better for short distances. Return fares offer you a 40% reduction on the return leg so it is wise to use them where possible.
As well as the travel passes outlined in our transport section, under 26's can purchase a "Tarjeta Explorerail" from RENFE which allows unlimited travel on most trains. These passes come in various flavours from 3 days right up to a month and represent good value for money.
If, however, you are travelling through other European countries you might want to look into getting a more universal travel pass. The country is a part of the Eurail network, which is a good choice if you plan to take multiple train journeys in a short period of time. Eurail offers both multi-country passes and One Country Passes. To decide whether you should buy individual tickets from A to B, or whether you should purchase a Eurail pass, read our Travelling Europe by Train guide.
Driving in Spain
If you want the flexibility to stop in smaller towns between the major cities, check AutoEurope  or Europcar to compare offers from the major car rental agencies in the region. Before deciding, read more about what to expect of driving in Europe.
Backpacking Tours in Spain
Though part of the fun of backpacking Spain is exploring on your own, there are situations, especially when venturing off the tourist trail, when it does make sense to go with a guide or a small group. For these times, a popular option among backpackers is G Adventures. They hand-select local guides to ensure authenticity and quality. This is especially a good option for those travelling Spain alone who would like to meet up with like-minded travellers. Their most popular trips in Spain are their 8-day Best of Southern Spain tour, or their 14-day Best of Spain & Portugal tour.
Spain Hostels and Budget Accommodation

Finding good but inexpensive accommodation is essential while backpacking Spain on a budget. Accommodation is easy to find; in any of the major tourist hot-spots, there are the traditional sky rise hotels and sprawling hotel compounds. However, these are almost always fairly expensive. A far better way to stay is in "Pensiones" which are broadly the equivalent of a bed and breakfast and are generally run by a local family that lives on the premises.
Like many backpackers, we have had good results finding hostels while backpacking Spain on HostelWorld. They have the largest inventory of hostels worldwide, and with over 10 million reviews and ratings from other travellers you know exactly what to expect.
Another good way to find accommodation in Spain is by checking hotels.com and  booking.com. With both sites, you'll not only find hotels, but also homestays, hostels, and other unique accommodation. We have discovered some great finds and have appreciated the ability to book ahead. You can use their advanced filtering to narrow your results by budget, location score, overall review score, and amenities. Many of the places on booking.com also offer free cancellation, which takes the pressure off the planning phase of your trip.
Entry Visa Requirements for Spain
A valid passport is required by everyone except EU nationals carrying an official ID card, and a visa is not required for a stay of up to 3 months.
Health and Safety in Spain
The standard of Spanish healthcare is generally quite good, especially in the major tourist hot-spots. Carrying a valid EHIC card and taking out comprehensive travel insurance should guarantee you a good standard of treatment in local medical facilities. The tap water is considered drinkable and no special vaccinations are required when travelling to Spain.
Work Permits and Backpacker Jobs in Spain
As is the case with other European countries, EU citizens can enter Spain for up to three months without needing a visa or permit. If you intend to stay for longer than this you must apply for a residence card (tarjeta de residencia) in the first 30 days of arriving. The card can be obtained from a police headquarters (comisaria de Policia) or Foreigner's Office. You will need proof of having found employment.
Au Pair programs in Spain
The main opportunities for au pair work can be found in cities, such as Madrid and Barcelona, where you can expect to earn between €42 and €51 (approx. €29 to €36) per week. Most agencies require that you are aged between 18 and 30 years old, although sometimes the maximum age is even lower.
Au pairs are expected to work for about thirty hours each week, which consists of general childcare: taking the children to and from school and looking after them in the evening, as well as general domestic tasks. As with most au pairing jobs, you will be provided with food and accommodation, but not many families in Spain pay the health insurance of their au pairs, so this is something that you would need to arrange individually.
A great number of international agencies communicate with those in Spain to provide vacancy listings for au pairing. Au-pairing-world or Europa Pages can help you find au pairing services.
Working at Beach Resorts in Spain
Tenerife, Lanzarote, the Costa del Sol, and the Costa Blanca are all good places to start looking for casual work. Opportunities range from bar staff, holiday reps, DJs, ticket sellers, and more. Most jobs can be found by personal contact, getting there early in the tourist season to find something that suits you.
Wages vary from place to place and from job to job, but you can expect to be kept busy with this type of work and to meet and deal with a variety of people. English language newspaper The SUR is published on Fridays and may contain vacancies for work in coastal resorts.
Campsites and adventure holidays in Spain
British and European camping agencies in Spain offer jobs during the peak tourist times in the summer. Eurocamp is a major seasonal employer in Spain, and held arrange work for couriers on Spanish campsites. It is preferred that you can speak another European language well because the job involves welcoming and interacting with a range of visiting nationalities. Employees must be over 18, and can anticipate earning approximately €95 per week.
PGL organises adventure holidays for children between February and November; centres can be found across Europe. Working for PGL as a helper or courier can earn you between €50 and €60 per week in Spain. Board and bed is provided, so you won't have to worry about finding, paying for, and travelling to and from suitable accommodation during your employment.
Touting in Spain
Spanish restaurants and bars pay workers to attract tourists to their businesses, particularly in competitive tourist areas such as coastal resorts and towns. Wages can vary but you could expect to earn between €15 and €25 per night, depending on the work and your success rate.
This type of work involves handing out leaflets, putting up posters, or even chatting to passers-by. Again, it is seasonal work so there wouldn't be many opportunities for touting in the winter. Furthermore, touting is a late-night job, and although it does pay, don't rely on this employment as your only source of money.
Farm Jobs in Spain
Spain's agricultural produce includes oranges, olives, grapes, and strawberries. Andalucia is a large region with opportunities for fruit picking. As with most jobs of this kind you are most likely to find vacancies by going from place to place and enquiring to farmers and landowners.
Fruit picking can be difficult work, and there is no guarantee that you will earn a decent wage from it. Some farmers may pay you depending on how much fruit you can collect, how much it is worth at market, or how long it takes you. Expect to earn anything from €10 to €50 per day.
If this type of work appeals to you, WWOOF is a voluntary organisation that provides work on organic farms and includes board and accommodation for a membership of €10 per year, check their website for more information.
Volunteering in Spain
There are a whole variety of voluntary organisations and programmes available throughout Spain. EIL is one such organisation that places volunteers in projects, including environmental management and conservation, and working with people with disabilities.
The South American Mission Society (SAMS) is concerned with church-run projects, joining people into communities as mission partners or church helpers. They offer short-term placements, see below for contact details.
For five or more weeks, for 35 hours each week, The Sunseed Trust welcomes people wanting to help in their work to make life and the environment better for those living in desert lands.
Experiment.org provides an insight into the volunteer work available with EIL. Endless opportunities exist for those wanting to make a difference in their time abroad by volunteering. However, it is worthwhile keeping in mind that the essence of volunteer work is that you don't get paid, and even those organisations providing pocket money will not provide sufficient financial backing for all your travelling needs. Some companies do include accommodation and meals for their volunteers, but it is always essential to check.
Useful Links for Backpacking in Spain
Andalucia.com is an unofficial source of tourist information.
RENFE operates the major rail network in Spain.

Eurail

– Rail Passes for travellers who plan on doing lots of train travel in a short period of time. Single-Country and Multi-Country passes available

Omio

– Train, bus, and flight search for Spain and all of Europe. Offers online booking and mobile tickets

Auto Europe

and

Europcar

– Europe's leading rental car search engines

Kiwi

 and

Skyscanner

– Flight comparison search engines to find the cheapest flights to Spain and within the country.

GetYourGuide

and

Viator –

a collection of local tours and things to do in Spain. Also offers Skip the Line tickets for crowded attractions

Tiqets

– Website selling entrance tickets and skip the line tickets for major tourist attractions in Spain

G Adventures

– small group backpacking tours in Spain, great for solo travellers or for those interested in a more adventurous trip which would require a guide

HostelWorld

– #1 hostel search website to find accommodation while backpacking Spain. Thousands of hostels and millions of reviews from fellow travellers

Booking.com

– commonly used accommodation booking site in Spain. Hostels, hotels, and other unique accommodation with advanced filtering and millions of reviews

Travel Insurance

– read our comprehensive overview of Travel Insurance and some recommended providers for your backpacking trip to Spain
---
There you have it, the ultimate Spain backpacking guide. We hope you have found all the information you need for backpacking around Spain.
Next up:
Liked this article? Share it with others who might be after the same information!