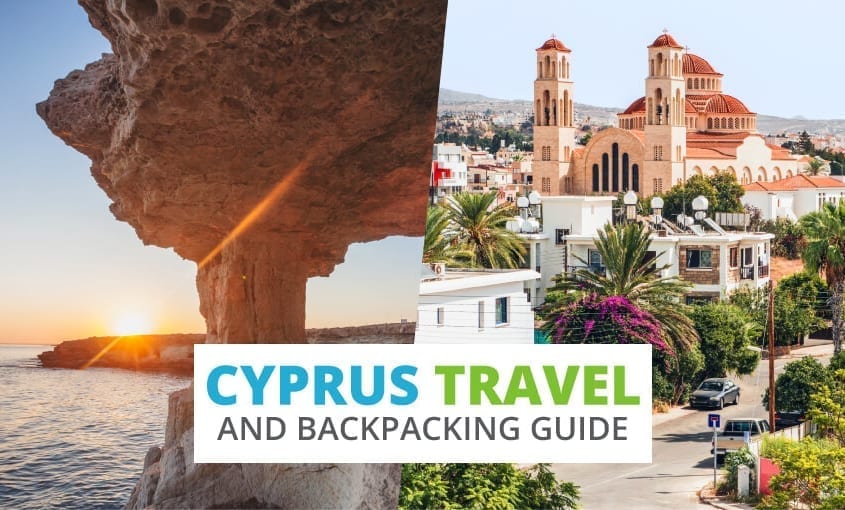 Backpacking Cyprus
Looking for important travel information while backpacking in Cyprus? Here you will find information on working in Cyprus, entry visas, Cyprus hostels, and much more.
Table of Contents
Facts About Cyprus
The Island of Cyprus is divided into two independent parts, roughly one-third of the island to the north is the Turkish Republic of Northern Cyprus (TRNC). The remaining two-thirds of the island is the Republic of Cyprus and is often referred (perhaps not politically correctly) to as the "Greek" part of the island.
Despite there having been no major hostilities between the two communities for over a decade there are still UN peacekeepers maintaining a buffer zone between the two communities. This means that travellers, unfortunately, have to choose between visiting the TRNC part of the island or the Greek side. Crossing the border is very difficult and nigh on impossible. Most tourists choose to visit the Greek part of Cyprus and this guide will focus predominately on this region.
The Republic of Cyprus attracts visitors in the summer for its fantastic Mediterranean climate but still manages to attract plenty of skiers to the Troodos mountains which provide good skiing for a couple of months during the winter. Visitors can also find fine examples of Byzantine churches, crusades era castles and fantastic vineyards, as well as the usual beach resorts expected of Greek Islands.
Currency: Euro
Time Zone: GMT + 2
Language: Greek, some Turkish
Telephone Services: Country code 357, International dialing code 00
Emergency Numbers: All services 199
Climate in Cyprus
When deciding the best time to visit Cyprus, weather certainly plays a role. Cyprus benefits from a typical Mediterranean climate. As can be expected the summers are very hot and dry. What precipitation Cyprus does get is sporadic but normally occurs in the winter.
In the mountain regions there is enough snow to support some modest skiing resorts but the rest of the island experiences very mild winter conditions. It should be noted that Cyprus has been known to suffer the occasional drought years to the extent that water is rationed during the height of summer between July and August. Before you plan a trip to Cyprus it is therefore advisable to check the weather forecasts to make sure you are not planning to go in an unusually dry year.
Things to do in Cyprus
Lefkosia and Nicosia
The capital of Cyprus is indicative of the somewhat divided nature of the country. Both sides of the island share the same city as a capital, the city itself is divided by the green line into the Greek half (Lefkosi) and the Turkish half (Nicosia). In Lefkosia you can find several museums including the Leventis Municipal Museum and the cultural Dragoman Hadzigeogakis museum.
Between the two these can give you a good overview of the history of the city ranging from prehistoric times right up to the present day. Also of interest is the St John's cathedral and the Archbishops palace which contains a fantastic Byzantine exhibit.
The northern Turkish part of the city, Nicosia boasts the excellent Turkish Museum which is housed in a still used 17th century monastery. The heart of the northern part, however, is undoubtedly the Atatuk square which is situated at the end of the main street opposite the Kyrenia Gate.
Many tourists are also drawn to the west coast to see the famous Pafos mosaics. The mosaics date back to the 3rd century during Roman occupation and were only uncovered during the 60s. The ruins of Sarant Kolones fortress are well worth a look, this once mighty Lusignan fortress was toppled by an earthquake and now lies in ruins. Just 5 minutes away from the city proper is the fantastic Tombs of the Kings. These are an extensive complex of sinister tombs dug into the sea cliff itself.
Troodos Mountains
The Troodos Mountains in the south are an excellent place to visit, especially if you want to avoid the package tourist crush of the beach resorts. In the winter the resort boasts some good skiing but even in the summer there are some worthwhile sights in this region. There are dozens of 15th century monasteries and vineyards, of particular interest if the Kykkos Monastery which has been extensively renovated and contains plenty of religious exhibits. This region also offers good walking and cycling trails so it's perfect for those who prefer a more outdoorsy experience.
Lemesos
If you really want to get away from the crowds however you couldn't do much better than visiting Lemesos. This city is a good base for visiting the Kolossi Castle built in 1210 by the Hospitaller Knights. The castle was extensively restored by the British and is now well worth a visit. While you are here you can also visit some of the excellent markets, citrus orchards or the sugar factory.
Unique Activities in Cyprus
A good way to get an idea of things to do while backpacking Cyprus is to scan the activities offered by Get Your Guide or Viator. They work directly with local tour operators, so you won't have to scour the internet or roam around town trying to find the best deal.
How to Travel Around Cyprus
If you're flying to Cyprus or plan to take short flights within the country, we recommend using a few different flight comparison search engines. Kiwi is a new favourite among travellers. On average, we have found the cheapest flights to Cyprus with them compared to the other websites out there.
Of course, it is always worth checking Skyscanner to guarantee you're getting the best deal. Both websites offer great flexible search options, allowing you to search the whole country of Cyprus to find the cheapest airport to fly into, and also see prices for a full month if you're flexible on travel dates. 
Bus travel in Cyprus
Due to the small size of Cyprus there is no rail system in place at all. The best way to travel is either by public bus which are generally very comfortable or by service taxi. Car rental is reasonably cheap but your budget is probably better spent on other things if you are happy to get around by bus.
Buses are run by a variety of local companies with Clarious and Larnaka being two of the larger operators. Generally there is a separate winter and summer timetable and it is also worth remembering that bus services stop running at 5pm or 2pm at the weekends so make sure you don't end up stranded. Schedules and timetables for all operators are freely available at Tourist offices anywhere on the island. Fares are generally quite cheap and should be more than a few pounds for single journeys.
Taxis in Cyprus
Due to the limited operating hours of the buses many tourists make extensive use of the service taxis. Fares are more expensive than buses and you will often have a pound or so on the meter before even setting off. Also bear in mind that after 10:30pm prices rise by as much as 25%.
Renting a car in Cyprus
If you want the flexibility to stop in smaller towns between the major cities, check AutoEurope or Europcar to compare offers from the major car rental agencies in the region. Before deciding, read more about what to expect of driving in Europe.
Health and Safety in Cyprus
Cyprus is not part of the EU so the E111 form is not recognised, in addition, the UK has no reciprocal health agreement with Cyprus. This means that all costs must be borne by the traveller for healthcare. For this reason, it is absolutely essential that you have comprehensive travel insurance arranged before you leave for Cyprus. You will not normally be allowed to leave Cyprus until any medical bills are settled.
All in all the status of health care in Cyprus is quite good and there are no particular health risks present on the island. The tap water is considered safe to drink and normal precautions should be observed when purchasing food and drink.
Entry visa requirements for Cyprus
For entry, a passport is required which is valid for 3 months after the date of departure from Cyprus. A return ticket is usually required for entry although proof of sufficient funds may suffice. It is advisable to contact the local consulate before travelling to verify these restrictions. Visas are not required by EU or USA nationals for tourist visits of up to 30 days. If you wish to stay longer or intend to work whilst you are in Cyprus you should contact the local Cypriote consulate.
Foreigner work permits and backpacker jobs in Cyprus
EU nationals do not need a Visa to enter and stay in Cyprus for up to three months. However, problems can occur if you have stamps for the 'Turkish Republic of Northern Cyprus' in your passport, and you could even be refused entry. If travelling to the TRNC it is best to ask for the stamps to be put on a separate document.
Work permits can be difficult to obtain because your employer must show that there is no Cypriot national available for the job. Furthermore, Visas are issued for specific jobs so it is not easy to travel around and work from place to place legally.
Despite this, many people choose to work illegally in the tourist industry where it is particularly difficult to get Visas for work. If you are caught you risk being fined and even deported, but nevertheless many do work in this way every year. Regulations are less strictly enforced in the TRNC.
Seasonal work in Cyprus
Arriving early in the tourist season can secure you work in bars, restaurants, cafes etc. As is also the case in Greece, women will find it much easier to get this type of work, but should be careful that their employers do not expect them to work out of their job description.
Wages for casual work are not flourishing, particularly given the somewhat high cost of living in Cyprus; some only earn about CY15 for a day's work. The best places to look for seasonal work are in the busier tourist resort areas of Ayia Napa and Protaras.
English is spoken widely across Cyprus so it should not be difficult to communicate with employers, and you will rarely be expected to speak a lot of Cypriot to customers in tourist areas. In the TRNC there are usually plentiful job opportunities, best found by asking around and checking local newspapers and notice boards.
Agricultural and farm work in Cyprus
Various harvests throughout the year provide opportunities for fruit picking jobs in Cyprus. Men are generally paid more than women. Grapes are harvested between August and October, and olives in the autumn. Strawberry harvests take place between May and June, and November and December. Most jobs of this kind can be found by asking around in person.
Volunteering in Cyprus
EIL is an organisation that places volunteers in projects, including environmental management and conservation, and working with people with disabilities. They offer a range of opportunities for volunteer work in European countries Projects usually last for six or twelve months and volunteers are provided with pocket money, language training, accommodation, food, flights, and insurance.
Cyprus Hostels and Budget Accommodation
The cheapest way to stay is in youth hostels, there are hostels located in Nicosia, Larnaka, Pafos and Troodos. We have had good experiences finding hostels in Cyprus on HostelWorld. They have the largest inventory of hostels worldwide, and with over 10 million reviews and ratings from other travellers, you know exactly what to expect.
Another good way to find accommodation while backpacking in Cyprus is by checking hotels.com and  booking.com. With both sites, you'll not only find hotels, but also homestays, hostels, and other unique accommodation. We have discovered some great finds and have appreciated the ability to book ahead. You can use their advanced filtering to narrow your results by budget, location score, overall review score, and amenities. Many of the places on booking.com also offer free cancellation, which takes the pressure off the planning phase of your trip.
There are over 500 hotels spread throughout Cyprus but most are geared towards package holidaymakers and many hotels are completely chartered by travel companies. The provisions for the casual traveller especially in the beach resorts but you may still be able to find some basic un-graded (no star rating) hotels that are reasonable value for money.
A reasonable way to stay is in guest houses, in particular, there is a reasonable number of countryside family-run guesthouses that are worth the extra you would pay over a youth hostel. Agrotourism maintains a list of some traditional guest houses and you will also be able to find booking information on their comprehensive web page.
Useful Links for Backpacking in Cyprus
Agrotourism maintains a list of some traditional guest houses and you will also be able to find booking information on their comprehensive web page.
CyprusTourism.org contains a wealth of tourist information and is the official web page of the Cyprus Tourism Organisation.

Auto Europe

– Europe's leading rental car search engines

Kiwi

 and 

Skyscanner

 

– Flight comparison search engines to find the cheapest flights to Cyprus and within the country

GetYourGuide

and

Viator –

a collection of local tours and things to do in Cyprus. Also offers Skip the Line tickets for crowded attractions

Tiqets

– Website selling entrance tickets and skip the line tickets for major attractions in Cyprus

HostelWorld

– #1 hostel search website to find accommodation while backpacking Cyprus. Thousands of hostels and millions of reviews from fellow travellers

Booking.com

– commonly used accommodation booking site. Hostels, hotels, and other unique accommodation with advanced filtering and millions of reviews

Travel Insurance

– read our comprehensive overview of Travel Insurance and some recommended providers for your backpacking trip to Cyprus
---
There you have it, the ultimate Cyprus backpacking guide. We hope you have found all the information you need for backpacking around Cyprus.
Next up:
Liked this article? Share it with others who might be after the same information!