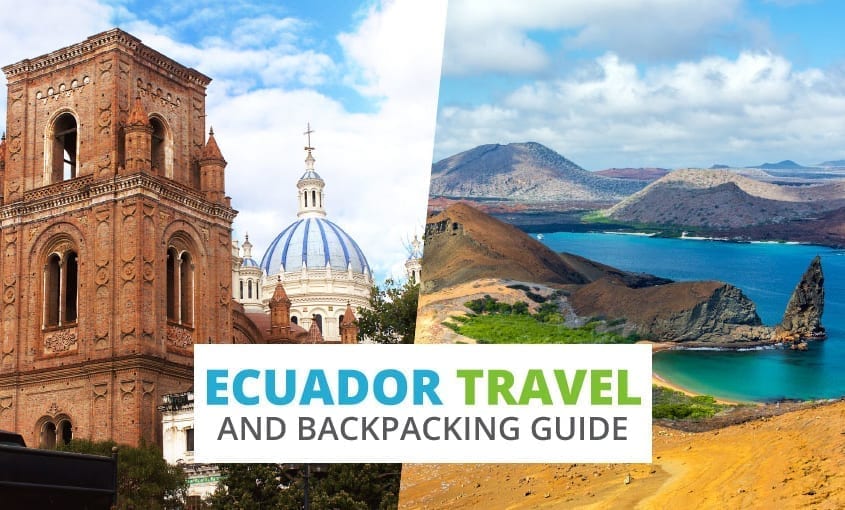 Backpacking Ecuador
Looking for important travel information while backpacking in Ecuador? Here you will find information on working in Ecuador, entry visas, Ecuador hostels, and much more.
Table of Contents
Facts About Ecuador
Ecuador is among the smallest countries in South America, but despite its diminutive size, it boasts a diverse and truly spectacular natural environment. From dense rainforest to barren volcanic landscapes, Ecuador has it all. Furthermore, the famous Galapagos Islands are also part of Ecuador, located approximately 1,000 kilometres off the coast.
Ecuador has a rich cultural history, apparent in the indelible marks that various civilisations have left upon its landscape. In the jungle the traces of the indigenous cultures can be seen in all their ancient glory, while the Spanish colonial past is still evident in the stunning architecture found in the country.
Currency US Dollar
Time GMT/UTC -5 ()
Language Spanish (official), English widely spoken in tourist areas.
Telephone Service Dialling code +593
Emergency Numbers All services 911
Climate in Ecuador and the best time to go
When deciding the best time to visit Ecuador, weather certainly plays a role. Ecuador is extremely varied geographically and for this reason, the climate differs considerably within the country. Rather than having four seasons, Ecuador oscillates between wet and dry periods.
Four main climatic regions can be identified in Ecuador: the wet Andes Mountain region (La Sierra), the cloudy coastline (La Costa), the tropical Amazon (El Oriente), and the Galapagos Islands, each exhibiting distinct weather patterns.
In Ecuador altitude is more important in determining temperature than the time of year. Temperatures on the Sierra and also the Oriente remain relatively constant all year round: Quito is always moderate, with lows around 7°C (40°F) and highs around 22°C (low 70s°F).
The Amazon is always hot and humid. On the coastline, it's usually very warm, ranging between 25-31°C (76-90°F). The rainy season is from December to May, when it can be extremely humid.
On the other hand, the paradisical Galapagos Islands enjoy warm and dry weather year-round, with temperatures averaging 28° C (85°F).
The best time to go backpacking in Ecuador
Weatherwise, you can visit Ecuador at any time of the year. The climate is relatively constant both in the Amazon region and in the Andes. Though the drier season in the Amazon (November to March) is perhaps a more advisable time to visit this part of the country.
The coastline also exhibits fairly constant temperatures but is slightly more comfortable during the dry season (June to December) when humidity levels are lower.
The Galapagos Islands can be visited at any time of year and are unusually dry for their equatorial position. Perhaps the best time to visit is between January and April, when snorkelling can be spectacular along the islands' tropical coastlines.
Things to do in Ecuador
Quito
Every trip to Ecudaor should include Quito. Lying at an altitude of 2,850m (9,348ft) above sea level and with the Pichincha Volcano casting its long shadow over the city, the Ecuadorian capital is in itself a spectacle. Temperatures are moderate year-round, though the equator is a mere 22km (14 miles) away.
In fact, one can stand directly on the equator at a site near to Quito, marked by a granite monument. This is a much-frequented tourist spot.
Parts of the Old Town achieved the status of UNESCO World Heritage Site as early as 1978, and since then restoration has continued. Quito gained its UNESCO status owing to the excellent preservation of the colonial architecture from the Hispanic era. A stroll around the old town taking in the marvellous churches, plazas, museums and palaces comes highly recommended.
Volcanos
Some of the world's most stunning volcanoes are in Ecuador, and the picturesque region of Latacunga and Ambato feature an impressive number of them. The most famous of all however, is Cotopaxi, in the Parque Nacional Cotopaxi. A towering 5,895m (19,345ft) in height, this is the world's highest active volcano.
Inca Ruins
You cannot visit Ecuador without exploring some of its Inca ancestry. Near the city of Cuenca there is an ancient Inca settlement (Ingapirca) that is well worth a visit. Equally, a trip into El Oriente (the Amazon) is absolutely necessary if you have some time, to be able to witness native Indian tribes and some of their customs that continue into the present day. For the most part, El Oriente remains a primeval world of virgin tropical rainforest, home to the most exotic flora and fauna.
Beaches in Ecuador
Make sure you leave some time for the coastline. Discover attractive small towns with beautiful accompanying Pacific beaches, of which Playas (beaches) Posoria and Salinas are good examples.
Galapagos Islands
Finally, if you have a decent amount of time to travel around Ecuador, a trip out to the Galapagos Islands is pretty much obligatory. The unique wildlife that these islands host includes giant tortoises, lizards and iguanas. It really is a once in a lifetime experience to witness the place that inspired Charles Darwin to formulate his theory of natural selection. Incredibly, half of the islands' species are found nowhere else in the world.
Unique activities in Ecuador
Since popular places in Ecuador can get crowded during tourist season, it is wise to reserve tickets and activities ahead of time. GetYourGuide sells entrance tickets to museums and landmarks at face value so you can avoid the lines and save that precious time for more exploring.
Viator is another popular travel website that helps you book things to do in Ecuador. They work directly with local tour operators in Ecuador, so you won't have to scour the internet or roam around town trying to find the best deal.
If you know your schedule ahead of time, a great insider tip is to buy tickets for major tourist attractions ahead of time. Tiqets has entrance tickets and skip-the-line passes for major attractions in Ecuador, which can be a worthwhile cost during peak tourist season.
How to Get Cheap Flights to Ecuador
In order to find the best flights to Ecuador we recommend using a few well-known flight comparison search engines. These websites offer powerful search options, like entering flexible dates and airports in order to find the cheapest flight to Ecuador.
Our go-to flight search engine is Skyscanner, which we love for its extremely flexible search options. Our favourite way to get travel inspiration is their "Everywhere" feature. Simply enter "Everywhere" as a destination, and it will then list all available flights from your departure city in order of price. This also works when entering the entire country of Ecuador as your destination. Skyscanner will search all possible airports in the country in order to find the cheapest option.
Kiwi is another new favourite flight search engine among savvy travelers. Kiwi works by combining flights from different carriers in order to get the best deal. Also, if there is a better ground or ferry option for the route you're searching, Kiwi will include that in the search results. On average, we have found the cheapest flights to Ecuador with them compared to the other websites out there.
How to Travel Around Ecuador on a Budget
Long-distance buses are the standard modes of transport for how to travel in Ecuador on a budget. There are bus stations connecting all the major cities in Ecuador, even including some towns in the Amazon. The buses will basically cover anywhere there is a road! The average fare is very affordable, averaging about $1-$2 per hour of travel, so be sure to carry plenty of small change with you.
There are also some trains connecting some of the cities in Ecuador, but it only covers a fraction of the country, and most of the rail tracks are no longer maintained. 
Driving in Ecuador
You may also want the flexibility to stop in smaller towns between the major cities. If you decide you want to rent a car in Ecuador, you can use DiscoverCars to compare offers from the major car rental agencies in the region.
Backpacking Group Tours in Ecuador
Though part of the fun of backpacking Ecuador is exploring on your own, there are situations, especially when venturing off the tourist trail, when it does make sense to go with a guide or a small group. 
The most popular option for social travel in Ecuador is Contiki tours. Contiki trips offer more than just transportation, they are organized social group travel for travelers aged 18-35. Whether you're traveling by yourself or going with a group of friends, Contiki tours are perfect for people looking to have a blast, meet new friends, and form lifelong memories. They offer tours that travel primarily in Ecuador or longer tours that cover other nearby places.
G Adventures is another great option for organized travel, but with a smaller group. It's a great choice for anyone backpacking Ecuador alone who would like to meet up with like-minded travellers. It's also a practical option for exploring places where you need an experienced guide, like a long hiking adventure or visiting a place well off the beaten path. You can choose from different styles of small group tours like active, wellness, hiking trips, 18-30somethings, and more. Their most popular trips in Ecuador are their week-long Galapagos marine tours, and their classic 14-day tour including the Inca Trail, Machu Picchu, mainland Ecuador and the Galapagos Islands.
Health and Safety in Ecuador
Good quality medical care is available in Quito, Guayaquil and most of the big cities. There are also numerous pharmacies in urban areas. However, when venturing into more rural areas, be aware that medical facilities are scarce. The Galapagos Islands, in particular, have very little in the way of medical facilities. In cases of serious illness or injury, airlifting to the US might be your only option.
As with travel to all other countries abroad, it is vital that you get travel insurance before you leave for Ecuador. Even for short trips, our go-to travel insurance provider is World Nomads, which is also recommended by Lonely Planet, HostelWorld, and other major travel companies.
Before travel, be sure you are up to date on all routine immunisations. Try to see your doctor at least 4-6 weeks before departing on your trip, to allow enough time for shots to take effect.
Recommended Vaccinations:
Hepatitis A or immune globulin (IG).
Hepatitis B, a disease that is contracted through blood/sexual contact with carriers, usually recommended for health-workers or other voluntary workers who have prolonged contact with locals.
Typhoid
Yellow fever vaccination, if you travel outside of urban areas, the risk increases.
Tetanus-diphtheria and measles boosters as required.
Rabies, particularly if you are likely to be exposed to wild or domestic animals. For example, if you will be spending long periods in the rainforest.
Entry Visa Requirements for Ecuador
Citizens of most countries (including UK and US) do not need to apply for a visa to enter Ecuador if they are tourists and staying for less than 90 days. The tourist visa, which is effectively issued immediately upon entry to the country, is referred to as the 12-X. This visa does not permit you to work or benefit economically from your stay in the country.
Like most South American countries, other requirements of entry in Ecuador include holding a passport that is valid for at least six months, a return ticket (air, land or sea) and, possibly, proof that you have the economic means to support yourself during your stay.
If, on the other hand, your plan is to stay for more than 90 days, at the end of the first 90 days you must apply for a visa, depending on the nature of your stay. There are a number of visas available: student visa, professional or official government visa, volunteer, cultural exchange, business or tourism visas. Some do not carry a fee, others cost in the region of $50.
To obtain a visa extension, a number of documents are required:
Passport (valid for more than 6 months).
Police certificate with criminal record of your country of residence.
Medical certificate.
Return ticket (for air, land or sea).
Two photographs
Application form
Visa requirements for Ecuador can vary widely depending on your country of origin and can change over time. To avoid any unpleasant surprises, be sure to check the latest visa requirements while you're still planning your trip.
Foreigner Work Permits and Backpacker Jobs in Ecuador
To be able to work in Ecuador, it is necessary to apply for a working visa. Tourist visas do not permit legal work, but of course, volunteering is an option.
Working in Tourism in Ecuador
The thriving tourist trade obviously provides a great deal of work in Ecuador for most months of the year, especially in the busy coastal resorts. As a traveller, you may be in a position to find work in tourist areas, seasonal bar work is also an option.
Teaching English in Ecuador
Alternatively, if you plan to stay for a longer period and manage to get a working visa, a solid work option is teaching English. With a TEFL qualification under your belt, you will be in a better position to demand decent working conditions. But English teachers are in such high demand that even without the TEFL qualification, it shouldn't be a problem to find work. Work is readily available in private language institutions, public schools and also within companies.
Volunteering in Ecuador
Voluntary work is a definite option in Ecuador and a great thing to do if you really want to spend some time in the country. It can give you access to areas that are off the beaten track, and reward you with experiences which most tourists will miss out on. Big volunteering organisations include VSO (Voluntary Service Overseas), Frontier or Gap year.
Ecuador Hostels & Budget Accommodation
Basic, cheap accommodation (from $2 upwards) is available in a pension, residencial or hostal. The standard can vary somewhat, so if possible, try to view the room before checking in. Hot water is not usually available in these budget lodgings.
We have had good experiences finding hostels in Ecuador on HostelWorld. They have the largest inventory of hostels worldwide, and with over 10 million reviews and ratings from other travellers, you know exactly what to expect.
In more remote and rural areas, alternative accommodation options can add some interest to your travels. In the Amazon, there are colonial haciendas and jungle lodges – great places for a quirky kip!
Camping is also a possibility in Ecuador, though facilities are quite limited. Camping is allowed in most parks and reserves, except on the Galapagos Islands where it is prohibited outside of designated campsite areas.
Another good way to find accommodation in Ecuador is by checking booking.com. You'll find hotels, homestays, hostels, and other unique accommodations. They have the most reviews and advanced filtering of any accommodation-booking site, so you'll be sure to find a great place in your budget. Many of the places on booking.com also offer free cancellation, which takes the pressure off the planning phase of your trip to Ecuador.
If you are planning to stay in hotels during your stay in Ecuador, it is recommended that you book in advance – up to a week beforehand in the high season. In the larger cities, however, hotels are plentiful and getting stranded without accommodation is a less likely scenario. On the Galapagos Islands, hotel accommodation is available, but limited, so advance booking is always recommended.
If you are backpacking with another travel companion, we highly recommend booking a rental via VRBO. With a vacation rental in Ecuador, you'll have more space, your own kitchen, and you'll get a better feel for how the locals live. Plus, the cost of a vacation rental can be split among your group, oftentimes making it cheaper than doing individual hotel rooms. 
If you're looking to save even more money while backpacking in Ecuador, there are plenty of creative ways to get free accommodation in exchange for work. For example, one of our favorite ways to stay in amazing locations for free is by signing up as a petsitter with Trusted Housesitters. The site connects responsible animal lovers with petsitting opportunities in Ecuador and all over the world. It's a win-win for both sides – travellers can stay in amazing locations for free, and homeowners can rest easy knowing that someone is watching over their place.
And lastly, CouchSurfing is a great community that connects travellers with local hosts in Ecuador. You can stay for free with verified hosts, who will usually take some time to show you around the local spots.
Useful Links for Backpacking in Ecuador
---
There you have it, the ultimate Ecuador backpacking guide. We hope you have found all the information you need for backpacking in Ecuador.
Next up:
Liked this article? Share it with others who might be after the same information!