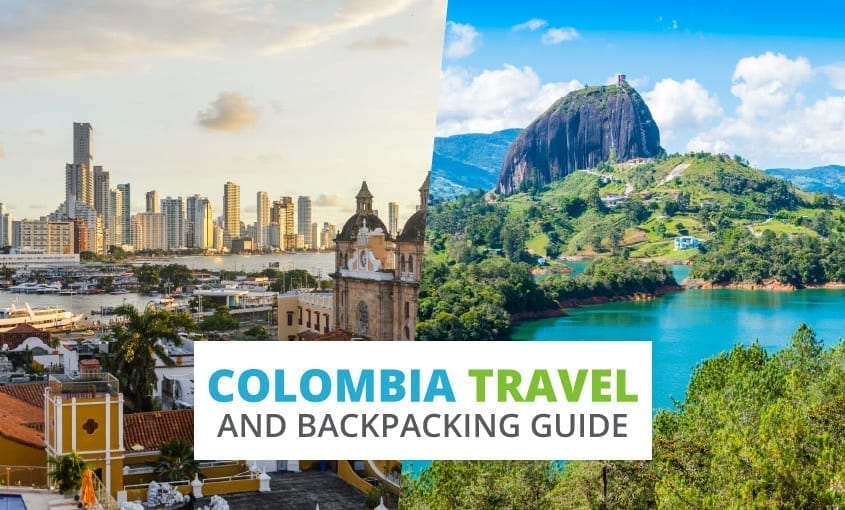 Backpacking Colombia
Looking for important travel information while backpacking around Colombia? Here you will find information on working in Colombia, entry visas, Colombia hostels, and much more.
Table of Contents

Facts About Colombia
Colombia is a beautiful country that offers everything a backpacker could dream of – ancient ruins, Caribbean beaches, Amazon jungles, snow-capped peaks and beautifully preserved colonial towns bustling with a people famous for their vibrancy and love for life. Unfortunately, Colombia is still torn apart by a bloody civil war. FARC guerrillas control large parts of the countryside and kidnapping, murder and worse are all too common in these strictly off-limits areas. Best suited to the more experienced traveller, stick to the safe zones, heed the FCO advice and Colombia offers the adventurous amongst us a once in a lifetime experience.
Colombia is high on the FCO's danger list. Many parts of the country are considered off-limits as is all overland travel. Please check the FCO website for the latest Government travel advice here.
Currency: Peso (Col$)
Time Zone: GMT -5
Language: Spanish
Telephone Services: Country code +57, International access code 90
Emergency Numbers: 112 for all services
Climate
The climate is very hot and humid, the rainy season is between May and November, at higher altitudes the climate is more temperate and there are mountains high enough to have permanent snow caps.
Travel
At the moment the FCO advises against all overland travel in Colombia. However internal flights are cheap and considered safe. Please check the FCO website for the latest travel advice on Colombia here. Remember, failure to comply with FCO advice could invalidate your travel insurance and place you at great personal risk!
Things to see and do
Bogota
Colombia's bustling capital city offers several excellent museums such as the Museo del Oro (Gold Museum) and the Museo Nacional. Colombia is famous for its pre-conquest gold work and you can still see many original pieces. Another featured attraction is the Jardin Botanico Jose Celestino Mutis, which besides being a mouthful to pronounce is also a stunning botanical garden featuring a variety of national plant life.
50km to the northeast of Bogota lies the famous Laguna de Guatavita, the birthplace of the El Dorado myth and the sacred lake of the Musica Indians.
Cartagena
Cartagena, a UNESCO World Heritage site is Colombia's most visited tourist spot. Founded some 500 years ago to transport the riches of the Americas onto the Caribbean, this colonial gem features as one of the most beautiful and vibrant cities in the world. Visit the old town and the original coral stone fortifications or head out to one of the cities many nightspots. Cartagena has long since been the intellectual and cultural hub of Colombia and as the first city in the Americas to offer residence to freed slaves it boasts a diverse ethnic mix.
Take a ferry to the nearby beach of Playa Blanca – white sands and crystal blue sea await you. Head out further to the Islas de Rosario and lay right back in a truly Caribbean atmosphere.
Santa Marta
Santa Marta, the city of contrasts, allows you to walk to the base of the Sierra Nevada – Colombia's highest mountain one day, and snorkel amongst nearby coral reefs the next.
From here it is possible to visit the Ciudad Perdida (Lost City) of the Tayrona Indians via a six day trek. Be aware that this area is the scene of Guerilla activity, the FCO advises against travelling there. In 2003 eight tourists were kidnapped and subsequently released several months later.
Accommodation
Colombia is extremely cheap and you will find rock bottom prices on accommodation in any major city, in addition to modern luxurious hotels at a much higher price. Many colonial houses have been converted into hotels and you can stay in some really impressive properties at very reasonable prices.
Crime
Be vigilant in major cities and avoid poor neighbourhoods. There is danger of street crime in Colombia and bogus policemen are rife, so always ask to see identity before handing over any documents. Remember if you do run into trouble, hand over your possessions as calmly as possible, these things are replaceable and secondary to your continuing health.
Health
Vaccinations are recommended for polio, typhoid and yellow fever. Dengue Fever is present in many areas of Colombia and the cities. In densely forested regions there is risk of Malaria. Tap water may be unfit for consumption so bottled water is recommended. Be careful of food from street vendors – choose a busy outlet if any at all. As in all of South America hygiene standards are generally nowhere near as high as European. Colombian food is both delicious and cheap, so always choose a restaurant that looks busy.
Useful Links
Entry Visas for Colombia
According to the Foreign & Commonwealth Office if you carry a British passport you should be able to enter Colombia for up to 60 days without a visa, although all entry and length of stay permission is entirely at the discretion of Immigration Officials. Your passport must be valid for six months after arrival. It is highly recommended that you contact the FCO prior to departing for Colombia. Visit their website at www.fco.gov.uk
The address of The Colombian Consulate General:
Embassy of the Republic of Colombia Flat 3A 3 Hans Crescent London SW1X 0LR Tel: (020) 7 589 9177/5037 Fax: (020) 7 581 1829 Email: mail@colombianembassy.co.uk Website
The British Embassy in Colombia:
British Embassy
Carrera 9
No 76-49
Piso 9
Santa Fe de Bogota DC
Colombia.
Tel: + [571] 326 8300
Fax: + [571] 326 8303/8309 Email: ConsularBogota@fco.gov.uk
There are also British Consulates in Barranquilla; Cali and Medellin:
Medellin
Carrera 42 No 53-26
Telephone (+574) 377 9966 Fax: (+574) 377 2212 Email: consuladobritanico@une.net.co
Cali
Avenida 4 Norte No 5N – 20
Telephones: (+572) 653 6089 Fax: (+572) 653 6089 Email: britishcali@uniweb.net.co A.A. 1326 Cali
Foreigner Work Permits in Colombia
EU nationals can enter and reside in Colombia for up to 90 days without needing a Visa or permit, but will need a valid passport and proof of a return flight. Working Visas are difficult and complicated to attain. Visas must be got from a country outside of Colombia, Ecuador is the closest, and you will need various papers from your employer in Colombia. As is the case with most South American countries, it is generally very difficult to find work in Colombia because Colombian nationals are eager for employment and so even the lowest paying positions are often taken up. Most opportunities for working experiences will be found in either teaching English or volunteering.
Teaching English
To gain a working Visa to teach you must show proof of having a teaching qualification, however many unqualified people still find work, particularly in the capital, Bogota. If you do have qualifications, look for jobs in schools and language institutions, and even if you do not it is still possible that you may be hired by some schools. Some of the best opportunities are found by asking around in person, and even finding some freelance tuition work, start looking in the main cities of Medellin and Bogota. If teaching English as a foreign language is something you want to pursue seriously and in other countries where jobs can be particularly competitive to find, it is worth enrolling on a course to gain the TEFL qualification, check their website for more details.
Volunteering
There are a great many opportunities to volunteer throughout Colombia, from conservational projects to work with underprivileged and impoverished families. Many of the volunteer agencies mentioned below organise similar schemes and projects across a wide range of countries, including other South American nations, but they often require your own funding, which can amount to more than Col$3000 so it is wise to plan well in advance for such programmes.
Baptist Missionary Society
Volunteers take part in 'Youth Action Teams' who spend a year working in teaching and social care, as well as more hands-on jobs such as building work and construction projects. Positions are available for Christians aged between 18 and 25 who are willing to fund their own travel, food, training etc. which can total up to Col$3000.
USPG Experience Exchange Programme
This is another missionary agency whose church-based volunteer programmes last between six and twelve months. Work includes practical jobs such as building community centres. Food and accommodation is sometimes provided by the organisation for its volunteers, but individuals must fund general expenses such as travel and insurance.
AFS International Youth Development
Depending on your age, AFS offers places on either its Schools Programme (for 15 to 18 year olds) for ten months, or the International Volunteer Programme (for 18 to 29 year olds) for six months. In both cases volunteers are accommodated by host families. The Schools Programme is more focused on students experiencing life in Colombia, whereas the International Volunteer Programme involves participation in a social project. Again, volunteers are required to raise their own money to fund their trip and costs can total Col$3000 or more.
Concordia
Volunteers work in groups with children and communities in a number of countries throughout the world. Projects last for up to three weeks, in the summer months. All volunteers are supplied with food and accommodation and are required to pay a fee of Col$75 to register with Concordia.
TEFL are one of the leading organisations for teaching English abroad
USPG is involved with missionary work in Columbia.
AFS UK is a non-profit making organisation that aims to further inter-cultural learning
Concordia is one of the voluntary organisations operating in Columbia.
How to Say Common Spanish Phrases
Meeting People
English

Spanish

yes

si

no

no

thank you

gracias

You are welcome

De nada

please

por favor

Excuse me

Discúlpeme

hello

hola

goodbye

adiós

Good morning

Buenos dias

Good night

Buenas noches

I do not understand.

No entiendo.

Do you speak…?

Habla usted…?

English

Inglés

Spanish

Español

What is your name?

Como se llama usted?

Nice to meet you

Encantado de conocerle

How are you?

Cómo estás?

Good

bien

bad

mal
Directions
English

Spanish

map

el mapa

left

la izquierda

right

la derecha

Straight on

directo

far

lejos

near

cerca
Methods of Transport
English

Spanish

Where is…?

Dónde está…?

How much is the fare?

Cuanto es lo justo?

Ticket

boleto

A ticket to…, please.

Un boleto para…, por favor.

Where are you going?

Hacia dónde vas?

Where do you live?

Dónde vive usted?

train

el tren

bus

el autobús

underground

el metro

airport

el aeropuerto

Train station

la estación del tren

Bus station

la estación de autobuses

Underground station

la estación del metro

departure

la salida

arrival

la llegada

parking

el estacionamiento
Time
English

Spanish

What time is it?

Qué hora es?

Today

hoy

yesterday

ayer

tomorrow

mañana
Accommodation
English

Spanish

hotel

el hotel

room

el cuarto

reservation

la reservación

Are there any vacancies?

Tiene habitaciones?

No vacancies.

No hay lugares.

Passport

el pasaporte
Places
English

Spanish

Post office

la officina de correo

bank

el banco

Police station

la estación de policía

hospital

el hospital

chemist

la farmacia

shop

la tienda

restaurant

el restaurante

museum

el museo

church

la iglesia

square

la plaza

strret

la calle
Shopping
English

Spanish

How much does this cost?

Cuánto cuesta?

I will buy it

Lo compro

I would like to buy…

Me gustaría comprar…

Do you have…?

Tiene usted…?

open

abierto

closed

cerrado

postcard

la postal

stamps

los timbres

little

poco

lot

mucho

all

todo
Meals
English

Spanish

breakfast

el desayuno

lunch

el almuerzo

dinner

la cena

vegetarian

vegetariano/vegetariana

cheers!

skal!

The bill please

Me trae la cuenta por favor
Drinks
English

Spanish

drink

la bebida

coffee

el café

tea

el té

juice

el jugo

water

el agua

beer

la cerveza

wine

el vino
Food
English

Spanish

meat

la carne

fish

el pescado

vegetable

las verduras

fruit

la fruta

potato

la patata

salad

la ensalada

dessert

el postre
Buy phrasebooks online at Amazon.co.uk
Colombia Hostels
Hostels are a cheap form of accomodation, and so they are essential to backpackers and other budget travellers. We have compiled a list of hostels in Colombia to help you plan your journey. If you are looking for a hostel in Colombia, you've come to the right place.

Antioquia Hostels
Caldas Hostels
Colombia Hostels
There you have it, the ultimate Colombia backpacking guide. We hope you have found all the information you need for backpacking around Colombia.