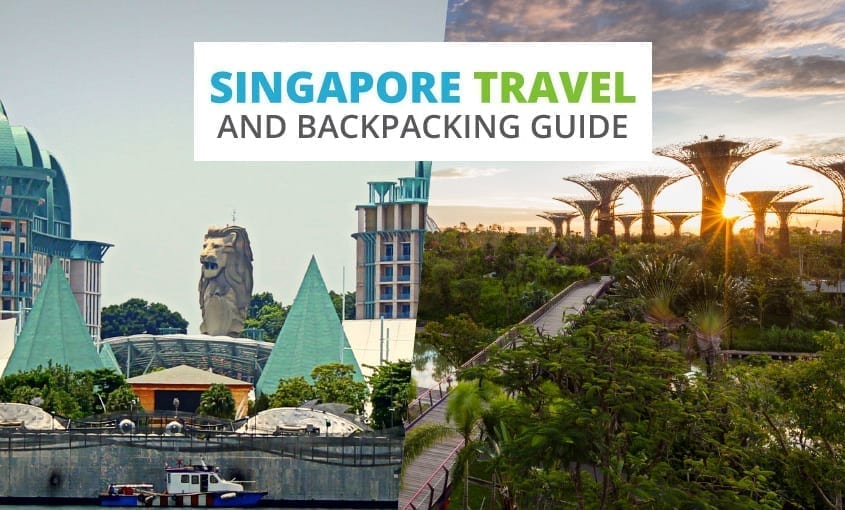 Backpacking Singapore
Looking for important travel information while backpacking in Singapore? Here you will find information on working in Singapore, entry visas, Singapore hostels, and much more.
Table of Contents
Facts About Singapore
Singapore is a sprawling city-state which is considered by many to be the jewel in Asia's crown. Keen to impress the international community the city has a reputation for impeccable cleanliness to the extent that chewing gum has been banned from the city.
The best thing about Singapore is definitely the rich mix of influences, ranging from the hi-tech modern chrome and glass building via its colonial past and stretching deep into its ancient cultural roots. Within the city, you can do everything from Jungle trekking in the Bukit Timah Nature Reserve, to the usual Asian temple pilgrimages or just spend the day shopping in the unparalleled Orchard Road
Currency: Singapore Dollar (Sing $) = 100 cents
Time Zone: GMT + 8
Language: Mandarin
Telephone Services: Country code +65, International Access code 005
Emergency Numbers: 999 for all services
Climate in Singapore
Singapore sits almost on the equator and enjoys a tropical climate. Temperatures are hot and humidity is high all year round with no distinct rainy season. Despite this, the time between November and January has marginally more rainfall so visitors might want to avoid this time. The best time to visit Singapore is from June to August during the dry season.
Things to do in Singapore
Colonial Architecture
Singapore has a lot of distinct influences on its culture, the most famous of which is probably the colonial influence. In particular, Sir Raffles was responsible for the building and development of most of the infrastructure during colonial rule.
The famous Raffles Hotel is world renowned as one of the most luxurious and high-class hotels in Asia. Also, impressive remnants from this era of Singapore's history is the fantastic Empress Palace building which now houses an exclusive restaurant as well as a museum and an art gallery. With colonial rule came the mark of Christianity and you can see excellent examples of architecture at both the St Andrew's Cathedral and the Cathedral of the Good Shepherd.
Chinatown
It is impossible to visit Singapore without paying a trip to Chinatown, this area is still very much the city's cultural hub and is representative of Singapore's ancient oriental roots. The entire area is bustling with activity and boasts some of the best food on the island. During the day it is possible to find plenty of traditional shops selling everything from incense and herbal remedies to Chinese style teahouses.
Although the growth of the financial district and redevelopment has to a certain extent suppressed the charm of this area it is still possible to find plenty of examples of traditional Chinese style life, one superb example is the Thian Hock Keng Temple which is notable for having been assembled entirely without nails.
Orchard Road
Orchard Road is one of the most fashionable streets in Singapore, it is here that all of the luxury 5-star hotels jostle with the most trendy of boutiques and shops. The nightlife here is unparalleled if pricy and there are enough shops to keep even the most demanding shopper satisfied all day.
Unique Activities in Singapore
Since popular places in Singapore can get crowded during tourist season, it is wise to reserve tickets and activities ahead of time. GetYourGuide sells entrance tickets to museums and landmarks at face value so you can avoid the lines and save that precious time for more exploring.
Viator is another popular travel website that helps you book things to do in Singapore. They work directly with local tour operators in Singapore, so you won't have to scour the internet or roam around town trying to find the best deal.
If you know your schedule ahead of time, a great insider tip is to buy tickets for major tourist attractions ahead of time. Tiqets has entrance tickets and skip-the-line passes for major attractions in Singapore, which can be a worthwhile cost during peak tourist season.
How to Get Cheap Flights to Singapore
In order to find the best flights to Singapore we recommend using a few well-known flight comparison search engines. These websites offer powerful search options, like entering flexible dates and airports in order to find the cheapest flight to Singapore.
Our go-to flight search engine is Skyscanner, which we love for its extremely flexible search options. Our favourite way to get travel inspiration is their "Everywhere" feature. Simply enter "Everywhere" as a destination, and it will then list all available flights from your departure city in order of price. This also works when entering the entire country of Singapore as your destination. Skyscanner will search all possible airports in the country in order to find the cheapest option.
Kiwi is another new favourite flight search engine among savvy travelers. Kiwi works by combining flights from different carriers in order to get the best deal. Also, if there is a better ground or ferry option for the route you're searching, Kiwi will include that in the search results. On average, we have found the cheapest flights to Singapore with them compared to the other websites out there.
How to Travel Around Singapore on a Budget
Singapore has an excellently maintained underground system which is both easy and cheap to use, this is supplemented by a good bus service and together there isn't anywhere that you can't reach easily. An increasingly popular way to travel the city, however, is by rickshaw, small carriages towed by an energetic bike rider. When using these services or taxis always be sure to agree on a fare beforehand to avoid a nasty shock when it comes to time to pay.
Driving in Singapore
You may also want the flexibility to stop in smaller towns between the major cities. If you decide you want to rent a car in Singapore, you can use DiscoverCars to compare offers from the major car rental agencies in the region.
Backpacking Tours in Singapore
Though part of the fun of backpacking Singapore is exploring on your own, there are situations, especially when venturing off the tourist trail, when it does make sense to go with a guide or a small group. 
The most popular option for social travel in Singapore is Contiki tours. Contiki trips offer more than just transportation, they are organized social group travel for travelers aged 18-35. Whether you're traveling by yourself or going with a group of friends, Contiki tours are perfect for people looking to have a blast, meet new friends, and form lifelong memories. They offer tours that travel primarily in Singapore or longer tours that cover other nearby places.
G Adventures is another great option for organized travel, but with a smaller group. It's a great choice for anyone backpacking Singapore alone who would like to meet up with like-minded travellers. It's also a practical option for exploring places where you need an experienced guide, like a long hiking adventure or visiting a place well off the beaten path. You can choose from different styles of small group tours like active, wellness, hiking trips, 18-30somethings, and more. Their most popular trips that include Singapore are their 14-day Bangkok to Singapore on a Shoestring, or their 21-day Southeast Asia on a Shoestring.
Health and Safety in Singapore
Singapore General Hospital provides healthcare of an exceptionally high standard and generally treats emergency cases. There is also a huge private sector also with very high standards. There is no reciprocal health agreement with the UK at this time so travellers will be asked to find a way to pay for any medical costs incurred.
As with travel to all other countries abroad, it is vital that you get travel insurance before you leave for Singapore. Even for short trips, our go-to travel insurance provider is World Nomads, which is also recommended by Lonely Planet, HostelWorld, and other major travel companies.
There are no vaccinations required for entry to Singapore. It should be noted that hepatitis A and B are widespread so appropriate precautions should be taken especially during sexual contact. Rabies is also present and travellers bitten should seek medical assistance immediately.
The water and food in Singapore are to be considered safe and only normal everyday precautions need to be taken.
Entry Visa Requirements for Singapore
All visitors must hold a passport which is valid for at least six months after the date of departure and be able to provide evidence of either a return ticket or enough funds to purchase one. British or Irish Nationals do not require a visa for stays up to 30 days, other EU nationals or US nationals do not require a visa for a visit of up to 14 days.
Those exempt from visa requirements must obtain a Social Visit Pass which is issued on arrival at the airport for about $15. Those wishing to stay longer require a long-term Social Visit Pass which can be obtained from the Singapore High Commission.
Visa requirements for Singapore can vary widely depending on your country of origin and can change over time. To avoid any unpleasant surprises, be sure to check the latest visa requirements while you're still planning your trip.
Singapore Hostels and Budget Accommodation

There is an absolute wealth of choice when it comes to accommodation in Singapore. There are ample hotels of all types ranging from luxurious international standard hotels like the Raffles to cheap budget places.
We have had good experiences finding hostels in Singapore on HostelWorld. They have the largest inventory of hostels worldwide, and with over 10 million reviews and ratings from other travellers, you know exactly what to expect.
Another good way to find accommodation in Singapore is by checking booking.com. You'll find hotels, homestays, hostels, and other unique accommodations. They have the most reviews and advanced filtering of any accommodation-booking site, so you'll be sure to find a great place in your budget. Many of the places on booking.com also offer free cancellation, which takes the pressure off the planning phase of your trip to Singapore.
If you are backpacking with another travel companion, we highly recommend booking a rental via VRBO. With a vacation rental in Singapore, you'll have more space, your own kitchen, and you'll get a better feel for how the locals live. Plus, the cost of a vacation rental can be split among your group, oftentimes making it cheaper than doing individual hotel rooms. 
If you're looking to save even more money while backpacking in Singapore, there are plenty of creative ways to get free accommodation in exchange for work. For example, one of our favorite ways to stay in amazing locations for free is by signing up as a petsitter with Trusted Housesitters. The site connects responsible animal lovers with petsitting opportunities in Singapore and all over the world. It's a win-win for both sides – travellers can stay in amazing locations for free, and homeowners can rest easy knowing that someone is watching over their place.
And lastly, CouchSurfing is a great community that connects travellers with local hosts in Singapore. You can stay for free with verified hosts, who will usually take some time to show you around the local spots.
Useful Links for Backpacking in Singapore
---
There you have it, the ultimate Singapore backpacking guide. We hope you have found all the information you need for backpacking around Singapore.
Next up:
Liked this article? Share it with others who might be after the same information!