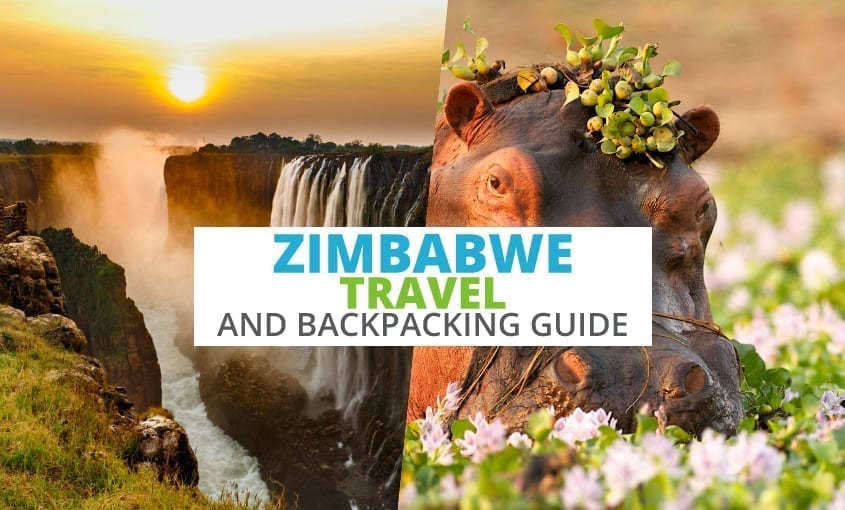 Backpacking Zimbabwe
Looking for important travel information while backpacking in Zimbabwe? Here you will find information on working in Zimbabwe, entry visas, Zimbabwe hostels, and much more.
Table of Contents
Facts About Zimbabwe
Zimbabwe's outstanding scenery and temperate climate can make it an excellent place to backpack. Facilities for backpackers are up and running, and the locals are always keen to see visitors. However, parts of the country have experienced violence and you are advised to be vigilant throughout your visit. You should check with the Foreign Office before you travel to see if they have any advice.
Currency – United States Dollar (USD)
Time – UTC +2
Language – English is the official language, but there is also Shona, Sindebele, Ndebele and numerous but minor tribal dialects
Telephone area code – 263
Climate in Zimbabwe
As Zimbabwe stretches over a high plateau it has a tropical climate that is varied by terrain and altitude, with a cool, dry season between May and October that feels similar to the Mediterranean. Although it never snows in the country, overnight frosts are common, as are freezing temperatures.
Winter is the best time to visit the country for wildlife watching, as at this time animals can be seen assembling around watering holes. The country remains largely dry apart from the humid months from November to April, when rainfall is confined to afternoon downpours and electrical storms. During this period temperatures can rise to 35C, which may be a hindrance, but you will find the rain will have little impact on your travelling.
Things to do in Zimbabwe
Victoria Falls
You cannot go to Zimbabwe without seeing Victoria Falls. The falls are situated in the Victoria Falls National Park, and the town of Victoria Falls is only a kilometre away (walking between the park and the town is possible but should be avoided at night).
The town has plenty of accommodations and places to eat, and there are a lot of activities to keep you amused around the waterfall. You can go white-water rafting, canoeing, jet-boating and kayaking in the falls and abseiling down the cliffs.
You might also enjoy a hike around the neighbouring Zambezi National Park, quad-biking on surrounding land, fishing, or even taking a helicopter, micro-light or ultra-light over the falls to enjoy the scenery from a breathtaking angle.
Kariba
In the North of the country lies Kariba, which is a small lakeside town that is mainly visited by people wanting to see some wildlife. Camping is available here or slightly more expensive self-catering chalets which may be a better option if there are a lot of you.
Great Zimbabwe
Great Zimbabwe is one of the best medieval sub-Saharan African cities. It is filled with ruins providing a wealth of information about Zimbabwe's history. The site is divided into several ruins; the Hill Complex, the Valley and the Great Enclosure.
Eastern Highlands
The eastern highlands of the country are perfect for outdoor enthusiasts: fishing, horseback safaris, and hiking in the Bvumva Mountains are all on offer.
If you venture into the Bvumba Mountains there is plenty of accommodation for all price ranges. The Ndundu Lodge on Bvumba Road is a beautiful thatched cottage that offers inside accommodation or the option of camping, both for a very reasonable price. The owners have also outlined walking trails for their residents to use, and have bikes for hire. There is a bar and restaurant so you will not need to venture far for refreshments if you stay here!
Harare
The capital Harare is relatively compact, so it is easy to walk around the city and see its sights. The Harare Gardens provide a sanctuary within the city if the temperature begins to get too much, and it is also home to an open-air tearoom and restaurant, as well as markets at the weekends.
However, the gardens are not safe after dark. In downtown Harare you can walk through the streets taking in all the colonial buildings. Most of the original buildings are concentrated on Robert Mugabe Road, with the Parliament Buildings being situated on Third Street. The Anglican Cathedral is on the corner of Second Street and Baker Avenue, and is Harare's oldest church.
Unique Activities in Zimbabwe
Another good way to get an idea of things to do while backpacking Zimbabwe is to scan the activities offered by Get Your Guide or Viator. They work directly with local tour operators, so you won't have to scour the internet or roam around town trying to find the best deal.
How to Travel Around Zimbabwe
Flights to Zimbabwe
When flying to Zimbabwe, we like using Skyscanner to find the best deal because of their powerful flexible search. For example, you can view prices for the entire month to find the cheapest day to fly.
All domestic and international flights fly into the airport 20km south of Harare. Many backpacker hostels provide shuttle buses from the airport as an incentive to make you stay there, otherwise, there is the Express Motorways bus service which connects to most flights and drops-off at various points in the city.
Bus Travel in Zimbabwe
Train and bus services are also available from neighbouring countries for a relatively small fee. Bus services include Express Motorways, Blue Arrow, Ajay's Motorways, and DSB Coachline. Buses run between the major cities, but they are poor even by African standards. The best buses are the ones that run from Road Port in Harare to Lusaka, Lilongwe and to some other destinations. Minibus taxis also run within towns and cities, although the price of petrol means that these may be very expensive and are crammed full, so travellers now rarely use them.
Train Travel in Zimbabwe
The Victoria Falls Train provides awesome views of the waterfall, although it also provides views of the wreckage from the 2006 train crash which sadly claimed many lives. The rest of the rail network connects Harare, Bulawayo, Mutare and Victoria Falls, but the trains are painfully slow and the tracks desperately need servicing. Night travel is available, and these trains all include sleeping compartments.
Driving in Zimbabwe
If you do hire a car try to avoid travelling after dark as unfortunately, drunk driving is a common problem. However, with recent petrol price inflation and shortages, you may find it impossible to drive in the country.
Backpacking Tours in Zimbabwe
Though part of the fun of backpacking Zimbabwe is exploring on your own, there are situations, especially when venturing off the tourist trail, when it does make sense to go with a guide or a small group. For these times, a popular option among backpackers is G Adventures. They hand-select local guides to ensure authenticity and quality.
This is especially a good option for those travelling Zimbabwe alone who would like to meet up with like-minded travellers. Their most popular trips in Zimbabwe are their 15-day Southern Africa Explorer tour through Zimbabwe, Botswana, and South Africa, or their 8-day Botswana & Victoria Falls Adventure through Zimbabwe, Namibia, and Botswana.
Health and Safety in Zimbabwe
Due to current economic problems medicines are in short supply, so make sure you bring a well-stocked first aid kit. Private doctors and hospitals are of a good standard, and thus it is essential to take out travel and medical insurance before you travel. HIV/AIDS is a common and persistent problem in Zimbabwe, therefore do not have unprotected sex, and if you form a relationship with someone it is recommended that both you and your partner get an HIV test.
Malaria is also prevalent so take necessary precaution against this before you travel and whilst you are there (e.g. using DEET mosquito repellent and using a mosquito net at night). Snakes are common in the country so never walk barefoot, shake your shoes out before you put them on, and if you do get bitten seek medical assistance immediately.
The Avenues Clinic (Cnr Mazowe Street & Balines Avenue, Tel: 251180 99) and the Trauma Centre (Lanark Road, Belgravia, Tel: 7000666/815) both in Harare are recommended by expats, and are better to visit than other medical centres and hospitals as they have a larger collection of drugs.
In western Zimbabwe, the Bulawayo Central Hospital (Tel: 72111) is the best-equipped and most accessible public hospital, but the Galen House Emergency Medical Clinic (Tel: 540051) is privately run and better than the hospital.
Entry visa requirements for Zimbabwe
UK nationals must have a passport that will remain valid for at least the duration of their visit (most airlines will request that they are valid for at least six months after your return date). A visa is also required, but this can be bought on arrival. Either a 90-day tourist visa or a 30-day business visa can be purchased from immigration for around $30-55. This is the same for nationals of most other countries.
Work permits and backpacker jobs in Zimbabwe
To work in Zimbabwe you need to obtain a work permit. These are usually given to people who are trained in fields that are otherwise lacking experienced personnel. It is relatively easy for UK nationals to receive one of these permits, and they can be applied for through the Ministry of Home Affairs.
OXFAM also do a lot of emergency work in Zimbabwe and you may find that this is a rewarding way to spend your time whilst in the country.
Zimbabwe Hostels and Budget Accommodation
There is backpacker accommodation in Zimbabwe, although these are usually confined to the major cities and do not actually see that many travellers. In the more rural areas, campgrounds can be found in abundance, and as Zimbabwe is blessed with a temperate climate this is often a cheaper and more pleasurable option.
Your best bet for finding budget accommodation in Zimbabwe is HostelWorld. They have the largest inventory of hostels worldwide, and with over 10 million reviews and ratings from other travellers you know exactly what to expect.
Another good way to find accommodation in Zimbabwe is by checking hotels.com and  booking.com. With both sites, you'll not only find hotels, but also homestays, hostels, and other unique accommodation. We have discovered some great finds and have appreciated the ability to book ahead.
You can use their advanced filtering to narrow your results by budget, location score, overall review score, and amenities. Many of the places on booking.com also offer free cancellation, which takes the pressure off the planning phase of your trip.
Useful links for Backpacking in Zimbabwe
Skyscanner

– Flight comparison search engine to find the cheapest flights to Zimbabwe and within the country

Viator –

a collection of local tours, activities, and things to do in Zimbabwe

G Adventures

– guided backpacking group tours in Zimbabwe, great for solo travellers or for those interested in a more adventurous trip which would require a guide

HostelWorld

– #1 hostel search website to find accommodation while backpacking Zimbabwe. Thousands of hostels and millions of reviews from fellow travellers

Booking.com

– commonly used booking site in Zimbabwe. Hostels, hotels, and other unique accommodation with advanced filtering and millions of reviews

Travel Insurance

– make sure you get a comprehensive travel insurance policy with World Nomads for your backpacking trip to Zimbabwe

The Zimbabwe Tourism Authority (1 Union Avenue, Tel: 758826) – Provides general information about Zimbabwe, transport, activities and accommodation.
There you have it, the ultimate Zimbabwe backpacking guide. We hope you have found all the information you need for backpacking around Zimbabwe.
Next up:
Liked this article? Share it with others who might be after the same information!