Backpacking Jobs – Get Paid to Travel the World
If you want to support yourself while traveling the world, why not consider a working holiday? The experience of working abroad can be one that you carry with you for the rest of your life, and may even attract a future employer someday. From conservation projects, working with children, to picking fruit around the world, there are many opportunities to step outside of a typical vacation-style trip with one of many backpacking jobs.
Offer Petsitting and Housesitting Services
All across the world, there are plenty of people looking for trustworthy housesitters to watch their pets in exchange for staying at their homes for free. Trusted Housesitters is the pet-sitting network for animal lovers who are responsible, reliable, and looking for a fantastic way to travel around the world while staying for free.
You can find everything, from a chic apartment in Barcelona to a villa in Bali. While you won't technically get paid, you will have zero accommodation costs, which tends to be the largest part of a backpacker's budget. A basic petsitter account costs just $129 per year for unlimited housesits anywhere in the world, and considering how expensive accommodation can be around the world, it's well worth it.
Teach English Abroad
In most foreign-speaking countries you will find openings for teaching English. The best place to teach English abroad is at a language institution, but there is no guarantee of work as jobs are highly sought after. If you are serious about teaching English abroad, it is worth training with TEFL to receive a qualification that will put you in better standing than those without a certification.
Backpacking Jobs in Tourism
Another area to explore a backpacker working holiday is to apply at local bars, restaurants, or hostels. Although most of these jobs will pay minimum wage, they will still require that you have official permission to work as a foreigner. The minimum wage and the tipping culture vary per country, so be sure to take this into consideration.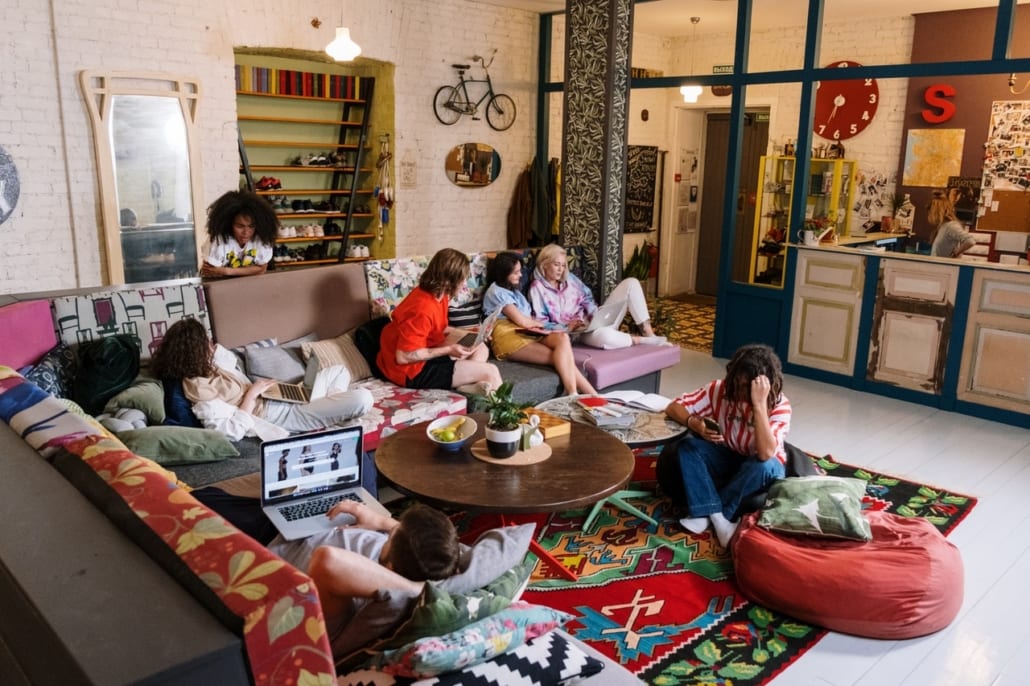 Working in a hostel while backpacking can be a great way to get to know fellow travelers. It is also a great way to take a short break while on the road to earn some spending money. Hosteljobs.com offers lots of different backpacking jobs at hostels around the world from reception, to maintenance, to tour guides and event managers.
You can try to apply for the jobs before backpacking, or you can also pick up work while already on the road. Try simply asking if they have any vacancies and be sure to show your work ethic and enthusiasm.
Farm Jobs for Backpackers
Working abroad on a farm can be a valuable life experience. The farm jobs are normally seasonal, following the harvest schedule. You can get involved in the grape harvest in France, fruit picking in Spain, or working on an organic farm in the UK.
If you're less interested in earning wages and more interested in gaining valuable life experience, WWOOF is a voluntary organization placing volunteers on organic farm jobs at organic farms throughout the world. Workers are provided with board and accommodation and must pay an annual membership of €10 to WWOOF, see their website for more details.
Work a season at a Ski Resort
Another popular backpacking job is to work a season at a ski resort around the world. You can find opportunities in Europe, North America, Japan, or New Zealand. Ski resort job options include jobs in hospitality, lift operations, or working as a ski and snowboard instructor. Most places will require foreigners to have a work visa, so be sure to look in to the requirements.
Become an Au Pair Abroad
Working as an au pair is perhaps one of the most traditional types of working holidays. As an au pair abroad, you'll be placed with a host family and will typically help with child care and household work such as cleaning and food preparation.
Au pairs in non-English-speaking countries are usually expected to take part in a local language course for a few hours a week. The costs are usually covered by the host family.
It's best to work with a reputable au pair program, which will help ensure a clear contract between the host family and the au pair regarding expected working hours and salary. According to aupair.com, the expected hours per week and the spending money salary can vary widely depending on the country.
Au Pair International and Au Pair World, are some helpful agencies that can place young adults in au pair positions abroad.
Volunteering Travel
Volunteer travel is a great way to explore on a budget while also giving back. Typically, you'll work on the project a set number of hours per week in exchange for free accommodation, and sometimes other perks such as free food, free bike rentals, and more. 
If volunteer travel sounds like something you want to do, it's best to do it via a reputable agency. An agency will help screen volunteer programs and hosts to make sure you have support every step of the way.
Volunteer work abroad can be organized through the WorldPackers agency, and you can use promo code BACKPACKING10 to save $10 on your membership. WorldPackers can connect you with volunteering opportunities with NGOs, hostels and homestays, agricultural or wildlife experiences, and more.
Foreigner Work Permits for Backpacking Jobs
Participating in a working holiday abroad usually requires a work permit. Some countries, like Australia, offer a Work Travel visa for young people, which gives them permission to work in Australia for up to a year. While most countries will welcome international volunteers and work-travel enthusiasts, others may want to protect the local job economy and will therefore be wary of foreign help. Be sure to do your research and be mindful of the local expectations.
The best place to start looking for work travel opportunities is through a reputable organization. They will help find backpacking jobs, consult you during the placement process, and will make sure you have all the permissions in place before you undertake your new adventure. Before you go, be sure to review our advice on passport and visa requirements while backpacking.
Useful links to find backpacking jobs