Hostels are a cheap form of accommodation, and so they are essential to backpackers and other budget travellers. More than that, they are a great place to meet fellow travelers while on the road, especially if you are backpacking solo. Here are our top tips and tricks for staying in a hostel during your trip. It can even become your favorite way to travel!
How to find a great hostel
The last thing you want to happen on your trip is to show up to a hostel only to realize that it's in a bad part of town, or severely lacking in the hygiene department. The most fool-proof way to find an amazing hostel is to rely on the reviews of fellow travelers. The more reviews, the better, so I usually check HostelWorld first. They have the largest inventory of hostels worldwide, and with over 10 million reviews and ratings from other travellers you know exactly what to expect.
Another site that has started offering hostels is booking.com. I love their advanced filtering (price, location score, reviews, amenities) and you can search for hotels, homestays, hostels and other unique accommodation. Start by filtering for anything rated 8+, and then feel free to add other filters that are important to you, such as private bathroom, or location.
How far in advance to book your hostel
If you're like me, you want to retain a bit of spontaneity when backpacking. I loved having the flexibility to decide to linger a couple more days in a certain place, and also appreciated the freedom to move on from anyplace that wasn't the best. That said, you don't want to have to wander around a new destination with all your bags searching for the perfect accommodation. While I did meet plenty of fellow backpackers who preferred to go the old-fashioned way of finding accommodation once they arrived in a place, I always preferred to know where I was sleeping, at least for the first night in a new destination.
I would recommend booking at least the first night in advance. Usually, it's pretty easy to add more nights later. Of course, if you're traveling in the high season or traveling during a famous festival or event, you'll want to book further in advance.
Essential items when staying in a hostel
To embrace hostel life, you will need to bring a few essential items to make sure you can still get a good night's sleep. After all, you'll want energy to explore your surroundings! Throw in the following items to make your experience of staying in a hostel a positive experience.
1. Earplugs and a comfortable sleep mask

2. At least one padlock for the hostel lockers, ideally TSA compatible so they can be used on your luggage as well
3. A sarong or turkish towel, these are quick-drying and can also be used as a privacy screen if you're in a bottom bunk
4. Shower sandals – for obvious reasons
5. A power bank to charge your electronics, in case your bunk is located far from an outlet

6. A universal travel charger if you'll be travelling in a country with different plugs

7. An extra-long charging cable for your phone. Again, in case your bunk is located far from an outlet
8. A washable sleeping bag liner– gives you peace of mind when sleeping in hostel sheets. Lightweight and can be washed
Making friends when staying in a hostel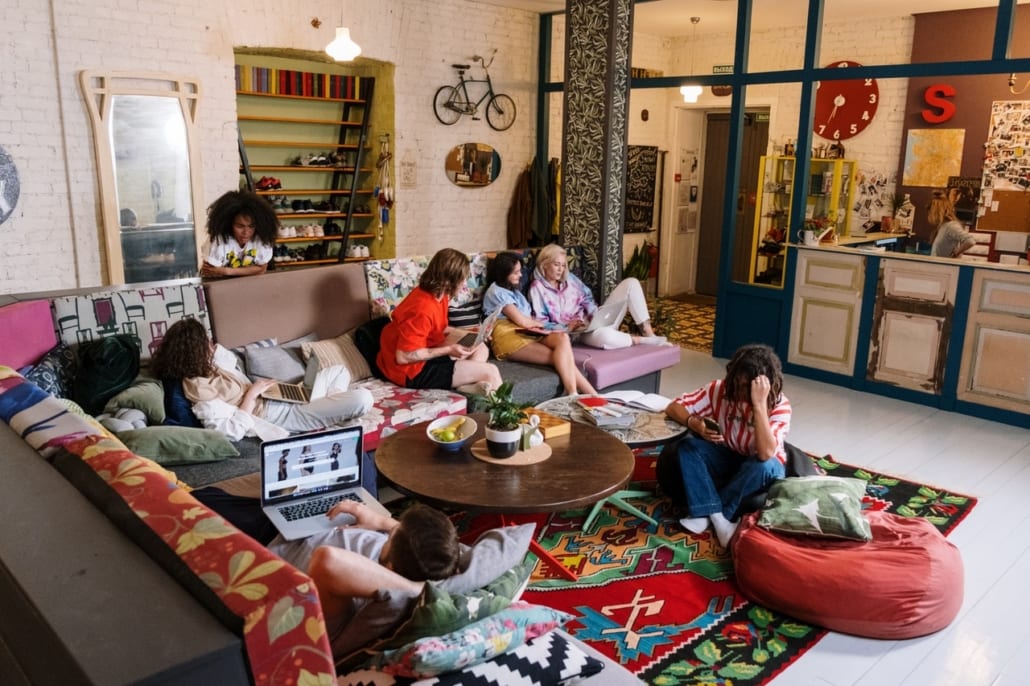 Real talk, I literally met my now-husband while staying in a hostel. We were both roommates in a 6-bed dorm in Monteverde, Costa Rica. We bonded by doing a couple of hikes together in the city where we met, and we just kept traveling together for about a week, and well, the rest is history!
We are obviously a rare case, but it's actually very common for solo-travelers to bond while on the road. At the very least, you can find someone to grab a drink with, at best you meet a friend (or partner) for life!
The best way to start making connections when staying in a hostel is to make small-talk with your roommates. If you're traveling alone, try to choose the 4-6 bed dorm rooms. This is small enough that it feels like a community but not so small that there will be any awkwardness. Simply introduce yourself and strike up a conversation with your roommates. It's easy to break the ice with fellow solo travelers, everyone loves to travel and will probably have great advice or crazy stories to share! In case you're at a loss, start with these classics:
Where are you from originally?
How long will you be traveling?
Where are you traveling from?
Where are you traveling next?
What would you recommend I do in this city?
Once you break the ice with your roommates, it's very easy to expand your connections with other people staying in the hostel. But starting small is a lot less intimidating than approaching someone in the common areas.
Once you have at least one person that you've started chatting with, it usually snowballs into meeting other people staying at the hostel. You can suggest doing some activities together, such as:
Grabbing a drink in the hostel common room or local bar
Doing a free walking tour
Taking a local hike
Cooking dinner together in the hostel kitchen, or grabbing a bite to eat around town
Sightseeing
Traveling together to the next destination. For better or worse, most backpackers often follow the same route, so it's very easy to pick up travel buddies. And bonus: you may even be able to split costs by traveling in a pack!
Last but not least…
And the most important tip to staying in a hostel: put your phone down! If you're looking for activities to do in the city that you're in, it's better to ask in person. Someone else in the hostel might offer priceless advice or might offer to join you for the day.