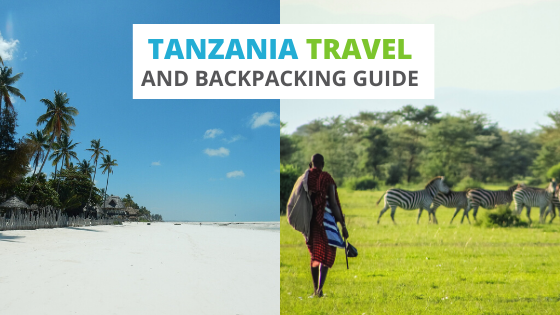 Backpacking Tanzania
Looking for important travel information while backpacking in Tanzania? Here you will find information on working in Tanzania, entry visas, Tanzania hostels, and much more.
Table of Contents
Facts About Tanzania
Tanzania is best known for its abundance of nature reserves, which are home to some of Africa's indigenous wildlife. Visitors to Tanzania are most likely interested in seeing 'The Big 5' wildlife of Africa, which include lions, elephants, rhinos, water buffalos, and leopards. Some of the greatest highlights of nature take place in Tanzania, like the great wildebeest migration in the Serengeti, or the long journey of the saltwater flamingos as they migrate based on the rainy season.
On top of the Safari options available in Tanzania, the country also includes the island of Zanzibar, a reef island located offshore from mainly Tanzania in the Indian Ocean. Zanzibar offers paradise-like beachscapes, with fine white sand, turquoise water, and waving palm trees.
If that is not enough to convince you to visit this country, the local people are some of the friendliest in the world, warmly embracing tourists and visitors to their home country.
Currency: Tanzanian Shilling (TZS) = 23 cents
Time Zone: GMT + 3
Language: English and Kiswahili
Telephone Services: Country Code +255
Emergency Numbers: All services 112
Climate in Tanzania
When deciding the best time to visit Tanzania, the weather certainly plays a role. The coastal areas are typically tropical, and the lowlands are mainly hot and dry. The highlands have a much more attractive climate with four distinct seasons. Tanzania has two rainy seasons. The so-called short rains season takes place between October and December. The long rains season is from March to June. When planning your trip to Tanzania, be sure to check the weather ahead of time, as this may affect your experience, especially on safari.
Things to do in Tanzania
When deciding the best things to do in Tanzania, there is an abundance of options. Here are the top bucket-list items when backpacking Tanzania.
Safari in Tanzania
Unlike most countries, Tanzania's main attraction isn't its cities, but its great outdoors. No one coming to this country should pass up the opportunity to go on safari in one of Tanzania's game parks. The most popular is the Serengeti National Park, which is famous for its lions. It is common to see large prides, and patient visitors should even be able to spot the lionesses hunting.
The park also boasts such exotic animals as elephants, zebras, and even hippos. Recently companies have started offering aerial tours of the area in light aircraft and hot air balloons, but you can still find plenty of companies offering more traditional safaris here. G Adventures is one of the industry leaders for organising Safaris. They work with local companies to arrange Safaris ranging from budget to midrange, to luxury.
The other main safari area is the Ngorongoro Conservation Area, which is famous for its population of endangered Black Rhinos. The Conservation Area is located in the basin of an ancient crater, and it's a vast open space, perfect for spotting dozens of animal species in a delicate coexistence.
Other popular locations to see the wildlife are the Tarangire National Park, Lake Manyara National Park, and  Arusha National Park. Within many of the reserves, you will also find traditional Maasai villages that are open to tourists. Visits from tourists are still one of the primary sources of income for these traditional nomadic tribes.
Hiking Mount Kilimanjaro
As the tallest peak on the African continent, hiking Mount Kilimanjaro is at the top of many peoples' bucket lists. Known as the 'everyman Everest,' the summit is an impressive 5,895 meters (19340 feet) high. The journey to the peak of Kilimanjaro typically takes about 5-9 days, depending on your route and pace. During the climb, you will pass through different ecosystems, from lush rain forests, ending in snowy conditions.
It is a requirement that anyone who summits Kilimanjaro goes with a local guide. We love the guides and group tours offered by G Adventures for their group treks to the top. Visit their Kilimanjaro Trekking tour page for different tours, and some that even combine a Kilimanjaro trek with a Safari trip. There are various options from private guides to group treks, depending on your preference.
Summitting the peak will still require some training, and only people in top physical condition should attempt the climb. Every day, many people need to take advantage of the airlift services because they fall victim to altitude sickness or basic exhaustion.
Zanzibar
While it is possible to enjoy white sand beaches on mainland Tanzania, most visitors opt too take the ferry or fly over to the island of Zanzibar. Located in the middle of the Indian Ocean, the fine white sand is the result of the many reefs located just off the coast. The most popular hotspots in Zanzibar are Paje and Nungwi.
Paje
Paje offers the paradisical long stretches of white sand beaches, although it is not a great swimming beach since the shallow shoreline stretches for a few kilometres. However, this leads to an impressive phenomenon at low tide when it becomes possible to walk out to the reef break.
Nungwi
Located in the North, is a better location for swimming, although it has become overrun with touristy resort hotels, with lots of locals touts on the beach. However, Nungwi is a great jumping-off point for snorkelling and dolphin tours, so it may be worth spending a few days up north. Mnemba Island is one of the most famous locations for snorkelling.
Stone Town
Historic Stone Town is worth visiting for a day or two. Spend a day wandering through the winding alleyways, visiting the local markets, and stopping in some of the many important museums. The East African Slave Museum provides a glimpse into the history of the Slave Trade out of Zanzibar, including extensive documentation, pictures, and even a visit to former jail where slaves were held before they went to market.
Unique Activities in Tanzania
Since popular places in Tanzania can get crowded during tourist season, it is wise to reserve tickets and activities ahead of time. GetYourGuide sells entrance tickets to museums and landmarks at face value so you can avoid the lines and save that precious time for more exploring.
Viator is another popular travel website that helps you book things to do in Tanzania. They work directly with local tour operators in Tanzania, so you won't have to scour the internet or roam around town trying to find the best deal.
How to Find Cheap Flights to Tanzania
In order to find the best flights to Tanzania we recommend using a few well-known flight comparison search engines. These websites offer powerful search options, like entering flexible dates and airports in order to find the cheapest flight to Tanzania.
Our go-to flight search engine is Skyscanner, which we love for its extremely flexible search options. Our favourite way to get travel inspiration is their "Everywhere" feature. Simply enter "Everywhere" as a destination, and it will then list all available flights from your departure city in order of price. This also works when entering the entire country of Tanzania as your destination. Skyscanner will search all possible airports in the country in order to find the cheapest option.
Kiwi is another new favourite flight search engine among savvy travelers. Kiwi works by combining flights from different carriers in order to get the best deal. Also, if there is a better ground or ferry option for the route you're searching, Kiwi will include that in the search results. On average, we have found the cheapest flights to Tanzania with them compared to the other websites out there. 
Air Tanzania runs the primary domestic air service in the country, but you will also find numerous small private companies operating domestic service. In general, the flights are pretty cheap so they can be an excellent way to cover vast distances quickly. 
How to Travel Around Tanzania on a Budget
Bus travel in Tanzania
Intercity buses generally come in two flavours, coaches or minibuses. The minibuses have a poor reputation for safety and aren't much cheaper, so where possible you should try to take the coach. All bus companies are privately run, and on popular routes, you will find several competing companies, this has the added bonus of making this an extremely economical, if not a very comfortable way of travelling.
Most safaris and tours will arrange their own transport which is included in the price of the package, these typically leave from Moshi and Arusha, but other towns may offer a restricted set of tours. Always check in advance what your package includes and what it does not especially as many of the smaller, less reputable companies will try to rip you off if they can get away with it.
Renting a Car in Tanzania
You may also want the flexibility to stop in smaller towns between the major cities. If you decide you want to rent a car in Tanzania, you can use DiscoverCars to compare offers from the major car rental agencies in the region.
Flights within Tanzania
There are many small airline companies in operation in Tanzania, and flying is often the best way to get around Tanzania due to the vast distances and lack of advanced roads. It's very common for visitors to fly into Kilimanjaro Airport, which gives you complete access to either hike Kilimanjaro, or depart for a Safari in the most famous Nature Reserves in Tanzania. Afterwards, many people choose to take a short but direct flight to Zanzibar to finish their time in Tanzania relaxing on the beach and exploring the intriguing nature in the offshore reefs.
Prices for flights in Tanzania will always be cheaper if you book them well in advance. Unfortunately, cancellations and changes are frequent occurrences with many of the airlines, so be sure to check in with the airline a couple of days before your scheduled flight.
Backpacking Tours in Tanzania
Though part of the fun of backpacking Tanzania is exploring on your own, there are situations, especially when venturing off the tourist trail, when it does make sense to go with a guide or a small group. 
The most popular option for social travel in Tanzania is Contiki tours. Contiki trips offer more than just transportation, they are organized social group travel for travelers aged 18-35. Whether you're traveling by yourself or going with a group of friends, Contiki tours are perfect for people looking to have a blast, meet new friends, and form lifelong memories. They offer tours that travel primarily in Tanzania or longer tours that cover other nearby places.
G Adventures is another great option for organized travel, but with a smaller group. It's a great choice for anyone backpacking Tanzania alone who would like to meet up with like-minded travellers. It's also a practical option for exploring places where you need an experienced guide, like a long hiking adventure or visiting a place well off the beaten path. You can choose from different styles of small group tours like active, wellness, hiking trips, 18-30somethings, and more. Their most popular trips in Tanzania are their 8-day Tanzania to Zanzibar: White Sands & the Wilderness tour, or their 7-day Mt Kilimanjaro Trek: Marangu Route tour. 
Health and Safety in Tanzania
The standard of healthcare in the main cities of Tanzania is good. Elsewhere in the country medical facilities are limited. If you intend to be on safari for any length of time you should consider paying for the East African Flying Doctors tourist membership which will allow you to call for free air evacuation should you fall ill while on safari.
As with travel to all other countries abroad, it is vital that you get travel insurance before you leave for Tanzania. Even for short trips, our go-to travel insurance provider is World Nomads, which is also recommended by Lonely Planet, HostelWorld, and other major travel companies.
Immunisation against yellow fever, cholera, polio and typhoid is recommended when visiting Tanzania, especially when planning to travel outside of urban areas. Malaria is present throughout Tanzania, and the local strains have been reported as highly resistant to chloroquine, so mefloquine is the recommended treatment to use. You should consult your local GP about all of these factors before travelling to Tanzania.
Tap water in Tanzania is generally safe, but in some areas, it is recommended that you boil or otherwise sterilise any water before use. Food, including dairy products and drink, are also considered safe to drink. Reasonable precautions should be used when purchasing food from street vendors.
Common sense is prevalent here, concealing valuables, not carrying large sums of cash and generally remaining vigilant can ensure that you are at minimal risk.
Entry visa requirements for Tanzania
EU and US nationals require a passport valid for at least 3 months from the date of arrival as well as a return ticket. In addition, EU and US nationals require a visa for the duration of their stay. You can apply for a visa online before your trip to avoid unnecessary work at the airport.
Visa requirements for Tanzania can vary widely depending on your country of origin and can change over time. To avoid any unpleasant surprises, be sure to check the latest visa requirements while you're still planning your trip.
Tanzania Hostels and Budget Accommodation
In Moshi, Arusha, and Zanzibar, you will find hotels that meet international standards. Most hotels are located in former colonial buildings and offer a broad range of amenities. You should be sure to book far in advance during peak tourist season as hotels can fill up.
We have had good experiences finding hostels in Tanzania on HostelWorld. They have the largest inventory of hostels worldwide, and with over 10 million reviews and ratings from other travellers, you know exactly what to expect.
Another good way to find accommodation in Tanzania is by checking booking.com. You'll find hotels, homestays, hostels, and other unique accommodations. They have the most reviews and advanced filtering of any accommodation-booking site, so you'll be sure to find a great place in your budget. Many of the places on booking.com also offer free cancellation, which takes the pressure off the planning phase of your trip to Tanzania.
If you are backpacking with another travel companion, we highly recommend booking a rental via VRBO. With a vacation rental in Tanzania, you'll have more space, your own kitchen, and you'll get a better feel for how the locals live. Plus, the cost of a vacation rental can be split among your group, oftentimes making it cheaper than doing individual hotel rooms. 
If you're looking to save even more money while backpacking in Tanzania, there are plenty of creative ways to get free accommodation in exchange for work. For example, one of our favorite ways to stay in amazing locations for free is by signing up as a petsitter with Trusted Housesitters. The site connects responsible animal lovers with petsitting opportunities in Tanzania and all over the world. It's a win-win for both sides – travellers can stay in amazing locations for free, and homeowners can rest easy knowing that someone is watching over their place.
And lastly, CouchSurfing is a great community that connects travellers with local hosts in Tanzania. You can stay for free with verified hosts, who will usually take some time to show you around the local spots.
Useful links for Backpacking in Tanzania
---
There you have it, the ultimate Tanzania backpacking guide. We hope you have found all the information you need for backpacking around Tanzania.
Next up:
Liked this article? Share it with others who might be after the same information!