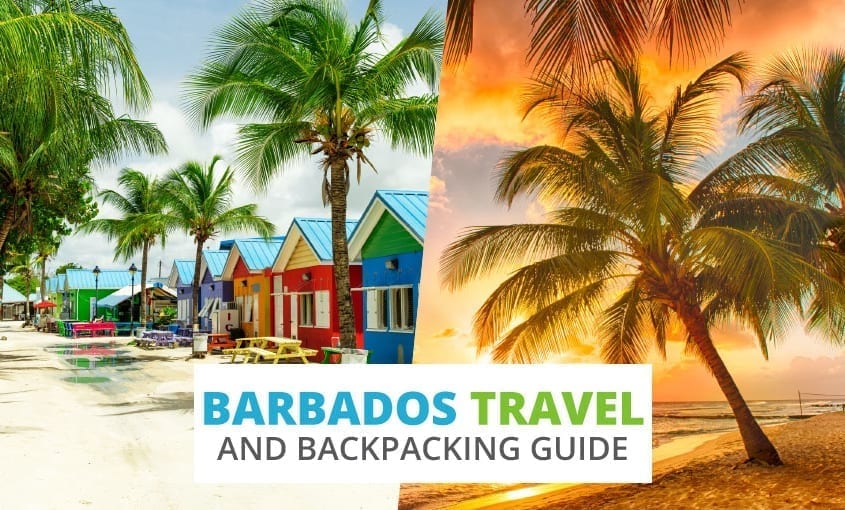 Backpacking Barbados
Looking for important travel information while backpacking in Barbados? Here you will find information on working in Barbados, entry visas, Barbados hostels, and much more.
Table of Contents
Facts About Barbados
Everyone knows about Barbados: a millionaire's playground in the Caribbean with white beaches, turquoise sea and a national obsession with cricket and rum. All true but there's much more to it than this.
As an ex-British colony, tourism and finance have long since taken over from sugar as the main money earner. It's a small, rather flat country, very different from the jagged, volcanic landscapes of nearby islands. It is also very densely populated, although you are only aware of this in the southern and western parishes near the capital Bridgetown.
It's a special island, and that's why so many people choose to go there each year. Of course, the essence of Barbados lies in its stunning Caribbean scenery and climate.
But one of the most important things that makes this such a wonderful place is the Barbadian people (Bajans). They are delightful, warm, open, funny, articulate, kind and helpful. Most have family in the UK, the US or Canada and many are now returning after 30 or 40 years living and working in London or New York. English is the official language of Barbados, and is spoken widely throughout the island.
So, go and spend time in the rum shops, where many people like to socialise. Every street corner, town or country, has one. Sit on the step. Watch the world go by and chat with your fellow drinkers while enjoying the warm breeze.
Currency – Barbadian dollar ($) (BBD)
Time – GMT -5
Language – English
Telephone Services – Country Code +1-246 Emergency numbers – Police 211, Ambulance 511 and Fire 311
Climate in Barbados
When deciding the best time to visit Barbados, the weather plays a big role. Autumn is the hurricane season and later the rainy season, but the weather is becoming less predictable than it used to be. Even in the rainy season, you might get a few hours of tropical rain and then the sun comes out and dries everything within half an hour.
The best time to visit Barbados is from Christmas to Easter. This is when the weather is at its best and when prices are highest. The summer can be cloudy, but still warm.
Things to do in Barbados
Bridgetown
Bridgetown is certainly worth at least a brief visit. It's the old colonial capital with its own parliament buildings. The shops are not great but it is worth exploring some of the back streets.
The best part is around the careenage, the wharf right in the middle of the city that was once full of wooden fishing boats but is now full of enormous white and chrome charter boats.
There are plenty of cafes and restaurants and a pleasant morning can be spent sitting in the sun watching the bustle. At night the best place is Baxter's Road, an edgy street full of small bars and fast food.
Holetown
On the west coast, you come to Holetown with shopping malls reminiscent of Florida. Four or five miles further north is Speightstown, a lovely and largely unspoiled town that used to be a small port. The place to chill out here is The Fisherman's Pub, built over the beach and next to the fish market, where you can buy your freshly caught flying fish (the national dish). Make sure you get them filleted. Inexperienced hands will reduce them to a soggy, bony mass within minutes.
Fish Fry Nights
While on the topic of fish, there are two fish-fry nights worth going to. At Six Men's Bay (a few miles north of Speightstown) on a Friday night, you can eat fresh fish and drink beer on the street. On an even bigger scale, there is the Oistin's fish-fry at the south of the island with scores of stalls, most of them cooking on open fires.
East Coast of Barbados
The one thing you must do is go to the wild and windy east coast. It's too dangerous to swim in the Atlantic swell and the main beach from Belleplaine to Bathsheba is five miles long and completely deserted. There are spectacular hills and roads to take your breath away.
The Chalky Mount pottery, perched high on a narrow strip of highland road is worth the effort. And Bathsheba itself, home to surfers, has a few cafes and hotels – the best is the Atlantis Hotel. Every Sunday they have a wonderful buffet lunch (you must book this well in advance). You sit on their balcony, cooled by the wind, looking down at the fishing boats while you tuck into the best fresh food on the island.
Unique Activities in Barbados
Since popular places in Barbados can get crowded during tourist season, it is wise to reserve tickets and activities ahead of time. GetYourGuide sells entrance tickets to museums and landmarks at face value so you can avoid the lines and save that precious time for more exploring.
Viator
is another popular travel website that helps you book things to do in Barbados. They work directly with local tour operators in Barbados, so you won't have to scour the internet or roam around town trying to find the best deal.
Barbados is also a great springboard for the rest of the Caribbean. St Lucia, St Vincent, Grenada and Dominica are just a one-hour island hop by small plane.
How to Get Cheap Flights to Barbados
The main airport is Grantley Adams (Barbados, BGI), which is 13km to the east of Bridgetown. There are frequent bus and taxi services to Bridgetown and other parts of the island.
In order to find the best flights to Barbados we recommend using a few well-known flight comparison search engines. These websites offer powerful search options, like entering flexible dates and airports in order to find the cheapest flight to Barbados.
Our go-to flight search engine is Skyscanner, which we love for its extremely flexible search options. Our favourite way to get travel inspiration is their "Everywhere" feature. Simply enter "Everywhere" as a destination, and it will then list all available flights from your departure city in order of price. This also works when entering the entire country of Barbados as your destination. Skyscanner will search all possible airports in the country in order to find the cheapest option.
Kiwi is another new favourite flight search engine among savvy travelers. Kiwi works by combining flights from different carriers in order to get the best deal. Also, if there is a better ground or ferry option for the route you're searching, Kiwi will include that in the search results. On average, we have found the cheapest flights to Barbados with them compared to the other websites out there.
As an international harbour, you can also reach Bridgetown on one of the many cruise liners that port there on a regular basis.
How to Travel Around Barbados on a Budget
Driving in Barbados
One of the joys of visiting this beautiful island is travelling around it. Car hire is easy, providing you are happy driving on the left. Because Barbados is only about 25 miles long and 15 miles wide, you can easily get everywhere in a day. The network of roads is amazing, taking you from village to village through the cane fields. There is also always a cooling breeze from the east (and the Atlantic), so exploring rarely leaves you hot and bothered.
If you decide you want to rent a car in Barbados, you can use DiscoverCars to compare offers from the major car rental agencies in the region.
Bus Travel in Barbados
The island's buses are an excellent alternative to hiring a car. Every corner of the island is on a bus route and whether you use the official Barbados Transport buses (painted in the national colours of blue and yellow) or the private enterprise minibuses, the fare is standard wherever you go.
The routes tend to centre around Bridgetown but it's a wonderful way of getting around: fast, cheap, sociable – and because you sit up high you get a much better view than from a mere car. On a private 'pick-up' you usually get a stereo pumping out a reggae beat.
Barbados Hostels and Budget Accommodation
Finding good but inexpensive accommodation is essential while backpacking Barbados on a budget.
Out of dozens of expensive hotels in Barbados, the most famous is The Sandy Lane Hotel in St James, situated by the sublime beaches and calm sea of the west coast.
However, this does not mean that these palm-fringed paradises are only for the ultra-rich. No beaches are private and there are clearly marked access points all along the coast.
But, for cheaper accommodation, the south coast is the place to go. Lots of package holidaymakers find themselves here. Moreover, unlike the west coast, there is a lively night-time scene with clubs, bars and life on the streets. St Lawrence Gap is the epicentre. You could almost be in Ibiza.
Cheaper still are the hostels and guesthouses around the island. Once again, these are to be found along the south coast.
We have had good experiences finding hostels in Barbados on HostelWorld. They have the largest inventory of hostels worldwide, and with over 10 million reviews and ratings from other travellers, you know exactly what to expect.
Another good way to find accommodation in Barbados is by checking booking.com. You'll find hotels, homestays, hostels, and other unique accommodations. They have the most reviews and advanced filtering of any accommodation-booking site, so you'll be sure to find a great place in your budget. Many of the places on booking.com also offer free cancellation, which takes the pressure off the planning phase of your trip to Barbados.
If you are backpacking with another travel companion, we highly recommend booking a rental via VRBO. With a vacation rental in Barbados, you'll have more space, your own kitchen, and you'll get a better feel for how the locals live. Plus, the cost of a vacation rental can be split among your group, oftentimes making it cheaper than doing individual hotel rooms. 
If you're looking to save even more money while backpacking in Barbados, there are plenty of creative ways to get free accommodation in exchange for work. For example, one of our favorite ways to stay in amazing locations for free is by signing up as a petsitter with Trusted Housesitters. The site connects responsible animal lovers with petsitting opportunities in Barbados and all over the world. It's a win-win for both sides – travellers can stay in amazing locations for free, and homeowners can rest easy knowing that someone is watching over their place.
And lastly, CouchSurfing is a great community that connects travellers with local hosts in Barbados. You can stay for free with verified hosts, who will usually take some time to show you around the local spots.
Entry visa requirements for Barbados
Visitors from the United Kingdom and the United States do not require a visa to enter Barbados. There is, however, a lengthy list of nationalities that must obtain a visa. This, along with further instruction, can be found on the official Barbados tourism website.
Visa requirements for Barbados can vary widely depending on your country of origin and can change over time. To avoid any unpleasant surprises, be sure to check the latest visa requirements while you're still planning your trip.
Health and Safety in Barbados
There are no stipulated health precautions to take before entering Barbados. However, insect repellent is highly recommended for a less itchy holiday.
As with travel to all other countries abroad, it is vital that you get travel insurance before you leave for Barbados. Even for short trips, our go-to travel insurance provider is World Nomads, which is also recommended by Lonely Planet, HostelWorld, and other major travel companies.
Work permits and backpacker jobs in Barbados
Barbados is a small, densely populated island, and this does not make finding employment very easy. However, the thriving tourism industry is a good place to start looking. The busier south coast is packed of resorts, hotels, bars and clubs, which makes it a good bet.
People from abroad hoping to work in Barbados will usually need a work permit. These are generally given out quite readily after a small fee has been paid. There are several companies that will be on hand to provide helpful services and generally make the process far less painless.
Useful Links for Backpacking in Barbados
Kiwi

and

Skyscanner

– Flight comparison search engines to find the cheapest flights to Barbados and within the country

DiscoverCars –

The world's leading rental car search engine to rent a car in

Barbados 

GetYourGuide

and

Viator –

a collection of local tours and things to do in Barbados. Also offers Skip the Line tickets for crowded attractions

HostelWorld – #1 hostel search website to find accommodation while backpacking Barbados. Thousands of hostels and millions of reviews from fellow travellers
Booking.com

– commonly used accommodation booking site in Barbados. Hostels, hotels, and other unique accommodation with advanced filtering and millions of reviews

World Nomads Travel Insurance

– Comprehensive travel insurance for long and short trips when backpacking

Barbados 
---
There you have it, the ultimate Barbados backpacking guide. We hope you have found all the information you need for backpacking around Barbados.
Next up:
Liked this article? Share it with others who might be after the same information!