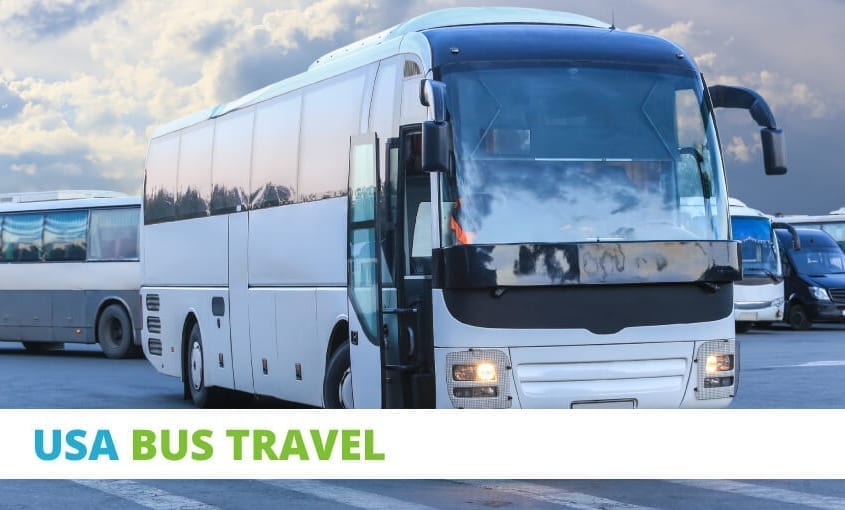 How to Travel by Bus in the USA

If you are looking for an affordable way to travel in the USA, traveling by bus might be your best option. In comparison with many other countries, the US does not have an extensive passenger rail system. For this reason, passenger buses have become the best public transit method to travel popular routes.

In discussing how to travel by bus in the USA, we will cover the largest company,

Greyhound, plus suggest some other Greyhound alternatives like Flixbus and Megabus.
Why Travel by Bus in the USA
Buses operate 24 hours a day, so many travelers opt to take sleeper buses to avoid wasting waking hours traveling. While it is certainly possible to sleep on these buses, you would probably find yourself needing a night in a real bed after a few days of sleeping on buses!
The buses make intermediate stops to pick up and let off passengers, and pull over at rest stops every few hours, including breaks at typical meal times.
Not only is bus travel in the USA an affordable way to get around the country, bus travel is the more eco-friendly option for traveling. Win-win!
Travel by Greyhound Bus in the USA
Greyhound Bus is the largest network in North America and is one of the best ways to travel by bus. The Greyhound US bus network includes 3700 locations throughout the United States, and can take you to a further 1300 in Canada. With such a large selection of destinations and an attractive range of ticketing options, Greyhound is an excellent choice for the backpacker looking to cover a large distance on a budget.
Greyhound Bus Comfort
Greyhound buses are well-equipped with all the usual modern conveniences that you come to expect when traveling in the States. Buses have climate control, so you don't have to worry about keeping cool while you are traveling around. Furthermore, buses are equipped with restrooms, reclining seats, and tinted windows. You will find that on popular routes, buses are even equipped with tv/video equipment.
Flexible Fares
Greyhound offers an impressive range of different fare and discount options, including discounts for children, students, the elderly, and military personnel. Military personnel and students with a valid ID card can save up to 10% off of fares.
You can buy online ahead of time, which will guarantee you the lowest possible fare. The online Fare types range from Economy, Economy Extra, and Flexible. The economy fare is the cheapest fare, but will cost money if you need to change your bus.
The Flexible fare costs a bit more but allows you to change your trip without any extra fees. You can always purchase your tickets directly in the terminal. 
The general tips for scoring the cheapest fares are to travel on Tuesdays and Wednesday, and to book online at least 7 days before your journey. The Greyhound website boasts that this can save you up to 30% of the ticket costs.
Greyhound Food Services
Greyhound operates its own cafeterias and gift shops at many stop-off points, and food is typical American fast food. Expect to choose from items like Pizza, Burgers, Chicken, and sandwiches. As can be expected at these locations where Greyhound has a "captive audience," prices are slightly above average rates, but using these facilities is the easiest way to get a quick bite to eat while traveling.
Per Greyhound's food policy, you will want to stock up for your trip. You can bring food and drink on the Greyhound bus with you. Remember, certain drinks and foods lend themselves better for travel. If you are traveling for an extended time, you may not want food that needs to be refrigerated. Alcoholic beverages are not permitted on Greyhound buses.
Drawbacks to Greyhound Bus
Many Americans complain that Greyhound is slow compared to traveling by train or plane, but for a backpacker who can find something to see at every major stop on the route, this isn't really a concern.
Greyhound Alternatives in the US
Greyhound has been around for the longest, but there are some newer bus companies that offer more options for anyone who wants to travel by bus in the USA. Since there are so many different companies offering bus travel in the USA, you should use the search site BusBud, which will show you options for Greyhound, Flixbus, Megabus, along with the regional bus companies.
Flixbus
Flixbus is one of the best Greyhound alternatives in the USA. They have an extensive network along popular travel routes along the West Coast and Southwest part of the USA. Flixbus USA covers popular bus routes all across the country and keep expanding every year.
They have an extensive network of bus routes in California, Arizona, and Nevada where they are the best option for traveling by bus. Flixbus has recently expanded to connect popular East Coast hubs like New York, Washington, D.C., Philadelphia, and Boston.
Their buses are comfortable and their fares are affordable, with onboard restroom facilities and Wi-Fi. Some routes even offer in-seat entertainment. Despite all these perks, Flixbus is an incredibly affordable way to travel in the USA.
Megabus
Megabus started out as a bus company on the East Coast is the local favorite for navigating between major cities like New York, Boston, and Washington, DC. They cover routes reaching more than 100 cities in the USA. Like Flixbus, their seats are large and comfortable with reclining seats and Wi-Fi onboard most buses.
RV Travel
Another alternative to bus travel is to travel by RV in the US. Especially if you're traveling with a few other people, this could be an even more economical choice since you'll be combining the costs for accommodation and transport.
You also have more flexibility with your itinerary, not to mention the ability to sleep in some of the world's most awe-inspiring national parks. We cover everything you need to know about RV travel, as well as some incredible RV road trip routes in our article How to Travel the USA with an RV.
If you're interested in renting an RV for an upcoming trip, check out RV Share. It's an online database of privately owned RV's that are available for rent, sort of like Airbnb for motorhomes and campervans.
Organized Group Travel
If you're in the USA for a backpacking trip, there are situations when it might make sense to go with a guide or a small group. For these times, one popular option among backpackers is Contiki tours. These trips are geared toward travelers 18-35, and offers more than just transportation, it's an organized social group travel, which is perfect for young solo travelers. There are Contiki tours that cover the entire United States or specific regions.
Another option for group travel is G Adventures. They hand-select local guides to ensure authenticity and quality, and their affordable tours include accommodation for a range of budgets. Going with G Adventures is especially a good option for those traveling the USA alone who would like to meet up with like-minded travelers. Their most popular road trips in the USA are their 7-day New York to Nashville road trip and their 7-day San Diego, Grand Canyon, & Las Vegas tour.
Health and Safety while Traveling by Bus in the USA
As with traveling on any public transport, make sure you keep an eye on your luggage. Thefts do happen from time to time, but taking simple precautions like making sure your luggage is stowed away properly makes this much less likely to happen to you.
You should also lock your luggage with a TSA-approved padlock. If you're concerned, we liked our experience with World Nomads travel insurance. They include accident protection as well as coverage against theft and travel interruptions.
Traveling on buses for long periods carries the same risks of Deep Vein Thrombosis as air travel. At rest stops, take the opportunity to get out and stretch your legs. If you'll be traveling for a long bus journey in the USA, it's wise to wear compression socks to prevent swelling. If you're traveling on an overnight bus, you might also want to bring a travel pillow to avoid waking up with a bad sprain in your neck.
Useful Links for Bus Travel in the USA
Read next:
Liked this article? Share it with others who might be after the same information!