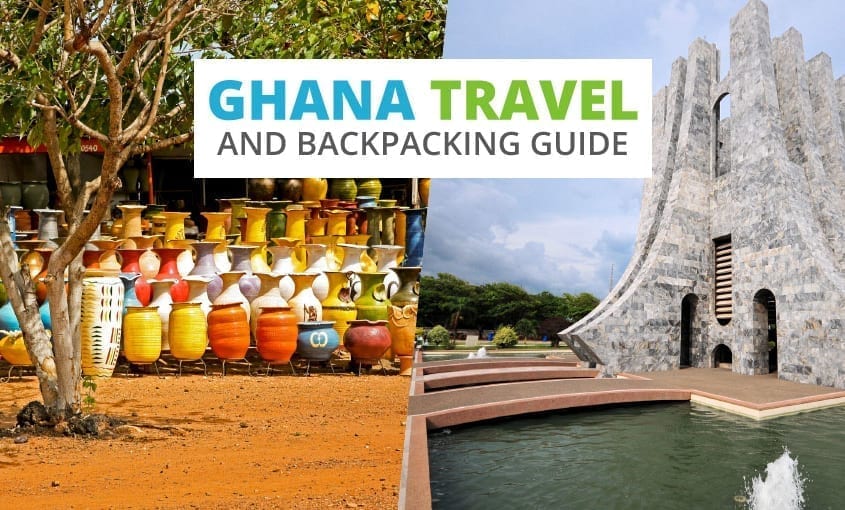 Backpacking Ghana
Looking for important travel information while backpacking in Ghana? Here you will find information on working in Ghana, entry visas, Ghana hostels, and much more.
Table of Contents
Facts About Ghana
Ghana has a strong reputation for being one of the friendliest countries in Africa, particularly in the capital Accra which is a hive of activity. The country offers the typical palm-lined tropical beaches as well as areas of rainforest and plenty of remnants of a colonial past. Combining this with a long line of traditional African craft, art and culture makes Ghana a perfect country for tourists. Once part of the historic Ashanti culture, then conquered by the British during the colonial period Ghana seems to have emerged with a national identity that has only become stronger throughout the ages.
Currency: Cedi (c) = 100 pesewas
Time Zone: GMT
Language: English
Telephone Services: Country code +233, International access code 00
Emergency Numbers: Not present, phone the embassy on 221 665
Climate in Ghana
The climate in Ghana is typically tropical; the temperatures are hot and humid especially in the north. There are four distinct seasons with the two rainy seasons occurring between March to July and September to October with the former experiencing heavier precipitation. Other months are largely dry but slight rains can be experienced throughout the year.
Things do in Ghana
When deciding the best things to do in Ghana, there is an abundance of options. Here are the top bucket-list items when backpacking Ghana.
Accra
The capital city Accra is one of Africa's most desirable destinations, the friendliness of the citizens is unparalleled making this city a perfect introduction to Africa. There are two main market places, each with a different speciality. The Kaneshie market on the west of the city sells mainly foods and spices and is a fantastic place to sample the local cuisine. On the other hand, the central Makola Market is the place to head for souvenirs particularly beads, carvings or batik. Also worth seeing is the Arts Centre, which is the home of the best craft market in the country and is also packed with street performers and other entertainers. Accra is also famous for its nightlife, it hosts numerous bars and drinking spots but its real highlight is the dance clubs which fuse western dance music with traditional African dancing and music. Accra also has several good beaches within easy reach, the most convenient is Coco beach which is only a few miles from the city.
Kumasi
The other key destination in Ghana is Kumasi, this city was once the capital of the Ashanti kingdom and is a definite cultural centre. The main draw is the National Cultural Centre which is an enormous complex chronicling every aspect of Ashanti civilization. As well as the exhibits there is a library and an exhibition hall which offer visitors the opportunity to take workshops in traditional Ashanti dance or drumming. Also of note is the Manhyia Palace which despite its name is not as grandiose as Europeans come to expect. Other attractions include the zoo and the site of the famous Anokye Sword.
Tours and activities in Ghana
Since popular places in Ghana can get crowded during tourist season, it is wise to reserve tickets and activities ahead of time. GetYourGuide sells entrance tickets to museums and landmarks at face value so you can avoid the lines and save that precious time for more exploring.
Viator is another popular travel website that helps you book things to do in Ghana. They work directly with local tour operators in Ghana, so you won't have to scour the internet or roam around town trying to find the best deal.
How to Find Cheap Flights to Ghana
In order to find the best flights to Ghana we recommend using a few well-known flight comparison search engines. These websites offer powerful search options, like entering flexible dates and airports in order to find the cheapest flight to Ghana.
Our go-to flight search engine is Skyscanner, which we love for its extremely flexible search options. Our favourite way to get travel inspiration is their "Everywhere" feature. Simply enter "Everywhere" as a destination, and it will then list all available flights from your departure city in order of price. This also works when entering the entire country of Ghana as your destination. Skyscanner will search all possible airports in the country in order to find the cheapest option.
Kiwi is another new favourite flight search engine among savvy travelers. Kiwi works by combining flights from different carriers in order to get the best deal. Also, if there is a better ground or ferry option for the route you're searching, Kiwi will include that in the search results. On average, we have found the cheapest flights to Ghana with them compared to the other websites out there.
There are some local airline companies with domestic service linking Ghana with other areas of Africa as well as with the wider world in general. Prices are obviously more expensive than overland travel but the service is useful for crossing large distances quickly perhaps as part of a longer African tour.
How to Travel Around Ghana on a Budget
Train and long-distance bus are the standard modes of transport for how to travel in Ghana on a budget. 
Train Travel in Ghana
The rail network in Ghana is quite small, it is limited to a 1000km loop connecting Accra, Takoradi and Kumasi as well as several smaller towns en route. The service is basic but efficient and trains run from each station at least twice a day. There are two classes of travel but unfortunately, neither is air-conditioned. Children under 3 travel for free and those between 3 and 11 pay only half fares.
Bus Travel in Ghana
There are state-run and private coaches available between all major towns as well as local services linking the cities to outlying villages. The standard of the state-run buses has been slipping recently so it is normally better to use a private service where possible. Fares are quite cheap but expect buses to be crowded. There are also police checkpoints on some roads so take this into account when calculating journey times.
Health and Safety in Ghana
Medical facilities exist in all major towns as well as regional capitals but treatment falls below international standards. Travel insurance is essential for any treatment and you should ideally purchase a policy which covers emergency evacuation should you require treatments which are beyond the facilities and expertise offered in Ghana.
A certificate of vaccination against yellow fever is an entry requirement for Ghana, you should contact your local GP about obtaining this vaccination. Cholera is a risk in the country although you should seek medical advice about the necessity of vaccination as current medical experts are divided on its effectiveness. Immunisation against typhoid is recommended and your GP should be able to administer this vaccination to you for around c40. There is a malaria threat throughout the country including reports of resistance to chloroquine, you should seek medical advice on the most appropriate anti-malaria treatment to take.
Tap water in the major cities is considered safe to drink but all other water sources should be treated as potentially contaminated and should be sterilised before use for any purpose. Milk is unpasteurised and should be boiled before use, dairy products should be avoided due to the high probability of having been made from improperly sterilised milk. Meat should be well cooked all of the way through and eaten hot, fruits and vegetables should be washed and where appropriate cooked or peeled before consumption.
Entry visa requirements for Ghana
All foreign visitors to Ghana require a visa valid for at least 3 months after the duration of intended stay as well as evidence of a return ticket. EU and US nationals also require a tourist visa for their stay. In theory, visas can be issued for up to 1 year but this is at the discretion of airport officials and only a 1-month stay can be guaranteed on a tourist visa. Costs vary according to nationality but for British citizens, the prices are c30 for a single entry visa, c40 for a multiple entry visa valid for six months, c60 for a multiple entry visa valid for a year and c70 for a multiple entry visa valid for 2 years. Those catching a connecting flight in Ghana can apply for a transit visa which is valid for 24 hours and costs c10. Applications should be made to the nearest Ghana Consulate or Embassy.
Ghana Hostels and Budget Accommodation

There are a few international standard hotels in Accra but elsewhere you may have to curb your desire for the height of luxury. Good quality hotels are widely available in all major urban areas, as are cheap budget hotels with very basic services. Hostels and guesthouses can be found throughout the country although they are again concentrated mainly in urban areas. The Ghana Tourism Board runs the grading system and can be contacted for more information regarding hotels in the country.
Beach huts are available in the more popular beach resort, these are generally constructed from local materials. Ghana Web can be contacted for more details on this type of accommodation. Camping is possible but it should be noted that in the game parks it can be quite dangerous and you will normally have to be accompanied by an armed guard.
We have had good experiences finding hostels on HostelWorld. They have the largest inventory of hostels worldwide, and with over 10 million reviews and ratings from other travellers, you know exactly what to expect.
Another good way to find accommodation in Ghana is by checking hotels.com and  booking.com. With both sites, you'll not only find hotels, but also homestays, hostels, and other unique accommodation. We have discovered some great finds and have appreciated the ability to book ahead. You can use their advanced filtering to narrow your results by budget, location score, overall review score, and amenities. Many of the places on booking.com also offer free cancellation, which takes the pressure off the planning phase of your trip.
Useful links for backpacking in Ghana
Ghana Web is an excellent source of tourist information
The Ghana Tourism Board dispenses official tourist information for foreign visitors to Ghana

Kiwi

,

Skyscanner

, and

Opodo

– Flight comparison search engines to find the cheapest flights to Ghana and within the country

GetYourGuide

and

Viator –

a collection of local tours and activities. Also offers Skip the Line tickets for crowded attractions

Tiqets

– Website selling entrance tickets and skip the line tickets for major attractions

G Adventures

– guided small group tours, great for solo travellers or for those interested in a more adventurous trip which would require a guide

HostelWorld

– #1 hostel search website. Thousands of hostels and millions of reviews from fellow travellers

Booking.com

– commonly used booking site. Hostels, hotels, and other unique accommodation with advanced filtering and millions of reviews

Travel Insurance

– read our comprehensive overview of Travel Insurance and some recommended providers
---
There you have it, the ultimate Ghana backpacking guide. We hope you have found all the information you need for backpacking around Ghana.
Next up:
Liked this article? Share it for others who might be after the same information!