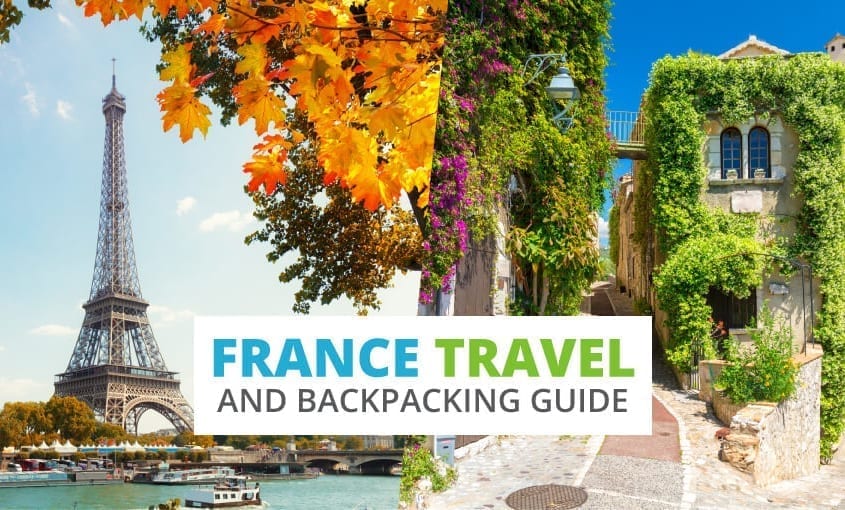 Backpacking France
Looking for important travel information while backpacking in France? Here you will find information on working in France, entry visas, France hostels, and much more.
Table of Contents
Facts About France
France draws more tourists and visitors than almost any other country. It is easy to see why this is the case, given France's reputation for fine wines, good food, high fashion and relaxed lifestyle.
Some of the highlights include the café culture found in most big cities, the celebrated Cannes Film Festival and the formidable fortress-monastery of Mont Saint Michel. Indeed, there is nothing quite like sitting in a Paris café with a glass of wine or two and watching the bustle of Paris pass you by.
The allure of such experiences, as well as sights like the Eiffel Tower, the finest in high fashion and arguably the best food in the world continually draw millions of visitors every year.
Currency: Euro (€) 1 euro
Time Zone: GMT + 1
Language: French
Telephone Services: County code +33, International access code 19
Emergency Numbers: 112 for all services
Climate in France
When deciding the best time to go to France, weather certainly plays a role. The climate in France is for the most part temperate. Winters are generally mild except for the northeast, which tends to be colder. The northwest of the country is prone to high humidity and frequent, often violent rain storms. Conversely, around mid-summer, particularly August, it can get very hot, and should be considered a bad time to travel anyway since most of the French are on holiday.
Top Things to do in France
Paris
Whether you're travelling to France, through Europe or across the world, Paris is a worthwhile stop, and it would be easy to spend weeks exploring all that Paris has to offer. There is, of course, the obligatory trip to the Eiffel Tower but there is plenty more to see and do.
Famous landmarks include the Arc de Triomphe, which spans over the tomb of the Unknown Soldier, the forbidding gothic architecture of the Notre Dame Cathedral and the picturesque Sacre Coeur. Other highlights are the Louvre, one of Europe's finest art galleries, home to Leonardo da Vinci's Mona Lisa, the Moulin Rouge, and boat tours along the Seine.
Since Paris is one of the most visited cities in the world, it is wise to book tickets to popular tourist spots ahead of time to avoid the lines. GetYourGuide and Tiqets are two websites which sell general entrance tickets and skip the line passes for major attractions throughout France so that you can save that precious time for more exploring. 'Skip the Line' tickets actually refer to a separate entrance for a higher ticket price. It can be a worthwhile cost for mega attractions like the Eiffel Tower, which can have an hour-long wait time for General Entrance during peak tourist season.
Ardeche
The Ardeche province is an excellent location to visit if you have the chance and offers some spectacular white water canoe expeditions. Some of these are long enough to last up to a few days and are really well worth the effort. Also in this area are some very spectacular caves which offer reasonably priced guided tours.
St Malo
St Malo is one of Brittany's most renowned locations. Built on the site of an old piratical port, you will find plenty to do here including the Fort de la Cite, an ex-WWII German stronghold, and the Cathedrale Saint Vincent. St Malo is also particularly noted for its beaches, which are popular even with the French themselves. If that's not enough, Mont Saint Michel, a fortified Abbey, is just a short bus trip away and could easily be seen as a day trip from a few days spent based in St Malo.
Vezelay
If you are more adventurous and want to get away from the tourist crowds, you could try visiting Vezelay. This tiny walled town is surrounded by vineyards and farmland and was used as a muster point during the Crusades. The main attraction here is the Basilique Sainte Madeleine, which was believed to have housed the relics of Mary Magdelene during the Middle Ages. Every year there is a traditional celebration where the relics are paraded around the town by the devout priests of the abbey.
Rennes-le-Château
Alternatively, there is the mysterious Rennes-le-Château. The church of this tiny town was heavily restored during the late 19th century by parish priest Sauniere. The source of Sauniere's money was, however, a mystery to all including his closest confidants. Sauniere died in 1917, leaving the secret of his wealth to his housekeeper, who promised to reveal it only on her death bed.
Unfortunately, the housekeeper died of a stroke before being able to impart her secret. In a more sinister turn, Sauniere had made a confession to his priest on his death bed that was so shocking that Sauniere was refused the last rites. Now, theories range from buried Visigoth gold to ancient treasures of the Knights Templar to explain the source of Sauniere's mysterious income.
Unique Activities in France
Another good way to get an idea of things to do in France is to scan the activities offered by Get Your Guide or Viator. They work directly with local tour operators, so you won't have to scour the internet or roam around town trying to find the best deal.
If you know your schedule ahead of time, a great insider tip is to buy tickets for major tourist attractions ahead of time. Tiqets has entrance tickets and skip the line passes for major tourist spots in France so that you can avoid the lines and save that precious time for more exploring
How to Travel Around France
If you're flying to France or plan to take short flights within the country, we recommend searching with a few different flight comparison search engines. Kiwi is a new favourite among travellers. On average, we have found the cheapest flights to France with them compared to the other websites out there.
Of course, it is always worth checking Skyscanner to guarantee you're getting the best deal. Both websites offer great flexible search options, allowing you to search the whole country of France to find the cheapest airport to fly into, and also see prices for a full month if you're flexible on travel dates.
Train vs. bus travel in France
Train and long-distance bus are the standard modes of transport for getting around the country. Buses are usually cheaper, but they are well-equipped with the usual modern conveniences that expect when travelling in Europe. Train travel, on the other hand, is the fastest way between two cities and the train stations are conveniently located right in the centre of town.
It depends on your preference, and certain routes are better suited to one mode of transport than the other. To compare your options for journeys from A to B, you can try Omio. They compare trains, buses (and even flights) so you can decide for yourself the tradeoff between cost and travel time.
Train travel in France
France is a part of the Eurail network, which is a good choice if you plan to take multiple train journeys in a short period of time. Eurail offers both Multi-Country Passes and Single Country Passes. To read more about whether individual tickets or a Eurail makes sense for your type of trip, read our Travel Europe by Train guide.
The French rail network is run by SNCF and the network is extensive and very efficient. You will find connections not just in France but also to major cities in other European countries. SNCF operates normal trains as well as TGVs, high-speed trains which reach 300km/h.
These trains are also extremely comfortable and, for French domestic travel, are on a par with flying for convenience and speed, as you don't have to go through the rigmarole of collecting baggage and checking in.
When travelling on a TGV, you will be allocated a particular seat but, on normal trains, you can just sit anywhere. However, regardless of which train you are on, you will need to validate your ticket. If you bought your ticket from the cashier at a station, they will have validated it for you.
If you have used any other method of getting your ticket though – for instance, the self-service machines – you will have to use the red validation machines before boarding the train. Your ticket needs to be validated at each connecting station you use and at the station of departure on your return journey.
Travellers under 25 years old can purchase a Carte 12-25 from the ticket counter in any station which entitles the bearer to a discount of up to 50% on rail ticket prices. You will need identification proving that you are under 25 and a passport photo when purchasing this card. The card costs about £30, so it's a good option if you are doing a reasonable amount of travel within France.
Driving in France
If you want the flexibility to stop in smaller towns between the major cities, check AutoEurope  or Europcar to compare offers from the major car rental agencies in the region. Before deciding, read more about what to expect of driving in Europe.
Backpacking Tours in France
Though part of the fun of backpacking France is exploring on your own, there are situations, especially when venturing off the tourist trail, when it does make sense to go with a guide or a small group. This is especially a good option for those travelling France alone who would like to meet up with like-minded travellers. For these times, a popular option among backpackers is G Adventures. They hand-select local guides to ensure authenticity and quality. You can choose from different styles of small group tours like active, wellness, local living, 18-30somethings, and more.
Their most popular tours in France are their Mont Blanc trekking loop, and their cycling the Loire Valley tour.
Health and Safety in France
With the proper travel insurance, you will have no trouble getting high-quality medical care in France.
There are no specific health warnings given and tap water in urban areas is considered drinkable. When staying on French campsites, be sure to use water from the drinking water tap. Holidaymakers drinking from taps designed to be used for washing clothes and the like have inadvertently given French water a bad name.
Entry Visa Requirements for France
A valid passport is required for all except EU citizens who have a valid ID card. EU or US nationals do not need a visa for a stay of up to 3 months. EU nationals do not require a visa for a stay of longer than 3 months but must obtain a carte de sejour from the local Prefecture. Up to date information will be found either on the French Consulate website, or the website for your country's embassy in France.
Work Permits and Backpacker Jobs in France
All EU nationals have the right to live and find employment in France but will need to apply for a residence permit (carte de séjour) if intending to stay longer than three months. Non-EU nationals must have arranged employment and Visas before they enter the country and need approval from the French Ministry of Labour.
Once in France, EU Nationals can obtain residence permits from the local police (gendarmerie) or town hall (mairie), and will need proof of having found a job and somewhere to live. The central place to start looking for work is the French National Employment Service (ANPE). They list any number of jobs including Agricultural Work, Au Pair opportunities, and seasonal jobs in Tourism.
Farm work in France
Occupied far and wide by vineyards, France is a good place if you are looking for outdoor casual work. Fruit pickers are needed throughout the year, not only picking grapes in vineyards, but picking apples, maize, and other local produce.
However, although the harvest may be fruitful, the same cannot always be said of the wages. Farmers may pay depending on how much you can collect, the quality and worth of produce, or the time it takes, but don't expect to be earning a great amount from this kind of work.
If the type of work is what appeals most, WWOOF is a voluntary organisation that provides work on organic farms and includes board and accommodation for a membership of €10 per year, check their website for more information.
Au Pair jobs in France
Most European countries cater extensively for those wanting to take jobs as au pairs for up to a year, sometimes longer. Expectations and duties do not vary dramatically across countries but, in France, au pairing (stagiare aide-familiale) consists of working for about five and a half hours each day, and taking a language course during the week.
As au pairs are live-in helpers, you can expect to receive free meals and accommodation from your host family. Most au pairs receive about €244 (approx. €172) per month, and those living near Paris should be provided with a Carte Orange travel pass for use on public transport. There are a number of au pair agencies for work in France, a database for which can be found courtesy of Europa Pages Au Pair Centre.
Working at Disneyland Paris and Walt Disney Studios
Disneyland is open in Paris throughout the peak tourist times and, during this period, employs more than 12,000 workers. The range of jobs available is vast, but examples include working in a restaurant or cafe, supervising rides, customer services, and even dressing up as a Disney character!
Jobs are generally available between March and October, and knowledge of at least conversational French and a third language is necessary, but it could prove a good opportunity to improve linguistic skills. Those who do find work here can expect to receive around €1,082 (€762.60) for a month's work, consisting of 35 hours per week. Check the employment section of the Disneyland website for a list of jobs available.
Campsites and adventure holidays in France
Several British and European camping agencies operate throughout France, and again most jobs can be found during the peak tourist times in the summer. Eurocamp arranges work for couriers on French as well as other European campsites.
Fluency in another European language is desirable, as the job involves welcoming and interacting with a range of visiting nationalities. Employees must be over 18 and can anticipate earnings of approximately €95 a week. Similar opportunities are available with Canvas Holidays, Club Mediterrán and Club Mar Estang.
PGL is a company that organises adventure holidays for children and centres can be found across Europe. Working for PGL as a helper or courier can earn you between €60 and €90 per week and board is provided, so you won't have to worry about finding and paying for suitable accommodation during your employment.
Working at a ski resort in France
Ski resorts offer jobs not only in peak summer months but also during the winter. Jobs in the Alps recruits workers who are EU citizens and have an A-level in French or German. Although British Ski Instructor qualifications are not accepted in France, other opportunities for employment in ski resorts exist, such as work in hotels, restaurants, and even au pairing. You are expected to work 45 hours a week with two days a week free, earning up to €500 for the pleasure of working in the French Alps.
Volunteering in France
If money is not the main motivation for finding a job in your year abroad, voluntary work is an alternative. Vast opportunities can be found in all places, but particularly in the maintenance of historical and architectural sites. Voluntary work camps (Chantiers de Travail Volontaire) provide many openings for this kind of work, and a leaflet can be obtained from the Centre d'Information et de Documentation Jeunesse (CIDJ).
Useful Links for finding jobs in France
France Hostels and Budget Accommodation
There are hundreds of hotels and youth hostels throughout France and you should have no problem finding inexpensive accommodation in whatever region of France you are in.
We have had good experiences finding hostels on HostelWorld. They have the largest inventory of hostels worldwide, and with over 10 million reviews and ratings from other travellers, you know exactly what to expect.
Another good way to find accommodation in France is booking.com. They have advanced filtering (price, location score, reviews, amenities) and allow you to search for hotels, homestays, hostels and other unique accommodation. We have discovered some great finds that would have otherwise required hours of research simply filtering by budget and review score (8+) on booking.com.
You might also check the French Youth Hostels Federation. which sometimes lists hostels not available on HostelWorld or Booking.com.
Useful Links for Backpacking in France
HostelWorld

– #1 hostel search website to find affordable accommodation while backpacking France. Thousands of hostels and millions of reviews from fellow travellers.

Omio – search engine for buses and trains in France. Online booking and mobile tickets
Camping France – A very useful searchable directory of campsites all over France.

Eurail

– Rail Passes for travelers who plan on doing lots of train travel in a short period of time. Single-Country and Multi-Country passes available

Go Camp France – All the information you need for a camping holiday in France.
Travel France Online – A Free Online Travel Resource that helps you discover and enjoy French History and Culture.
Auto Europe and Europcar – Europe's leading rental car search engines
Kiwi, Skyscanner, and Opodo – Flight comparison search engines to find the cheapest flights to France and within the country.
GetYourGuide and Viator- a collection of local tours and things to do in France. Also offers Skip the Line tickets for crowded attractions
Tiqets – Website selling entrance tickets and skip the line tickets for major tourist attractions in France
G Adventures – guided backpacking tours in France, great for solo travellers or for those interested in a more adventurous trip which would require a guide
Booking.com – commonly used booking site. Hostels, hotels, and other unique accommodation with advanced filtering and millions of reviews

Travel Insurance

– read our comprehensive overview of Travel Insurance and some recommended providers for your backpacking trip to France
---
There you have it, the ultimate France backpacking guide. We hope you have found all the information you need for backpacking around France.
Next up:
Liked this article? Share it with others who might be after the same information!