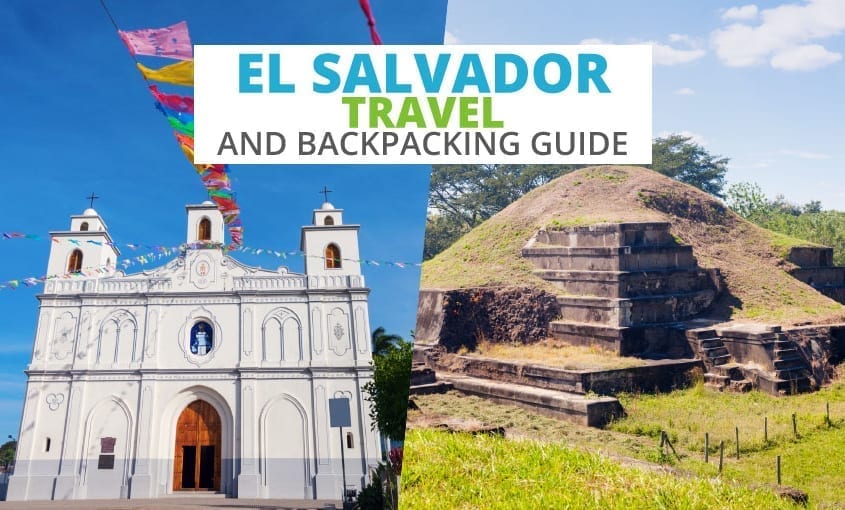 Backpacking El Salvador
Looking for important travel information while backpacking in El Salvador? Here you will find information on working in El Salvador, entry visas, El Salvador hostels, and much more.
Table of Contents
Facts About El Salvador
El Salvador has a slightly different, more unique feel to it than its neighbouring countries, making it even more of a shame that many backpackers tend to skip travelling through the country. In previous years it has earned a bad reputation for crime and supposedly has a lack of major tourist attractions, which teamed with the Civil War has often kept tourists away. But this has also meant that the country has remained relatively unmarked by other travellers, making it a haven for those who prefer to travel off the beaten track.
At only 21,040 square km, El Salvador is the smallest country in Central America yet is also the most densely populated (6.3 million). The country's vast mountain range and rich forests have made it an ideal place for hikers, with the highlands in the West and Northeast maintaining an ideal cool climate for most of the year.
El Salvador is filled with dramatic landscapes, ranging from golden beaches that are lapped by the Pacific Ocean to the blue-green lagoons which are dotted across the country. Surfers are also drawn to the area by waves which pound the Coast, and scuba divers come to take advantage of the crystal clear waters which enhance the beauty of its underwater world.
Currency – US Dollars
Time – GMT – 6 hours; no daylight saving
Language – Spanish
Telephone area code – 503
Climate in El Salvador
El Salvador is blessed with a climate that never reaches extreme highs, meaning temperatures never get unbearable. March to May are the hottest months, with December to February being the coolest. May to October is the rainy season meaning that April and November are transition months.
Rainfall is light outside of the rainy season, but hurricanes have been known to hit during the rainy season so it is advisable to avoid this time of year. A spell of continuously rainy weather, known as the 'temporal', can sometimes last throughout September, occasionally even October, therefore you may want to avoid the country at this time of year.
Things to do in El Salvador
San Salvador
Life within El Salvador is primarily focused around San Salvador, and here you will find the most evidence of traditional life. As the country is so small you can make the capital your base and do 1-2 day trips away from the city to explore the rest of the area.
San Salvador is a cosmopolitan city, where the pace of life travels at breakneck speed. Just wandering through the centre of the city will provide great entertainment and satisfy all your people-watching urges. The main plaza is called Plaza Barrios, and is home to markets of all different kinds. The Catedral Metropolitana faces the Plaza Barrios. It has undergone years of renovation due to numerous earthquakes and was finally completed in 1999. The Museo de Arte de El Salvador is home to a permanent collection of works by many of El Salvador's top painters and has visiting exhibitions from other Latin American artists.
Volcanoes
Volcanoes are a prominent feature in El Salvador's landscape. The Parque National Cerro Verde, west of San Salvador, offers spectacular views over the Izalco and Santa Ana volcanoes and the waters of the Lago de Coatepeque. In the South is a smattering of villages, the Ruta de las Flores, which offer a good base for those wanting to hike in the neighbouring volcanic range. There is accommodation here, but you will have to be your own guide, so make sure you are confident in walking on your own and take necessary precautions.
Coastline
Along the Pacific Coast, mainly based around La Libertad, you will find numerous surfing beaches; this is where many backpackers come to enjoy some beach life. The Costa del Sol could not be further removed from its Spanish namesake, and you will find some of the most glorious, golden sand beaches along this stretch. The Gulf of Fonseca is dotted with islands that you can get a boat to and explore, many of which have secluded beaches. However, this is suitable for day trips only as you cannot stay on the islands.
Tours and activities in El Salvador
Another good way to get an idea of what to do is to scan the activities offered by Get Your Guide or Viator. They work directly with local tour operators, so you won't have to scour the internet or roam around town trying to find the best deal.
How to Travel Around El Salvador
El Salvador has the most vigilant immigration officials of all the Central American countries, therefore, you should always enter the country by certified methods.
The country's international airport is 44km south of San Salvador in Comalapa. Flights are available to most Central and Latin American capitals and to major cities in the USA, Europe, South America, the Caribbean and Asia. A departure tax of around US$30 is also required when you leave.
If you're flying to El Salvador or plan to take short flights within the country, we recommend using a few different flight comparison search engines. Kiwi is a new favourite among travellers. On average, we have found the cheapest flights with them compared to the other websites out there. Of course, it is always worth checking Skyscanner to guarantee you're getting the best deal. Both websites offer great flexible search options, allowing you to search the whole country of El Salvador to find the cheapest airport to fly into, and also see prices for a full month if you're flexible on travel dates. Another flight search site that can be hit or miss but still worth checking out is Opodo. For our past few trips, it was on their site that we found the flight that we ended up booking.
Ferry crossings are also available between La Union in El Salvador to Coyolito, Amapala and San Lorenzo in Honduras, and Potosi in Nicaragua.
El Salvador has several border crossings, including one from Guatemala, which brings the Pan-American Highway into the country at Santa Ana in the West or in the northern part of the country at Anguiatu. There are also several crossings into Honduras, in the northwest at El Poy, in the northeast at Perquin, and in the east at El Amatillo.
Bus travel in El Salvador
In October 2002 rail service was suspended across the country. At present, there are no plans to reopen this mode of transport. That being said, the bus is an excellent way to get around El Salvador. Bus services around the country are good, but in order to get the most efficient service it is advisable to travel between 9 am and 3 pm and to avoid Friday and Sunday afternoons.
Bus routes all have a number, some also have a letter. The buses are all painted brightly and have numerous luggage racks making them ideal for backpacks. Most bus terminals are pretty chaotic, so make sure you hang on to all your belongings as pickpockets are rife here. Many will not have travel information posted, but you can guarantee that someone will be able to point you in the right direction. All tickets are bought on the bus once you are seated, and fares are extremely cheap, although weekend fares increase by 25%.
Driving in El Salvador
If you decide to travel by car or motorcycle make sure you always have a map with you as roads and turnoffs are often not marked, often making it tricky to find where you want to go! Petrol is not cheap so this is a more expensive way of seeing the country, although you can travel at your own pace and often see more. Remember to honk your horn before you turn a corner to alert oncoming traffic you are there. Carjacking is a problem in El Salvador and parts are frequently stolen off parked cars, so choose your parking spot carefully.
Small group adventure travel
Though part of the fun of backpacking is exploring on your own, there are situations, especially when venturing off the tourist trail, when it does make sense to go with a guide or a small group. For these times, a popular option among backpackers is G Adventures. They hand-select local guides to ensure authenticity and quality. This is especially a good option for those travelling alone who would like to meet up with like-minded travellers. Their most popular trips in El Salvador are their 17-day Volcano Trail which includes time in El Salvador, Guatemala, Honduras, and Costa Rica.
Health and Safety El Salvador
Only drink bottled water as gastroenteritic diseases are one of the most common complaints from travellers. If you spend a night on the Coast or in the East of the country take precautions against malaria. Cases of dengue fever are also increasing, so be very careful as no inoculations are available at this time.
In San Salvador Hospital de Diagnostico (Diagonal Drive Luis Vasquez 429, Tel: 226 5111) is considered one of the country's best hospitals. Hospital Diagnostico Excalon (Avenue Norte 99, near Plaza Masferrer Tel: 264 4422) is recommended by the US embassy.
You should obtain comprehensive travel and medical insurance before you travel to El Salvador, and make sure that it covers you for all the excursions you may want to take. For more information see The Foreign Office Website.
Entry visa requirements for El Salvador
To enter the country every tourist must have a valid passport. Nationals of the UK and Ireland do not need to have a visa if they are staying for 30 days or less. Canadian and American citizens need to have a tourist card, which is available at the border for around $10. Australians and New Zealanders need to obtain a visa before they visit. If you overstay the limit on your visa then you will be charged around $3-7 per month. If you know before you leave that you are going to stay in the country longer than 30 days, apply for a special tourist visa before you travel. These are available from Salvadorian embassies.
Foreigner work permits and backpacker jobs in El Salvador
If you wish to work in the country or to enter education you will need to acquire a special permit which allows you to do so. Authenticated documents will be needed for this permit, for example photographs, police good-conduct reports and certificates of good health. You can apply for these permits from Salvadorian embassies before you travel or in the country itself.
Listed below are several websites which will aid you in looking for work before and during your travels.
To work in the country you need to apply for Temporary Residence with Authorisation to Work, applications for which need to be made directly to the Immigration Department. There are certain requirements which will need to be fulfilled and documents they will need to see.
The Centro de Intercambio y Solidaridad is often looking for bi-lingual project managers and they offer Spanish classes and other cultural and volunteer opportunities.
El Salvador Hostels and Budget Accommodation
El Salvador is the most industrialised of all the Central American countries, and thus there is a large selection of business hotels in San Salvador as well as an array of higher-priced hotels throughout the country. However, this does not mean that there is a lack of cheap accommodation suitable for backpackers. Unfortunately, this cheap accommodation is often not good accommodation, so make sure you try a few places rather than settling for the first you find.
In San Salvador the cheapest and most convenient place to stay is in the Boulevard de los Heroes and its neighbouring few streets, and this is where most backpackers head to. There are a couple of hostels here, including Ximena's Guest House on Calle San Salvador 202 and La Estancia on Avenue Cortes 216 which both have dorm rooms, as well as smaller guest houses which offer private rooms, including Casa de Huespedes Santa Fe on Avenue Norte 8 and International Guest's House on Avenue Norte 9.
In Western El Salvador, Santa Ana has the largest selection of budget accommodation and Lago de Coatepeque also has a small selection of cheaper hotels. The rest of the major cities cater more for business tourists or have flashy, expensive hotels.
You will be able to find cheap accommodation almost anywhere in Northern El Salvador, although the largest selection is in La Palma and neighbouring areas.
The same goes for Eastern El Salvador, although Santa Rosa de Lima and La Union/Cutuco cater more for backpackers and have the greatest selection of cheap, affordable accommodation.
The Pacific Coast is home to the greatest array of hotels, but there is also a selection of backpacker accommodation here. Hostels and guest houses are more dotted around, but you will find a few in La Libertad, for example, La Posada Familiar on Avenue Sur. West of La Libertad surf-orientated accommodation dominates, like Horizonte Surf Camp in El Zonte. Playa El Cuco has the densest population of backpacker accommodation outside of La Libertad.
We have had good experiences finding hostels on HostelWorld. They have the largest inventory of hostels worldwide, and with over 10 million reviews and ratings from other travellers, you know exactly what to expect.
Another good way to find accommodation in El Salvador is by checking hotels.com and  booking.com. With both sites, you'll not only find hotels, but also homestays, hostels, and other unique accommodation. We have discovered some great finds and have appreciated the ability to book ahead. You can use their advanced filtering to narrow your results by budget, location score, overall review score, and amenities. Many of the places on booking.com also offer free cancellation, which takes the pressure off the planning phase of your trip.
Useful links for travel in El Salvador
---
There you have it, the ultimate El Salvador backpacking guide. We hope you have found all the information you need for backpacking around El Salvador.
Next up:
Liked this article? Share it for others who might be after the same information!