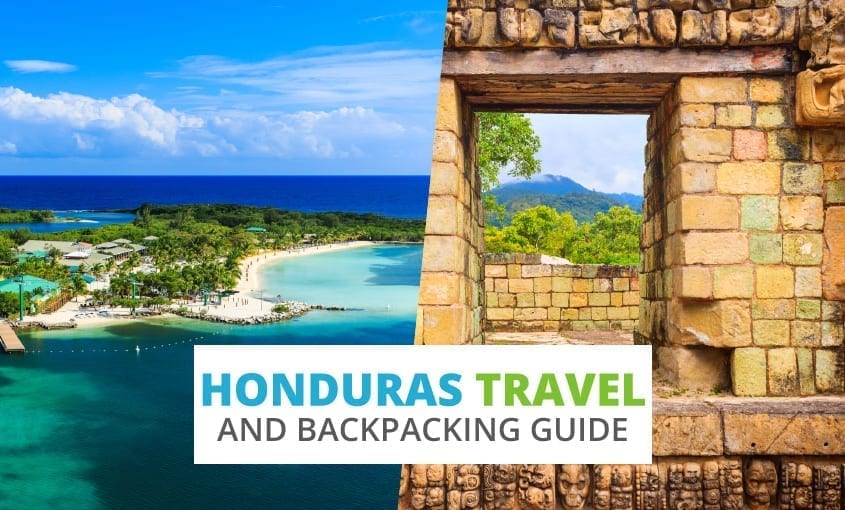 Backpacking Honduras
Looking for important travel information while backpacking around Honduras? Here you will find information on working in Honduras, entry visas, Honduras hostels, and much more.
Table of Contents

Facts About Honduras
The Democratic Republic of Honduras is the second largest country in Central America. The name "Honduras" literally means "depths" in Spanish; when the explorer Columbus found shelter in a cape from a fierce tropical storm whilst exploring the deep waters off the north-eastern coast, he is said to have exclaimed, "Thank God we have come out of those depths."
The tourism industry in Honduras is growing thanks to the enthusiastic efforts of the government. Although the country is very poor, there are many attractions: villages left by Spanish conquistadors and ancient Mayan ruins, as well as the natural beauty of beaches, coral reefs and the mountains, forests, volcanoes and wildlife of the national parks.
Currency Lempira (around 38L per UK pound/ 19L per US dollar)
Time GMT -6
Language Spanish (official) and Amerindian dialects
Telephone Services Country Code +504
Emergency numbers Police 199, Ambulance (Red Cross) 195 and Fire 198.
Climate
Honduras is bordered on the north by the Caribbean Sea, with the Pacific Ocean on the south via the Gulf of Fonseca. The country's terrain is mountainous. As a result, the climate in Honduras is highly varied; tropical in the lowlands, ranging to temperate on the higher ground, humid on the north coast and hotter and drier in the south and central areas. There are frequent but usually mild earthquakes, but the Caribbean coast is prone to hurricanes and flooding. In October 1998, Hurricane Mitch devastated the country, leaving 5,000 dead and over a million homeless.
Things to do and see
Tourism in Honduras is increasing but the country is still relatively unspoilt. Cultural attractions include the remnants of Native American civilisation in Copan, a unique settlement considered the "Athens of the Mayans". This UNESCO World Heritage site is famous for its hieroglyphic staircase, built in 743. On the eastern edge, natural erosion of the monuments by a river provides an unparalleled cross-section of Mayan history and architecture. A series of colonial towns , Santa Rosa, Corquin, Belen Gualcho, Comayagua and Gracias , provide the next instalment in the country's history.
The Bay islands are home to the second largest coral reef in the world. Bottlenose dolphins, brightly-coloured parrot fish, manta rays and the enormous whale shark can also be found in their waters. Ecotourism is becoming more and more popular, and visitors enjoy the country's natural beauty by scuba diving, trekking in the mountains and river rafting. Honduras's varied terrain includes rain forests and cloud forests (reaching almost 3,000 metres above sea level), mangrove swamps, mountain ranges and savannahs. The region is a biodiversity hotspot, with a concentration of plant and animal species. There are about 250 types of reptile and amphibian, over 700 species of bird and over 110 mammal species, half of them bats.
The Rio Platano Biosphere Reserve, known as the "last lungs of Central America", in La Mosquitia is another UNESCO World Heritage site. It is a lowland rainforest and contains a huge diversity of flora and fauna.
Festivals and celebrations are held around the year (most towns and cities have patron saints, with annual events in their honour). The carnival at La Ceiba, one of the largest celebrations, is held in the third week of May.
Travel
Tegucigalpa, Honduras's capital city, has an international airport. Within the country, planes fly to and from San Pedro Sula and La Ceiba, which offers connections to the Bay Islands and the Caribbean coast. Internationally, flights go to other Central American capital cities as well as North American and European destinations, including Heathrow and Gatwick.
By land, there are crossings to Guatemala at Agua Caliente, El Corinto and El Florido. El Amatillo and El Poy are crossing points to El Salvador, in the southwest. El Espino, Guasaule and Las Manos are crossing points to Nicaragua, in the southeast. Regular buses serve all of the crossing points but you will generally have to walk across the border and catch another bus on the other side. There is no entry or exit tax, but corrupt officials may try to charge you anyway (as the amount is generally negligible, it is usually easier simply to pay it to avoid problems).
A small passenger boat service runs twice a week from Puerto Cortes to Dangriga and Belize City in Belize. Fishing or cargo boats may take you if you offer to pay (arrange this directly with the captain).
Within the country there are regular buses to most towns, running throughout the day until late in the afternoon. Taxis are common in towns and cities but are not metered, so agree the fare before you leave. Cars can be rented in larger towns and cities, but are expensive. Be warned that other drivers often speed and drive aggressively and unsafely. Be careful when alone on the road, especially at night and on public transport.
In the Bay Islands, along the Caribbean coast and in La Mosquitia (the Mosquito Coast, near the Nicaraguan border), boats and dugout canoes can be found.
Accommodation
The capital city of Tegucigalpa has reasonable hotels. In San Pedro Sula, the country's industrial capital, standards are similar but the prices are lower. In the rest of the country, facilities (and costs) are more basic. The Instituto Hondureno de Turismo will provide you with a list of hotels. You can also find accommodation here.
Health care issues
Many hospitals in Honduras have limited facilities and are under-equipped, though adequate for most emergencies. You will need travel insurance. Before you leave, you will also need vaccinations for yellow fever (required) and hepatitis A and B, typhoid, tetanus-diphtheria, measles and chickenpox (recommended). Malaria occurs in the Bay Islands and rural areas. Dengue fever is endemic throughout.
Tap water is not safe to drink. Hotels and restaurants in the cities should use purified water for their drinks and ice. Elsewhere rely on bottled water without ice.
Contact details for hospitals in Tegucigalpa: Centro Dental D`Anzo Centro Comercial Centro America, Segundo Nivel, Local 24-B Tel: [504] 239-3328
Los Lomas Medical Center
Edificio Plaza Colprosumah, Boulevard Juan Pablo II Tel: [504] 239-3417
Honduras is one of the most violent countries in the world, with a murder rate of at least 10 times that of the US. In cities, particularly Tegucigalpa and San Pedro Sula, robbery and lower level crime is a problem. If in any doubt, err on the side of caution. Use taxis if you are out late at night and don't leave any belongings unattended.
Useful Links
The Instituto Hondureno de Turismo (Main Tourist Office of Honduras)
Col. San Carlos, Edificio Europa Tegucigalpa, Honduras Apodo. Postal No 3261 Tel: (504) 222-2124 Ext 502, 503 FAX: (504) 222-2124 Ext 501 Email: tourisminfo@iht.hn www.letsgohonduras.com UK Embassy of Honduras 115 Gloucester Place London W1U 6JT Tel: 020 7486 4880 Email: hondurasuk@lineone.net
Entry Visas for Honduras
Passports must be valid for at least six months from the day of arrival. Visas are not necessary for UK citizens (or other EU nationalities, Australian, Canadian or US). For requirements for other nationalities and more information, see here.
Buying a return ticket is advisable but not strictly necessary. Visitors may be asked by officials to prove how they plan to leave the country at the end of their stay.
Foreigner Work Permits in Honduras
Honduras is the second poorest country in the Western Hemisphere and the poorest in Central America. The economy is growing, but slowly. 50% of the population are below the poverty line and average wages are very low.
Opportunities for paid employment are consequently not easy to find. There are a growing number of language schools and looking for a job teaching English is probably the best option. Alternatively, if getting rich is not your motivation, there are a wealth of volunteer organisations operating in Honduras (the country has more Peace Corp than any other Latin American country). Many of these began work in the aftermath of Hurricane Mitch. Part of the deal may be the chance to take Spanish classes while you are there.
Official Language of Honduras
Spanish is the official language of Honduras. English is used in business and in the bigger settlements, but hardly anywhere else. Some native Amerindian languages are also spoken, but Spanish is becoming more common in these areas because the government has made it the official language of education. In some areas, Spanish and English have been combined into a pidgin language incomprehensible to either native Spanish or English speakers.
Honduras Hostels
Hostels are a cheap form of accomodation, and so they are essential to backpackers and other budget travellers. We have compiled a list of hostels in Honduras to help you plan your journey. If you are looking for a hostel in Honduras, you've come to the right place.
There you have it, the ultimate Honduras backpacking guide. We hope you have found all the information you need for backpacking around Honduras.