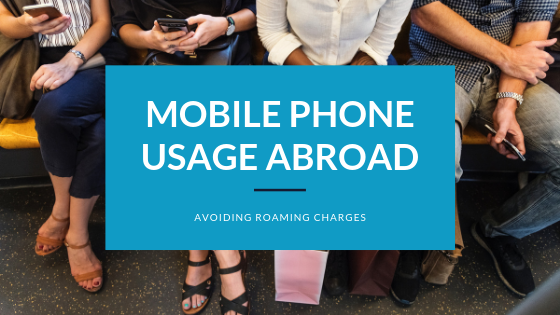 Your mobile phone can be a crucial travel companion on the road. You can use it to research your next stop, keep friends and family updated on your travels, and book lodging and transport services on the go. But do you know how to use your phone abroad without breaking the bank? Here we outline the different options and expert tips to use your mobile phone without international roaming charges.
How to avoid roaming charges while traveling
There are three different ways to use your phone abroad and avoid international roaming charges:
Buy a local SIM card to use abroad – Many airports have kiosks selling local SIM cards with short-term contracts, otherwise, you should be able to find a store in town for the local carrier. This is a great option for longer trips, or if you will be primarily using your phone abroad in one country. Note that this will only work if your phone is unlocked. 
Use a local SIM card in a spare phone and use it as a personal hotspot – If your personal smartphone is locked, you can bring a separate unlocked phone or even rent one locally to use as a hotspot for your own phone. It's like carrying around a personal WiFi beacon and doesn't require you to change your SIM card or number.
Buy an international roaming SIM card to use abroad – An international SIM card works all over the world and will allow you to use your phone abroad by connecting with the local cellular networks. This is usually more expensive than buying a SIM card to use abroad in a specific country, but it is a better option if you'll be visiting multiple countries when you're abroad. This international SIM card works in 200+ countries.
How to manage mobile phone roaming costs
In an emergency, you can always use your normal phone plan. Most carriers have partnerships worldwide, so your phone will automatically detect the local carrier. However, you have a few choices to avoid international roaming charges.
Activate an International Roaming Plan

: This is a good option if you're travelling for a short trip but plan on using your phone frequently. A typical plan costs about $10 a day to use your phone as usual while abroad. You will have to contact your carrier before your trip to activate the international roaming plan.

Pay Mobile Phone Roaming charges:

Simply enable international roaming in your settings on your phone, and your carrier will apply mobile phone roaming charges for talk, text and data. This is a good option if you will be using your phone cell sparingly, keeping it on airplane mode for the majority of the time. (Before you go into airplane mode, be sure to turn off cellular data for individual Apps! This avoids unexpected cellular data usage like a flood of new emails or Apps that run in the background.)
Each carrier has different price structures, so you will have to do a bit of research and weigh the cost differences with your intended usage.
How to make cheap roaming calls when travelling abroad
The best way to communicate with friends and family back home is with messenger apps like Skype, WhatsApp, or Facebook. These services use cellular data or Wi-Fi so you don't have to worry about international roaming charges.
If you have to dial a standard phone number, you can use the Dial pad in Skype. You'll have to either add Skype credit or sign up for a subscription, but they offer incredibly cheap roaming calls (about 2-5 cents per minute, depending on where you're calling to).
Set up Call Forwarding while travelling
While you are abroad you may be charged for incoming calls. Hopefully, people who are likely to call you will know that you are travelling abroad, but you still have some options. You can either block all incoming calls, or you can forward all incoming calls to your voicemail service which you can retrieve on your return. In either case, you'll need to get in touch with your carrier to make these changes.
Safety and security for mobile phones
Mobile phones are high targets for thieves, ensure that you keep yours hidden and out of sight wherever possible. It's a good idea to keep a record of your operator's customer service line as well as your phone's serial number and of course your mobile phone number. These will be needed to block the use of your phone should it be stolen and should be kept in a separate location from your phone.
Travel advice for mobile phone usage
Before you leave, you should program important numbers into your mobile phone, like numbers of the nearest embassy or consulate, your travel insurance companies number and your mobile phone operator's customer service number. Doing this ensures that you have all of the important numbers which you might need at your fingertips in case you encounter any problems.
Remember to take a travel adapter with you to ensure you are able to keep your phone fully charged.
Most smartphones also now have an Emergency Medical ID, which can be accessed even if your phone is locked. If you haven't done this already back home, it's definitely the time to do it before you go travelling.
Last but not least, step away from your phone! It's great to have in an emergency, but you probably went backpacking to get away from the modern routine. Instead of using a maps App, ask locals for directions. Instead of scrolling social media, soak in the sights and sounds of your trip. And remember that there's no faster way to close yourself off than to be staring at your phone. Instead, go bravely into the hostel lobby without your phone as a crutch and keep yourself open to conversation.
Useful Gadgets for Using Your Phone Abroad
---
---
Read next:
Liked this article? Share it with others who might be after the same information!