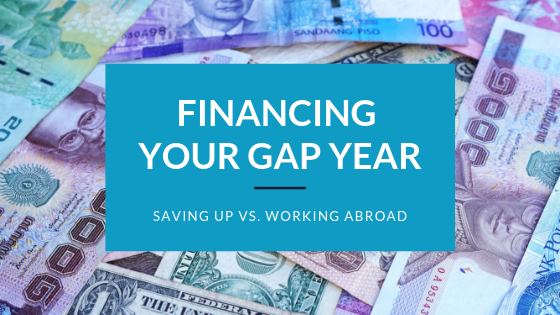 In order to make the most of a gap year, it is essential that you plan out your budget. You want to have enough money to take advantage of every opportunity once you are out there. Luckily there are many creative ways that you can pay for your gap year or sabbatical.
Planning your Gap Year Costs
It's important to have a good understanding of your budget before you go so that you can get the most out of your time abroad. Try to estimate your costs along with a plan for how you will fund your time.
Gap year costs include fees to the gap organizer, accommodation and food, and expenses for your independent travel plans.
Gap Year Program Fees
Most organizations that arrange gap year programs typically charge a fee, even if you will be working or volunteering. Costs can vary enormously. The average cost of a program which includes lodging and food is about 2000 per month. Of course, prices vary according to the length of placement, inclusions, and how far away the placement is. Some organization fees include food and accommodation, while others have a lower fee but expect you to pay your own way.
Extra Costs
Be sure to factor in other costs during your gap year:
Flights and transportation

Cost of special gear like backpacks, shoes, and travel essentials

Costs of day trips and free time activities

Extra spending money
The vast majority of gap projects will have you teaching English to children in other countries. These often require attendance at a training course, such as the internationally recognized TEFL course. Double check whether the training fee is included in the program fee.
How to Pay for your Gap Year
When deciding how to pay for your gap year there are a few different approaches. Most people try to secure their full budget by working for a few months back home to avoid worrying about earning money abroad. However, there is also the option of finding a work-travel position which includes a small salary. Lastly, there are a few scholarship organizations which grant money to people taking a gap year. Many people end up doing a combination of all three.
Work-Travel
It's possible to find work-travel gap year programs where you can earn money abroad. Maybe you want to work a seasonal job in a tourist area, or maybe you can land a contracted position in another country in your area of expertise.
Some travellers pick up side jobs while they travel for some extra income. Hostels, backpacker bars, or cafes will usually offer shift work for some extra pocket money.
Here are some more resources for finding work while traveling the world on your gap year:
Gap Year Scholarships
Some organizations offer scholarships or grants to young people looking to supplement the costs of their Gap Year. Most of these require your gap year project to be focused on social good or language learning. Here are some of the most active organizations:
Read next:
Liked this article? Share it with others who might be after the same information!