Trying to reduce the weight of your pack and wondering if you can ditch the cooking equipment? As any seasoned backpacker will tell you, every ounce counts! Although some people love the ritual of cooking a meal at the end of the day, our recipes guarantee you won't miss out on any comfort when backpacking without a stove. The secret is using the cold soak method to rehydrate dry ingredients. Here's a list of stoveless backpacking meals that will help you feel as if you're 'cooking' on the trail – without the added weight of extra cooking gear.
DIY Backpacking Meals Using the Cold Soak Method
Cold soaking is the process of rehydrating food using nothing but, you guessed it, cold water. The critical difference is that the rehydration process takes more time without heat. So before you start each day, you'll learn to mix the dry ingredients for your lunch or dinner with cold water and carry it in a container so that it's ready to go by mealtime.
An ultralight backpacking pro-tip is to prepare the dry ingredients for each cold soak recipe in individual plastic bags before you start your trip. Because there is no risk of the boiling water warping the lightweight bags, you can cold soak your DIY backpacking meals directly in each pre-measured bag. This saves time on the trail and reduces the weight of extra food packaging.
Cold Soak Staple Ingredients
The following ingredients serve as the building blocks of all cold-soak backpacking meals. You can follow our recipes when you're first getting started, but over time you'll likely come up with some specialties of your own. You can find most of these ingredients in grocery stores or camping supply shops, but we've linked to more specialized ingredients that can be found on Amazon.
Cold Soak Breakfast Recipes
A standard cold soak breakfast starts with oatmeal or muesli. These nutrient-dense staples are a part of every hiker's menu because they provide sustained energy. And there's something so comforting about starting your day with a nice bowl of oatmeal porridge! Mix everything the night before so that it's ready to go by breakfast.
Mix and Match Oatmeal
¼ cup rolled oats

1 TBS powdered milk

⅓ cup dried fruit

Add cereal or granola after cold soaking
Overnight Oats
¼ cup steel oats

14 banana chips

⅓ cup dried cranberries or raisins

3 tsp cacao nibs

1 scoop powdered soy milk
Muesli Coconut Power Breakfast
¼ cup nut/seed muesli

⅓ cup dried fruit

1 TBS shredded coconut

1 tsp coconut milk powder

1 scoop protein powder
Cold Soak Couscous Recipes
Pearl couscous is a staple ingredient for cold soak backpacking meals because it rehydrates easily, even with cold water. The combinations are endless with couscous, so feel free to get creative! It's a great base for a vegetarian meal, or you can throw in some dehydrated meat. Here are a few cold soak couscous recipes to get you started:
Salmon and Couscous
2.5 oz. pearl couscous

1 tsp garlic powder

1 packet mayo
Vegan Curry Couscous
2.5 oz pearl couscous

.1 oz curry powder

.1 oz garlic powder
Instant Potato DIY Backpacking Meals
Some would argue that instant mashed potatoes are almost indistinguishable from the real thing! Mashed potatoes are a traditional comfort food and can be mixed with a variety of ingredients. We found this recipe for Thanksgiving Dinner in a Cup a few years ago, and it's one of the meals we look forward to on the trail. It's crave-worthy!
Thanksgiving Dinner in a Cup
Creamy Mashed Potatoes
Instant mashed potatoes

Add mayonnaise for max calories and creaminess

Garlic powder to taste

S&P to taste

Optional: shredded Parmesan cheese or nutritional yeast
Ramen Noodle Cold Soak Recipes
Ramen noodles: the staple of college students and seasoned backpackers. The noodles rehydrate easily and make the perfect foundation for a filling meal at the end of a long day. Over the years, the backpacking community has created some delicious cold soak meals which elevate basic ramen noodles to the next level.
Ramen Noodle Pad Thai
Pesto Noodles
Ramen noodles without seasoning packet

.8 oz sun-dried tomatoes

.1 oz garlic powder

lots of dried basil

.1 oz Parmesan cheese
Noodles & Peanut Sauce
Ramen noodles without seasoning packet

.7 oz crushed peanuts

1 TBS peanut butter powder

.2 oz soy sauce

.3 oz honey

.03 oz garlic
Cold Soak Recipes with Dehydrated Beans or Lentils
A great source of protein, dehydrated beans and lentils make an ideal base for stoveless backpacking meals. And you can add lots of spices to beans, which means that your DIY backpacking meals will be anything but bland. Make sure you are buying dehydrated beans or lentils that have been precooked, not just raw dry beans or lentils. 
Taco Casserole
Instant rice

Taco seasoning

Tortilla chips
Vegan Curry Lentils
Curry powder

Dehydrated veggies
Instant Rice Stoveless Backpacking Meals
Instant rice is another great base for delicious meals without a stove. Again, the possibilities are endless, but here are some classic cold soak recipes from the backpacking community:
Cheesy Broccoli Rice
Instant rice

Cheese powder

Dehydrated broccoli
Frito Pie
1.5 oz minute rice

.2 oz taco seasoning

1 oz Fritos

1 oz extra sharp cheddar
Rice Curry
Instant rice

Curry powder

Dehydrated veggies
Using Grits for Stoveless Backpacking Meals
Grits belong on any meal plan for backpacking without a stove. They can be used in a breakfast mix or as the foundation in this creamy polenta recipe:
Polenta & Peppers
2.5 oz grits

0.75 oz dehydrated peppers

0.5 oz tomato powder

0.1 oz garlic powder
Tortilla Wraps – Ideal for a Backpacking Lunch
Super versatile, nutrient-dense, and lightweight, a pack of tortillas is a great base for many types of DIY backpacking meals.
Veggie and Hummus Tortilla
You can use raw veggies and real hummus, or you can cold-soak dehydrated veggies and hummus powder.
Tortilla with sliced meat and cheese
Feel free to use sliced meat and cheese, or you can cold soak dehydrated meat for an ultralight backpacking meal
Tortilla with peanut butter, banana, dried fruit, cinnamon
To keep it lightweight, bring dried fruit, banana chips, and powdered peanut butter that you can cold soak during the day.
High-Nutrition Snacks for Stoveless Backpackers
Having lots of options for a snack on the go will keep you satiated so that stopping to eat isn't a big demand on your time.
Dried fruit that has been cold soaked – having juicy pineapple on the trail is so refreshing

Nuts

Bars

Dried fruits

Chips

Chocolate

Beef jerky
Pre-Trip Prep: Cold Soak Essential Gear
While backpacking without a stove will reduce the gear that you carry on your back, there is some important gear that will come in handy during the planning phase of your trip.
Sample Pack of Dehydrated Veggies
If you're interested in making DIY backpacking meals and prefer to experiment with a variety of dehydrated ingredients, a great starting point is to get a sampler kit with various ingredients. You can mix and match ingredients to create your own meals, or just add a scoop of healthy veggies to a pre-made freeze-dried meal. This food sampler from Harmony House includes a variety of beans, dehydrated veggies, and meatless options for vegetarian meals. The pack comes with easy-to-follow recipes and allows you to incorporate a variety of different ingredients in your backpacking menu.
Another option is this freeze-dried fruit and veggie kit that comes with freeze-dried strawberries, bananas, peas, broccoli, and corn. There are 120 servings in the kit, and you just need to add water to rehydrate. 
Food Dehydrator
Most of the dry ingredients required for these cold soak meals can be found at camping supply stores. However, specialized dehydrated ingredients can be pricey. Investing in a low-cost dehydrator will help you save money in the long run and will allow you to get creative with your ingredients and DIY backpacking meals. This food dehydrator comes highly recommended by fellow backpackers and can be found on Amazon for around $50. Or if you know you'll be relying on dehydrated backpacking meals and want to get a more robust machine, this food dehydrator from Cosori comes highly recommended.

Low-Cost Dehydrator – Available on Amazon
Premium Food Dehydrator – Available on Amazon
Digital Scale
Anyone focused on ultralight backpacking is obsessive about the weight of everything in their pack. This also applies to every ingredient in their food supply, which is why recipes for most DIY backpacking meals give measurements in ounces. Instead of doing all the work to convert ounces to standard kitchen measuring volumes, do yourself a favor and invest in a cheap digital kitchen scale. We have this scale which is under $15.

Not ready to give up the heat?
For some, cooking on the trail is part of the joy of backpacking. The recipes above are all possible to make with hot water – if you have a lightweight stove with you, you can just heat the water and mix once you've set up camp for the night. 
This lightweight backpacking stove is under $20 and is popular among the Ultralight Backpacker community. It's compact and weighs just .96 ounces (25 grams), but don't forget to factor in the weight of fuel and a cooking vessel.

---
Do you have any tried and true backpacking meals? Add them in the comments! And be sure to check out our other blog posts for more gear recommendations.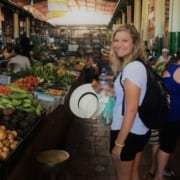 Monica is an avid traveler and backpacker who seeks to inspire others to embark on great adventures off the beaten path. Originally from California, she has travelled to over 60 countries, most of which she explored while backpacking or camping.
https://www.the-backpacking-site.com/wp-content/uploads/2021/01/adventure-5062314_1280.jpg
720
1280
Monica Woerner
https://www.the-backpacking-site.com/wp-content/uploads/2018/08/the-backpacking-site-1.png
Monica Woerner
2023-03-12 12:34:51
2023-03-20 23:29:48
Stoveless Backpacking Meals - 20+ Cold Soak Recipes