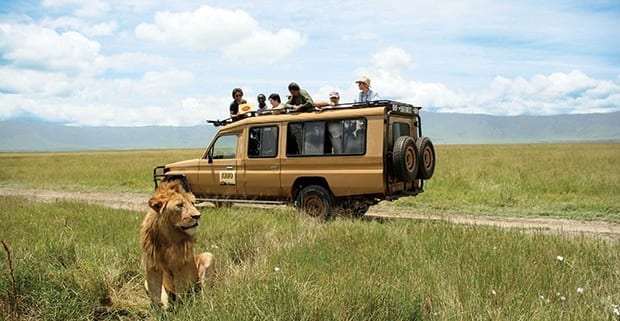 We recently returned from 3 weeks in Tanzania where we took a 5-day driving safari. We went with Lion King Adventures on the mid-range private Safari, and thought it was a great value for the money and a wonderful experience.
One of the coolest parts was sleeping in the Serengeti national park for 2 nights. It was an incredible experience to watch a lion walk through camp, and to hear hyenas, buffalo, and zebras just outside our tents during the night.
One of the most difficult parts of preparing for the trip to Tanzania was figuring out my safari packing list. Since I struggled, I wanted to share the final safari packing list for those of you who might make this trip in the future.
This safari packing list has been field-tested during our trip to Tanzania! Once we were actually on safari, there are things I initially thought would be essential which turned out not to be necessary. I also realized that there were a few essential items that should have made it into my suitcase.
So without further ado, here is my 5-day safari packing list:
Safari Clothing Packing List for a 5-day Safari in Tanzania
Neutral Color Shirts
3-4 lightweight but long-sleeved tops in a neutral, earth-tone color. Olive, gray, and khaki are recommended since they won't disturb the animals as you're touring around. Just be sure to avoid dark blue or black since these attract the tsetse flies! White is fine and won't distract the animals, but it will get dirty. Even in the hot season, you will want long sleeves to protect against the sun, just be sure to get light-weight fabric.
Comfortable Pants
2-3 comfortable pants for Safari days. Color is less important since you'll be in the jeep the whole time and your bottom half will be hidden. However, safaris involve hours upon hours of driving, so the important thing is that you are comfortable!
Outerwear
Neutral color bandana or Buff to block the dust
A wind and rainproof jacket
If traveling in the colder season, add a fleece, a warm hat, and thick socks. The evenings can get chilly!
Sun Protection
A brimmed hat to protect your face and neck from the strong sun. Be sure it has a drawstring so that it doesn't fly away when the jeep takes off!
Polarized sunglasses. The Tanzanian sun is brutal and polarized lenses are a must!
Lip balm with SPF. Between the wind and sun, our lips got really chapped. We would have loved to have had soothing SPF lip balm with us!
Shoes
A pair of comfortable shoes that you don't mind getting dirty. You won't be doing much walking on a typical driving safari, but you might encounter muddy paths to/from your accommodation.
Rubber shower sandals
Comfortable Clothes for the Evenings
Your safari packing list should include a couple of sets of comfortable clothes for the evenings in your accommodation. Don't worry about looks, even in the luxury encampments it's comfort over fashion!
Don't forget undies, socks, and pajamas
Medication and Toiletries to bring on Safari in Tanzania
Hand sanitizer
Ibuprofen
Anti-diarrhea meds like Immodium
Sunscreen
Shampoo, conditioner, shower gel. Some accommodations provide this, but you may want your own set
Insect repellent with DEET. Don't leave home without it!
Electronics and Accessories Safari Packing List
We didn't have a fancy zoom-lens camera, but were able to take some pretty epic shots by aiming our smartphones through the binoculars! Our safari company provided us with binoculars upon request, but I would have liked to have our own high-quality set beforehand. It would have been such a different experience without the binoculars! Even when the animals are close up, we loved watching them through the lens. We could see the whites of their eyes and every facial expression. Mesmerizing. If you can, get a pair of binoculars that has a smartphone attachment, it would have saved us lots of hassle trying to align the smartphone camera perfectly with the binoculars.
---
We were happy to have a source of light aside from our phones in the camps at night. A headlamp is convenient and allows you to go hands-free in case you have to carry any of your belongings.
---
If you're skilled in photography, don't forget your point and shoot camera. It's also worth taking an outdoor or wildlife photography refresher course to make sure you will get the best pictures on this once in a lifetime experience! If you're bringing a nice camera, don't forget to take an extra SD Card. You will be taking tons of photos and it's a good idea to have a backup.
---
Other Small Electronics
Charging cables. The jeeps have charging stations in them so that you can charge while you drive.
Extra power bank for your phone. Just in case.
A travel adapter for your electronics. Kenya, Botswana, Zambia, and Tanzania have the same plugs as the UK. If you're going on Safari in South Africa, they have their own plug styles which are hard to find before you go. But you'll be able to find cheap adapters once you arrive.
Luggage for your Safari
Our safari company in Tanzania requested that we bring a soft duffle bag, and most companies will do the same. A large backpacking backpack will work. They just want to make sure they can easily stash everyone's luggage in the jeeps. It's best to leave breakable items behind, but if you must take anything fragile with you, be sure to wrap it in its own protective case.
---
As you can see, even though it's safari in Tanzania is the adventure of a lifetime, it's a pretty basic packing list! Don't worry about going on a shopping spree for a head-to-toe khaki ensemble. The basic idea is to stick to solid colors that appear in nature. Enjoy your safari!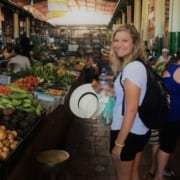 Monica is an avid traveler and backpacker who seeks to inspire others to embark on great adventures off the beaten path. Originally from California, she has travelled to over 60 countries, most of which she explored while backpacking or camping.
https://www.the-backpacking-site.com/wp-content/uploads/2019/12/Safari_lion_photo.jpg
349
620
Monica Woerner
https://www.the-backpacking-site.com/wp-content/uploads/2018/08/the-backpacking-site-1.png
Monica Woerner
2019-12-06 14:02:45
2022-03-12 15:08:16
My Field-Tested Packing List for a Safari in Tanzania