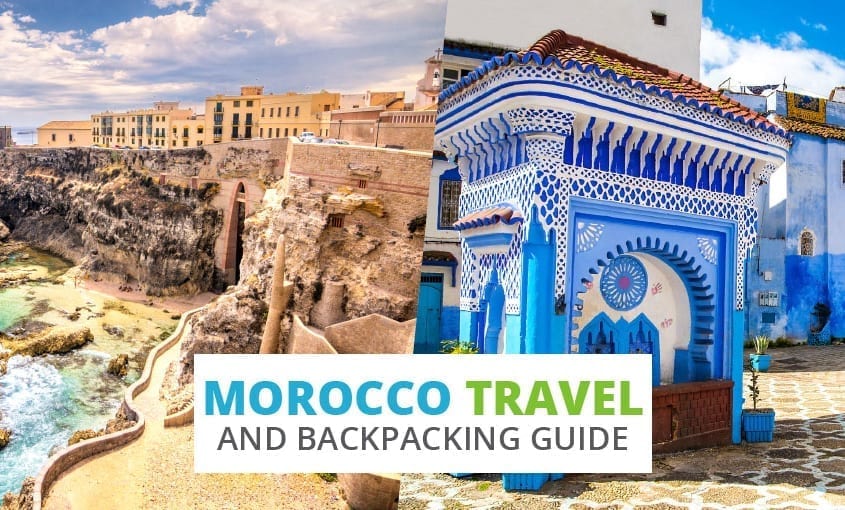 Backpacking Morocco
Looking for important travel information while backpacking in Morocco? Here you will find information on working in Morocco, entry visas, Morocco hostels, and much more.
Table of Contents
Facts About Morocco
Morocco is a good introduction to Africa for those just starting to explore the continents riches. Travellers will no doubt be familiar with the names of the countries exotic cities such as Marrakech, Tangier and Casablanca.
The whole country is an intoxicating introduction to the Islamic world with abundant open markets selling everything from jewellery and woodwork to rugs and of course the country's world-famous leather. There are also numerous sun-kissed beaches, the ancient medieval building in Fes and even the snow-capped Atlas mountains to keep travellers busy.
Currency: Moroccan Dirham (DH) = 100 Centimes
Time Zone: GMT
Language: Arabic
Telephone Services: Country code +212, International Access Code 00
Emergency Numbers: 12 Police, 15 Fire and Ambulance
Climate in Morocco
When deciding the best time to visit Morocco, weather certainly plays a large role. The climate throughout the country is hot and dry but does have some regional variations. The coastal area most closely resembles a Mediterranean climate with inland areas being hotter and drier. Rain falls almost exclusively in November to March and is most prevalent in the coastal areas. Throughout the country, the winters are hot but with cool nights.
Things to do in Morocco
Tangier
Tangier is a popular port of arrival for tourists taking a ferry crossing from Spain or perhaps Gibraltar. The city is the country's most cosmopolitan town and this shows in the tri-lingual street signs throughout the city.
The most famous region is undoubtedly the Kasbah which contains the Dar el-Makhzen. This 17th-century structure was once a palace but has now been converted into a fascinating museum. The Grand Socco is an excellent market which is not to be missed by those seeking good souvenirs. Other sites of interest include the Mendoubia Gardens, the Moulay Isamil Mosque and the American Legation Museum.
Fes
Fes is the oldest of Morocco's four imperial cities and is easily reachable by train from Marrakech or Tangier. This historic city contains some of Morocco's oldest surviving buildings. The old city is centred around the Al-Qarawiyin and Al-Andulus mosques and is dominated by the towering theological college of Medersa Bou Inania.
Fes has in the past been a centre of culture and learning, a fact which is demonstrated by its Karaouine University which was founded even before Oxford. Those who want possibly the finest haggling experience in the world should head to the UNESCO recognised market in Fes El Bali which is reputedly one of the largest markets in the world. Other sites of interest include the Dar Bath Museum, numerous mosques and the Royal Palace.
Marrakech
The Pink City of Marrakech was once the capital of an enormous African Empire. The city was founded in 1062 and gains its nickname from the colour of earth used in its construction. The epicentre of this lively and colourful city is the ironically named Djemaa el-Fna or Place of the Dead.
The Djemaa is, in fact, a square which after dark hosts throngs of street entertainers including storytellers, acrobats, fortune-tellers and dancers. The most notable building is the enormous 12th century Koutoubia mosque which dwarfs the surrounding buildings. The Ben Youssef Medersa is a UNESCO heritage site partly for its unique theological significance but mostly for its spectacular mosaics and marble work.
Other sites of interest include the Saadian tombs, the Dar Sisaid Museum and the Koubba Ba'adiyn mosque.
Unique Activities in Morocco
Since popular places in Morocco can get crowded during tourist season, it is wise to reserve tickets and activities ahead of time. GetYourGuide sells entrance tickets to museums and landmarks at face value so you can avoid the lines and save that precious time for more exploring.
Viator is another popular travel website that helps you book things to do in Morocco. They work directly with local tour operators in Morocco, so you won't have to scour the internet or roam around town trying to find the best deal.
How to Find Cheap Flights to Morocco
In order to find the best flights to Morocco we recommend using a few well-known flight comparison search engines. These websites offer powerful search options, like entering flexible dates and airports in order to find the cheapest flight to Morocco.
Our go-to flight search engine is Skyscanner, which we love for its extremely flexible search options. Our favourite way to get travel inspiration is their "Everywhere" feature. Simply enter "Everywhere" as a destination, and it will then list all available flights from your departure city in order of price. This also works when entering the entire country of Morocco as your destination. Skyscanner will search all possible airports in the country in order to find the cheapest option.
Kiwi is another new favourite flight search engine among savvy travelers. Kiwi works by combining flights from different carriers in order to get the best deal. Also, if there is a better ground or ferry option for the route you're searching, Kiwi will include that in the search results. On average, we have found the cheapest flights to Morocco with them compared to the other websites out there.
How to Travel Around Morocco on a Budget
Train and long-distance bus are the standard modes of transport for how to travel in Morocco on a budget. Buses are the more economical option, but train travel is the fastest way between cities in Morocco.
Train Travel in Morocco
The Office National des Chemins de Fer operate the Moroccan rail network. The standard of service is quite reasonable and fares tend to be quite cheap. Major routes have the addition of a first-class carriage and sleeping and restaurant cars are provided on most major services. A supplement is required for an air-conditioned carriage but due to the low prices, this isn't a problem at all.
Bus Travel in Morocco
There is a wide range of intercity coach and bus services linking all of the main towns. These are run by a wide variety of private companies but one of the most reputable is CTM. Fares are normally ludicrously cheap although tipping the guard and the driver is somewhat expected.
Driving in Morocco
You may also want the flexibility to stop in smaller towns between the major cities. If you decide you want to rent a car in Morocco, you can use DiscoverCars to compare offers from the major car rental agencies in the region.
Ferries in Morocco
Ferries are commonly used to travel around Morocco since it's made up of hundreds of miles of coastline and a multitude of islands. 
Ferries link several offshore islands with major coastal towns and ports. They have different daily schedules depending on the season. Ferry Scanner provides further information and the schedules for the local ferries in Morocco.
Backpacking Tours in Morocco
Though part of the fun of backpacking Morocco is exploring on your own, there are situations, especially when venturing off the tourist trail, when it does make sense to go with a guide or a small group. 
The most popular option for social travel in Morocco is Contiki tours. Contiki trips offer more than just transportation, they are organized social group travel for travelers aged 18-35. Whether you're traveling by yourself or going with a group of friends, Contiki tours are perfect for people looking to have a blast, meet new friends, and form lifelong memories. They offer tours that travel primarily in Morocco or longer tours that cover other nearby places.
G Adventures is another great option for organized travel, but with a smaller group. It's a great choice for anyone backpacking Morocco alone who would like to meet up with like-minded travellers. It's also a practical option for exploring places where you need an experienced guide, like a long hiking adventure or visiting a place well off the beaten path. You can choose from different styles of small group tours like active, wellness, hiking trips, 18-30somethings, and more. Their most popular trips in Morocco are their 8-day Moroccan Desert Adventure, or their 15-day National Geographic Morocco: Sahara & Beyond.
Health and Safety in Morocco
There are good well-equipped hospitals in all of the main cities and the Government Hospitals will often provide free or cheap emergency care. Be aware however that you may be expected to pay for treatment and therefore you should have fully comprehensive medical insurance including cover for repatriation costs.
It is recommended to be vaccinated against polio and typhoid before travelling to Morocco. These vaccinations can be provided by your local GP and generally cost around DH40. There is a minimal risk of malaria during the spring and summer, mainly in rural areas, although only the benign vivax form has been reported it is recommended that you seek up to date medical advice from your GP on whether you need any malaria treatments.
The tap water in main cities is safe to drink but it is recommended that tourists stick to bottled water for the first week or so of their stay. Outside main settlements water should not be considered safe and should be sterilised before use. Milk is unpasteurised and this should be avoided along with dairy products. Meat should be well cooked and served hot and fruit and vegetables should be peeled and cooked respectively.
Due to a series of terrorist attacks targeting soft targets including hotels known to be frequented by foreigners, the FCO recommends that travellers in this region maintain a high level of vigilance in public places and avoid public gathering, particularly political gatherings.
The disputed Western Sahara is still prone to armed clashes between Moroccan authorities and the Polisano Front; the roads in this region are also mined. For this reason, it is recommended that travellers avoid the Western Sahara altogether.
Entry Visa Requirements for Morocco
All visitors to Morocco must have a valid passport for the duration of their stay and also valid for at least 6 months from the date of entry in addition to proof of a return ticket. Visas are not required by US and EU nationals except nationals of Andorra, Hungary, Iceland, Malta and Switzerland who do require visas.
Eligible US and EU nationals may stay without a visa for up to 3 months. Entry visas are valid for 3 months and if you who wish to stay longer then you should apply to the local police station within 15 days of arrival. For any other visa enquiries, you should contact the Embassy.
Visa requirements for Morocco can vary widely depending on your country of origin and can change over time. To avoid any unpleasant surprises, be sure to check the latest visa requirements while you're still planning your trip.
Morocco Hostels & Budget Accommodation
Morocco has a very healthy tourist trade so there are plenty of hotels in and around all of the major cities and tourist hotspots. Hotels are regulated by the Federation Nationale de l'Industrie Hoteliere and standards range from basic budget accommodation to international class hotels in places like Tangier.
There are youth hostels in the major cities including Casablanca, Fes and Rabat but hostelling provision outside major populated areas is quite minimal. For more information contact the Federation Royale Marocaine des Auberges de Jeunes (see useful addresses section).
We have had good experiences finding hostels in Morocco on HostelWorld. They have the largest inventory of hostels worldwide, and with over 10 million reviews and ratings from other travellers, you know exactly what to expect.
Another good way to find accommodation in Morocco is by checking booking.com. You'll find hotels, homestays, hostels, and other unique accommodations. They have the most reviews and advanced filtering of any accommodation-booking site, so you'll be sure to find a great place in your budget. Many of the places on booking.com also offer free cancellation, which takes the pressure off the planning phase of your trip to Morocco.
If you are backpacking with another travel companion, we highly recommend booking a rental via VRBO. With a vacation rental in Morocco, you'll have more space, your own kitchen, and you'll get a better feel for how the locals live. Plus, the cost of a vacation rental can be split among your group, oftentimes making it cheaper than doing individual hotel rooms. 
If you're looking to save even more money while backpacking in Morocco, there are plenty of creative ways to get free accommodation in exchange for work. For example, one of our favorite ways to stay in amazing locations for free is by signing up as a petsitter with Trusted Housesitters. The site connects responsible animal lovers with petsitting opportunities in Morocco and all over the world. It's a win-win for both sides – travellers can stay in amazing locations for free, and homeowners can rest easy knowing that someone is watching over their place.
And lastly, CouchSurfing is a great community that connects travellers with local hosts in Morocco. You can stay for free with verified hosts, who will usually take some time to show you around the local spots.
Useful links for Backpacking in Morocco
Office National des Chemins de Fer operate the Moroccan rail network
GAdventures

– guided small group tours in

Morocco

, great for solo travellers or for those interested in a more adventurous trip which would require a guide

DiscoverCars –

The world's leading rental car search engine to rent a car in

Morocco 

Kiwi

and

Skyscanner

– Flight comparison search engines to find the cheapest flights to

Morocco

and within the country

GetYourGuide

and

Viator

–

a collection of local tours and activities in

Morocco

. Also offers Skip the Line tickets for crowded attractions

HostelWorld – #1 hostel search website to find accommodation while backpacking Morocco. Thousands of hostels and millions of reviews from fellow travellers
Booking.com

– commonly used booking site for accommodation in

Morocco

. Find hostels, hotels, and other unique accommodations in

Morocco

with advanced filtering and millions of reviews

World Nomads Travel Insurance – Comprehensive travel insurance for long and short trips when backpacking

Morocco
---
There you have it, the ultimate Morocco backpacking guide. We hope you have found all the information you need for backpacking around Morocco.
Next up:
Liked this article? Share it with others who might be after the same information!