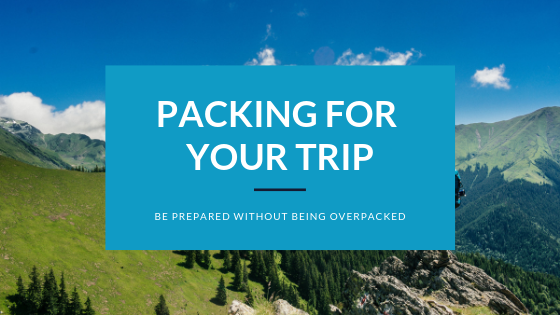 Backpacking is an increasingly popular way to travel. Not only does it allow for a flexible itinerary, but it also keeps your costs down by staying in hostels and travelling with local modes of transport. Before you embark on your trip, you may have questions like 'What should I wear on my trip?' 'What size backpack should I take?' and even 'How many pairs of underwear do I need to bring?' This section is all about tips to make sure you are prepared, but not over-packed.
How to Pack for a Backpacking Trip
It is essential to pack as lightly as possible– your backpack will be carried with you everywhere, having a large bulky pack can hamper you boarding buses and trains, and will also tire you out to carry around all day. On the other hand, you want to make sure you have everything you will need while you are away that can't be purchased locally.
Backpacking Travel Essentials
Bring these from home- you will need them from Day 1 and they may be difficult to find on the road
2 locker locks – essential in hostels and useful on overnight buses
Toiletries – only the basics (shampoo bars are a great solution)
Headlamp – hands-free flashlight!
Change purse – you'll be paying in cash and accumulating lots of coins
Sleeping bag liner – 

You do not need to bring a sleeping bag with you, but you may be happy to have your own liner on occasion

Smartphone with indestructible case (unlocked if possible)
Mosquito repellent with high Deet concentration
Travel adapter – a universal plug with a couple of USB outlets is best
Clothes to Pack for Backpacking
When deciding how many clothes to bring, remember that less is more! Cut down to the bare minimum– even in small towns, you should be able to find overnight laundry services. You will get used to wearing the same clothes for an extended period of time, almost like a backpackers uniform. Don't bring anything you're too attached to– if you decide you no longer need something, you can donate it to your hostel lost and found or somewhere in the town. We've boiled down the list of clothing to the essential backpacking packing list.
The basics
A week's worth of underwear (do laundry as needed)
3 pairs of socks
Bathing suit
A few basic tank tops – ideally quick-drying or solid colours that won't show sweat
3 T-Shirts – also quick drying if possible
Long sleeved shirt – protection from wind and sun
Shorts – not advisable in some countries as they mark people as a tourist. If this isn't an issue where you are backpacking, then a pair of shorts or 2 is useful.
1 pair of cotton pants – you may want to pick up a colourful pair while already on the road!
1 pair jeans – nice to have for airport or train journeys
1 pair lounging pants for hostel evenings
1 fleece – even in warm-weather countries it can get quite cold at night
Windbreaker/rain jacket with a hood – essential if you get caught in the rain
Baseball hat or bandana – keep your hair out of your face and the sun off your head
Light-weight running shoes/trainers for travel days or light hiking*
Pair of good quality sandals
Shower/beach sandals
*Should I bring hiking boots?
Unless you're going on a hiking-oriented backpacking trip, no. Hiking boots are heavy and take up so much space that they are normally not worth lugging around. For day-hikes, trainers should be just fine. If you do spontaneously decide to do a multi-day hiking trip, proper boots can normally be rented in regions that are famous for hiking.
Backpacking Clothing for the Ladies:
A patterned scarf to double as a head covering at religious sites
2 light-weight cotton dresses – you'll be thankful to have them in warm weather
Backpacking Clothing for Cooler Temperatures
A second long-sleeved shirt
A wool sweater
2 pairs of thick socks
Sturdy shoes
Backpacking in Conservative Countries
Not only is it good to show respect towards the local customs, but some historical and religious sites also require a certain dress code to enter (mosques, cathedrals, etc). Both men and women are usually required to cover their shoulders and knees. This can usually be accomplished with items from your basic packing list, but if you'll be backpacking for an extended time in a conservative country, you may want to add the following items:
Long sleeve cotton button-up shirt
Long cotton tunics
Maxi skirt for the ladies
Other Things to Take Backpacking
These items are not essential to your survival but your trip just wouldn't be the same without them. You may want to consider taking the following;
A deck of cards

A good book – many hostels have a book exchange

Moneybelt – you may not need it, but you will be happy to have it

A small over-the-shoulder bag for use during the day

A pen and notepad – a very useful thing to have for writing out directions, reminders of place names, planning itinerary etc.

A few trash bags – these can keep dirty clothes separate from dry ones and be used to waterproof your backpack
Which Size Backpack to Bring
Try to stick to the smallest size and lightest weight possible for what you're planning to bring. If you're able, bring a backpack that is carry-on size to make flying a breeze. We prefer front-loading backpacks so that you don't have to dig to find something that has settled to the bottom or middle. If you're looking for anything larger than a daypack, look for one with an Internal Frame and Hipbelt– The added support will ensure the weight is distributed evenly and not only on your shoulders.
Of course, the size of the backpack you buy really depends on how much you are going to lug around with you. The most common size for a trip that lasts more than 2 weeks is usually 50 litre one, especially as it will leave some room for any souvenirs collected on the way.  It's very easy to find 50-litre backpacks that conform to standard airline carry on policies. If it's a short trip and you plan on taking only the bare essentials, you could even get away with a 35-litre backpack.
Certainly, unless you are camping then you will not need anything bigger than a 70-litre pack. We recommend narrowing down your packing list if you find yourself wanting such a large bag.
Another technique you may have seen is to bring one larger backpack plus a smaller daypack backpack. On days when you have to carry everything with you, make yourself into a sort of backpack sandwich (the large one on your back and the small one carried in front). You will be happy to have the daypack during your trip.
What not to Take on your Backpacking Trip
You may not need to take guidebooks with you. You can do your research before you go, download e-books or take photos of any information that you absolutely need. Most hostels have an assortment of guidebooks that you can flip through or even take with, or you might meet fellow backpackers who will give their guidebook away if they are leaving a country and you are heading there. In a pinch, you can probably buy them locally if you really need one.

Don't take a hair dryer, these are bulky and since you'll be abroad, chances are the voltage is wrong and you'll blow a fuse. Get used to air drying your air.

Don't take anything too valuable or sentimental, lost luggage and theft is all too common these days and you wouldn't want to lose anything that you can't easily replace.
This list should cover all of the essentials and still leave you a little room to pack any favourite things that you want to take with you. Bear in mind that for some countries you may need to modify this list slightly. Also if you are camping you will need to take all of your camping gear such as tents, sleeping bag, travel stoves etc. in addition to all of the things listed above.
Useful Links for your Backpacking Trip
Rohan

sells high-quality travelling clothes with useful concealed or secure pockets.

REI – sells a large variety of high-quality gear for backpackers
Osprey – another popular backpack brand with high ratings from backpackers
Next up: