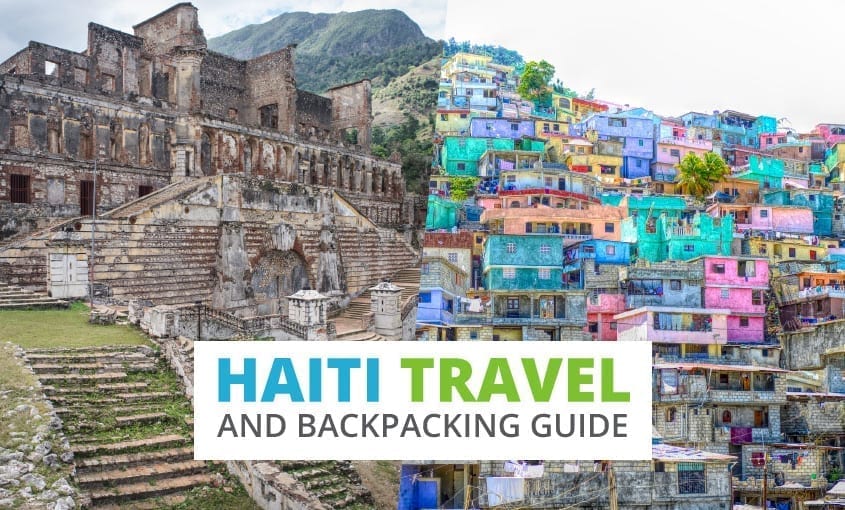 Backpacking Haiti
Looking for important travel information while backpacking in Haiti? Here you will find information on working in Haiti, entry visas, Haiti hostels, and much more.
Table of Contents
Facts About Haiti
Haiti is one of the poorest nations in the western hemisphere and is a country that is plagued by violence and political instability, making it a poor choice of destination for the faint of heart. However, beneath all the troubles lies a fascinating culture, rich with local myths and magic, as well as some breathtaking scenery.
Be aware that the Foreign Office advises against all but essential travel to Haiti due to the unstable political situation and the threat to personal safety.
Capital City – Port-au-Prince
Currency – Gourde (HTG), some companies accept US dollars but it is rare. Note: exchanging currency for anything other than US dollars can be difficult.
Time Zone – GMT -5
Language – French, Creole, English is spoken in some of the major cities
Telephone services – Country code: 509. International access code: 00.
Climate in Haiti
Haiti has a tropical climate and has high levels of humidity in coastal areas. Haiti lies close to the Caribbean plate, which runs to the north of the country, meaning that tremors can be felt from time to time. More of a problem is Haiti's presence in the middle of the hurricane belt meaning that the country is often subject to severe tropical storms during hurricane season, which runs from June through to November. If you do travel in Haiti during these months be sure to keep up to date with local and international weather updates. More information on hurricanes can be found at nhc.noaa.gov at the National Hurricane Center.
Things to do in Haiti
Haiti is not a typical tourist destination and as such, you will get the most out of your visit to the country by completely immersing yourself in the local culture. Some of the best experiences are relatively ordinary activities such as exploring the bustling markets, travelling on a 'tap-tap' or trying the local food. Making contact with a native Haitian will make your trip go much more smoothly as a local guide will be able not only to help you navigate the country but also to understand its rich and complex heritage.
If you are in Haiti during the days preceding Ash Wednesday you will get to experience the country's carnival season with all-night street parties complete with local food and music.
How to Travel Around Haiti
For flying to Haiti, we recommend using a few different flight comparison search engines. Kiwi is a new favourite among travellers. On average, we have found the cheapest flights with them compared to the other websites out there. Of course, it is always worth checking Skyscanner to guarantee you're getting the best deal. Both websites offer great flexible search options, allowing you to search the whole country of Haiti to find the cheapest airport to fly into, and also see prices for a full month if you're flexible on travel dates. Another flight search site that can be hit or miss but still worth checking out is Opodo. For our past few trips, it was on their site that we found the flight that we ended up booking.
Bus Travel in Haiti
Travel in Haiti is often difficult due to frequent roadblocks set up by both police and local armed gangs. Add this to poor road conditions and vehicle maintenance and you have a recipe for some rather dangerous journeys. The most common method of transport in Haiti is the bus; known locally as a 'tap-tap' these are often made from trucks fitted with benches, which act as rudimentary seats. Tap-taps will stop on request and are by far the cheapest method of transport. However, unless you have a conversational knowledge of Creole or are with an experienced guide they aren't recommended.
Taxis in Haiti
Taxis are a much safer method of transportation, provided that they are licensed. Taxis are often four-wheel drive vehicles and are much more comfortable and also much safer for journeys on the unpredictable roads of Haiti. Of course with this security comes a higher price tag and taxis are an expensive way of getting around. However, if you are travelling without an experienced guide it is certainly worth the extra cost.
The Foreign and Commonwealth Office advises against taking public transport and recommends that you travel with a reliable guide. Although this may not always be possible you should at all times be particularly aware of your personal safety and do not take any unnecessary risks to get a cheaper fare.
Small group adventure travel
Though part of the fun of backpacking is exploring on your own, there are situations, especially when venturing off the tourist trail, when it does make sense to go with a guide or a small group. For these times, a popular option among backpackers is G Adventures. They hand-select local guides to ensure authenticity and quality. This is especially a good option for those travelling alone who would like to meet up with like-minded travellers. Their most popular trip in Haiti is their 8-day Highlights of Haiti tour.
Health and Safety in Haiti
If you are travelling in Haiti and you fall ill, the best possible option is to be transported out of the country for treatment. For this reason, it is especially important that you obtain fully comprehensive travel insurance and make sure that it covers the cost of an air ambulance. Haiti's health service leaves a lot to be desired and if possible you should avoid having to use it at all costs.
If you are on medication it is vital that you take enough with you to last your trip. Be aware though that if the situation in the country changes and you are unable to leave, it is unlikely that you will be able to obtain additional medication. For this reason, travel to Haiti by people suffering from a serious medical condition is not recommended.
Malaria is often a problem in Haiti so make sure you have enough medication with you for your entire journey and that you take all precautions to avoid insect bites. This is especially important given the prevalence of the particularly nasty dengue fever which cannot be vaccinated against and can, in some cases, be fatal.
Haiti has the highest level of HIV/AIDS affliction outside of sub-Saharan Africa so it is important to be especially careful while you travel in the country. Don't take any unnecessary risks.
Crime in Haiti
As backpacking destinations go Haiti is not one of the safest. The capital city, Port-au-Prince is probably the most dangerous place to be in the country. There have been many incidents of kidnapping for ransom as well as random shooting of civilians and armed robbery in the streets. While in the capital city it is not recommended that you travel alone even during the day. Walking the streets of the city is not recommended and whilst driving you should have all doors locked and windows rolled up.
There are some "safer" areas of Haiti, which are inhabited by foreigners, for example, the areas of Petionville and Bourdon. These are seen as relatively safe during daylight hours, but again, travel at night is not recommended.
Haiti is a desperately poor country and as such pick-pocketing and theft of valuables is rife. This means that becoming a victim of crime a fairly likely scenario.
Entry visa requirements for Haiti
The British government advises against all but essential travel to Haiti due to the frequency of kidnappings and violent crimes against tourists. As a British citizen, you do not require a visa if your stay is under 90 days. In addition to your passport, which must be valid for at least six months from your date of entry you will require a card which is issued on arrival in Haiti. This card must be kept for the duration of your stay and then returned to the Immigration authorities upon your departure. It is advised that you contact the Haitian embassy in Paris before travelling to the country for up-to-date advice.
There has been no British Embassy in Haiti since 2005, and the British consulate's public operations have been suspended. For all visa enquiries or any other problems that would usually be addressed to the British consulate, it is recommended that you contact the British Embassy in the Dominican Republic.
Foreigner work permits and backpacker jobs in Haiti
Haiti has a national unemployment rate of around 70% so finding paid work in the country is not likely, although there are a few opportunities to teach English. Because of the security situation in Haiti opportunities to volunteer are limited and often require a special skill such as medicine or a TEFL certificate.
Haiti Hostels
We have had good experiences finding hostels on HostelWorld. They have the largest inventory of hostels worldwide, and with over 10 million reviews and ratings from other travellers, you know exactly what to expect.
Another good way to find accommodation in Haiti is by checking hotels.com and  booking.com. With both sites, you'll not only find hotels, but also homestays, hostels, and other unique accommodation. We have discovered some great finds and have appreciated the ability to book ahead. You can use their advanced filtering to narrow your results by budget, location score, overall review score, and amenities. Many of the places on booking.com also offer free cancellation, which takes the pressure off the planning phase of your trip.
There are many guest houses available in Haiti and finding one can be made easier by employing a local guide or by making enquiries of the religious institutions which are associated with several of the safer places to stay.
Camping while in Haiti is really taking your life in your hands. Parties of looters are a fairly frequent occurrence and so the threat to personal safety is high. Haiti is not a place to enjoy the "great outdoors".
Useful links for travel in Haiti
fco.gov.uk, Travel advice from the Foreign and Commonwealth office concerning Haiti.
A wikipedia article with a good introduction to Haitian culture; a useful background reading to help understand the country's heritage.
VolunteerAbroad.com has a few listings for volunteer opportunities in Haiti.

Kiwi

,

Skyscanner

, and

Opodo

– Flight comparison search engines to find the cheapest flights to Haiti

G Adventures

– guided small group tours, great for solo travellers or for those interested in a more adventurous trip which would require a guide

HostelWorld

– #1 hostel search website to find accommodation while backpacking Haiti. Thousands of hostels and millions of reviews from fellow travellers

Booking.com

– commonly used booking site. Hostels, hotels, and other unique accommodation with advanced filtering and millions of reviews

Travel Insurance

– read our comprehensive overview of Travel Insurance and some recommended providers for your backpacking trip to Haiti
---
There you have it, the ultimate Haiti backpacking guide. We hope you have found all the information you need for backpacking around Haiti.
Next up:
Liked this article? Share it for others who might be after the same information!