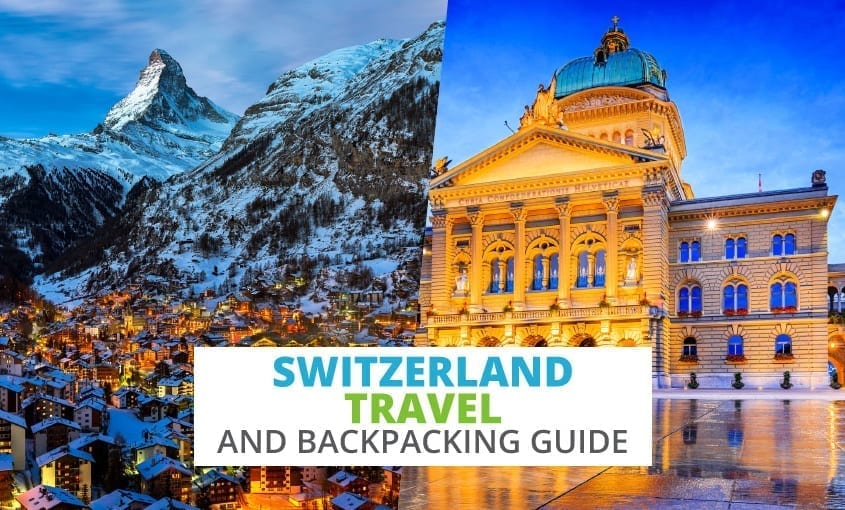 Backpacking Switzerland
Find important travel information that you may need while backpacking in Switzerland. Get information on backpacker jobs in Switzerland, Switzerland entry visas, and Switzerland hostels.
Facts About Switzerland
Legendary for its political neutrality Switzerland is a small country tucked away in the Alps bordered by France, Italy, Austria, and Germany. Switzerland is famed for amongst other things its delectable chocolate, its characteristic cheese, its cuckoo clocks and of course the Swiss army knife.
Boasting some of the worlds most exclusive ski resorts such as Zermatt and St Moritz and hosting the UN in Geneva Switzerland is a country which certainly belies its size in terms of variety, charms, and class.
Although Switzerland is relatively expensive and some see it as quite an elite holiday resort it can provide a very unique and satisfying trip if your funds will stretch to it. Most popular in the winter for its skiing, Switzerland is still a viable destination all year round. Visitors may also prefer booking a Switzerland package to make it more affordable.
Currency: Swiss Franc (Sfr) = 100 rappen or centimes
Time Zone: GMT +1
Language: German, French, Italian, English
Telephone Services: Country code +41, International access code 00
Emergency Numbers: Police 117, Fire 118, Ambulance 144
Climate in Switzerland
When deciding the best time to go backpacking in Switzerland, weather certainly plays a role. The substantial altitude variations in the Alps cause the climate to vary quite dramatically in Switzerland. The higher Alpine regions are quite cold whilst the lower lying area to the North has higher temperatures and can have reasonably warm summers.
Things to do in Switzerland
When deciding the best things to do in Switzerland, there is an abundance of options. Here are the top bucket-list items when backpacking Switzerland.
Bern
Bern, Switzerland's capital city is a small but beautifully preserved medieval city earning it the honour of being a UNESCO World Heritage site. Travellers can find here such attractions as Einstein's house where he developed his theory of relativity, the Kunstmuseum which is a museum of fine art and the Swiss Alpine museum. Bern is also an excellent place to shop with over 6km of covered arcades literally full of shops.
Zurich
Zurich is one of the world's financial centres and is Switzerland's biggest city. Although not hugely popular with backpackers there are a few things that are worth seeing here. Probably one of the most enjoyable is the Lindt & Sprüngli chocolate factory which features an interesting museum and of course some free samples of the world famous Lindt chocolate. Another fairly unique site is the Museum Rietberg which is home to an extensive collection of African and Asian artefacts.
Geneva
Geneva is Switzerland's most cosmopolitan city and is the home to many international organisations such as the UN, the World Health Organisation and the Red Cross. By far the biggest draw here is the Red Cross museum which carries exhibits ranging from its founding right up to the modern day.
Another unique site is the CERN particle accelerator. This 27km long accelerator is home to the largest particle physics lab in the world. There is a science exhibition open to visitors although this may only appeal to the more technologically minded.
Basel
Basel is a major commercial centre and is situated right on the border with France and Germany. This is Switzerland's second largest town and has one of the most picturesque cobbled old towns in Switzerland. The Baslermonster is a sizeable medieval cathedral with a tower which offers the best views of Basel and the surrounding Black Forest.
Unique Activities in Switzerland
Since popular places in Switzerland can get crowded during tourist season, it is wise to reserve tickets and activities ahead of time. GetYourGuide sells entrance tickets to museums and landmarks at face value so you can avoid the lines and save that precious time for more exploring.
Viator is another popular travel website that helps you book things to do in Switzerland. They work directly with local tour operators in Switzerland, so you won't have to scour the internet or roam around town trying to find the best deal.
If you know your schedule ahead of time, a great insider tip is to buy tickets for major tourist attractions ahead of time. Tiqets has entrance tickets and skip-the-line passes for major attractions in Switzerland which can be a worthwhile cost during peak tourist season.
How to Get Cheap Flights to Switzerland
In order to find the best flights to Switzerland we recommend using a few well-known flight comparison search engines. These websites offer powerful search options, like entering flexible dates and airports in order to find the cheapest flight to Switzerland.
Our go-to flight search engine is Skyscanner, which we love for its extremely flexible search options. Our favourite way to get travel inspiration is their "Everywhere" feature. Simply enter "Everywhere" as a destination, and it will then list all available flights from your departure city in order of price. This also works when entering the entire country of Switzerland as your destination. Skyscanner will search all possible airports in the country in order to find the cheapest option.
Kiwi is another new favourite flight search engine among savvy travelers. Kiwi works by combining flights from different carriers in order to get the best deal. Also, if there is a better ground or ferry option for the route you're searching, Kiwi will include that in the search results. On average, we have found the cheapest flights to Switzerland with them compared to the other websites out there.
How to Travel Around Switzerland on a Budget
Train and long-distance bus are the standard modes of transport for how to get around Switzerland. Buses are the more economical option, nevertheless, they are well-equipped with the usual modern conveniences that expect when travelling in Europe. Train travel, on the other hand, is the fastest way between two cities in Switzerland, and the train stations are conveniently located right in the center of town.
Certain routes are better suited to one mode of transport than the other. To compare your options for journeys from A to B, you can try Omio. They compare trains, buses (and even flights) so you can decide for yourself the tradeoff between cost and travel time.
Switzerland is a part of the Eurail network, which is a good choice if you plan to take multiple train journeys in a short period of time. If you plan on doing lots of train travel in a short amount of time, a Rail Pass from Eurail might be the right choice for you.
Train travel in Switzerland
The Swiss rail service is extraordinarily efficient; most of the network is operated by SBB. You can travel in Switzerland only using public transport, since even the smaller mountain cities are connected by train.
Bus travel in Switzerland
Although the railways provide the backbone of the travel system this is supplemented by buses. These yellow buses run connecting routes between stations and towns with no rail access. There are over 650 routes and a Swiss rail pass will let you use these buses for free.
Driving in Switzerland
You may also want the flexibility to stop in smaller towns between the major cities. If you decide you want to rent a car, you can use DiscoverCars to compare offers from the major car rental agencies in the region.
Backpacking Tours in Switzerland
Though part of the fun of backpacking Switzerland is exploring on your own, there are situations, especially when venturing off the tourist trail, when it does make sense to go with a guide or a small group. 
The most popular option for a social travel experience is Contiki tours. Contiki trips offer more than just transportation, they are organized social group travel for travelers aged 18-35. Whether you're traveling by yourself or going with a group of friends, Contiki tours are perfect for people looking to have a blast, meet new friends, and form lifelong memories. They offer tours that travel primarily in Switzerland or longer tours that cover other nearby places.
G Adventures is another great option for organized travel, but with a smaller group. It's a great choice for anyone backpacking Switzerland alone who would like to meet up with like-minded travellers. It's also a practical option for exploring places where you need an experienced guide, like a long hiking adventure or visiting a place well off the beaten path. You can choose from different styles of small group tours like active, wellness, hiking trips, 18-30somethings, and more. Their most popular tours in Switzerland are their 10-day Trekking Mont Blanc tour through Switzerland, Italy, and France, or their 12-day Europe by Rail with the Glacier Express tour through Switzerland, Hungary, Austria, Germany, and France.
Entry visa requirements for Switzerland
A passport is required which is valid for at least 6 months after your intended period of stay although a visa for EU or USA nationals is not required unless you intend staying for a period of over 3 months.
Visa requirements for Switzerland can vary widely depending on your country of origin and can change over time. To avoid any unpleasant surprises, be sure to check the latest visa requirements while you're still planning your trip.
Health and Safety in Switzerland
The health service is generally good in Switzerland but transport costs could mount up if you are struck ill or are involved in an accident in some of the more remote parts of Switzerland. As with travel to all other countries abroad, it is vital that you get travel insurance before you leave. Even for short trips, our go-to travel insurance provider is World Nomads, which is also recommended by Lonely Planet, HostelWorld, and other major travel companies.
There are no vaccinations required before visiting Switzerland and the tap water is considered safe to drink. Normal precautions should be taken with food but restaurants and hotels are normally of very high quality.
Foreigner work permits and backpacker jobs in Switzerland
To work and reside in Switzerland you will need a residence permit (aufenthaltsbewilligung / autorisation de sejour). The Permis A is a permit available to EU nationals that allows them to stay in Switzerland for nine months of one year and it is very advisable to obtain one because police are strict in their enforcement of the law, especially in holiday resorts where many travellers are attracted to for work.
It is important to bear in mind that a lot of employers in Switzerland expect high standards and often long hours of work from their employees. Nevertheless, you can expect higher wages than in a lot of European countries, but with this goes the high cost of living.
Stagiaires
Stagiaires are temporary work placements lasting up to 18 months, organised through the Department of Employment's Overseas Labour Service.
Working at Hotels in Switzerland
EU students of over 18 years old and with a good working knowledge of German can join the Swiss Hotel Association's Hoteljob scheme. Work runs from June to September and accommodation and meals are provided. The salary is about SFr2350. Contact the Swiss Hotel Association for more details.
Working at Resorts in Switzerland
One of Switzerland's main areas of tourism is in the Alps. The Jobs in the Alps agency can place people in ski resorts as waitresses, kitchen staff, porters etc. Workers can expect to earn up to SFr500 and will be required to work for approximately 45 hours a week.
Instead of going through an agency it is also possible to find on-the-spot jobs. Visit resorts and owners at the beginning of the season, usually April time is recommended. Furthermore, it is worth checking newspapers, tourist offices and notice boards to look for vacancies. Know where the resorts are before leaving to look for work; Leysin, Thyon, and Verbier are all popular places with resorts where you may be able to find this type of work.
Working at Campsites
Several British and European camping agencies operate throughout Switzerland, and again most jobs can be found during the peak tourist times in the summer. Eurocamp arranges work for couriers on Swiss campsites. It is preferred that you can speak another European language well because the job involves welcoming and interacting with a range of visiting nationalities. Employees must be over 18 and can anticipate earning approximately SFr95 per week.
Agricultural and Farm Work in Switzerland
The Upper Rhone Valley, Valais, and Bern are places where fruit-pickers may be needed during harvest-time. You could find work by going in person to farms and enquiring for vacancies from the landowners. Wages vary depending on how much you pick, its worth at market, or how long it takes.
If this type of work appeals to you, WWOOF is a voluntary organisation that provides work on organic farms and includes board and accommodation for a membership of €10 per year, check their website for more information.
Au Pair Placements in Switzerland
For between 12 and 18 months female Western Europeans and North Americans can become au pairs for a Swiss family. Regulations for au pairs vary between cantons in Switzerland, but generally, you must be aged between 17 and 29 and your host family will need to apply for a Permis B for you and you will not be allowed to enter Switzerland until the application process is complete.
Swiss au pairs work thirty or more hours a week and will be required to spend some evenings babysitting as well as spending up to 4 hours a week in language tuition. Au pairs in Switzerland can expect to earn between SFr600 and SFr700 per month which is considerably more than in a lot of European countries, but remember that although wages are high, so are the costs of living.
Geneva and Zurich are the most popular places to find au pair work. Pro Filia is an agency that can find one-year placements for those with a good knowledge of French (the application form must be completed in French) in Geneva.
Monthly wages are around SFr710 but a registration fee is required to join Pro Filia. Other than working in the city, au pair placements can be found in ski resorts, and also in the country, although here you may be required to do agricultural work as well as typical au pairing duties.
Volunteering in Switzerland
Camphill Communities run volunteer placements throughout the world, including Switzerland. Volunteers work in communities with adults with special needs. You will be expected to work for 6 days a week and it is usually preferred that you stay for at least one year. Accommodation is provided for the duration of your stay, but you will have to fund your own meals. WWOOF, already mentioned, is an organization placing volunteers on work projects on organic farms.
Useful Links to find Backpacking Jobs in Switzerland
Switzerland Hostels and Budget Accommodation

Hotels in Switzerland are generally of high quality and in high demand. You will normally have to book in advance and most hotels can be quite pricey even at the low end of the market. A youth hostel is a far more advisable method of accommodation for the budget traveller.
We have had good experiences finding hostels in Switzerland on HostelWorld. They have the largest inventory of hostels worldwide, and with over 10 million reviews and ratings from other travellers, you know exactly what to expect.
Another good way to find accommodation in Switzerland is by checking booking.com. You'll find hotels, homestays, hostels, and other unique accommodations. They have the most reviews and advanced filtering of any accommodation-booking site, so you'll be sure to find a great place in your budget. Many of the places on booking.com also offer free cancellation, which takes the pressure off the planning phase of your trip to Switzerland.
If you are backpacking with another travel companion, we highly recommend booking a rental via VRBO. With a vacation rental in Switzerland, you'll have more space, your own kitchen, and you'll get a better feel for how the locals live. Plus, the cost of a vacation rental can be split among your group, oftentimes making it cheaper than doing individual hotel rooms. 
If you're looking to save even more money while backpacking in Switzerland, there are plenty of creative ways to get free accommodation in exchange for work. For example, one of our favorite ways to stay in amazing locations for free is by signing up as a petsitter with Trusted Housesitters. The site connects responsible animal lovers with petsitting opportunities in Switzerland and all over the world. It's a win-win for both sides – travellers can stay in amazing locations for free, and homeowners can rest easy knowing that someone is watching over their place.
And lastly, CouchSurfing is a great community that connects travellers with local hosts in Switzerland. You can stay for free with verified hosts, who will usually take some time to show you around the local spots.
Useful Links for Backpacking in Switzerland
The Switzerland Tourist Office provides official tourist information for visitors.
SBB operate the main rail network in Switzerland
GAdventures

– guided small group tours in

Switzerland

, great for solo travellers or for those interested in a more adventurous trip which would require a guide

Omio

– Train, bus, and flight search for

Switzerland

and all of Europe. Offers online booking and mobile tickets

Eurail

– Rail Passes for travellers who plan on doing lots of train travel in a short period of time. Single-Country passes for

Switzerland

as well as Multi-Country passes available

DiscoverCars –

The world's leading rental car search engines to rent a car in

Switzerland 

Kiwi

and

Skyscanner

– Flight comparison search engines to find the cheapest flights to

Switzerland

and within the country

GetYourGuide

and

Viator

–

a collection of local tours and activities in

Switzerland

. Also offers Skip the Line tickets for crowded attractions

Tiqets

– Website selling entrance tickets and skip the line tickets for major tourist attractions in

Switzerland

HostelWorld

– #1 hostel search website to find accommodation while backpacking Switzerland. Thousands of hostels and millions of reviews from fellow travellers

Booking.com

– commonly used booking site for accommodation in

Switzerland

. Find hostels, hotels, and other unique accommodation in

Switzerland

with advanced filtering and millions of reviews

World Nomads Travel Insurance

– Comprehensive travel insurance for long and short trips when backpacking

Switzerland
---
There you have it, all the critical information you will need for backpacking around Switzerland. We hope you have found all the Switzerland travel information you needed.
Next up:
Liked this article? Share it with others who might be after the same information!