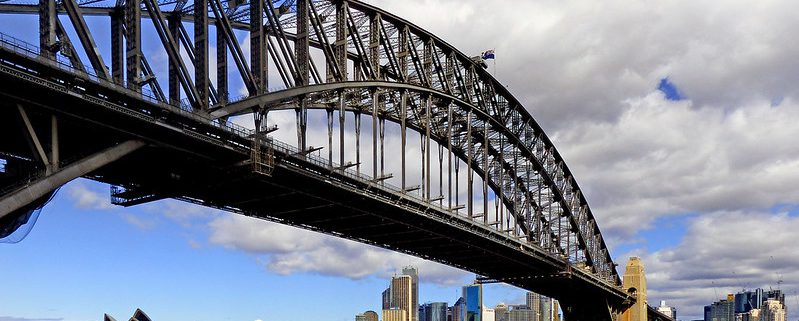 Sydney is the backpacker hub of Australia. 
It is a world-famous city with iconic landmarks such as the Sydney Opera House, the Harbour Bridge, Bondi Beach, and more. And Australia, in general, is an easy country to travel around because it has good infrastructure, friendly locals, and a strong backpacker community 
The main obstacle for backpackers in Australia is usually money!
Australia is a notoriously expensive country, and Sydney is one of the more expensive places to visit Down Under. Though you'll definitely spend more money backpacking in Australia than you would in places like Southeast Asia or Central America, it is still possible to explore cheaply. 
This guide will break down backpacking Sydney on a budget. You can stay in Sydney and have an epic time without spending a fortune. You just need to know how to use your money wisely. 
Throughout this budget travel guide, you will learn about flights, transport, accommodation, food, drinks, and activities in Sydney. And you'll learn how to do it all on a backpacker budget!
How to Find Cheap Flights To Sydney
Because Australia is so far away from most of the world, your flights to and from Sydney may be your biggest expense. Flying to Australia is not cheap, especially if you're coming from the Americas or Europe. 
But it is possible to score affordable flights to Sydney. The best tips for finding cheap flights to Sydney are:
Fly Off Season

Fly Budget Airlines

Be Flexible 
In Sydney, Summer is peak travel season. From December to February, people are on holidays, the weather is hot and sunny, and everyone wants to hang out at the beach and have parties. Summer in Sydney is so much fun, but it's also crowded and expensive. 
The best time to visit Australia is probably the shoulder seasons of Spring or Autumn. You'll still get beautiful weather, but the crowds will be less intense and the flight prices will drop. For the cheapest flights to Sydney, visit in winter. Temperatures are a bit chilly, but you'll still get lots of sunshine and you'll find flights for as much as half of what they cost during peak season!
Also be flexible with your travel dates and times, and fly budget airlines. If you're traveling a long distance to Australia, you'll probably need one or two layovers. Browse websites like Skyscanner or Google Flights to compare different airlines and layover cities. 
Flights with more layovers, early or late flight times, and budget airlines will be much cheaper. Sure, a direct flight on a nice airline may be more comfortable. But if you're backpacking Sydney on a budget, pick the cheapest flight and save money for fun activities when you arrive. 
Transport Within Sydney
Once you arrive in Sydney, public transport will become your best friend. There is pretty good public transport throughout the city, and it's significantly cheaper than taking taxis or Ubers. 
I wouldn't recommend renting a car in Sydney, as there is a lot of traffic and parking can be expensive and stressful. If you plan on doing any road trips around NSW, then you can rent a car for that. But for getting around in the Sydney CBD, stick to walking and public transport. 
The best form of public transport in Sydney is the train. It covers most of the CBD and Eastern Suburbs, and even goes down the NSW South Coast, up to the Central Coast, and to the Blue Mountains. 
The train is super well organized and easy to navigate. Train journeys in Sydney are capped, so you can ride unlimited journeys and the most you'll spend is $16.30 per day or $50 per week. On weekends and public holidays, the rate is capped at $8.15 per day. 
You can also take buses, ferries, the metro, or the light rail around the city. The Northern Beaches don't have trains, so bus and ferry are the best options there. 
For all Sydney public transport, use an Opal Card. You can pick one up at any convenience store and top up at the train stations. With such easy, straightforward public transport, you should never have to pay for a taxi! When possible, walk around Sydney as this is obviously free and the best way to exercise and see everything. 
Budget Accommodation in Sydney
Accommodation is not that cheap in Sydney, unfortunately. If you're backpacking Sydney on a budget, I would avoid hotels altogether and just stick with hostels!
Hostels in Sydney
Hostels are a budget traveler's best friend. Most of the hostels in Sydney are very nice as well, with lots of amenities, a social atmosphere, and fun events and activities. Just read traveler reviews on Hostelworld so you know what to expect at any hostels you book. 
Most hostels in Sydney cost around $20-$40 AUD per night for a bed in a mixed dorm room. Private rooms are anywhere from $80-$100 USD per night. If you're backpacking, I highly recommend staying in dorm rooms. It's a fun experience and you'll meet lots of other travelers. 
Mad Monkey, Wake Up!, and Summer House are the three most popular and highly rated hostels in Australia. Each one has numerous locations around Sydney, such as Bondi Beach, Coogee Beach, Kings Cross, and other spots in the CBD. But there are many more options, so just browse Hostelworld for all the best Sydney hostels. 
How To Find Free Accommodation in Sydney
If you want to take your money saving to the next level, there are ways to get free accommodation in Sydney. 
The first is couchsurfing. This is an online platform that connects travelers with locals all over the world. You can stay on someone's couch or in their spare room for free! Just always trust your instincts, use good street smarts, and only stay somewhere if you feel comfortable. 
Another option to save money on accommodation is doing a work exchange. This is when you work in exchange for free accommodation. The work is usually only about 20 hours per week, and popular work exchange options include working in a hostel, helping a local with housekeeping or childcare, or volunteering on a farm or eco village. 
Work exchanges offer a cool cultural experience that you may find on the usual tourist trail. You can live with locals, learn new skills, and save money. 
Eating and Drinking on a Budget in Sydney
It is possible to eat and drink in Sydney on a budget. I would recommend sticking to the following tips:
Cook most of your own meals

Shop at budget grocery stores and farmers markets

Dine out for lunch rather than dinner

Visit Happy Hours

Drink local stuff

Ask for local recommendations
If you eat out often and get cocktails in fancy bars every night, you'll spend so much money in Sydney. The dining and nightlife in the city is really expensive, whether you're a local or a backpacker. 
If possible, stay in a hostel with a communal kitchen. That way you can cook a lot of your own meals and prepare packed lunches for long days of exploring. Shop at local markets and budget grocery stores like ALDI for the most affordable food. 
That being said, don't restrict yourself too much! Sydney has lots of amazing eateries, and if you're a real foodie, definitely treat yourself here and there. Ask any locals you meet what their favorite spots are, as they will probably be more affordable than spots in the touristy areas. 
Look up local happy hours, as you can find food and drinks that cost as little as half the normal price. Many restaurants and pubs do cheap lunch specials as well, so eating out at lunch is often cheaper than dinner. 
Drinking alcohol is also pretty expensive in Sydney, but local beers and wines are cheaper than imported. Cocktails cost around $15-$20 each, so don't go overboard on those or you'll spend a fortune. Even at a liquor store (known as a "Bottle-o" to the Aussies), hard alcohol is expensive, so stick to local beer and wine. 
Free Things to Do in Sydney
To save money in Sydney, fill your schedule with these free activities:
Exploring the Royal Botanic Gardens

Strolling around Sydney Harbour

Walking across the Sydney Harbour Bridge

Admiring the Sydney Opera House (from the outside)

Visiting St Mary's Cathedral

Sunbathing at Bondi Beach

Walking the Bondi to Coogee Coastal Walk

Walking the Manly to Spit Bridge Coastal Walk

Window Shopping in Newtown

Wander through the Queen Victoria Building

Go on a Free Walking Tour

Relax in Hyde Park or Centennial Park

Browse the Art Gallery of NSW or the Museum of Contemporary Art

Seeing the light installations at Vivid Sydney (If you're there in May-June)
So there are lots of free things to do in Sydney! Just walking around the Harbour, the beaches, and the free art galleries are amazing ways to enjoy the city without spending a dime. 
Other Affordable Things To Do In Sydney
Some fun Sydney attractions cost money, but they are definitely worth it. If you balance out your free activities with some costly ones, you'll be able to make the most of Sydney without spending heaps of money. 
There are some activities that cost a lot of money, such as a luxury harbour cruise, a Sydney Harbour Bridge Climb, skydiving, or enjoying a multi-course fine dining experience. Because this is a guide to backpacking Sydney on a budget, I'll skip going into detail, because most budget travelers aren't looking to drop hundreds of dollars. 
However, these activities are still super fun, and they cost under $100 each. Book ahead using Get Your Guide or Viator to make sure you're getting the best deal.
Touring the Sydney Opera House

Taking a surf lesson in Bondi

Going to a comedy show

Visiting the National Maritime Museum

Riding the ferry from Circular Quay to Manly

Kayaking or snorkeling at Shelly Beach

Renting a bike in the Northern Beaches

Enjoying the view from the top of the Sydney Tower Eye

Seeing the animals at Taronga Zoo

Visiting the historic Luna Park
Day Trips From Sydney
If you have some spare days during your day, definitely do a day trip from Sydney! There is so much natural beauty around the city, from the Royal National Park, to the Blue Mountains and more. 
The cost of Sydney day trips depends on how you do them. If you book a guided tour that includes all your transport to and from the city, they can cost around $150-$200 AUD. 
If you take public transport and explore on your own without a tour, they may only cost $50 AUD or less. For example, you can take the train directly from the Sydney CBD to Katoomba in the Blue Mountains and do a free day hike. Or take the South Coast Train line down to Wollongong or Kiama. 
You could also rent a car for day trips. Just do a bit of research about what transport is available when you choose where you want to visit. 
Here are some of the best day trips from Sydney:
Hiking in the Blue Mountains

Seeing the amazing coastal views in the Royal National Park

Wine tasting in the Hunter Valley

Road tripping down the Grand Pacific Drive and passing the Sea Cliff Bridge

Hiking in Dharawal National Park

Checking out Wollongong

Hiking in the Illawarra Escarpment 

Visiting Stanwell Park and Bald Hill

Touring Symbio Wildlife Park

Exploring Newcastle

See the Kiama Blowhole
Backpacking Sydney on a Budget: Final Thoughts
Although Australia is one of the world's most expensive countries to visit, you can still explore on a budget! Sydney is an amazing city and with the right mindset and these budget travel tips, you can enjoy this city cheaply. 
Travel off season, take public transport, stay in hostels, eat and drink like the locals do, and stick to mainly free or cheap activities in Sydney. You will have no problem backpacking Sydney on a budget!
Gabby is an American living in Sydney, Australia. She spends her time working in hospitality and writing on her budget travel blog. Travel is her biggest passion in life, in particular doing interesting work exchanges around the world. She has worked on a chicken farm in South Africa and a surf camp in Costa Rica, as well as hostels in Peru, Portugal, and Morocco. Life is not meant to be lived in one place, doing just one thing. Gabby loves to try it all!
https://www.the-backpacking-site.com/wp-content/uploads/2022/03/40885346992_49ef830dab_c.jpg
443
799
Gabby Boucher
https://www.the-backpacking-site.com/wp-content/uploads/2018/08/the-backpacking-site-1.png
Gabby Boucher
2022-03-19 16:00:09
2022-03-23 16:23:45
Backpacking Sydney on a Budget