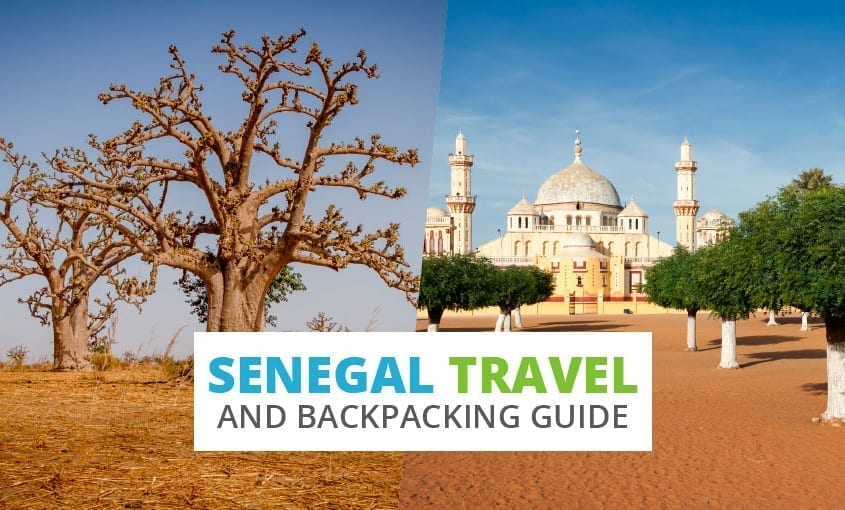 Backpacking Senegal
Looking for important travel information while backpacking in Senegal? Here you will find information on working in Senegal, entry visas, Senegal hostels, and much more.
Table of Contents
Facts About Senegal
Senegal is probably best known in the West for producing one of the African continents most successful football teams. What most people don't realise is that Senegal, seated on the western coast of Africa is a backpacker's paradise. This country has history and culture in the form of remnants of the French colonial times and the slave trade, as well as stunning beaches and six national parks. Despite its small size Senegal manages to offer everything that a visitor could want.
It should be noted that the Casamance region should be avoided due to recent violence caused by bandits and separatist rebel factions. There are also occasional outbreaks of fighting along the border with Guinea-Bissau between government forces and rebel. You should check with the FCO on the latest travel advice.
Currency: CFA Franc (CFA Fr) = 100 centimes
Time Zone: GMT
Language: French
Telephone Services: Country code +221, International access code 00
Emergency Numbers: Not present, call the embassy on 8237 392
The best time to visit Senegal
Senegal has a warm climate with two distinct seasons. The dry season is warm and runs from December to May. The wet season is much hotter and very humid and runs from May to November. The Sahelian region experiences the least rainfall and tends to be slightly warmer than the rest of the country, the Casamance region and the southeast experience the most rain.
Things to see and do in Senegal
Dakar
The capital of Senegal is Dakar; the city itself has quite a small central area with most of its million-strong population living around the edges of the city. This makes it an ideal location to explore on foot, cutting down on those bus and taxi costs. There are plenty of cheap hotels in Dakar although if you plan to visit in the tourist season you should book in advance as hotels can quickly fill up. There are two large markets that are worth visiting in the city, the first is Marche Kermel which is the main tourist market, the second is Marche Sandage which has more fruit and day to day items, you will however still find a small number of souvenirs and a fantastic amount of clothing and cloth. The main tourist attraction of the city is undoubtedly the IFAN museum which has an enormous number of artefacts from across Africa; its exhibits of tribal masks are particularly impressive. Once night falls you will also find Dakar's nightlife excellent with a large number of bars and nightclubs, the price might be a bit higher than elsewhere in Senegal but there is definitely the best choice of establishments in the capital city.
St-Lois
St-Lois is a historically and culturally interesting town situated on the Langue de Barbarie peninsula. The city, in fact, encompasses an island which can be reached via the 500m long Pont Faidherbe bridge. Before the split of Senegal-Mauritania St-Louis was the capital city, as a result, the city is full of French colonial influence. The former European quarter was on the island part of the city and as such is full of large colonial houses. The mainland part was formerly the African quarter and today is mostly a fishing community. Attractions include the governor's palace which was used as a fort during the 18th century, the St-Louis Cathedral which is the oldest surviving church in Senegal and the Muslim cemetery. Just outside the city, there is a range of good beaches along the Langue de Barbarie peninsula and slightly further south is the Parc National de la Langue de Barbarie which is a prime location for spotting flamingos, pelicans and other indigenous water birds.
Travel to Senegal
If you're flying to Senegal or plan to take short flights within the country, we recommend using a few different flight comparison search engines. Kiwi is a new favourite among travellers. On average, we have found the cheapest flights with them compared to the other websites out there. Of course, it is always worth checking Skyscanner to guarantee you're getting the best deal. Both websites offer great flexible search options, allowing you to search the whole country of Senegal to find the cheapest airport to fly into, and also see prices for a full month if you're flexible on travel dates. Another flight search site that can be hit or miss but still worth checking out is Opodo. For our past few trips, it was on their site that we found the flight that we ended up booking.
There are two domestic airlines in Senegal, Air Senegal and Gambia Air Shuttle. Air Senegal operates routes between all of the major towns whereas the Gambia Air Shuttle operates only between Dakar and Banjul. These services may be a little expensive for simply travelling around Senegal but can be invaluable when putting together a tour of several African nations.
Travel within Senegal
Train services in Senegal are poor and currently, the only service available is a twice-weekly train between This and Tambacounda. The service does run on into Mali however so it can be useful if you want to spend some time in Bamako. There are plans to upgrade and expand the network, although things seem to proceed at a somewhat leisurely pace. Children under three are entitled to free travel, those under nine pay only half price.
The main way to get around Senegal is by bus or minibus; these are run by a variety of local companies and individuals and are very much subject to demand. The standard varies immensely from well maintained modern buses to battered ancient vehicles somewhat ironically called "cars rapides." Local buses especially can be incredibly crowded but the good news is that fares are reasonable.
Small Group Adventure Travel
Though part of the fun of backpacking is exploring on your own, there are situations, especially when venturing off the tourist trail, when it does make sense to go with a guide or a small group. For these times, a popular option among backpackers is G Adventures. They hand-select local guides to ensure authenticity and quality. This is especially a good option for those travelling alone who would like to meet up with like-minded travellers. Their most popular trip in Senegal is their 10-day classic Tour covering Senegal and The Gambia.
Health and safety in Senegal
The standard of healthcare in the capital, Dakar, is reasonable and there is a ready supply of western medicines. However, elsewhere in the country healthcare provision is very poor. Health insurance is absolutely essential if you want to be able to get treatment and we advise that you take out a policy which covers the cost of repatriation should this become necessary.
Vaccination against typhoid is recommended before visiting Senegal, this can be obtained from your local GP for around CFA Fr40. Cholera is also present in Senegal and you should consult your GP about the necessity for taking a vaccination or other preventative treatment. Malaria is present throughout the country mostly in the falciparum form, there have been some reported cases of resistance to chlorquine so you should consult your doctor about the most appropriate treatment to use.
There are also several other health risks to consider when visiting Senegal, schistosomiasis is present so swimming and paddling in areas of freshwater should be avoided. Chlorinated swimming pools are safe. Hepatitis A, B and E are all widespread so the appropriate precautions should be taken. In addition, rabies is present in the country; those likely to be at risk (i.e. handling animals) should be vaccinated before arrival. Anyone bitten by an animal should seek immediate medical advice.
All water should be considered potentially dangerous and should be boiled or sterilised before use for any purpose. Milk is unpasteurised and should be boiled before use, dairy products should be avoided since they are unlikely to have been made with properly sterilised milk. Meat should be well cooked and eaten hot, fruits and vegetables should be washed and where possible peeled and/or cooked before consumption.
Entry visa requirements for Senegal
All foreign visitors to Senegal require a valid passport and evidence of a return ticket. Visitors who are EU or US nationals do not require a visa for a tourist visit of up to 90 days. For visits with any other purpose or for longer visits, you should contact the nearest local Senegal Consulate for details of the appropriate visa and the application requirements.
Senegal Hostels and Budget Accommodation
The Senegal government has been actively trying to promote tourism and as a result, there is a steadily increasing number of hotels in Senegal. There are several international standard hotels and several luxury resorts but the majority of hotels are quite basic. It is advisable to book ahead especially during the busy dry season during which it can be quite difficult to find a room.
We have had good experiences finding hostels on HostelWorld. They have the largest inventory of hostels worldwide, and with over 10 million reviews and ratings from other travellers, you know exactly what to expect.
Another good way to find accommodation in Senegal is by checking hotels.com and  booking.com. With both sites, you'll not only find hotels, but also homestays, hostels, and other unique accommodation. We have discovered some great finds and have appreciated the ability to book ahead. You can use their advanced filtering to narrow your results by budget, location score, overall review score, and amenities. Many of the places on booking.com also offer free cancellation, which takes the pressure off the planning phase of your trip.
The government operates campsites in/around the national parks and reserves and even offers bungalows or small huts in some of the sites. You will be expected to provide your own bedding and the standards are extremely basic. If you intend camping you will also have to provide your own tent.
Some villages will offer tourists accommodation in one of the village's huts. Keep in mind that this is done as a courtesy to travellers and you should not expect it much less demand it. If you are lucky enough to be offered a hut please be respectful and courteous to those offering you accommodation.
Useful links for travel in Senegal
Air Senegal is the major domestic airline in Senegal
Senegal Online is an excellent source of tourist information for visitors to Senegal

Kiwi

,

Skyscanner

, and

Opodo

– Flight comparison search engines to find the cheapest flights to Senegal and within the country

GetYourGuide

and

Viator –

a collection of local tours and activities. Also offers Skip the Line tickets for crowded attractions

Tiqets

– Website selling entrance tickets and skip the line tickets for major attractions

G Adventures

– guided small group tours, great for solo travellers or for those interested in a more adventurous trip which would require a guide

HostelWorld

– #1 hostel search website. Thousands of hostels and millions of reviews from fellow travellers

Booking.com

– commonly used booking site. Hostels, hotels, and other unique accommodation with advanced filtering and millions of reviews

Travel Insurance

– read our comprehensive overview of Travel Insurance and some recommended providers
---
There you have it, the ultimate Senegal backpacking guide. We hope you have found all the information you need for backpacking around Senegal.
Liked this article? Share it for others who might be after the same information!