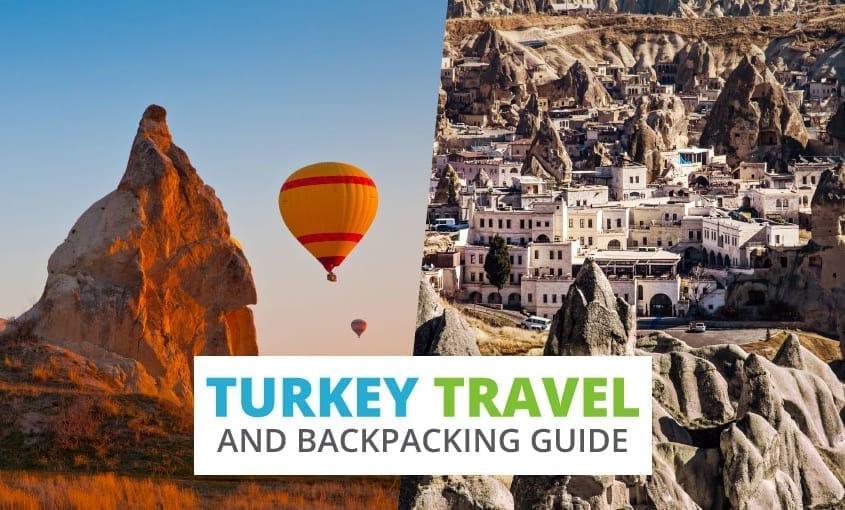 Backpacking Turkey
Looking for important travel information while backpacking in Turkey? Here you will find information on working in Turkey, entry visas, Turkey hostels, and much more.
Table of Contents
Facts About Turkey
Turkey is a country which owes a lot of heritage both to the middle-east and to Europe. Although Turkey is developing quickly the mysteries of the Orient and Arab influences are still very much in effect. In recent times Turkey has really opened up as a tourist destination with Westerners attracted by the bustling bazaars and the opportunity to haggle for Middle-eastern craft goods.
Turkey is generally a safe country to visit but there are some areas which have been unfortunately targeted by violence. Travellers have not been specifically targeted but foreign interests have been, so visitors are advised to remain aware of current events and keep a low profile. However, for the most part, Turkey is a rapidly developing country which provides an excellent tourist diversion.
Currency: Turkish Lira (TL) Note that exchange receipts must be retained to prove that legally exchanged currency was used.
Time Zone: GMT + 2
Language: Turkish
Telephone Services: Country code +90, International Access code 00
Emergency Numbers: 112 Ambulance, 111 Fire, 155 Police
Climate in Turkey
When deciding the best time to visit Turkey, weather plays an important role. The summers are hot and dry as can be expected from the Mediterranean climate, winters are generally quite mild but can be wet. The eastern mountainous region of Turkey is much colder in winter and normally experiences heavy snow. The Southeast is the hottest area often reaching 45C (113F) in the summer, this region also experiences very mild and quite dry winters.
Things to do in Turkey
Istanbul
Unlike most countries, the main attraction is not its capital, Ankara, but rather the ancient city of Istanbul. The city sits on the Europe-Asia border with the Bosphorus Bridge connecting the European and Asian parts of the city. Istanbul has been regarded as a hub of civilisation in the Middle East for much of its some 3000 years of existence and as such has an impressive historical and cultural presence.
The Grand Bazaar is a must-see attraction; a labyrinth of tiny streets boasting a plethora of shops and street traders you will find some truly unique souvenirs. Of course, haggling is the norm here so be prepared for starting prices to be quite steep; with a little practice though you will soon be haggling your way to unique, often handmade, bargain souvenirs. You can also see the famed Aya Sofya once the greatest church in Christendom and the exquisite Blue Mosque amongst many other architectural triumphs.
Ankara
Ankara, the capital, while not as impressive as Istanbul is still a worthwhile stop on your tour of the region. The main draw is the Hisar, which is a hilltop Citadel from the Byzantine era which overlooks the city. Ankara was an important city during the Roman rule so there are a number of small Roman ruin dotted around the capital.
Ephesus
Many travellers also like to visit Ephesus, formerly Ionia, which has been inhabited by both the Greek and Roman Empires. Ephsus holds a significant number of well-preserved ruins. Of primary importance is the Temple of Diana, one of the seven wonders of the Greek world and still an incredibly impressive sight. You could easily spend a day here exploring all of the various ruins that the city has to offer.
Troy
There are plenty of things to do off the beaten track as well in Turkey, for those interested in History there is the city of Troy which is central as the city of Ilium in Homer's Illiad. Excavations here have unearthed evidence of nine ancient cities on around this site dating as far back as 3000BC.
Unique activities in Turkey
Since popular places in Turkey can get crowded during tourist season, it is wise to reserve tickets and activities ahead of time. GetYourGuide sells entrance tickets to museums and landmarks at face value so you can avoid the lines and save that precious time for more exploring.
Viator is another popular travel website that helps you book things to do in Turkey. They work directly with local tour operators in Turkey, so you won't have to scour the internet or roam around town trying to find the best deal.
If you know your schedule ahead of time, a great insider tip is to buy tickets for major tourist attractions ahead of time. Tiqets has entrance tickets and skip-the-line passes for major attractions in Istanbul and other hotspots, which can be a worthwhile cost during peak tourist season.
How to Find Cheap Flights to Turkey
If you're flying to Turkey or plan to take short flights within the country, we recommend using a few different flight comparison search engines. Kiwi is a new favourite among travellers. On average, we have found the cheapest flights to Turkey with them compared to the other websites out there.
Of course, it is always worth checking Skyscanner to guarantee you're getting the best deal. Both websites offer great flexible search options, allowing you to search the whole country of Turkey to find the cheapest airport to fly into, and also see prices for a full month if you're flexible on travel dates.
Some travelers prefer to arrive via sea at Turgutreis from Kos and Leros. Ferry Scanner provides further information and the schedules for the local ferries.
How to Travel Around Turkey on a Budget
Train and long-distance bus are the standard modes of transport for how to get around Turkey. Buses are the more economical option, nevertheless, they are well-equipped with the usual modern conveniences that expect when travelling in Europe. Train travel, on the other hand, is the fastest way between two cities in Turkey, and the train stations are conveniently located right in the center of town.
Certain routes are better suited to one mode of transport than the other. To compare your options for journeys from A to B, you can try Omio. They compare trains, buses (and even flights) so you can decide for yourself the tradeoff between cost and travel time.
For finding a carpool option between cities in Turkey, you can use BlaBlaCar, which is a favorite mode of transport among budget-savvy locals. Just search for your destination, pick the date you want to travel and you'll see different carpool options. Some rides allow you to book instantly, while others require the driver to approve manually. The BlaBlaCar site defaults to German but you can change the language at the bottom of the page.
Turkey is a part of the Eurail network, which is a good choice if you plan to take multiple train journeys in a short period of time. If you plan on doing lots of train travel in a short amount of time, a Rail Pass from Eurail might be the right choice for you. 
Bus Travel in Turkey
The bus network in some ways is better than the rail network, competition between competing local private firms means that fares are very low and for most travel within Turkey the trains are not significantly faster. Tickets are normally purchased either at the bus station or on the bus itself. Generally, buses will leave from a bus station in larger cities or from the town centre in smaller towns.
Driving in Turkey
You may also want the flexibility to stop in smaller towns between the major cities. If you decide you want to rent a car, you can use DiscoverCars to compare offers from the major car rental agencies in the region.
Backpacking Tours in Turkey
Though part of the fun of backpacking Turkey is exploring on your own, there are situations, especially when venturing off the tourist trail, when it does make sense to go with a guide or a small group. 
The most popular option for a social travel experience is Contiki tours. Contiki trips offer more than just transportation, they are organized social group travel for travelers aged 18-35. Whether you're traveling by yourself or going with a group of friends, Contiki tours are perfect for people looking to have a blast, meet new friends, and form lifelong memories. They offer tours that travel primarily in Turkey or longer tours that cover other nearby places.
G Adventures is another great option for organized travel, but with a smaller group. It's a great choice for anyone backpacking Turkey alone who would like to meet up with like-minded travellers. It's also a practical option for exploring places where you need an experienced guide, like a long hiking adventure or visiting a place well off the beaten path. You can choose from different styles of small group tours like active, wellness, hiking trips, 18-30somethings, and more.
Health and Safety in Turkey
It is recommended that you receive inoculations for Polio and Typhoid before travelling to Turkey, these can be obtained from your local GP. Rabies has not been eradicated in Turkey so travellers should take precautions against being bitten by animals for the duration of their stay.
Although there haven't been any outbreaks in recent years there is a history of Cholera in some areas so simple precautions are advised when eating and drinking. Healthcare is expensive and not as prevalent as in Western Europe so it is absolutely vital that you get travel insurance before you leave. Even for short trips, our go-to travel insurance provider is World Nomads, which is also recommended by Lonely Planet, HostelWorld, and other major travel companies.
Entry visa requirements for Turkey
A valid passport is required by all for the duration of your stay. You will also be asked to provide proof that you have either a return ticket or funds to cover a return ticket. EU and USA nationals require a visa for entry, this can either be obtained in advance by contacting the embassy or it can be obtained on arrival for a small administration fee (TL10 cash). This tourist visa allows a stay for up to 3 months but you will need to obtain further documentation if you plan to work while you are in Turkey.
Foreigner work permits and backpacker jobs in Turkey
A visa is required for UK nationals staying in Turkey for up to three months, which can be bought at the airport or border crossing. Those intending to stay for longer than three months will need to apply for a residency permit (ikamet tezkeresi), which entitles a one to two-year stay.
A residency permit and work permit (calisma vizesi), which can be obtained from the Turkish Embassy, should be taken to the tourist police (yabancilar polisi) once in Turkey to enable you to receive a 'pinkbook', needed for when you begin work. The best place to start looking for work in Turkey is Istanbul, considered the centre for wealth in comparison to the rest of the country.
Nannying in Turkey
Turkish families look less for au pairs who are required to perform domestic tasks: more often nannies, who are just concerned with the care of children, are employed. Agencies recruiting for Turkish families usually look for English-speaking women; tutoring the children in English is a typical duty.
Some nannying positions in Turkey pay up to TL125 per week, but it is important to remember that this will be less after tax deductions. As with most au pair and nanny jobs board and bed is provided. Nannies for Turkish families will also be required to pay their own health insurance. A number of au pair and nanny recruitment agencies operate in Turkey, including Anglo Nannies, and the Anglo Pair Agency.
Teaching English in Turkey
As English increasingly becomes seen as an important and influential language to learn, the demand for teachers can only increase. However, private language teaching is illegal in Turkey and so it is necessary to look for jobs in secondary schools and language institutions.
To secure such a job, and indeed a work permit, the TEFL qualification is essential. Visit the TEFL website for information about joining a course. Given the restrictions and requirements on this type of work, it is probably less suited to someone looking for more casual employment to combine with their travelling experience, but nevertheless, it remains a possibility.
Volunteering in Turkey
Ottoman & Ottoman organises wildlife conservation schemes linked to university science projects. Volunteers will also be provided with accommodation, but this can be as basic as a tent and you are expected to pay for your own food.
Further volunteering opportunities can be found with the Church Mission Society (CMS), which places volunteers in six to eighteen-month church-run projects in foreign countries, including Turkey. CMS is a mission agency working in partnership with churches in Africa, Asia, the Middle East and Europe. The CMS claims their mission is to "spread the Gospel to every part of the world", visit their website for more details.
Turkey Hostels and Budget Accommodation

Recently Turkey has invested a lot of resources in improving its hotel facilities. Most establishments are now regulated either nationally (Touristic) or by the local regional council. Youth Hostels are available in all major cities. We have had good experiences finding hostels in Turkey on HostelWorld. They have the largest inventory of hostels worldwide, and with over 10 million reviews and ratings from other travellers, you know exactly what to expect.
We have had good experiences finding hostels on HostelWorld. They have the largest inventory of hostels worldwide, and with over 10 million reviews and ratings from other travellers you know exactly what to expect.
Another good way to find accommodation in Turkey is by checking booking.com. On their site, you'll find hotels, homestays, hostels, and other unique accommodation. They have the most reviews and advanced filtering of any accommodation-booking site, so you'll be sure to find a great place in your budget. We have discovered some great finds and have appreciated the ability to book ahead. Many of the places on booking.com also offer free cancellation, which takes the pressure off the planning phase of your trip to Turkey.
If you are backpacking with another travel companion, we highly recommend booking a rental via VRBO. With a vacation rental, you'll have more space, your own kitchen, and you'll get a better feel for how the locals live. Plus, the cost of a vacation rental can be split among your group, oftentimes making it cheaper than doing individual hotel rooms. 
And lastly, CouchSurfing is a great community that connects travellers with local hosts. You can stay for free with verified hosts, who will usually show you around the locals spots.
Useful links for Backpacking in Turkey
---
There you have it, the ultimate Turkey backpacking guide. We hope you have found all the information you need for backpacking around Turkey.
Next up:
Liked this article? Share it with others who might be after the same information!