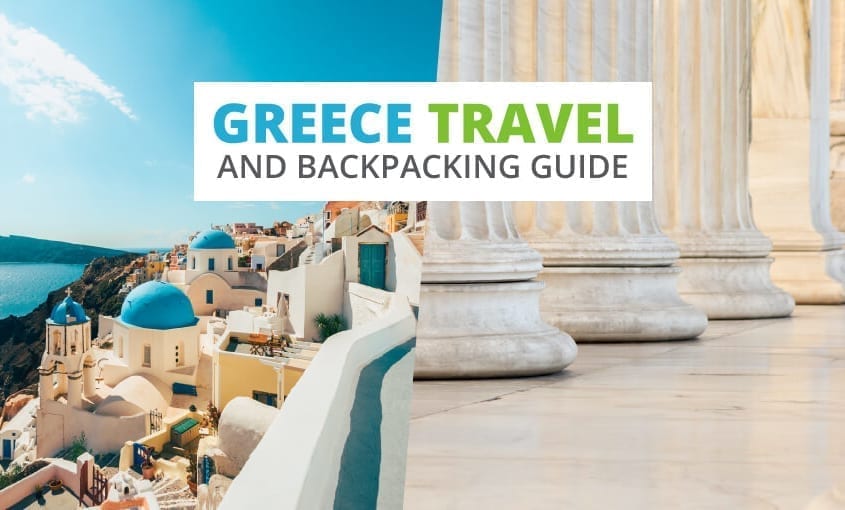 Backping Greece
Looking for important travel information while backpacking around Greece? Here you will find information on working in Greece, entry visas, Greece hostels, and much more.
Table of Contents

Facts About Greece
This country has left a legacy on worldwide history that far belies its modern importance. From Greece sprang the fundamentals of modern philosophy, maths and science as well as significant contributions to art and engineering. The ancient Greeks are responsible for large chunks of what is now international culture such as the spread of democracy and western values.
This of course means that visitors are spoilt for choice when it comes to seeing ancient Greek ruins and artefacts however there is plenty more to do whilst in Greece. Most visitors these days are attracted by the gorgeous beaches, the Aegean Sea and all night parties. With Greece becoming an increasingly popular destination you can expect the comfort and conveniences of modern Europe yet stood side by side with both relics of a glorious and ancient empire and the simple life of many Greek citizens.
Currency: Euro (€) 1 euro = 100 cents
Time Zone: GMT + 2
Language: Greek
Telephone Services: Country code +30, International access code 00
Emergency Numbers: 112 for all services
Climate
Situated in the Mediterranean Greece has the climate you would come to expect. Be prepared for dry hot days with the occasional cool breeze in summer. Athens is especially hot due to the smog during the summer. Evenings can get quite cool in the summer so be prepared for this! In the winter the northern part of the country can be quite cold, the south however is much milder. Throughout Greece the rainy season occurs between November and March when you can expect high levels of precipitation.
Things to see and do
The capital Athens was according to Greek mythology won by Athena (goddess of wisdom) from Poseidon. The story tells of how Athena's victory was honoured by the construction of a temple on the Acropolis. The Acropolis is a large stony hill at the centre of Athens, it was the site of the original settlement and is now home to the pantheon which is a temple depicting ancient Greece's many gods and goddesses. The traffic and smog can be quite bad in Athens but it is worth enduring for some of the most varied and bustling restaurants and nightlife in the country. The best thing to do in Athens is spend a few days checking out the sights during the day and living it up at night, then head out for some fresher air in other parts of Greece.
Elsewhere in Greece there are plenty of other attractions to see, one of the most popular is Delphi. This ancient city supposedly marked the centre of the Greek world and is located high on Mount Parnassos. Famously the site of the Oracle of Apollo the ruins are now a major tourist attraction and for just over 10 euros you can get entrance to the actual ruins themselves and the associated museum.
A short ferry hop from Athens can take you across to the Island of Crete. By far the most interesting place on this sunny little Island is the city of Knossos. This city was built by the ancient Minoans and was reputedly home to King Minos, the labyrinth and the mythical half-bull half-man known as the minotaur. Large parts of Knossos have been restored and there is visitor access to the Palace of Knossos, the royal villa, the house of frescoes and the Temple Tomb.
Finally most travellers like to take in the birthplace of the Olympics, Olympia. This remarkable site is situated in the Peloponnesus Valley, about 200km west of Athens. There are numerous famous buildings to see here including the famed hippodrome and the magnificent temple of Zeus. While here why not try to make time to see some of the lesser known sites as well like the Palaestra (wrestling school) and the Heraeum.
Travel
The Greek rail network is quite poor by European standards. You will find no service at all on the Greek Islands, a reasonable system on the Peloponnese peninsula. There are a few international rail connections from Greece but you will find connection to Macedonia, Bulgaria and Turkey from Athens or Thessaloniki.
If you are travelling by rail always try to book your seat a few days in advance and ask for a free seat reservation. The trains can be quite busy and in the heat of a typical Greek summers day you will definitely not want to be standing up for a couple of hours on a train. Whatever you do don't purchase your ticket on the train as you will be charged 50% extra on the price served at stations.
The European train passes are all valid in Greece although if you are travelling only in the Balkans (Greece, Bulgaria, Macedonia, Romania, Serbia and Turkey) then a Balkans rail pass may offer better value for money. This pass is a flexi-pass style ticket and allows between 5 and 15 days travel within a 1 month period. A youth discount is available for under 25's and prices start as low as 65 euros. These passes are available online from railkey.com.
Due to the somewhat lacking train service most travellers find bus a much more convenient way to get around in Greece. KTEL runs most domestic Greek routes while OSE serves international routes. Almost all cities of any size have a central bus depot with left-luggage facilities. Larger cities such as Athens may have more than one such station (Athens in fact has 3).
Prices are generally cheaper than taking the train and you won't normally have to book in advance unless it is exceptionally busy. There have been a few cases of luggage theft from buses so take normal security precautions such as if you intend sleeping ensure your baggage is stowed securely in the luggage compartment or out of sight of potential thieves.
Accommodation
Hotels in Greece range from the luxurious and high class common on the larger Greek Islands and the southern mainland to small seasonal chalets available almost everywhere. In the summer tourist season you will definitely have to book in advance or prepare to be disappointed. Self catering chalets and houses are a common form of accommodation on the Greek Islands and can usually be booked on the spot.
Paradosiakoi oikismoi or traditional settlements can be found throughout the country. These are traditional Greek hostels and most offer single, double or triple rooms or a four bedroom house depending on numbers. These are a little more expensive than youth hostels but the quality is generally quite a bit higher and you won't find any dorms in these type of lodgings.
Greece has only one hostel which is recognized by the International Youth Hostel Federation, this is located on Victor Hugo street in Athens, you can find more information at its hostel website.
The Greek Youth Hostel Association does maintain a list of their own with a lot more hostels on it but unfortunately they don't have a website at the moment. The best method of contact at the moment is postal or by phone and you can find the Greek Youth Hostels Association's address in our useful addresses section at the bottom of this page.
Health
The Greek National Health system provides medical service to Greek NI contributors and operates a reciprocal agreement with the British NHS. This means with an EH 111 form you should receive medical attention should you need it. Be aware that many services which would be done on the NHS in the UK may require a private doctor in Greece so it is wise to have comprehensive travel insurance.
The standard of healthcare whilst generally good does lag behind western Europe in some ways. In particular the ambulance service is stretched and is very basic so if you really need urgent attention and can move freely a taxi to the nearest hospital might be quicker than waiting for an ambulance (if there is any danger that movement might make the patient worse then always wait for an ambulance).
Greece, being part of the EU means that EU nationals or USA nationals will need only their passport or national ID card. No visa is required for a stay of up to 3 months. If you intend to stay longer or intend to work in Greece you should contact the Greek embassy.
Entry Visas for Greece
Addresses
The Greek Youth hostels association maintains a list of Greek recognised youth hostels :
Greek Youth Hostel Organization
75 Damareos Street
Athens
Tel: (210) 75.19.530
The Greek Embassy should be contacted for visa and immigration related enquiries:
Embassy of the Hellenic Republic
1A Holland Park
London
W11 3TP
Tel: (020) 7 229 3850
7221 6467 (visa section)
Fax: (020) 7 229 7221
While in Greece you can find UK representation at :
British Embassy
Odos Ploutarchou 1
106 75 Athens
Greece
Tel: + [30] (1) 72 72 600
Fax: + [30] (1) 727 2711
Foreigner Work Permits in Greece
EU nationals wishing to stay in Greece for longer than three months must apply for a residence permit within their three months of arrival. This can be obtained from a local police station, and you will need to show your passport and proof of having found employment. You must also register with the National Health Insurance Scheme (IKA). Greece has a great tourist industry, not only on the mainland but on its islands too. Greeks usually work a 5 day, 40 hour week.
Seasonal Work
Casual work in bars, clubs, and restaurants are best found by enquiring in person and most vacancies are likely in the busier tourist areas. Wages will depend on where you can find work, and what type of work it is, but remember that a lot of casual work in tourist areas can be busy and demanding. As unfair as it seems, women are generally more likely to find work in clubs and bars for the customers they attract.
Mark Warner is a recruitment organisation with links to resorts in Greece. Each year applicants are sent to various resorts in both summer and winter as sports coaches, pool attendants, aerobics instructors etc. See below for website details, where you can see jobs available and make an application.
Touting
As well as providing work in their kitchens, bars, and as cleaners, many Greek hostels and hotels employ people to publicise their establishment to passing tourists. Touting is a general term for handing out leaflets, putting up posters, and talking to passers-by. Given its high tourist occupation, Athens is a good starting place for this type of work. Working hours will usually be late since most jobs will be found at night entertainment spots, and wages will vary but do not expect pay to be flourishing.
Agricultural Work
Harvests throughout the year yield oranges, bananas, potatoes, olives, and grapes, in a number of places including Tol, Argos, and Crete. Most agricultural work can be found by enquiring in person to various farmers. The majority of jobs on farms will not pay particularly well and can be hard-work requiring long hours to earn anything decent. If you are predominantly interested in the type of work available on farms and have at least two years' experience in the industry, the Young Farmer's Clubs runs international schemes, including in Greece, that last between three and twelve months. Work is paid and although you are expected to pay your fares, the amount you earn will usually compensate for this.
Au Pairing
Athens is one of the surest places to find vacancies for au pair work in Greece. Agencies such as the Lady and Overseas Jobs Express and the Athenian Nanny Agency can arrange placements for 12 to 18 month placements with a Greek family. As an au pair you will be expected to look after the children, and perform general domestic duties such as cleaning. In some cases the family may pay your health insurance but it is important to check this and if they do not, arrange your own. Payment for Greek au pairs very much depends on how much responsibility you are given and on the family that you are placed with. Au pair jobs are also best found by word of mouth, and in the Athens News newspaper.
Volunteering
EIL is an organisation that places volunteers in projects, including environmental management and conservation, and working with people with disabilities. They offer a range of opportunities for volunteer work in other countries, including Greece. Projects usually last for six or twelve months and volunteers are provided with pocket money, language training, accommodation, food, flights, and insurance. For shorter-term projects, Concordia arranges international volunteer work including social and childcare. As with EIL, volunteers are provided with food and accommodation, but are expected to pay their own travel fees and insurance. Concordia also asks for a 75 euro registration fee.
Useful Addresses
National Federation of Young Farmers' Clubs
The International Farm Experience Programme
YFC Centre
National Agricultural Centre
Stoneleigh Park
Kenilworth
Warwickshire CV8 2LG
Athenian Nanny Agency
PO Box 51181
Dodonis 1
Kifissia 145.10
Athens, Greece
Useful Links
Mark Warner is a good seasonal employer
EIL is a voluntary organisation working in Greece
Concordia is one of the voluntary organisations in Europe.
How to Say Common Greek Phrases

Meeting People
English

Greek (phonetic)

yes

nai'

no

o'hi

thank you

efharisto'

you are welcome

parakalo'

please

parakalo'

excuse me

signo'mi

hello

gia'sou

goodbye

andi'o sas

Good morning

Kalime'ra

Good night

Kalini'hta

I do not understand

Den katalave'no

Do you speak…?

Mila'te…?

English

Agglika'

Greek

Ellinika'

What is your name?

Pos se le'ne?

Nice to meet you

He'ro poli'

How are you?

Ti ka'nete?

good

kala'

bad

a'shima
Directions
English

Greek (phonetic)

map

xa'rtis

left

aristera'

right

deksia'

straight on

efthi'a

far

makria'

near

konda'
Methods of Transport
English

Greek (phonetic)

Where is…?

Pou i'ne

How much is the fare?

Po'so ka'ni to isiti'rio

ticket

esiti'rio

A ticket to…, please

E'na isiti'rio gia, parakalo'

Where are you going?

Pou' pa'te

Where do you live?

Pou' me'nis

train

tre'no

bus

leofori'o

underground

metro'

airport

aerodro'mio

train station

o stathmo's tou tre'nou

bus station

o stathmo's tou leofori'ou

underground station

o stathmo's tou metro'

departure

anaho'rsis

arrival

a'fixis

parking

pa'rking
Time
English

Greek (phonetic)

What time is it?

Ti o'ra i'ne

today

si'mera

yesterday

hte's

tomorrow

a'brio
Accommodation
English

Greek (phonetic)

hotel

ksenodohi'o

room

doma'tio

reservation

kra'tisi

Are there any vacancies?

E'hete e'na doma'tio gia' apo'pse

No vacancies

den ipa'rhoun doma'tia

passport

diabatirio
Places
English

Greek (phonetic)

post office

taxidromi'o

bank

tra'peza

police station

astinomiko'tmi'ma

hospital

nosokomi'o

chemist

farmaki'o

shop

magazi'

restaurant

estiato'rio

museum

mousi'o

church

eklisi'a

squre

plati'a

street

dro'mos
Shopping
English

Greek (phonetic)

How much does this cost?

Po'so ka'ni afto'

I will buy it

Tha to agora'so

I would like to buy…

Tha i'thela na agora'so

Do you have…?

'Ehete

open

anikta'

closed

klista'

postcard

ka'rt posta'l

stamps

gramato'sema

little

li'go

lot

poli'

all

o'la
Meals
English

Greek (phonetic)

breakfast

proino'

lunch

mesimeriano'

dinner

bradino'

vegetarian

gia hortofa'gous

cheers!

gia'sou

The bill please

Logariasmo' parakalo
Drinks
English

Greek (phonetic)

drink

anapsiktiko'

coffee

kafe

tea

ts'ai

juice

himo'

water

nero'

beer

mbi'ra

wine

krasi'
Food
English

Greek (phonetic)

meat

kre'as

fish

psa'ri

vegetable

lahanika'

fruit

frou'ta

potato

pata'ta

salad

sala'ta

dessert

glika'
Buy phrasebooks online at Amazon.co.uk
Top Products for Backpackers