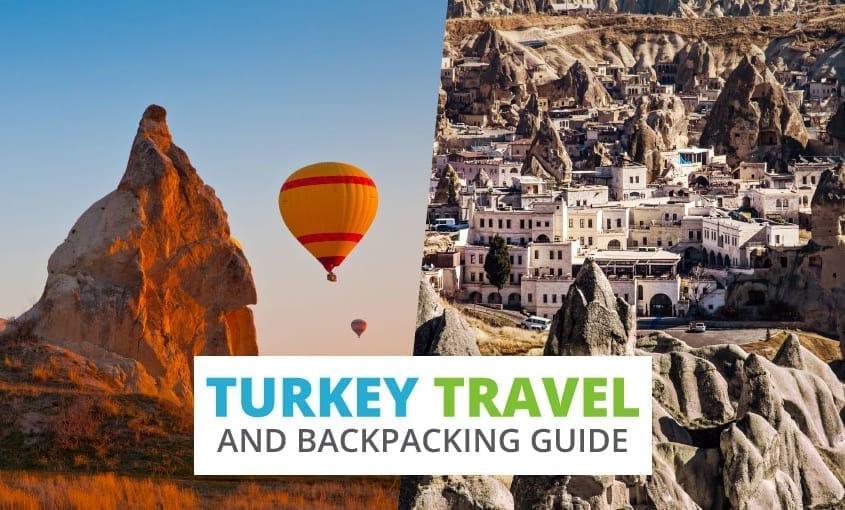 Backpacking Turkey
Looking for important travel information while backpacking around Turkey? Here you will find information on working in Turkey, entry visas, Turkey hostels, and much more.
Table of Contents

Facts About Turkey
Turkey is a country which owes a lot of heritage both to the middle-east and to Europe. Although Turkey is developing quickly the mysteries of the Orient and Arab influences are still very much in effect. In recent times Turkey has really opened up as a tourist destination with Westerners attracted by the bustling bazaars and the opportunity to haggle for Middle-eastern craft goods.
Turkey is generally a safe country to visit but there are some areas which have been unfortunately targeted by violence. Travellers have not been specifically targeted but foreign interests have been, so visitors are advised to remain aware of current events and keep a low profile. However, for the most part, Turkey is a rapidly developing country which provides an excellent tourist diversion.
Currency: Turkish Lira (TL) Note that exchange receipts must be retained to prove that legally exchanged currency was used.
Time Zone: GMT + 2
Language: Turkish
Telephone Services: Country code +90, International Access code 00
Emergency Numbers: 112 Ambulance, 111 Fire, 155 Police
Climate
The summers are hot and dry as can be expected from the Mediterranean climate, winters are generally quite mild but can be wet. The eastern mountainous region of Turkey is much colder in winter and normally experiences heavy snow. The Southeast is the hottest area often reaching 45C (113F) in the summer, this region also experiences very mild and quite dry winters.
Things to see and do
Unlike most countries the main attraction is not its capital, Ankara, but rather the ancient city of Istanbul. The city sits on the Europe-Asia border with the Bosphorous Bridge connecting the European and Asian parts of the city. Istanbul has been regarded as a hub of civilisation in the Middle East for much of its some 3000 years of existence and as such has an impressive historical and cultural presence.
The Grand Bazaar is a must-see attraction; a labyrinth of tiny streets boasting a plethora of shops and street traders you will find some truly unique souvenirs. Of course, haggling is the norm here so be prepared for starting prices to be quite steep; with a little practice though you will soon be haggling your way to unique, often handmade, bargain souvenirs. You can also see the famed Aya Sofya once the greatest church in Christendom and the exquisite Blue Mosque amongst many other architectural triumphs.
Ankara, the capita,l while not as impressive as Istanbul is still a worthwhile stop on your tour of the region. The main draw is the Hisar, which is a hilltop Citadel from the Byzantine era which overlooks the city. Ankara was an important city during the Roman rule so there are a number of small Roman ruin dotted around the capital.
Many travellers also like to visit Ephesus, formerly Ionia, which has been inhabited by both the Greek and Roman Empires. Ephsus holds a significant number of well preserved ruins. Of primary importance is the Temple of Diana, one of the seven wonders of the Greek world and still an incredibly impressive sight. You could easily spend a day here exploring all of the various ruins that the city has to offer.
There are plenty of things to do off the beaten track as well in Turkey, for those interested in History there is the city of Troy which is central as the city of Ilium in Homer's Illiad. Excavations here have unearthed evidence of nine ancient cities on around this site dating as far back as 3000BC.
Travel
The rail network is run by Turkish Railways (TCDD) and fares are comparatively low. Tickets are generally purchased from the station and discounts are available for students. Some travel passes such as InterRail will allow you to travel on Turkish trains (for InterRail you need a pass which includes zone G) which can allow you to make Turkey just one stop on your backpacking tour. Also note that to qualify for an InterRail pass you must be a European resident.
The bus network in some ways is better than the rail network, competition between competing local private firms means that fares are very low and for most travel within Turkey the trains are not significantly faster. Tickets are normally purchased either at the bus station or on the bus itself. Generally buses will leave from a bus station in larger cities or from the town centre in smaller towns.
Accommodation
Recently Turkey has invested a lot of resources in improving it's hotel facilities. Most establishments are now regulated either nationally (Touristic) or by the local regional council. The Turkish hotel Association maintains lists and addresses of hotels which fall into the different categories. Youth Hostels are available in all major cities and information can be found at www.yucelthostel.com the Turkish Youth Hostel Association. Generally holders of an ITSC or International Youth Hostel Federation cards are given a discount. Some places will also grant reductions for students or teachers.
Health
It is recommended that you receive inoculations for Polio and Typhoid before travelling to Turkey, these can be obtained from your local GP. Rabies has not been eradicated in Turkey so travellers should take precautions against being bitten by animals for the duration of their stay. Although there haven't been any outbreaks in recent years there is a history of Cholera in some areas so simple precautions are advised when eating and drinking. Healthcare is expensive and not as prevalent as in Western Europe so it is absolutely essential that you have travel insurance which will cover the cost of all medical aid.
Useful Links
Entry Visas for Turkey
A valid passport is required by all for the duration of your stay. You will also be asked to provide proof that you have either a return ticket or funds to cover a return ticket. EU and USA nationals require a visa for entry, this can either be obtained in advance by contacting the embassy or it can be obtained on arrival for a small administration fee (TL10 cash). This tourist visa allows a stay for up to 3 months but you will need to obtain further documentation if you plan to work while you are in Turkey.
Addresses
For visa and immigration enquiries you should contact the Turkish Embassy :
Embassy of the Republic of Turkey
43 Belgrave Square
London
SW1X 8PA
Tel: (020) 7 393 0202
Fax: (020) 7 393 0066
Or alternatively contact the Turkish Consulate :
Turkish Consulate General
Rutland Lodge
London
SW7 1BW
Tel: (020) 7 589 0360
Fax: (020) 7 584 6235
British Representation whilst in Turkey can be found at the British Embassy :
British Embassy
Sehit Ersan Caddesi 46/A
Cankaya
Ankara
Turkey
Tel: + (90) (312) 468 62 30/42
Fax: + (90) (312) 468 32 14
Commercial + [90] (312) 468 66 43 Consular/Visa + [90]
email: britembank@ankara.mail.fco.gov.uk
There are also British Consulates in Antalya, Bodrum, Bursa, Iskenderun, Izmir, Marmaris, Mersin and Istanbul.
Foreigner Work Permits in Turkey
A visa is required for UK nationals staying in Turkey for up to three months, which can be bought at the airport or border crossing. Those intending to stay for longer than three months will need to apply for a residency permit (ikamet tezkeresi), which entitles a one to two-year stay. A residency permit and work permit (calisma vizesi), which can be obtained from the Turkish Embassy, should be taken to the tourist police (yabancilar polisi) once in Turkey to enable you to receive a 'pinkbook', needed for when you begin work. The best place to start looking for work in Turkey is Istanbul, considered the centre for wealth in comparison to the rest of the country.
Nannying
Turkish families look less for au pairs who are required to perform domestic tasks: more often nannies, who are just concerned with the care of children, are employed. Agencies recruiting for Turkish families usually look for English-speaking women; tutoring the children in English is a typical duty. Some nannying positions in Turkey pay up to TL125 per week, but it is important to remember that this will be less after tax deductions. As with most au pair and nanny jobs board and bed is provided. Nannies for Turkish families will also be required to pay their own health insurance. A number of au pair and nanny recruitment agencies operate in Turkey, including Anglo Nannies, the Anglo Pair Agency, and The Solihull Au Pair & Nanny Agency, see below for contact details.
Teaching English
As English increasingly becomes seen as an important and influential language to learn, the demand for teachers can only increase. However, private language teaching is illegal in Turkey and so it is necessary to look for jobs in secondary schools and language institutions. To secure such a job, and indeed a work permit, the TEFL qualification is essential. Visit the TEFL website for information about joining a course. Given the restrictions and requirements on this type of work, it is probably less suited to someone looking for more casual employment to combine with their travelling experience, but nevertheless it remains a possibility.
Volunteering
Genctur is a company that runs children's summer camps. Job opportunities on the camps consist of teaching English to the children for seven hours a day. Pocket money is provided, but the amount depends on your experience. This type of work includes free accommodation and meals and thus perhaps a sense of security. Ottoman & Ottoman organises wildlife conservation schemes linked to university science projects. Volunteers will also be provided with accommodation, but this can be as basic as a tent and you are expected to pay for your own food. Further volunteering opportunities can be found with the Church Mission Society (CMS), which places volunteers in six to eighteen month church-run projects in foreign countries, including Turkey. The CMS claims their mission is to "spread the Gospel to every part of the world", visit their website for more details.
Useful Links
How to Say Common Turkish Phrases
Meeting People
English

Turkish

yes

evet

no

hayır

thank you

teşekkür ederim

you are welcome

rica ederim

please

lütfen

excuse me

Affedersiniz

hello

merhaba

goodbye

Güle güle

Good morning

Günaydın

Good night

iyi geceler

I do not understand

Anlayamıyorum

Do you speak…?

biliyorumusunuz

English

Ingilizce

What is your name?

Isminiz nedir?

Nice to meet you

Tanıştığıma memnun oldum

How are you?

Nasilsin(iz)?

good

iyi

bad

kötü
Directions
English

Turkish

map

harita

left

sol

right

sa-g

straight on

düz

far

uzak

near

yakın
Methods of Transport
English

Turkish

Where is…?

Nerede…?

How much is the fare?

Ücret ne kadar?

ticket

bilet

A ticket to…, please

İçin bir bilet lütfen

Where are you going?

Nereye gidiyorsun(uz)?

Where do you live?

Nerede yaşıyorsun?

train

tren

bus

otobüs

underground

metro

airport

havalimanı

train station

tren istasyonu

bus station

otobüs durağı

underground station

metro istasyonu

departure

kalkış

arrival

varış

parking

otopark
Time
English

Turkish

What time is it?

Saat kaç?

today

bugün

yesterday

dün

tomorrow

yarın
Accommodation
English

Turkish

hotel

hotel

room

oda

reservation

rezervasyon

Are there any vacancies?

Boş yer var mı?

No vacancies

Bos yer yok

passport

pasaport
Places
English

Turkish

post office

postahane

bank

banka

police station

polis karakolu

hospital

hastane

chemist

eczane

shop

Dükkan

restaurant

lokanta

museum

müze

church

kilise

square

meydan

street

cadde
Shopping
English

Turkish

How much does this cost?

Bu ne kadar?

I will buy it

Onu alacağım

I would like to buy…

Almak istiyorum…

Do you have…?

Sizde var mı…?

open

açık

closed

kapalı

postcard

kartpostal

stamps

pul

little

biraz

lot

çok

all

hepsi
Meals
English

Turkish

breakfast

kahvaltı

lunch

öğle yemeği

dinner

ak,sam yeme-gi

vegetarian

vejeteryan

cheers!

serefe!

The bill please

Hesap Lütfen
Drinks
English

Turkish

drink

icecek

coffee

kahve

tea

Çay

juice

meyva suyu

water

su

beer

bira

wine

sarap
Food
English

Turkish

meat

et

fish

balık

vegetable

sebze

fruit

meyva

potato

patates

salad

salata

dessert

tatlı
Buy phrasebooks online at Amazon.co.uk
Turkey Hostels
Hostels are a cheap form of accomodation, and so they are essential to backpackers and other budget travellers. We have compiled a list of hostels in Turkey to help you plan your journey. If you are looking for a hostel in Turkey, you've come to the right place.

Antalya Hostels
Denizli Hostels
Istanbul Hostels
Turkey Hostels
There you have it, the ultimate Turkey backpacking guide. We hope you have found all the information you need for backpacking around Turkey.