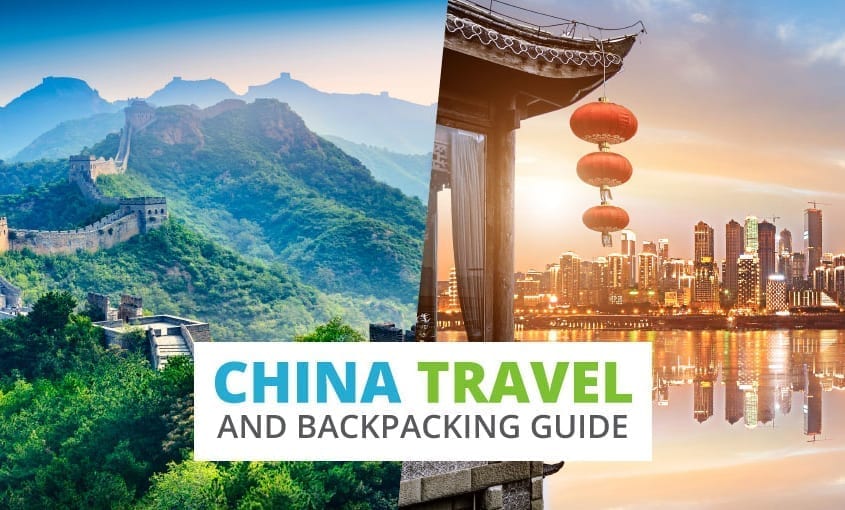 Backpacking China
Looking for important travel information while backpacking in China? Here you will find information on working in China, entry visas, hostels in China, and much more.
Table of Contents
Facts About China
Arguably the most well known of the countries in Asia, China is a country of splendid mountain backdrops and a rich tradition steeped culture which most western tourists find irresistible. To some China is the land of emperors, ancient temples and warrior monks, others come to see the remnants of communism. No matter what your taste you will find plenty to do in China, from the more well-known sites such as the Great Wall of China and the Terracotta Army to lesser-known sites such as the Flaming Mountains near Turpan.
Of course, China hasn't been standing still and in its cities, you will also find elements of western culture fused with Chinese traditionalism. Furthermore, China's extreme size means that it is a fantastic destination for repeated visits; it would take literally years to explore all that this huge country has to offer.
Currency: Yuan (Renminbi RMB) = 10 chiao/jiao or 100 fen
Time Zone: GMT + 8
Language: Chinese (Mandarin is the major dialect)
Telephone Services: Country code +86, International access code 00
Emergency Numbers: 110 Police, 119 Fire
Climate in China
When deciding the best time to visit China, the weather has to play a big role. China's size means that the climate does vary considerably from one region to another so be sure to check weather patterns before deciding the best time to visit China.
The northeast generally boasts very hot, very dry summers but also some of the most bitterly cold winters. The northern and central regions have a lot of precipitation at all times of the year with hot summers and cold winters. The south-eastern area is the most temperate with nearly tropical summers and cool winters, there is still however a substantial amount of rainfall spread throughout the year.
Things to do in China
Beijing
Beijing is China's capital and is to some extent a gigantic showpiece of the Chinese governments. The city is famous for Tiananmen Square, the site is most famously the site of a massacre of thousands of students but is also the home of the Tiananmen Tower, Mao Zedong memorial hall and several other landmarks. The square lies at the centre of Beijing and is dominated by the Tower at the north end, which was originally built during the Ming Dynasty.
Also well worth a visit is the Forbidden City, again located in central Beijing this huge palace complex was used by both the Ming and Qing dynasties. It covers an impressive 74 hectares and it is advised to plan to spend at least half a day exploring all that the palaces have to offer.
If all of the tourism gets on top of you, however, just south-west of Tiananmen square is the Daguanyuan or "Grand View Garden". This exquisitely picturesque garden boasts several small attractions of its own such as the Bamboo Lodge and the Cheerful Red Court but in many ways, these are secondary to its beautiful gardens.
Beijing also makes an ideal base for exploring some of the surrounding sites, there are numerous areas of the Great Wall open to visitors close to Beijing. The Jinshanling stretch is 90km in length and not as busy as some of the other stretches nearby.
Also, close by are the famous Ming Tombs. These 13 mausoleums each house one of the emperors of the Ming dynasty each holding various relics and treasures, amongst them in the mausoleum of Emperor Zhu Yijun is the imperial crown, one of China's rarest treasures.
Xi'an
Most visitors to China don't want to leave without visiting Xi'an. This city was formerly a major hub of trade from eastern China to Asia but is most famous for its Terracotta Army. Uncovered in 1974 with new statues still being discovered and restored to date each of the thousands of warriors has been sculpted uniquely and are thought to be exact likenesses of Emporer Qin's actual army. The statues are armed with real weapons and include contingents of swordsmen, archers and cavalry.
Also of note in Xi'an is the Banpo Neolithic village which is a recreation of stone-age China, however, these and other attractions such as the Muslim Quarter pale into insignificance against the splendour of the Terracotta Army.
Shanghai
Shanghai is another of China's major cities but to many, it represents the Western cultural invasion of the east and as such has earned itself a somewhat distasteful reputation amongst snobbier travellers. The most famous site is the "Temple of the Jade Buddha", this splendid temple was built in 1882 to house two magnificent jade Buddha statues brought back from Burma by the monk Huigen.
Also worth a visit is the Shanghai Museum which hosts some 120,000 works of art including excellent exhibitions of Chinese Bronzes and Ming/Qing dynasty furniture. Of special interest is the splendid Jade gallery which boasts exhibits ranging as far back as 7000 years.
Unique Activities in China
Since popular places in China can get crowded during tourist season, it is wise to reserve tickets and activities ahead of time. GetYourGuide sells entrance tickets to museums and landmarks at face value so you can avoid the lines and save that precious time for more exploring.
Viator is another popular travel website that helps you book things to do in China. They work directly with local tour operators in China, so you won't have to scour the internet or roam around town trying to find the best deal.
If you know your schedule ahead of time, a great insider tip is to buy tickets for major tourist attractions ahead of time. Tiqets has entrance tickets and skip-the-line passes for major attractions in Beijing, Shanghai, and other hotspots, which can be a worthwhile cost during peak tourist season.
How to Get Cheap Flights to China
In order to find the best flights to China we recommend using a few well-known flight comparison search engines. These websites offer powerful search options, like entering flexible dates and airports in order to find the cheapest flight to China.
Our go-to flight search engine is Skyscanner, which we love for its extremely flexible search options. Our favourite way to get travel inspiration is their "Everywhere" feature. Simply enter "Everywhere" as a destination, and it will then list all available flights from your departure city in order of price. This also works when entering the entire country of China as your destination. Skyscanner will search all possible airports in the country in order to find the cheapest option.
Kiwi is another new favourite flight search engine among savvy travelers. Kiwi works by combining flights from different carriers in order to get the best deal. Also, if there is a better ground or ferry option for the route you're searching, Kiwi will include that in the search results. On average, we have found the cheapest flights to China with them compared to the other websites out there.
How to Travel Around China on a Budget
China is an enormous country so travelling by air across larger distances is well worthwhile. Most tickets are booked through tour operators but backpackers or independent travellers can book through the Chinese International Travel Service which charges a commission. You can attempt to buy tickets from booking offices but you will find that the Chinese government has put some restrictions on foreign air travel, most notably you will be refused access to areas such as Tibet if you are not part of a "group tour" arranged through a tour operator or Chinese International Travel Service.
Train Travel in China
The rail service in China is in general good and offers a cheap and safe way to travel. The network covers some 52,000lm and reaches every province except for Tibet.
There are four different kinds of fares, hard and soft seated and hard and soft sleepers, it is generally quite cheap so you will be wanting to lay out the extra cash for the comfier seats/beds on most journeys. Children are offered discounts according to height rather than the more traditional age boundaries, children under 1m (3ft) will travel free and children under 1.3m (4ft) only pay a quarter fee.
Bus Travel in China
It is possible to reach most of China by bus, however, roads are not always of good quality and neither is the standard of driving. Buses are for the most part slow, crowded and in general a somewhat hair-raising experience.
Buses are run by a variety of local companies and fares are usually paid for on the bus to the bus driver. It is worth noting that although hire-cars are available most companies will want to retain your passport and thus are not generally to be recommended. Cars, with drivers, can be hired easily in bigger cities.
Ferry Services in China
The final way to travel in China is by boat, all major rivers have ferry services on them and these are geared up to serve tourists quite well. The Yangzi is especially well catered for and there is a good selection of boat trips available.
Backpacking Tours in China
Though part of the fun of backpacking China is exploring on your own, there are situations, especially when venturing off the tourist trail, when it does make sense to go with a guide or a small group. 
The most popular option for social travel in China is Contiki tours. Contiki trips offer more than just transportation, they are organized social group travel for travelers aged 18-35. Whether you're traveling by yourself or going with a group of friends, Contiki tours are perfect for people looking to have a blast, meet new friends, and form lifelong memories. They offer tours that travel primarily in China or longer tours that cover other nearby places.
G Adventures is another great option for organized travel, but with a smaller group. It's a great choice for anyone backpacking China alone who would like to meet up with like-minded travellers. It's also a practical option for exploring places where you need an experienced guide, like a long hiking adventure or visiting a place well off the beaten path. You can choose from different styles of small group tours like active, wellness, hiking trips, 18-30somethings, and more.Their most popular trips in China are their 14-day Beijing to Hong Kong on a Shoestring tour, or their 15-day China Active Adventure tour for those interested in hiking and biking through China's countryside.
China Hostels and Budget Accommodation

China boasts some 2350 "star-graded" hotels with about that number again of ungraded hotels so finding a place to stay near major cities shouldn't pose much of a problem. Most hotels have good facilities and many of the pricier ones have a myriad of leisure activities on-site.
Budget travellers have two choices open to them, there are generally dormitories found in tourist hotspots although the conditions can be very poor and in some, you will want to take your own bed linen. Thankfully China is currently in the process of building a youth hostel network.
We have had good experiences finding hostels in China on HostelWorld. They have the largest inventory of hostels worldwide, and with over 10 million reviews and ratings from other travellers, you know exactly what to expect.
Another good way to find accommodation in China is by checking booking.com. You'll find hotels, homestays, hostels, and other unique accommodations. They have the most reviews and advanced filtering of any accommodation-booking site, so you'll be sure to find a great place in your budget. Many of the places on booking.com also offer free cancellation, which takes the pressure off the planning phase of your trip to China.
If you are backpacking with another travel companion, we highly recommend booking a rental via VRBO. With a vacation rental in China, you'll have more space, your own kitchen, and you'll get a better feel for how the locals live. Plus, the cost of a vacation rental can be split among your group, oftentimes making it cheaper than doing individual hotel rooms. 
If you're looking to save even more money while backpacking in China, there are plenty of creative ways to get free accommodation in exchange for work. For example, one of our favorite ways to stay in amazing locations for free is by signing up as a petsitter with Trusted Housesitters. The site connects responsible animal lovers with petsitting opportunities in China and all over the world. It's a win-win for both sides – travellers can stay in amazing locations for free, and homeowners can rest easy knowing that someone is watching over their place.
And lastly, CouchSurfing is a great community that connects travellers with local hosts in China. You can stay for free with verified hosts, who will usually take some time to show you around the local spots.
Entry Visa Requirements for China
A valid passport, a return ticket and a tourist visa are required by all non-Chinese nationals wishing to enter. Visas can be acquired from the local Chinese Embassy and cost ¥30 for a single entry visa and ¥45 for a multiple entry visa. It is worth noting that postal applications attract a ¥20 handling surcharge. All visitors are also required to fill in a health declaration certificate on arrival.
Visa requirements for China can vary widely depending on your country of origin and can change over time. To avoid any unpleasant surprises, be sure to check the latest visa requirements while you're still planning your trip.
Health and Safety in China
Medical costs are surprisingly low in China although many Western medicines are unavailable. Facilities in China's international hospitals are nearly as good as those in Western hospitals. As with travel to all other countries abroad, it is vital that you get travel insurance before you leave for China. Even for short trips, our go-to travel insurance provider is World Nomads, which is also recommended by Lonely Planet, HostelWorld, and other major travel companies.
Typhoid and polio vaccinations are recommended before travelling to China, these can be obtained from your local GP for around ¥40. Cholera is also a slight risk in China although the medical community is somewhat divided on whether vaccinations are effective, you should consult your GP for up to date medical advice before travelling. Malaria is present in most regions of the country and it is recommended that you carry chloroquine in most areas and mefloquine in Hainan and Yunnan.
Outside main cities water should be boiled before use for either washing or consumption, meat should be well cooked and served hot and vegetables should be cooked and peeled. Although in the cities there are no large problems normal precautions should be observed when buying food from smaller restaurants or street vendors.
Volunteering, Work Permits, and Backpacker Jobs in China
As is the case with a lot of Asian countries, work opportunities are difficult to come by in China due to the weakness of the economy. Most chances of work will be found in teaching English, or volunteering.
Volunteering in China
Teaching English in China
Schools, colleges, and universities are often looking for teachers to help with educating their students in English. Start looking for work in the main cities, Shanghai for example. Training to receive the TEFL qualification before leaving the UK can sometimes be advantageous, but in China, it is not usually essential or even necessarily looked at, but teaching experience is always helpful to have.
The British Council organise one-year placements for students wanting to teach English in China, the requirements are that you speak English, hold a valid EU passport, and have completed secondary education. Language assistants usually earn between 2500 and 3500 yuan per month (approx. ¥183 to ¥256), for up to 18 hours of weekly work and are often provided with accommodation.
Project Trust
In China, volunteers with the Project Trust work in developing areas as teachers of English in schools. In 2003 volunteers were sent to Guangdong, Shandong, and Gansu, three somewhat different areas in terms of their stage of development. This type of work gives volunteers the opportunity to help in the community and to experience a completely different lifestyle to what they are used to, seeing communities develop and being part of this.
Projects Abroad
Projects Abroad runs one month or more long programmes where volunteers teach English to schoolchildren, take part in animal care, or even work in the local media and medical centres. In China, volunteers go to Shanghai on whichever type of work they choose. Accommodation is provided either with host families or living with other teachers in local hostels.
VentureCo
VentureCo's 16-week programme combines aid projects with expeditions from Cambodia, through Vietnam, to Laos, and finally China. The first three weeks are spent in what is known as 'cultural orientation' consisting of visiting various places guided by a team who introduce you to the culture and traditions of the country, and learning the Khmer language.
The following four weeks consist of community aid work in Koh Kong, involving teaching and food distribution to underprivileged children. A 9-week expedition then follows taking you through Vietnam: Saigon, HoiAn, China Beach, and Hue City; Laos: Vientiane, Luang Prabang, and the Mekong River, and finally China: Kunming, Lijiang, the Yangtze, Xi'an, Beijing, and finishing with a trek on the Great Wall of China. Programmes with VentureCo are self-funded and can cost you up to ¥5000, which includes travel, food, accommodation, transport, and fees for the activities themselves.
Useful Links for Backpacking in China
China National Tourist Office is a good source of information for visitors to China
GAdventures

– guided small group tours in

China

, great for solo travellers or for those interested in a more adventurous trip which would require a guide

DiscoverCars –

The world's leading rental car search engine to rent a car in

China 

Kiwi

and

Skyscanner

– Flight comparison search engines to find the cheapest flights to

China

and within the country

GetYourGuide

and

Viator

–

a collection of local tours and activities in

China

. Also offers Skip the Line tickets for crowded attractions

Tiqets

– Website selling entrance tickets and skip the line tickets for major tourist attractions in

China

HostelWorld

– #1 hostel search website to find accommodation while backpacking China. Thousands of hostels and millions of reviews from fellow travellers

Booking.com

– commonly used booking site for accommodation in

China

. Find hostels, hotels, and other unique accommodations in

China

with advanced filtering and millions of reviews

World Nomads Travel Insurance

– Comprehensive travel insurance for long and short trips when backpacking

China
---
There you have it, the ultimate China backpacking guide. We hope you have found all the information you need for backpacking around China.
Next up:
Liked this article? Share it with others who might be after the same information!