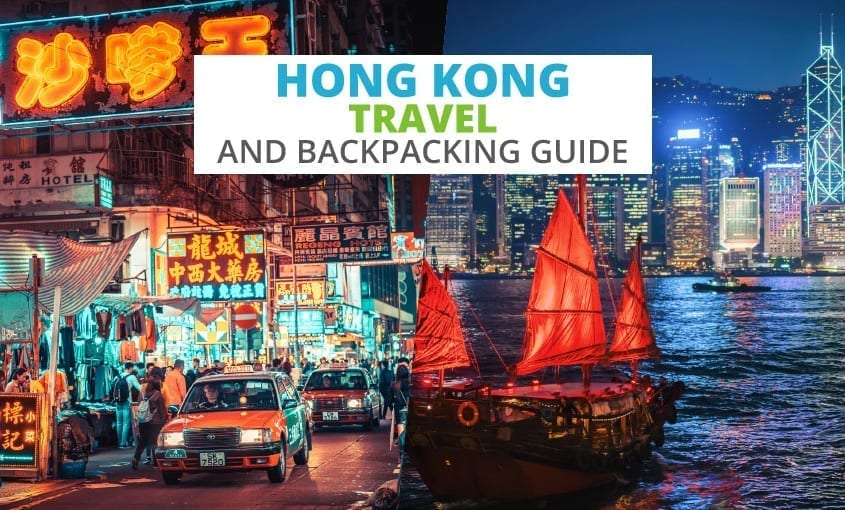 Backpacking Hong Kong
Looking for important travel information while backpacking around Hong Kong? Here you will find information on working in Hong Kong, entry visas, Hong Kong hostels, and much more.
Table of Contents

Facts About Hong Kong
Hong Kong was for 100 years part of the British Empire, it was handed back To Chinese rule in 1997 and despite initial unease life has very quickly returned to normal. Hong Kong is split into four regions; Kowloon and New Territories are on the peninsula of the Chinese mainland, Hong Kong Island is the main part of Hong Kong and the Outlying Islands are a collection of over 200 tiny islands which surround Hong Kong proper. The whole of Hong Kong is an incredibly busy city with a pace that most travellers first regard as frantic. After a day or so of adjustment you will find Hong Kong a rewarding destination. Although its cost might make a long stay in Hong Kong prohibitive, it is worth including for a few days on any tour of the Chinese mainland.
Currency: Hong Kong Dollar (HK$) = 100 cents
Time Zone: GMT + 8
Language: Cantonese and English
Telephone Services: Country code +852, International access code 00
Emergency Numbers: 999 for all services
Climate
Hong Kong's climate is governed by four distinct seasons influenced by its bi-annual monsoons in the winter and summer months. The summers are very hot with a rainy season occurring between June and August, Spring and Autumn are both temperate with mild precipitation. During winter temperatures can fall quite low but in general the weather is quite mild. There is a risk of typhoons running from July to September.
Things to see and do
Kowloon is the main tourist region in Hong Kong, it is here that you will find the majority of consumer electronics stores nestled between bars, clubs and restaurants. Some travellers can find this area a little tacky, but it is quite a good chance to get orientated in a more familiar environment, besides there are some sights worth seeing. There is a large night market on Temple Street which although has fallen victim in part to the tourist trade is still worth a look. Also in this area is the Space museum which features an impressive OMNIMAX film projector as well as a range of hands on extension activities. Also of interest is the Museum of History and the Hong Kong Cultural centre which both have an impressive range of exhibits.
Hong Kong island itself is even busier than mainland Hong Kong and much like Kowloon has a significant amount of tourist tack on display. Most visitors come to see the junks anchored off the southern harbour in Aberdeen. Here you will find plenty of boat tours on offer which although pricy are well worth the cost. While here most tourists can't help but indulge in a meal on one of the many floating restaurants in the area. Other attractions include the Central Market which is the largest on the island and the ancient Man Mo Temple. When the frantic pace of the city gets on top of you, and it will eventually, you can escape by visiting the Zoological & Botanic gardens or perhaps the glorious beach at Repulse Bay.
The most notable other tourist attraction is the Victoria peak which rises 552m above sea level. While hardly a mountain it does offer some excellent views of the city, particularly Victoria Harbour. The best views are at night when the hordes of lights around the city make for a truly spectacular view. While at the peak it is worth doing some window shopping in the mall directly under the observation point, although don't expect many bargains here as these shops have geared up well to the "captive" tourist market the enjoy access to.
Travel
For tourists by far the most popular way to get around between the various regions is by boat. There are a number of options available, the most common is the cross harbour passenger ferries which run every 5 minutes. Most ferries are operated by Star Ferries but there are other smaller companies operating services. These ferry services only run between 6:30 am and 11:30pm but small motor boats, termed locally wallah wallahs run by enterprising individuals or small companies offer effectively a waterborne taxi service 24 hours a day. In Aberdeen Watertours offers a tour of the harbour in Junks and there are various passenger ferries to outlying islands.
Hong Kong has a reasonable sized metro system with four lines including a cross harbour route. It is generally faster than the ferry but works out slightly more expensive. Tickets are normally bought from automatic dispensers in the station and cost between 30p and HK$1 depending on the route. Visitors staying for longer than a couple of days could take advantage of an octopus card, which costs about HK$5. This card starts with $50 credit on it and the cost of fares are deducted when placed on card sensors in the stations, these cards have the benefit of giving the bearer a reduced fare.
There is a well connected local bus and tram network in operations which is inexpensive but often very crowded. These services also accept Octopus cards. Taxis are readily available and most drivers speak enough English to get by. There are also rickshaws available which are these days solely a tourist attraction.
Accommodation
There are plenty of hotels in all of the areas of Hong Kong with over 40,000 rooms estimated to be available in the city. Standards range from luxury international hotels to small family run guest houses. Despite the huge amount of accommodation in Hong Kong during the tourist season it is essential to book in advance. There is a reservation centre in Hong Kong international airport which can help you out if you haven't booked in advance but they do charge a pretty heft commission. For more information on hotels in Hong Kong contact the Hong Kong Hotels Association.
There are 4 YMCA hostels operating in Hong Kong including one in Kowloon, the YMCA can provide more information on facilities and prices of these excellent hostels. There are also a number state registered hostels which mainly operate outside the main cities. These are regulated by the Hong Kong Youth Hostels Association who can be contacted for more information.
Health
The quality of Healthcare practised in Hong Kong is excellent and easily on par with Western standards. Charges are made for all services and medical bills can become quite expensive so it is highly recommended that you take out fully comprehensive travel insurance.
Vaccination is advised against both polio and typhoid, these vaccinations are available from your local GP for around HK$40. There is a slight risk of malaria so you should contact your GP for medical advice on whether it is necessary to carry any anti-malaria treatments.
The food and drink in Hong Kong is considered safe and only normal everyday precautions need be observed.
Useful Links
The Hong Kong Tourist Board provides official tourist information for travellers to Hong Kong
The Hong Kong Youth Hostels Association has information on a number of youth hostels in Hong Kong
The YMCA runs 4 youth hostels in Hong Kong
The Hong Kong Hotels Association can provide information on hotels in Hong Kong
Entry Visas for Hong Kong
All travellers require a passport valid for at least 6 months after the period of intended stay in Hong Kong as well as evidence of a return ticket. Visa regulations vary a lot according to nationality. Travellers holding a British passport may stay for up to 6 months without a visa with those holding passports of British Dependant Territories being permitted up to 3 months stay without a visa. USA and EU nationals do not require a visa for a stay of up to 3 months. For any other visa or immigration related information you should contact the nearest local Hong Kong Government Office.
Addresses
Visa and Immigration enquiries should be directed towards the local Hong Kong Tourism Board Office:
Hong Kong Tourism Board
6th Floor 
Mutual House
70 Conduit street
London
W1S 2GF

Tel: 0207 432 7700 
Fax: 0207 432 7701

If you require UK representation while abroad you should contact the British Consulate General, it is worth. Noting that Hong Kong is a Special
Administrative Region of China so you may need to contact the British Embassy in China for some services:
Hong Kong British Consulate General 
No 1 Supreme Court Road 
Central: Hong Kong  
P O Box 528 
Tel: + [852] 2901 3000 
Fax: + [852] 2901 3007/8 

Tourist information can be provided by the Hong Kong Tourist Board:
Hong Kong Tourism Board 
6 Grafton Street 
London 
W1S 4EQ 
Tel. 020 7533 7100 
Fax.020 7533 7111
How to Say Common Cantonese Phrases
Meeting People
English

Cantonese

yes

hai

no

m hai

thank you

doh jeh, m goi

you are welcome

m sai haak hei

please

m goi, ching

excuse me

ching yeung, dui m chu

hello

nei ho

goodbye

joi gin

Good morning

jo san

Good night

maan on, jo taau

I do not understand

ngoh m ming baak

Do you speak…?

lei sik gong…ma?

English

ying man

What is your name?

lei giu me ye meng?

Nice to meet you

rho go hing ying sik lei

How are you?

nei ho ma?

good

ho

bad

m ho
Directions
English

Cantonese

map

dei to

left

joh

right

yau

straight on

jik hui

far

yuen

near

gan
Methods of Transport
English

Cantonese

Where is…?

bin do hai…?

How much is the fare?

che fai gei doh chin?

ticket

piu

A ticket to…, please

yat jeung piu hui…, m goi

Where are you going?

nei yui hui bin?

Where do you live?

nei ju hai bin?

train

foh che, tit lo

bus

gung gung hei che, ba si

underground

dei ha tit

airport

fei gei cheung

train station

foh che jaam

bus station

gung gung hei che jaam, ba si jaam

underground station

dei tit jaam

departure

chut ching

arrival

yap ching

parking

ting che cheung
Time
English

Cantonese

What time is it?

gei dim jung a?

today

gam yat

yesterday

kam yat

tomorrow

ting yat
Accommodation
English

Cantonese

hotel

lui goon

room

fong

reservation

ding, yue ding

Are there any vacancies?

ching man gam maan yau mo hung fong?

No vacancies

mo saai hung fong

passport

woo jiu
Places
English

Cantonese

post office

yau ching guk

bank

ngan hong

police station

ging chaat guk

hospital

yi yuen

chemist

yeuk fong

shop

dim po

restaurant

chaan teng, jau lau

museum

bok mat goon

church

gau tong

square

gong yuen

street

gaai do, ma lo
Shopping
English

Cantonese

How much does this cost?

ni goh gei doh chin?

I will buy it

ngoh yiu maai ni goh

I would like to buy…

ngoh seung maai…

Do you have…?

lei yau mo…?

open

hoi

closed

yau sik

postcard

ming shun pin

stamps

yau piu

little

siu-siu

lot

taai doh

all

chuen bo
Meals
English

Cantonese

breakfast

cho chaan

lunch

ng chaan

dinner

maan chaan

vegetarian

so sik jeh

cheers!

ging jau, yam booi

The bill please

maai daan, m goi
Drinks
Drinks
English

Cantonese

drink

yam ban

coffee

ga feh

tea

cha

juice

jap

water

shui

beer

beh jau

wine

jau
Food
English

Cantonese

meat

yuk

fish

yue

vegetable

sho choi

fruit

shui gwoh

potato

ma ling sue

salad

sa laai

dessert

tim ban
Buy phrasebooks online at Amazon.co.uk
Hong Kong Hostels
Hostels are a cheap form of accomodation, and so they are essential to backpackers and other budget travellers. We have compiled a list of hostels in Hong Kong to help you plan your journey. If you are looking for a hostel in Hong Kong, you've come to the right place.
There you have it, the ultimate Hong Kong backpacking guide. We hope you have found all the information you need for backpacking around Hong Kong.
Top Products for Backpackers