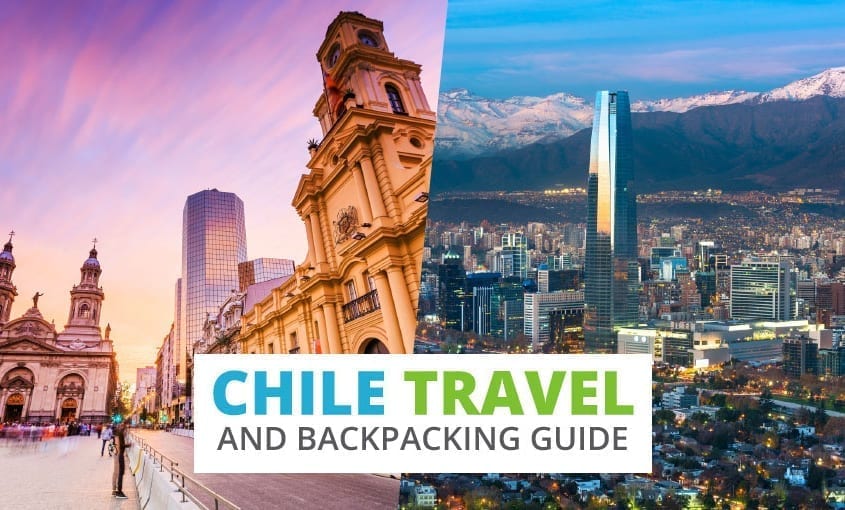 Backpacking Chile
Looking for important travel information while backpacking in Chile? Here you will find information on working in Chile, entry visas, Chile hostels, and much more.
Table of Contents
Facts About Chile
Chile is a South American country with a very distinctive shape. It stretches 4630km along the southwestern coast, and at its widest only spans 240km. While the very narrow width of the country may be deceptive, Chile is smaller in area than only 37 other countries in the world. It is much larger than the United Kingdom.
The country's remarkable landscape is dominated by the peaks of the Andes mountain range, which is home to a number of active volcanoes. The Pacific laps against the country's western coast. Bolivia, Argentina and Peru have borders with Chile.
Contrasting sharply with the unwelcoming ruggedness of the Andes is the southern Lake District which is home to Araucanians who are indigenous to the country. The northern landscape stretches to the Atacama Desert which is scorched and has conditions that are so harsh and dry that it is very difficult to inhabit.
The Incas once began to move to the desert thousands of years ago, but because of the conditions found it very difficult to settle. The desert area is rich in copper, nitrates and other minerals.
The Strait of Magellan, in the south of Chile, takes its name from Portuguese explorer Ferdinand Magellan, who stumbled across it in 1520. Peruvian Spanish gold-seekers came in search of fortune towards the middle of the sixteenth century, and the capital city of Santiago was founded in 1541. Rich in agricultural potential, Chile officially became part of Peru. After centuries of struggle against Peruvian Spanish rule, Chile became independent in 1818.
As well as this distinctive and variable area of South America, Chile possesses some Pacific islands: Easter Island, about 3700km from the mainland, and the Juan Fernandez islands which lies about 670km away from Chile itself. Hundreds of very small islands lie close to the country. Chile also claims 1,250,000km of Antarctic land.
Santiago, the largest of Chile's cities, is the country's capital. It is located in the central valley and locals enjoy a good standard of living. Impressive skyscrapers, a high-speed motorway linking the east and west of the city, a metro and cutting edge apartment blocks are a result of steady economic growth. However, the climate means that smog and pollution can be a problem, especially in large and busy cities such as Santiago.
The official language of Chile is Spanish, although it is quite different from the language spoken in mainland Spain. The dropping of some final consonants, the missing out of certain syllables, the use of a lot of colloquialisms, and the high speed of the speech in Chile can make it difficult for even a Spanish speaker to keep up.
The currency is the Chilean Peso. For an immediate and up to date currency converter, take a look at xe.com. Credit cards are widely accepted in the towns, although you should carry cash in more rural areas in case cards are not taken.
With a few words of basic Spanish, you will find it much easier to communicate with the locals. You will find that more people speak English in Santiago and other larger towns than in the more extreme and less populated areas. Locals will appreciate you making an effort with the language, even if you are not word perfect. Chileans' accents can be thick, and their Spanish quite different from the standard.
Climate in Chile
With the different landscapes of Chile comes a varying climate. The summer runs from April to September, and the winter is during the UK summer.
The desert regions of the north of the country are incredibly dry, and it almost never rains. Despite its latitude however, it can be cloudy. The temperature and climate is similar throughout the year.
Santiago, typical for central Chile, has mild winters with changeable weather and warm and largely dry summers.
Wet and windy weather dominates the southern region of the country, with rain turning to snow in the mountainous areas.
Things to do in Chile
Easter Island
Easter Island is one of Chile's most popular tourist attractions. The Pacific island's bizarre Moai Stone statues stand along the coast and were originally carved out of volcanic ash.
Volcanos
The extreme and varying landscape of Chile has recently found itself a tourist attraction among travellers and backpackers. Volcanoes such as Parinacota, which stands at 6350m on Chile's border with Bolivia, are a must to get a sense of the country's incredible natural history and varying breathtaking views.
Lake Chungara
Also in the north of the country in the Tarapaca region, at the foot of Parinacota, is the stunning and serene Lake Chungara. The calmness of the lake today starkly contrasts with its origins – it was created as the result of a violent avalanche from Parinacota.
San Pedro de Atacama
San Pedro de Atacama, a settlement built around an oasis in the Atacama Desert called offers visitors an insight into the Inca culture. Museo Arqueologico R P Gustavo Le Paige, a museum in San Pedro de Atacama, has interesting exhibitions displaying ancient mummies, and looking around the area you will not be able to miss the intricate Inca architecture.
Ski Resorts
In stark contrast to the desert terrain of the north, visitors can also get some alpine action in ski resorts such as Valle Nevado in the Andes. This popular snow resort is about 50km west of the capital, and offers skiing, snowboarding and heliskiing.
Beaches
For a beach holiday head to Lake Villarrica in the south, or one of several resorts in the north such as Coquimbo, Arica, or Le Serena.
Tours and activities in Chile
Another good way to get an idea of what to do is to scan the activities offered by Get Your Guide or Viator. They work directly with local tour operators, so you won't have to scour the internet or roam around town trying to find the best deal.
How to Travel Around Chile
The main airport in Chile is about half an hour by road from Santiago and is called Comodoro Arturo Merino Benitez International Airport.
If you're flying to Chile or plan to take short flights within the country, we recommend using a few different flight comparison search engines. Kiwi is a new favourite among travellers. On average, we have found the cheapest flights with them compared to the other websites out there.
Of course, it is always worth checking Skyscanner to guarantee you're getting the best deal. Both websites offer great flexible search options, allowing you to search the whole country of Chile to find the cheapest airport to fly into, and also see prices for a full month if you're flexible on travel dates.
Train travel in Chile
The railways in Chile are generally out of use because of the risk of earthquakes. Flying is a quick option for long journeys. Tur Bus is a major bus company which runs services all over Chile for long distance journeys. Beware though – these journeys can be very long and hot.
Santiago itself has a quick, efficient and clean metro, which is user-friendly and you can buy a rechargeable 'multivia' ticket to save you buying a ticket for each trip. The metro stops running at around 10.30pm every day, but buses, known as 'micros' run later.
Taxis in Chile
Taxis can be expensive, but it is definitely worth taking advantage of the 'collectivo' taxi service. These cabs run the same routes daily, and often work out cheaper than buses. You will share with others and the price can vary but is generally lower than a standard taxi.
Small Group Adventure Travel
Though part of the fun of backpacking is exploring on your own, there are situations, especially when venturing off the tourist trail, when it does make sense to go with a guide or a small group. For these times, a popular option among backpackers is G Adventures. They hand-select local guides to ensure authenticity and quality. This is especially a good option for those travelling alone who would like to meet up with like-minded travellers. Their most popular trips in Chile are their 14-day End of the Earth tour through Argentina, Chile, and Patagonia, or their 14-day Hike Patagonia in Depth Active tour.
Health and Safety in Chile
While there are no compulsory vaccinations you should have before entering Chile, you should be immunised against tetanus and hepatitis A before travelling. Ask your GP's advice for other vaccinations – you may be recommended protection from typhoid, rabies, hepatitis B, diphtheria, and tuberculosis depending on the nature of your visit.
As with travel to all other countries abroad, it is vital that you get travel insurance before you leave.
The Chilean health service treats emergency cases immediately, without asking for payment or proof of medical insurance beforehand, but it is vital you have insurance before you travel to prevent large costs.
The following are the three-digit emergency telephone numbers to dial for emergency services in Chile:
Police – 133
Fire brigade – 132
Ambulance – 131
Entry visa requirements for Chile
If you are a national of the United Kingdom and you hold a valid passport with at least six months remaining, and an outward ticket, you may enter Chile for up to 90 days without a visa. You will be asked the address of where you are staying when you enter the country.
If you want to stay in Chile for longer than 90 days, you can apply for an extension from Ministerio del Interior, Departamento de Extranjeria y Migracion, Moneda 1342, Santiago. You may only be granted one extension, at a cost of $100.
For more information, have a look at the Chilean Embassy in London's website which lists the countries whose residents do not need visas if staying in Chile for less than 90 days.
Work permits and backpacker jobs in Chile
To work in Chile, it is essential you have a visa. You cannot obtain a visa to work when you are in Chile, you must get one from the Chilean Consulate before entering the country. Contact the British Consulate at Avenida El Bosque Norte 0125, Las Condes, Santiago, or telephone 00 56 2 370 4100 from the UK.
This makes it very difficult because one of the requirements to obtain a visa to work in Chile is that you have proof and details of your employer before you enter the country, in the form of a contract. This means that tourists are not able to legally find casual work when already in the country with 'tourist' status, without a visa.
Chile Hostels and Budget Accommodation

The last decade has seen the numbers of tourists in Chile increase, and the accommodation on offer now caters for your needs, especially in the capital and main tourist areas.
Backpacking hostels are the cheapest places to stay and are usually comfortable and clean. But always be sure to look after your valuables. Do your research before booking anywhere – word of mouth is always the best recommendation. If at all possible, book your accommodation before you arrive, particularly in the more popular and more remote areas, where it may be difficult to find somewhere at short notice.
We have had good experiences finding hostels on HostelWorld. They have the largest inventory of hostels worldwide, and with over 10 million reviews and ratings from other travellers, you know exactly what to expect.
Another good way to find accommodation in Chile is by checking hotels.com and  booking.com. With both sites, you'll not only find hotels, but also homestays, hostels, and other unique accommodations. We have discovered some great finds and have appreciated the ability to book ahead. You can use their advanced filtering to narrow your results by budget, location score, overall review score, and amenities. Many of the places on booking.com also offer free cancellation, which takes the pressure off the planning phase of your trip.
Useful links for backpacking in Chile
SERNATUR, the Chilean tourist information service should be able to provide answers to any of your questions.
The Chile Information Project website provides details of most aspects of living in or visiting Chile. The site includes information on earthquakes, education and food and drink.
Visit Chile is a useful website to learn about the geography, history and culture of the country. It also has information about hostels and lodges, and the seasons and climate.

Kiwi

,

Skyscanner

, and

Opodo

– Flight comparison search engines to find the cheapest flights to Chile and within the country

GetYourGuide

and

Viator –

a collection of local tours and activities. Also offers Skip the Line tickets for crowded attractions

Tiqets

– Website selling entrance tickets and skip the line tickets for major attractions

G Adventures

– guided small group tours, great for solo travellers or for those interested in a more adventurous trip which would require a guide

HostelWorld

– #1 hostel search website. Thousands of hostels and millions of reviews from fellow travellers

Booking.com

– commonly used booking site. Hostels, hotels, and other unique accommodation with advanced filtering and millions of reviews

Travel Insurance

– read our comprehensive overview of Travel Insurance and some recommended providers
---
There you have it, the ultimate Chile backpacking guide. We hope you have found all the information you need for backpacking around Chile.
Next up:
Liked this article? Share it with others who might be after the same information!