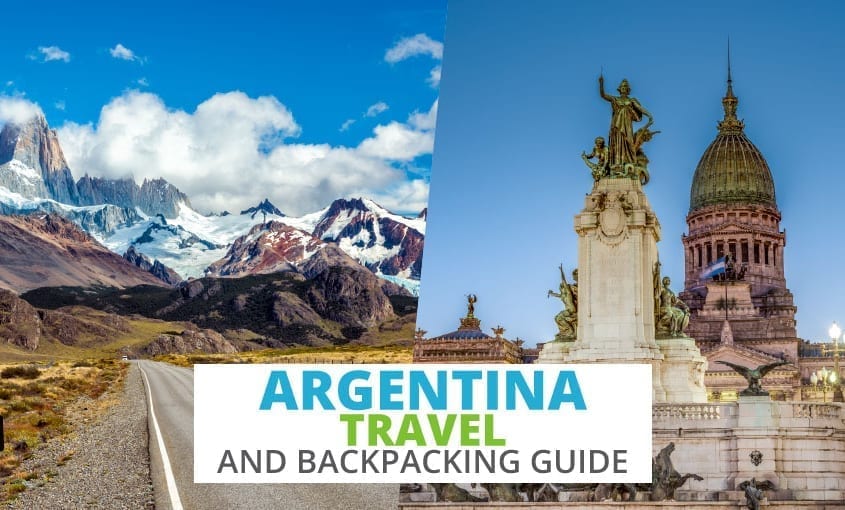 Backpacking Argentina
Looking for important travel information while backpacking around Spanish? Here you will find information on working in Spanish, entry visas, Spanish hostels, and much more.
Table of Contents

Facts About Argentina
Argentina is a country with something of a dual identity, being at once a pivotal part of South American culture, and yet also bearing a close resemblance to Europe. It is also remarkable for its size; at 2,766,890 km, Argentina is second only to Brazil and ranked eighth largest country in the world. Indeed, it is even larger if you give credence to their claims on the Falkland Islands and a significant portion of Antarctica.
The first inhabitants of Argentina settled in the south around 11000BC, but the first major recorded event was the prolonged assault on the northwest region by the Inca Empire in 1480, the success of which fragmented the territory into disparate cultures. European intervention followed soon after, with Amerigo Vespucci sighting the territory on his 1502 voyage and further Spanish exploration climaxing with the establishment of the Buenos Aires Colony in 1580 as part of controlled Peru. The colony prospered in subsequent centuries economically, but the independence movement progressed proportionately. The issue was concluded in 1816 after the campaigns of General San Jose de San Martin in the region and Napoleon's overthrow of Spain's Ferdinand VII.
Expanding from Buenos Aires, the modern Argentina , named 'the Land of Silver' by Spanish explorers due to the rich region in Potos, developed rapidly courtesy of agriculture and foreign investment. One of the richest countries in the world by the early 20th century, political turmoil thereafter between groups represented by Juan Peron in the 1940s and the conservative military damaged the country immeasurably. These economic problems persisted for the rest of the century and were only assuaged during the 2000s with economic growth and stability. As such, it truly is the perfect time to visit the country.
Language – Spanish
Population – 39,921,833 (2006 estimate)
Currency – Peso (the $ is used)
Time zone – GMT -3
Phone code – +54
Climate
Argentina is generally a temperate climate, but with two extremes. The north is closer to a tropical climate, whereas the south is polar. This is born out in the record temperatures of 49 degrees in Cordoba in 1920 and -39 degrees in San Juan in 1972. Central Argentina is incredibly erratic but tends to more closely approximate the north.
Average temperature in Buenos Aires

| Period | Celsius |
| --- | --- |
| January-March | 23 |
| April-June | 15 |
| July-September | 13 |
| October-December | 20 |
Things to see and do
Buenos Aires is still referred to as the 'Paris of the Southern Hemisphere' and attracts some 5.25 million tourists per year thanks to its thriving culture. The national Tango dance centres in the capital offer a great way to get involved in the lifestyle – head for the 'Milongas' to give it a try. If you fancy taking it a bit further, why not go to a studio for lessons, try DNI Tango in the Avenue Corrientes, or check out the shows in Dorrego Square on Sundays. The nightlife doesn't solely revolve around the Tango though. You can find a number of great nightclubs, Irish pubs and bars across the city and, in particular, the areas of Recoleta, San Telmo and Palermo Viejo.
Buenos Aires is home to an array of fantastic sights as well. Chief among these is the 67 metre tall Obelisk of Buenos Aires, completed in 1936 to celebrate the 400th anniversary of the city and a true symbol of the capital. Other notable landmarks include the world-famous Teatro Colon, opened in 1908, the Casa Rosada (Pink House), situated in the fantastic Plaza de Mayo and home to the executive branch of the Argentinean government, and the 18th century neo-classical Buenos Aires Metropolitan Cathedral. If that's not enough, there are plenty of great galleries and museums like the Museo Nacional de Bellas Artes, the Evita Museum and the Museum of Latin American Art of Buenos Aires (Malba).
However, if you want to see the real Argentina, don't confine yourself to the capital. The country is packed with great cities, each with phenomenal sights and a unique culture. Cordoba, for example, is home to the beautiful Jesuit Block and Estancias, a complex of beautifully preserved 17th and 18th century buildings including the Universidad Nacional which is classified a UNESCO World Heritage site. You'll also find the imposing 16th century Gothic Cordoba Cathedral and over ten galleries and museums to choose from like the Museo Municipal de Bellas Artes 'Dr. Genaro Perez'.
Indeed, most of Argentina's best locations can be found outside of Buenos Aires. Nature lovers will be captivated by the host of national parks, which include the World Heritage classified Iguazu National Park in the Misiones province , including endangered species like the jaguar and home to the incredible Iguazu Falls , and Los Glaciares National Park in Santa Cruz. No less impressive is the Cueva de las Manos (Cave of the Hands), also in Santa Cruz, highlighted by cave paintings some 9000 years old and containing handprints.
Situated on the coast of South America, there are naturally a number of resort towns where you can relax on the sand with the sun for company. The largest of these is Mar del Plata, which attracts tourists en masse every year.
Useful links
Tourist Information Office
Old City Hall
Independencia, 40 Cordoba Tel: +54 351 433 1982
Tourist Information Office
Avenue Santa Fe 883, Ground Floor
Buenos Aires
Tel: +54 800 999 2838 (Tourist assistance line)
Tourist Police Station
Avenue Corrientes 436
Buenos Aires
Tel: +54 800 999 5000
Travel
If you're coming to Argentina via plane, the main option is Buenos Aires' Ministro Pistarini International Airport, some 35 kilometres from the city. British Airways operate to and from London-Gatwick.
Once in Argentina, city to city travel is typically achieved by using long distance buses. The Panamerican National Route 9, for example, takes you through Buenos Aires, Rosario and Cordoba. As provincial capitals all have their own airport and operate regular flights on a daily basis, an alternative for those with a bit of spare cash is air travel.
The train network in Argentina is limited but extremely cheap, making it a decent budget option. A great tourist voyage is the 'Train of the Clouds' in the northwest province of Salta, which passes a number of smaller towns on its way to the border with Chile and takes you to extreme altitudes.
Accommodation
Buenos Aires is a great city for backpackers and budget travellers due to its array of student hostels, numbering over 50 and including B&B in Constitucion and Gardenhouse Hotel. However, be sure to shop around, particularly in the San Telmo area, where prices are generally just 20-30 pesos a night. For a decent list of student hostels, check out Hostels.com.
If you'd prefer a mid-range hotel though, expect to pay around $30 a night. Prices at the top end are typically $70. That said, with both hotels and hostels, if you look outside of Buenos Aires, you should find even better prices.
Health care issues
Before travelling, jabs for Hepatitis A and B, malaria, rabies, typhoid and yellow fever are recommended. However, many travellers ignore this advice and find their only nemesis is diarrhoea.
The water in Argentina is generally safe for drinking, but be wary outside of Buenos Aires.
The quality of health care is good in Buenos Aires, but varies elsewhere. Unfortunately, the cost of treatment in Argentinean hospitals is very high and cash payment is expected immediately. Recommended for tourists are the British and German hospitals scattered across major cities.
Entry Visas for Argentina
A passport is the only requisite for citizens of the US and EU member nations for stays up to 90 days. This can be extended once for a further 90 days by the Immigration Department.
If you have any questions, get in touch with your local Argentinean embassy. The UK office can be found at the following address:
Argentinean Embassy in the UK
27 Three Kings Yard
London W1Y 1FL
Tel: 0171 318 340
E-mail: fclond@mrecic.gov.ar
Foreigner Work Permits in Argentina
If you are a Spanish speaker, you can easily get work translating or teaching English. Call centres and bar work are also accessible and popular options. The average wage is on the rise and currently stands at around AR $550, with the minimum wage at $450. Nevertheless, it is important to remember that unemployment in Argentina is relatively high and, if you do not speak some Spanish, most avenues will be blocked.
Volunteering opportunities are far easier to come by, whether in the community, education, for the environment or providing medical assistance. Check out the options at Volunteer Abroad and Transitions Abroad for further details of what's on offer.
How to Say Common Spanish Phrases
Meeting People
English

Spanish

yes

si

no

no

thank you

gracias

You are welcome

De nada

please

por favor

Excuse me

Discúlpeme

hello

hola

goodbye

adiós

Good morning

Buenos dias

Good night

Buenas noches

I do not understand.

No entiendo.

Do you speak…?

Habla usted…?

English

Inglés

Spanish

Español

What is your name?

Como se llama usted?

Nice to meet you

Encantado de conocerle

How are you?

Cómo estás?

Good

bien

bad

mal
Directions
English

Spanish

map

el mapa

left

la izquierda

right

la derecha

Straight on

directo

far

lejos

near

cerca
Methods of Transport
English

Spanish

Where is…?

Dónde está…?

How much is the fare?

Cuanto es lo justo?

Ticket

boleto

A ticket to…, please.

Un boleto para…, por favor.

Where are you going?

Hacia dónde vas?

Where do you live?

Dónde vive usted?

train

el tren

bus

el autobús

underground

el metro

airport

el aeropuerto

Train station

la estación del tren

Bus station

la estación de autobuses

Underground station

la estación del metro

departure

la salida

arrival

la llegada

parking

el estacionamiento
Time
English

Spanish

What time is it?

Qué hora es?

Today

hoy

yesterday

ayer

tomorrow

mañana
Accommodation
English

Spanish

hotel

el hotel

room

el cuarto

reservation

la reservación

Are there any vacancies?

Tiene habitaciones?

No vacancies.

No hay lugares.

Passport

el pasaporte
Places
English

Spanish

Post office

la officina de correo

bank

el banco

Police station

la estación de policía

hospital

el hospital

chemist

la farmacia

shop

la tienda

restaurant

el restaurante

museum

el museo

church

la iglesia

square

la plaza

strret

la calle
Shopping
English

Spanish

How much does this cost?

Cuánto cuesta?

I will buy it

Lo compro

I would like to buy…

Me gustaría comprar…

Do you have…?

Tiene usted…?

open

abierto

closed

cerrado

postcard

la postal

stamps

los timbres

little

poco

lot

mucho

all

todo
Meals
English

Spanish

breakfast

el desayuno

lunch

el almuerzo

dinner

la cena

vegetarian

vegetariano/vegetariana

cheers!

skal!

The bill please

Me trae la cuenta por favor
Drinks
English

Spanish

drink

la bebida

coffee

el café

tea

el té

juice

el jugo

water

el agua

beer

la cerveza

wine

el vino
Food
English

Spanish

meat

la carne

fish

el pescado

vegetable

las verduras

fruit

la fruta

potato

la patata

salad

la ensalada

dessert

el postre
Argentina Hostels
Hostels are a cheap form of accomodation, and so they are essential to backpackers and other budget travellers. We have compiled a list of hostels in Argentina to help you plan your journey. If you are looking for a hostel in Argentina, you've come to the right place.
There you have it, the ultimate Spanish backpacking guide. We hope you have found all the information you need for backpacking around Spanish.