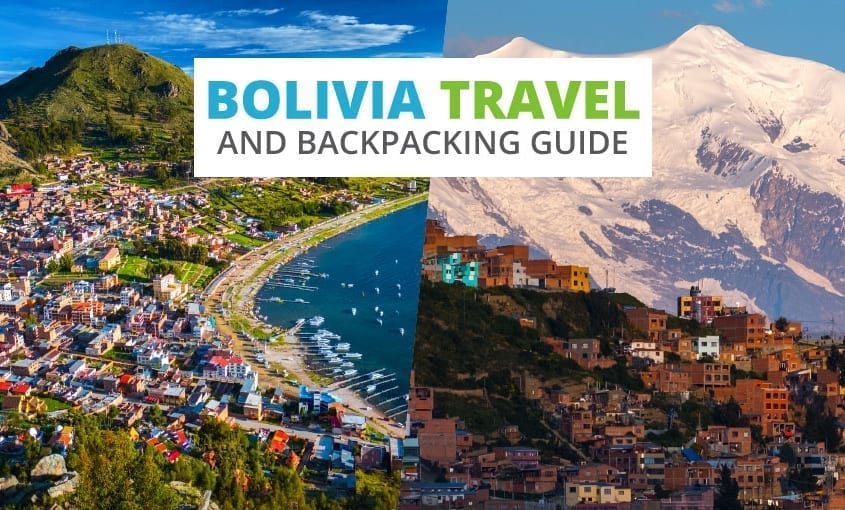 Backpacking Bolivia
Looking for important travel information while backpacking in Bolivia? Here you will find information on working in Bolivia, entry visas, Bolivia hostels, and much more.
Table of Contents
Facts About Bolivia
The Republic of Bolivia is a land locked country surrounded by five others, and it is also one of the poorest countries in South America. Bolivia has two capital cities: Sucre, is the legal capital and seat of the judiciary; La Paz is the administrative capital, and it is here that you will find the government as well as foreign embassies.
As well as impressive cities, Bolivia boasts utterly breathtaking scenery including extinct volcanic craters and lush jungles. It is an incredibly diverse country, ideal for the traveller seeking a varied adventure.
Additional information:
Currency: Bolivianos (Bs)
Time zone: GMT -4
Official Languages: Spanish, Quechua, Aymara
Calling code: country code +591, international access code depends on which network is being used. Check with the provider.
Climate in Bolivia
When deciding the best time to visit Bolivia, weather should play an important role. The altitude keeps Bolivia a fairly temperate country and even at the warmest times of year the nights can get very, very cold indeed, with temperatures dropping below freezing during the winter.
At lower altitudes, the weather is more typical of the tropics – warmer and more humid than higher areas. Clear skies mean that sunscreen is always a must, especially in the winter when skies are often clear and dry. The summer sees the start of the rainy season in November, which lasts through until around March.
Things to do in Bolivia
Salar de Uyuni
As well as the hustle and bustle of the major cities, Bolivia offers some spectacular routes over which to trek, if hiking is your thing. The Salar de Uyuni is the world's largest salt flats and are quite a sight to behold; if you feel adventurous there are some jungle hikes in the area around Coroico, which is accessible via the world's most dangerous road!
Pampas Trips
If the local wildlife is of interest to you, the pampas trips, guided tours running out of Rurrenabaque through the jungle focussing on the animal life of the Amazon will be ideal. You can also pay a visit to the Madidi National Park, a 'biodiversity reserve' which boasts some beautiful woodland.
Lake Titicaca
Lake Titicaca is an ever popular spot with the tourist trade and offers a perfect chance to grab some rest and relaxation. If you happen to be in Bolivia on their Independence Day on 6th August then Sucre is the place to be, the lively festival atmosphere throughout the celebrations is not to be missed.
Unique Activities in Bolivia
Another good way to get an idea of things to do in Bolivia is to scan the activities offered by Get Your Guide or Viator. They work directly with local tour operators, so you won't have to scour the internet or roam around town trying to find the best deal.
How to Travel Around Bolivia
If you're flying to Bolivia or plan to take short flights within the country, we recommend using a few different flight comparison search engines. Kiwi is a new favourite among travellers. On average, we have found the cheapest flights to Bolivia with them compared to the other websites out there.
Of course, it is always worth checking Skyscanner to guarantee you're getting the best deal. Both websites offer great flexible search options, allowing you to search the whole country of Bolivia to find the cheapest airport to fly into, and also see prices for a full month if you're flexible on travel dates. 
Travel within Bolivia is in general reasonably priced and relatively straightforward although often not for the faint of heart. To travel long distances within the country the local airlines are probably the most convenient, not to mention quickest, method of getting around, although during the rainy summer months flights may often be cancelled due to poor weather conditions.
Bus travel in Bolivia
Buses are the most common method of transport between cities and where one is not available taking a shared taxi is not unusual. In more rural areas the definition of "bus" can be a fairly loose one so don't be surprised if you end up travelling with livestock on occasion! Fares are changeable so be sure to try and haggle to get the best deal.
Travel within the cities
Within the city licensed taxis and public buses are convenient ways of getting about. If in doubt as to the legitimacy of a taxi, be sure to make your way to the depot rather than hailing a cab on the street.
Travelling to the Jungle
If you intend to visit the Amazon at any time during your travels to Bolivia, it is advisable that you take Malaria medication as a prophylactic. In addition vaccination against Yellow Fever may be required. This is not provided as standard by many doctors or travel clinics so you will need to find where it is available and book well in advance for vaccinations.
Backpacking Tours in Bolivia
Though part of the fun of backpacking Bolivia is exploring on your own, there are situations, especially when venturing off the tourist trail, when it does make sense to go with a guide or a small group. This is especially a good option for those travelling Bolivia alone who would like to meet up with like-minded travellers. For these times, a popular option among backpackers is G Adventures. They hand-select local guides to ensure authenticity and quality. Their most popular tours in Bolivia are their 5-day Salt Flats Express, or their 11-day tour in Bolivia and Peru covering Inca Jungle Trek, Machu Picchu, Rainbow Mountain and the Salt Flats.
Health and Safety in Bolivia
As with travel to all other countries abroad, it is vital that you get travel insurance before you leave. It is recommended that before travelling to Bolivia you are immunised for Hepatitis A and B, and that vaccinations against tetanus, diphtheria and measles are all up to date. Sunscreen is important no matter what the country but the high altitude of the majority of Bolivia means that the sun's UV rays can be much more damaging than elsewhere.
Altitude Sickness
Altitude sickness can be a problem for those travelling to the country for the first time. Altitude sickness will most often manifest as a mild headache or physical tiredness, although some people feel the effects of altitude much more strongly. It is important to keep hydrated and if you start to really suffer with it to seek out medical help.
Entry visa requirements for Bolivia
As a British citizen, you do not require a visa to enter the country, provided that your stay is under 90 days in duration. Passports should be valid for at least six months after your entry date. If you intend to stay in the country for over 90 days then you should contact the Bolivian Consulate.
You will also need to report to the Department of Immigration in La Paz as soon as you arrive. Visitors from outside the UK should check with their local Bolivian Embassy regarding entry requirements as they can change depending which country you are from.
If you are accompanied by a child then you will need to be able to provide documentation proving parental responsibility, as failure to do so will affect your ability to enter the country (or in some cases, your child's ability to leave it). Also if you intend to undertake paid employment in the country you will need to contact the Bolivian Embassy stating your intent and request further information regarding obtaining a work visa for the country.
Work permits and backpacker jobs in Bolivia
As Bolivia is one of the poorest countries in South America, working whilst travelling as a means to funding your trip isn't really a viable option. Finding work can be difficult due to the country's high unemployment rate, and any temporary job you find will be relatively poorly paid. Most of the opportunities available to you will be as a volunteer.
Volunteering in Bolivia
Education in Bolivia
A large number of agencies offer placements of varying lengths within Bolivia, from a couple of weeks right through to a whole year and while these placements can cost a lot, accommodation, as well as basic health insurance, is often included.
Each program will have a different amount of funding required, so it is best to explore all the options, as well as taking into account what elements of your trip are included when budgeting. Some placements also offer a TEFL qualification as an enhancement of the course or placement.
Depending on whether you choose to teach English as part of a volunteer program or as part of an education abroad scheme, you may receive payment for your work in Bolivia – if this is the case you may need to arrange a work visa.
Volunteer in conservation in Bolivia
There are a large number of opportunities available in the field of conservation for any ecologically-minded volunteers. Placements can include working in one of the country's zoos or botanical gardens helping increase visitor's awareness of conservation issues, right through to more hands-on positions involved in Bolivia's forestry development or animal rescue programs.
Missionary Work in Bolivia
Bolivia is a predominantly Christian country and there are a large number of opportunities to undertake missionary work while travelling there. Several Christian-run agencies exist, with placements running from a few weeks in length right through to two years.
Teams are sent to work in the community focusing on evangelism and discussion of faith as well as the more conventional types of voluntary work including conservation, construction and education. These projects are often entirely self-funded and may not include accommodation costs – this is important to take into account when budgeting.
Useful links for finding volunteer opportunities in Bolivia
Bolivia Hostels and Budget Accommodation
Accommodation is relatively inexpensive within Bolivia, and easily found within the major cities. However, the quality of room you get for a particular price can vary wildly so make sure you ask to see the room that you would be staying in (not a "similar" room) and fully inspect it before you sign the register.
We have had good experiences finding hostels in Bolivia on HostelWorld. They have the largest inventory of hostels worldwide, and with over 10 million reviews and ratings from other travellers, you know exactly what to expect.
Another good way to find accommodation in Bolivia is booking.com. They have advanced filtering (price, location score, reviews, amenities) and allow you to search for hotels, homestays, hostels and other unique accommodation. We have discovered some great finds that would have otherwise required hours of research simply filtering by budget and review score (8+) on booking.com
Useful Links for Backpacking in Bolivia
Kiwi and Skyscanner – Flight comparison search engines to find the cheapest flights to Bolivia and within the country
GetYourGuide and Viator – a collection of things to do in Bolivia. Also offers Skip the Line tickets for crowded attractions
G Adventures – guided small group backpacking tours in Bolivia, great for solo travellers in Bolivia or for those interested in a more adventurous trip which would require a guide
HostelWorld – #1 hostel search website to find a hostel in Bolivia. Thousands of hostels and millions of reviews from fellow travellers
Booking.com – commonly used accommodation booking site in Bolivia. Hostels, hotels, and other unique accommodation with advanced filtering and millions of reviews
Travel Insurance – read our comprehensive overview of Travel Insurance and some recommended providers for your backpacking trip to Bolivia
---
There you have it, the ultimate Bolivia backpacking guide. We hope you have found all the information you need for backpacking around Bolivia.
Next up:
Liked this article? Share it with others who might be after the same information!