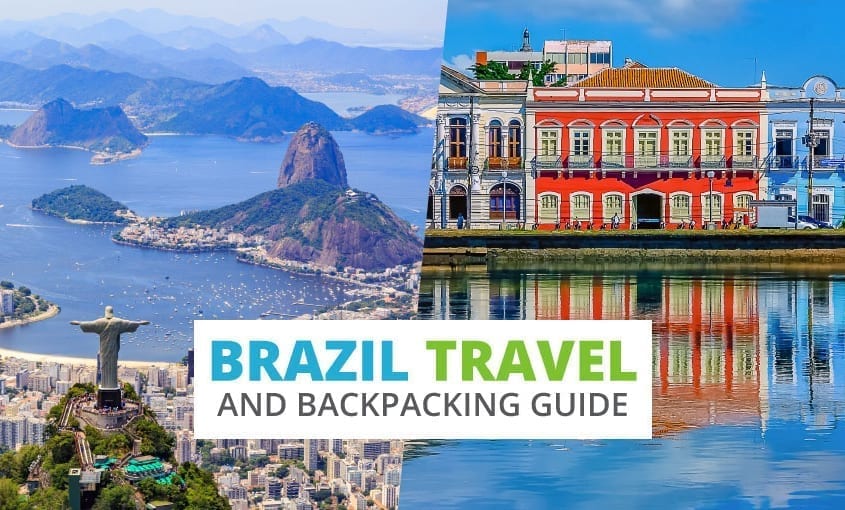 Backpacking Brazil
Looking for important travel information while backpacking around Brazil? Here you will find information on working in Brazil, entry visas, Brazil hostels, and much more.
Table of Contents

Facts About Brazil
Occupying a unique position as the only Latin American state to speak Portugese not Spanish, Brazil is an enormous country with a landmass and population greater than that of the rest of South America put together. From the lush rainforests of the Amazon Basin to the teeming nightlife of Rio, Sao Paulo and Salvador, Brazil offers backpackers an experience that is unique in the sheer breadth of its variety.
Geographically speaking, Brazil offers vast inland savannah, marshlands teeming with exotic wildlife, colonial gold-boom towns, some of the most beautiful beaches in the world and much more. Brazilians are world-famous for their warmth, generosity and open minded, relaxed natures. A vibrant musical culture has consistently been the toast of New York and London since Bossa-nova took the world by storm in the 1950s – right up until today. With recent exports of Brazilian Funk, Samba and hit movies such as City of God headlining across Europe, these days everybody wants in on a piece of Favela Chic (Ghetto Cool). You'll catch everyone from Madonna to your Mum sporting a pair of imported Havaianas (Brazilian beach sandals) and drinking Caiparinhas (lime and cane rum cocktail). So why not go to Brazil and catch the vibe for yourself?
Currency: Brazilian Real (BRL) = 100 centavos
Time Zone: Spans several time zones from GMT -2 to GMT -5
Language: Portuguese
Telephone Services: Country code +55, International access code 00
Emergency Numbers: All services 0
Climate
The climate in Brazil varies wildly depending on what area you are in; the central area is generally dry and arid scrubland, and there is the dense tropical rainforests of the Amazon jungle to the north featuring punctual daily downpours that you can set your watch by. The eastern coast offers a tropical beach climate.
There is a rainy season in Brazil, in the north this falls from January to April, in the north-east it is from April to July and in and around Rio it is November to March.
Things to see and do
Rio de Janeiro
By far the most popular draw to this country is Rio – a glittering jewel of high rise buildings and slums set amongst a spectacular primordial landscape of rugged mountains and jagged monoliths rising from the Atlantic coast. Flying into Rio by night will take your breath away, and you will see why the bay itself is featured as one of the Seven Wonders of the Natural World. Home to the famous Christo Redentor (Christ the Redeemer) and the Pau de Acucar (Sugar Loaf Mountain) plus the teaming super-social beaches of Copacabana and Ipanema that feature as much in the daily lives of locals as the office grind. Rio is a city with lots to offer both in terms of sightseeing and nightlife.
Within a few of hours' bus ride of Rio you can find tranquil seaside towns and beach resorts where locals flock to party or relax at the weekends. Fringed by lush sub-tropical Atlantic vegetation, even the journey along the Costa Verde is a pleasure. Spots worth checking out include Buzios, Angara dos Reis, Parati, Ilha Grande and Ubatuba.
The Amazon
The Amazon is the world's largest natural resource, where around 30% of the surrounding biomass at any one time is composed of insects! Brazil's Amazon is a jungle experience second to none. Fly into capital city Manaus, and after seeing the faded grandeur of the once great opera hall head out on a jungle expedition to stay in any one of a number of Amazon lodges. From here you can spot animals at night, visit local native villages by canoe and even go fishing for piranhas.
The Pantanal
A vast marshland where you can find several species of wild cat, alligators and innumerate bird species. In comparison to the Amazon, where all the animals are hiding in trees, the Pantanal is a wild animal lovers paradise and you'll very likely get more sightings for your money here. Reformed poachers with eagle-eyed vision will take you on tours by day and night on horseback, canoe or jeep. A pair of binoculars is essential!
Salvador da Bahia
Salvador da Bahia is a beating heart of Afro-Brazilian culture. Salvador is the home to the Orixas (African Pantheon of Gods), Candomble (the Brazilian substrate of the Voodoo religion) and a host of dance and musical styles that are prevalent throughout Brazil but with their greatest concentration here. Take lessons in Forro or Samba dancing, or the really adventurous could have a go at Capoeira – an Afro-Brazilian Martial Art featuring high flips and spinning kicks in a ludicrous combination of strength, skill and agility.
Around Salvador, travel the surrounding Bay of All Saints to discover forgotten sleepy towns such as Cachoeira, boat out to nearby islands or head inland to the roaming mountain-scape of Chapada Diamantina where you can trek for weeks at a time across great plateaus, through rocky gorges and ravines spotted with crystalline waterfalls and subterranean caves.
Ouro Preto
This UNESCO World Heritage Site was the main benefactor of Brazil's 18th Century gold-rush. As a result, this pristine colonial jewel boasts some of the finest baroque churches you are ever likely to see, and you can stay in charming pousadas (family run hotels) set in old colonial residences. Take a tour of the mines, or simply wander up and down the cobbled hills of Ouro Preto lost in the maze of whitewashed buildings and red-tiled roofs resplendent of a lost age of luxury.
Festivals
Don't miss out on the biggest party on the planet – Carnival! Rio is famous for its week-long display of show-stopping samba. Consisting mostly of partially naked men and women dressed as huge peacocks, mermaids and other wild fantasy figures dancing frenetically aboard equally inventive juggernauts of sound. Or head to Salvador for a more involved experience – if you do, make sure to join a Bloco (a carnival block), as the pipoca (popcorn) experience outside of the human security cordon is not for the uninitiated!!!
Travel
The buses are excellent in Brazil, although be prepared to spend quite a hefty amount of time on them as Brazil is a huge country. The same cannot be said for the roads however, especially inland and up north. With everyone driving on the same side of the road (whichever one has less potholes), bus rides can be a hair-raising experience.
There are many regional companies operating. Some of the better ones are Electrobus and Tres Amigos, the first of which runs a Sao Paulo area based service and the second runs a tourist based Sao Paulo to Rio service with plenty of stops at tourist locations along the way. Long distance buses run at several different classes and for a few extra pounds you can travel in considerably greater comfort. Be sure to take a jersey on board as they love to crank up the air-con to near freezing!
Due to the massive distances involved (Rio to Salvador takes two days for instance) it is often worth flying. Several budget airlines now operate within Brazil including TAM, BR, Gol and Varig. You can buy a bargain TAM air pass prior to departing the UK with a preset amount of flights based on destinations or mileage.
Accommodation
Accommodation is readily available in charming family hotels known as Pousadas. Albeurges (youth hostels) offer cheaper rates of 20 BRL and below, often with breakfast included. Accommodation varies massively in price from as little as 20 to 150BRL a night depending on location, facilities and style. Cheaper pousadas or Albeurges are unlikely to have hot water showers, while in premium destinations you can stay in the lap of luxury with private sunken plunge-pools looking out across the ocean and room complexes interconnected by water. Brazilian hotel breakfasts consisting of cakes, cereals, cold meats, cheeses, tropical fruits, various juices and breads plus hot dishes are a law unto themselves.
Health
It is recommended to get vaccinated for Hepatitis, Polio and typhoid before going to Brazil. These vaccinations can be supplied by your local GP and will cost under BRL50. Malaria is confined mostly to the Amazon. Dengue fever is common within cities; avoid areas of stagnant water where the larvae breed. Rabies also exists in South America. Check with your local travel clinic.
You will need comprehensive travel insurance; in particular you should ensure that your policy covers the cost of repatriation since medical care in Brazil is not up to the standard of most western countries. You will need to provide a yellow fever vaccination certificate at entry point if you have previously been to some at risk regions of South America and Africa. For further details of mandatory vaccination requirements please visit the website of the Brazilian Ministry of Tourism at: www.turismo.gov.br.
Crime and Personal Security
Crime is rife in all major cities with Sao Paulo, Rio and Recife topping the list in street crime and violent assault. Favelas fringe all major metropolitan centres and are best avoided by tourists. Crime is less of a problem in smaller towns and seaside resorts though you must always remain vigilant of your personal belongings and stay aware of your surroundings. The best way to avoid trouble is to not make yourself a target. Detachable non-necessary items such as watches, cameras, flashy mobile phones, stuffed day-packs and sunglasses make you number one on a robber's hit-list but a young singleton without any of these confections will quickly be passed over for a juicier target. Just as you would in any major city use common sense – avoid dark streets at night and check with locals where it is safe to go. Avoid travelling around by night alone, taxis are cheap and plentiful.
Do not become involved in drugs whilst in Brazil, although hard drugs like cocaine are widely available, police entrapment of foreigners is common and prison sentences are harsh and prison conditions are even harsher.
Useful Links
Brazilian Embassy in London offers lots more information and advice on travelling to Brazil.
Kasbah.com offers cheap accommodation in Brazil, with reservations available online.
Tres Amigos runs a tourist service between Sao Paulo and Rio with many stops on route. The site is in Portuguese so you might want to use Babelfish.
Entry Visas for Brazil
On arrival in Brazil your passport will need to be valid for a minimum of six more months, and you must have a return ticket. You will also need to show evidence of having enough money to support yourself for the duration of your stay (a maximum of 90 days although this can be extended by the Federal Police). Tourists are not entitled to employment in Brazil. Holders of European and South American passports don't need a Visa to visit (please see Employment page for information on working in Brazil).
Please visit The Brazilian Ministry of Tourism's website at www.turismo.gov.br for details of mandatory vaccination requirements.
The Brazilian consulate in the UK is the place to contact for student and work visa applications or information, it can be found at:
Consulate-General of Brazil in London
6 St Alban's Street
London SW1Y 4SQ
T : 020 7930 9055 (switchboard)
T : 07958 404 012 (duty officer – emergency only)
F : 020 7925 3990
info@consbraslondres.com
press@consbraslondres.com brazil.org.uk/consulate
The British Embassy in Brazil can be contacted at:
British Embassy
Caixa Postal 07-0586
Seto de Embaixadas Sul
Quadra 801
Lote 8
Conjunto K
Av das
70408-900 Brasilia DF
Brazil Tel: +55) (61) 225 2710.
Fax: + [55] (61) 225 1777
Email: britemb@nutecnet.com.br
Foreigner Work Permits in Brazil
EU nationals are permitted to enter and reside in Brazil without a permit for up to 90 days but must show proof of a return ticket. Tourists are not allowed to work, but Visas are available for various types of work. Voluntary work and temporary work Visas should be applied for if necessary, from the Brazilian Embassy. As is the case with most South American countries, it is generally very difficult to find work in Brazil because Brazilian nationals are eager for employment and so even the lowest paying positions are often taken up. Most opportunities for working experiences will be found in either teaching English or volunteering.
Teaching English
Private language institutions, schools, and general places of work are likely to be the most popular places to find work teaching English. The TEFL qualification can put you in good standing in case positions should be competitive, but generally English language teachers are highly sought after because of the increasing importance given to learning the language. See the Traveller's Worldwide website, below, for vacancies in teaching English in Foz do Iguazu. Teachers with Traveller's Worldwide are not required to have any teaching qualifications. Accommodation, usually in a hostel, is provided.
Volunteering
There are a great many opportunities to volunteer throughout Brazil, from conservational projects to work with underprivileged and impoverished families. Many of the volunteer agencies mentioned below organise similar schemes and projects across a wide range of countries, including other South American nations, but they often require your own funding, which can amount to more than BRL3000 so it is wise to plan well in advance for such programmes.
AFS International Youth Development
Depending on your age, AFS offers places on either its Schools Programme (for 15 to 18 year olds) for ten months, or the International Volunteer Programme (for 18 to 29 year olds) for six months. In both cases volunteers are accommodated by host families. The Schools Programme is more focused on students experiencing life in Brazil, whereas the International Volunteer Programme involves participation in a social project. Again, volunteers are required to raise their own money to fund their trip and costs can total BRL3000 or more.
Latin Link
The focus of work with Latin Link is Christian missionary projects within church communities in South American countries. Examples of projects include work in community centres, orphanages, shelters, and in schools. Depending on the nature of the project volunteering can last for up to six months, or more in some cases. Volunteers are required to fund their own travel, insurance, living costs, donations etc. which can amount to more than BRL1500.
Oasis
Oasis is a volunteer organisation arranging projects for Christians aged between 18 and 30. They run two schemes: the Frontline Teams Abroad programme lasts for up to nine months, and the Frontline Global Links programme lasts for six weeks. Work in Brazil consists of helping young people in poor urban areas with spiritual, physical, and emotional issues. Volunteers are expected to fund their own travel, insurance, living costs etc. which can amount up to BRL3000, so it is best to plan ahead in terms of finances.
Project Trust
Social care work, environmental projects, and English language helpers are all needed for the Project Trust's twelve month programmes. Volunteers must be aged between 17 and 19 and a half years old and are expected to raise BRL3850 themselves to fund their project, this includes all expenses for living costs, travel, donations etc. There are currently volunteer opportunities in Blumenau, Arax, and Ribierao Preto. Work consists of assisting teaching in the colleges and schools, for more information visit their website, below.
Useful Links
TEFL are one of the leading organisations for teaching English abroad
Travellers Worldwide have information about English language teaching in Brazil
AFS UK is a non-profit making organisation that aims to further inter-cultural learning
Latin Link is a christian charity which does missionary work in Brazil
Oasistrust.org provides information about Oasis' Oasis Brazil programmes.
Project Trust organise gap years in Brazil as well as other countries around the world.
How to Say Common Portuguese Phrases
Meeting People
English

Portuguese

yes

sim

no

não

thank you

obrigado

you are welcome

de nada

please

por favor

excuse me

desculpe-me

hello

Olá

goodbye

adeus

good morning

bom dia

good night

boa noite

I do not understand

Eu não entendi

Do you speak…?

Você fala…?

English

Inglês

Portuguese

Português

What is you name

Qual é o seu nome?

Nice to meet you

Prazer em conhecê-lo

How are you

Como vai?

Good

bom

bad

mau
Directions
English

Portuguese

map

mapa

left

esquerda

right

direita

straight on

a direito

far

longe

near

perto
Methods of Transport
English

Portuguese

Where is…?

Onde é…?

How much is the fare?

Quanto é a tarifa?

ticket

bilhete

A ticket to…, please

Uma passagem para…, por favor

Where are you going?

Onde você vaii?

Where do you live?

Onde você mora?

train

trem

bus

ônibus

underground

metro

airport

aeroporto

train station

estação de trem

bus station

estação de onibus

underground station

estação de metro

departure

partida

arrival

chegada

parking

estacionamento
Time
English

Portuguese

What time is it?

Que horas são?

today

hoje

yesterday

ontem

tomorrow

amanhã
Accommodation
English

Portuguese

hotel

hotel

room

quarto

reservation

reserva

Are there any vacancies?

Existem vagas?

No vacancies

Não temos vagas

passport

passaporte
Places
post office

correio

bank

banco

police station

Delegacia de polícia

hospital

hospital

chemist

químico

shop

loja

restaurant

restaurante

church

igreja

square

quadrado

street

rua

museum

museu
Shopping
English

Portuguese

How much does this cost?

Quanto custa?

I will buy it

Vou comprar

I would like to buy…

Eu queria comprar…

Do you have…?

O senhor tem…?

open

aberto

closed

fechado

postcard

postal

stamps

selos

little

pouco

lot

muito

all

todo
Meals
English

Portuguese

breakfast

pequeno-almoço

lunch

almoço

dinner

jantar

vegetarian

vegetariano

cheers!

tchim-tchim

The bill please

A conta, se faz favor
Drinks
English

Portuguese

drink

bebidas

coffee

café

tea

chá

juice

sumo

water

agua

beer

cerveja

wine

vinho
Food
English

Portuguese

meat

carne

fish

peixe

vegetable

vegetais

fruit

fruta

potato

batata

salad

salada

dessert

sobremesa
Buy phrasebooks online at Amazon.co.uk
Brazil Hostels
Hostels are a cheap form of accomodation, and so they are essential to backpackers and other budget travellers. We have compiled a list of hostels in Brazil to help you plan your journey. If you are looking for a hostel in Brazil, you've come to the right place.
There you have it, the ultimate Brazil backpacking guide. We hope you have found all the information you need for backpacking around Brazil.